Baltimore, MD: White Trail Loop, Rocks State Park
Stretch your legs on a short loop hike and climb some natural rock outcrops at the King and Queen Seat
Heading out the door? Read this article on the new Outside+ app available now on iOS devices for members! Download the app.
Maryland's Rocks State Park doesn't have a large network of trails, but it packs a lot of punch on short, family-friendly trails. BY MATT MILLS
Sitting less than an hour north of Baltimore, MD, Rocks State Park offers up a nice boost of natural beauty. For starters, the park boasts the second highest vertical waterfall in Maryland. But Rocks' famed waterfall wasn't the destination on this hot and humid June morning – instead, it the was King and Queen Seat that pulled us to the trail.
The King and Queen Seat, which is accessed right off of the White Trail Loop, is a group of natural rock outcrops once believed to be an ceremonial gathering place of the Susquehannock Indians. Not only is this eclectic group of large rocks (some nearly 100 feet tall) a prime place for local climbers to test their skills – and hikers to mix in a little bit of casual climbing – but it also offers up expansive views. The King and Queen Seat sits nearly 200 feet above Deer Creek gives a great perspective of the park and its surrounding areas.
We started out this hike with a short trek over to the King and Queen Seat and climbed a few rock outcrops before heading back to the White Trail. The loop is a relatively easy hike that brings you back near the junction with the historical gathering place. The mix of hiking, climbing and history is nearly unbeatable for Maryland – especially this close to a major metro area.
Hike Stats
Distance: 3 miles
Elevation change: 700 feet
Time: 2 hours
Distance from Baltimore, MD: 1 hour
More info: King & Queen Seat, Rocks State Park (MD)
Prepare
1. Day use service charges apply. Weekends and holidays: $3 per person; out-of-state residents $5 per person. Weekdays: $2 per vehicle; out-of-state residents $4 per vehicle.
Explore
Mile 0.0: Begin at the Rock Ridge Picnic Area and follow the Red trail for a very brief distance.
0.20: Arrive at the King and Queen Seat in 0.2 miles and explore the rock formations.
0.25: Backtrack to the junction with the White Trail and turn left (south).
0.5: At the half-mile mark, take a hard right to continue on the White Trail.
1.0: At the one-mile mark, the trail turns right and begins to zig zag mostly north.
2.0: At mile 2, the trail takes a hard turn right to head back to the junction near the King and Queen Seat.
2.5: Arrive at the junction. Turn left to visit the King and Queen Seat one more time; turn right to head back to the parking lot.
2.75: Arrive back at the trailhead / parking lot.
Earn
1. A manageable family hike that has a good chance of being completed without issue.
2. A dose of history at the King and Queen Seat.
3. A little rock climbing mixed in with great views at the King and Queen Seat to keep things interesting.
This Trip
Month: June
Weather: Hot, humid, muggy. Temperatures into the 90's.
Group: Two adults, two children under the age of 9.
More info: Rocks State Park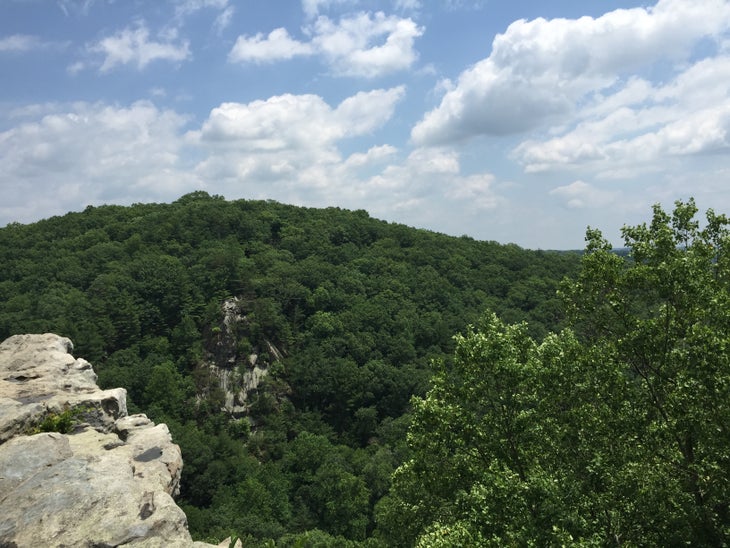 White Trail Loop, Rocks State Park (MD) [Photo by Matt Mills]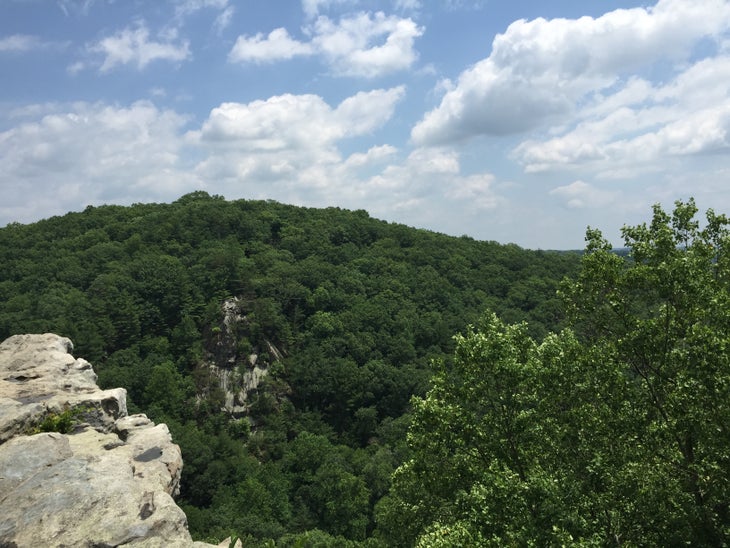 White Trail Loop, Rocks State Park (MD) [Photo by Matt Mills]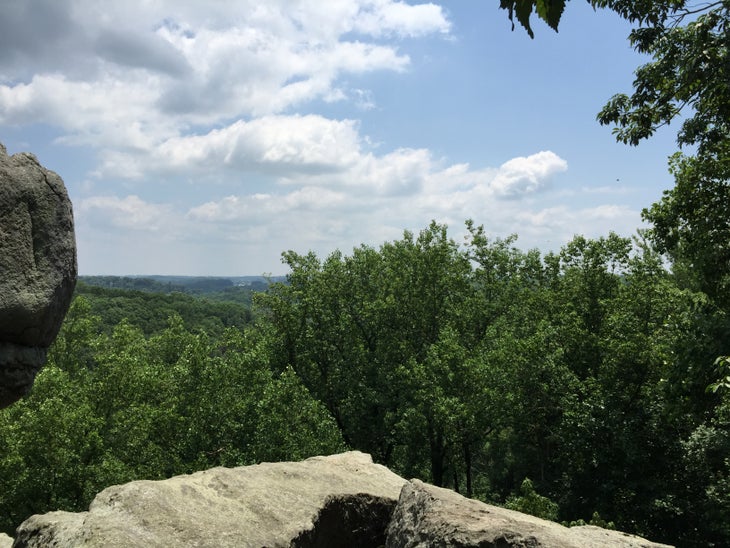 White Trail Loop, Rocks State Park (MD) [Photo by Matt Mills]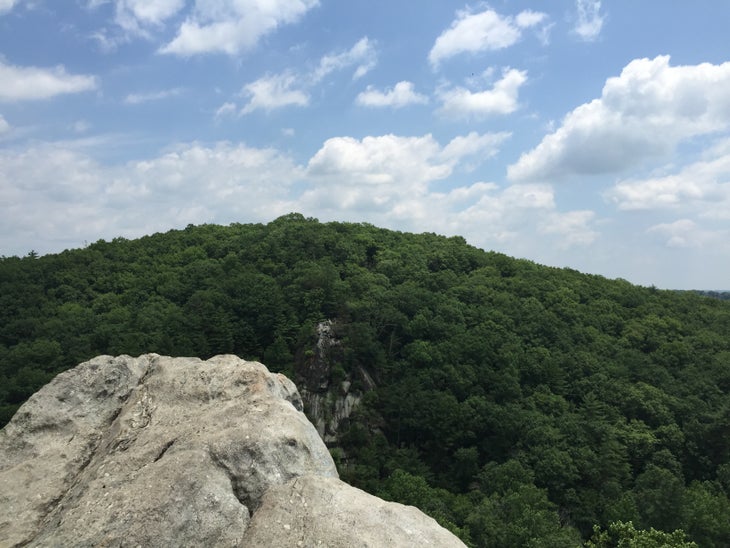 White Trail Loop, Rocks State Park (MD) [Photo by Matt Mills]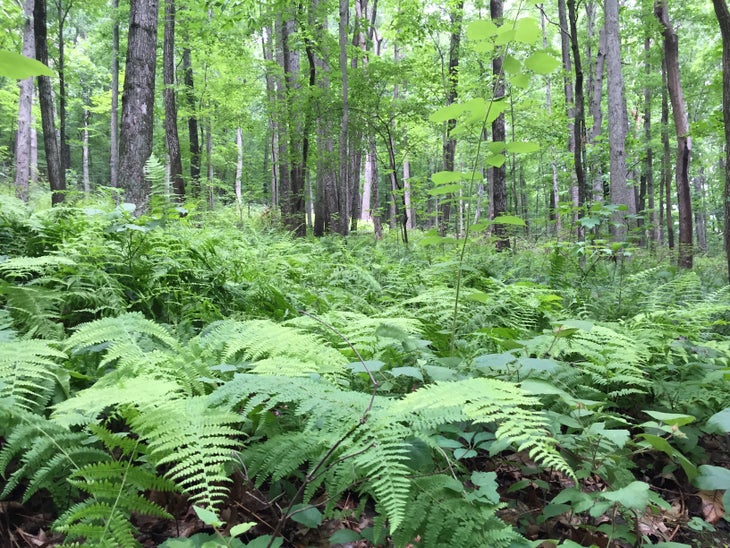 White Trail Loop, Rocks State Park (MD) [Photo by Matt Mills]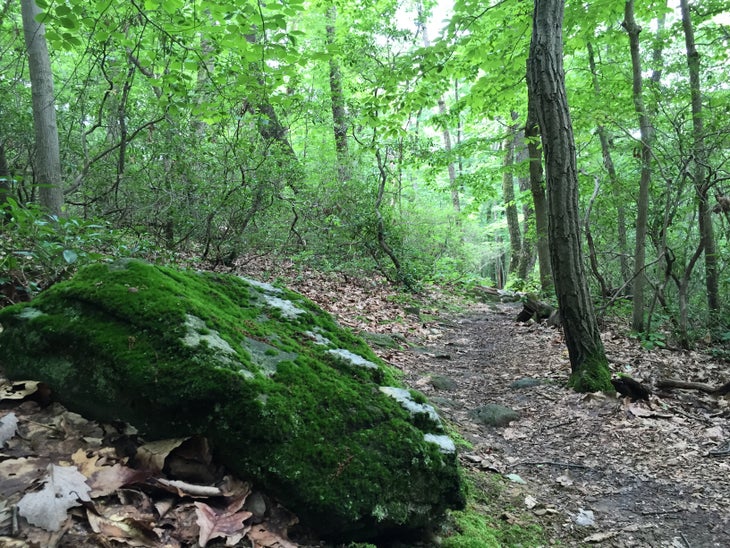 White Trail Loop, Rocks State Park (MD) [Photo by Matt Mills]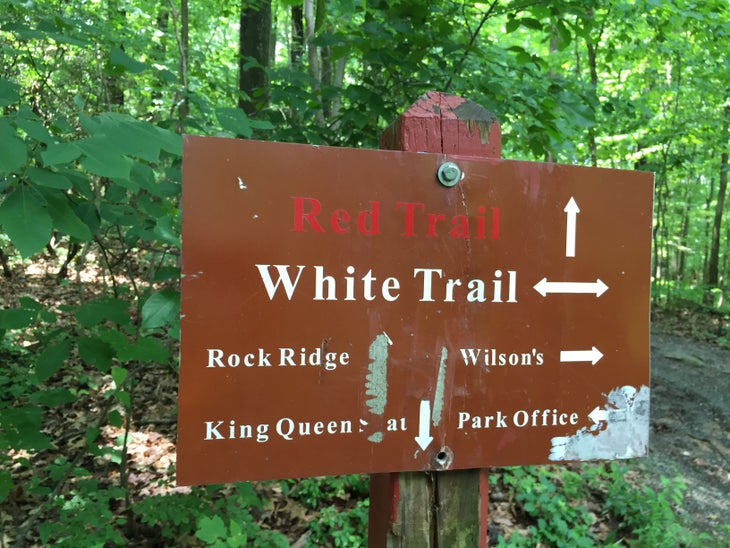 White Trail Loop, Rocks State Park (MD) [Photo by Matt Mills]
Trail Facts
Distance: 0.0
Land Type: State Park