Baltimore, MD: Catoctin Mountain Park Loop
Experience the best of what Maryland has to offer in less than 8 miles in Catoctin Mountain Park.
Heading out the door? Read this article on the new Outside+ app available now on iOS devices for members! Download the app.
When Maryland comes up in a conversation, it's a good bet the term "mountain park" doesn't frequently follow. But after a hiking a vista-filled loop in Catoctin Mountain Park, I'm thinking maybe it should. BY MATT MILLS
Catoctin Mountain Park in northern Maryland encompasses just eight square miles but packs a lot of punch in a relatively small space. The park is maintained by the National Parks Service (NPS) and also sits right next to Cunningham Falls State Park, which is home to the largest cascading waterfall in the state of Maryland.
This 8-mile loop hike in Catoctin Mountain Park is an extremely doable day hike, but can also be broken up into a series of worthy shorter hikes. Hiking groups with small children or otherwise not able to complete the entire loop can easily pick one portion of the loop to tackle, and will most likely be rewarded with nice vistas regardless of route choice.
Trip stats
Distance: 7.6 miles
Elevation change: 1,250 feet
Time: 5 hours
Distance from Baltimore, MD: 1.25 hours
More info: Hiking in Catoctin Mountain Park
Prep
1. There are no fees for parking or trail use.
2. Parking at the visitor center is limited, so prepare a Plan B that would start the loop at an alternate location.
Explore
Mile 0.0: Begin at the Catoctin Mountain Park visitor center and take the trail that starts on the left of the center, heading toward Cunningham Falls.
1.2: Reach the junction MD 77 and cross the road for the short spur trail to Cunningham Falls.
1.4: Take in the views of Cunnigham Falls and then head back to the previous junction.
1.6: Now back at the junction with MD 77, continue up toward Hog Rock.
2.5: At the Hog Rock Vista, continue down toward the Hog Rock parking area and then proceed up to Blue Ridge.
3.2: Reach the Blue Ridge Summit Vista. Follow the trail toward the Thurmont Vista parking area.
4.3: Take in the views at Thurmont Vista after a quick half-mile uphill.
5.2: Reach Wolf Rock and follow signs to Chimney Rock.
5.6: Take in the final vistas of the loop at Chimney Rock and head downhill toward Park Headquarters.
6.6: Reach the headquarters and continue heading toward the visitor center, paralleling MD 77 for much of the final mile.
7.6: Arrive back at the Catoctin Mountain Park visitor center.
Reward
1. Cool off from the spray of Cunningham Falls early in the loop.
2. Take in numerous vistas of northern Maryland.
3. Spend a solid day in the woods, with terrain varying enough to keep things interesting.
My Trip
Month: April
Weather: Hot! Unseasonably warm temperatures and clear skies brought temperatures into low 80's.
Group: Two adults (including myself), although this loop is extremely family-friendly.
Catoctin Mountain Park [Photo by Matt Mills]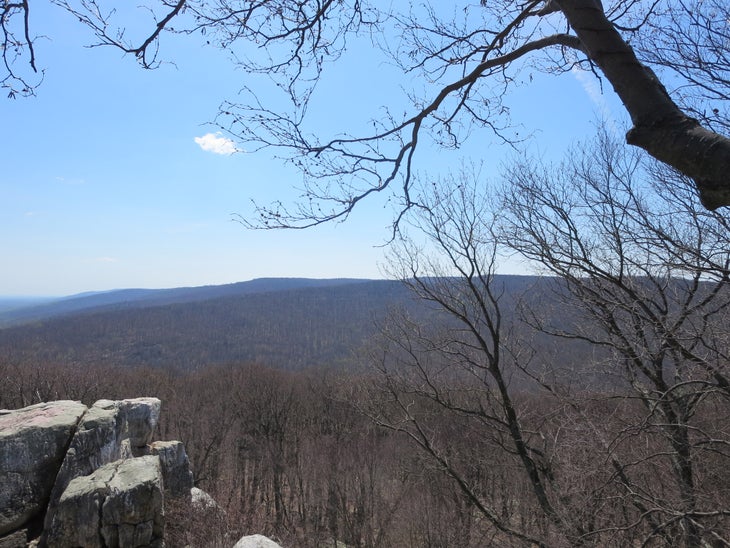 Catoctin Mountain Park [Photo by Matt Mills]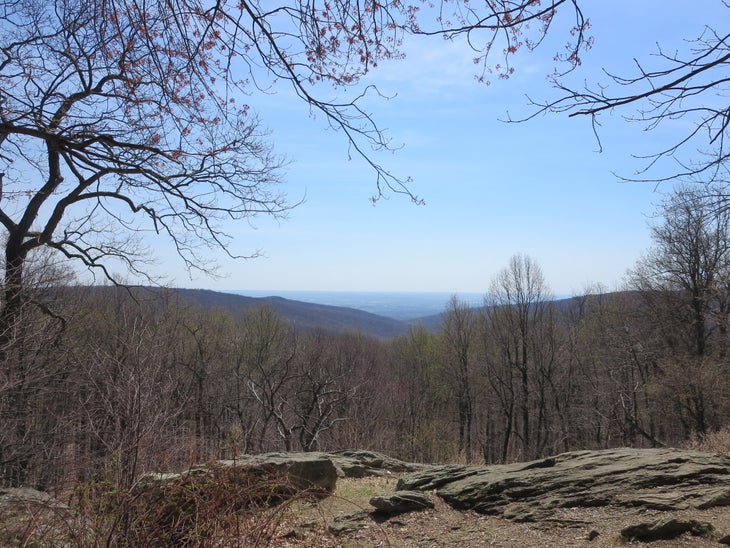 Catoctin Mountain Park [Photo by Matt Mills]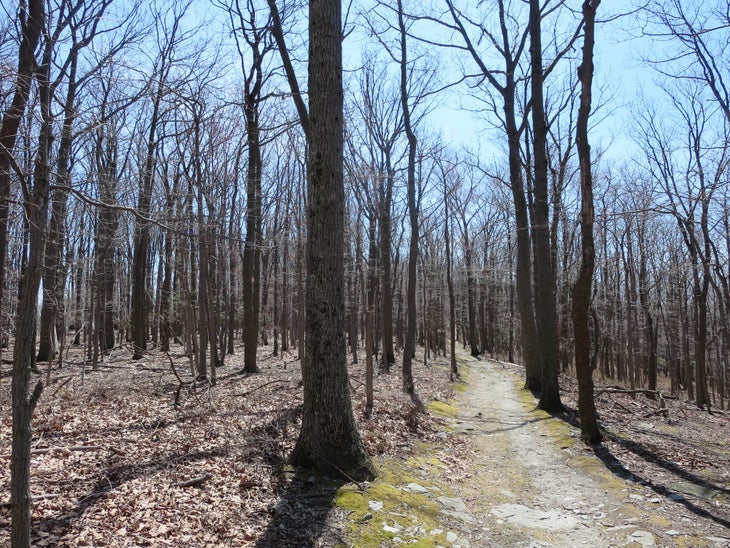 Catoctin Mountain Park [Photo by Matt Mills]
Trail Facts
State: MD
City: Baltimore
Distance: 0.0
Land Type: Other