BACKPACKER's 5 Favorite Hikes of 2018
From Catalonia to California, our staff picks their top trails of the year.
Heading out the door? Read this article on the new Outside+ app available now on iOS devices for members! Download the app.
The biggest perk of working for BACKPACKER: We get to hike. A lot. Over the course of this year, we trekked our way across the United States and six different countries, logging more trail miles and nights in camp than we could count. But a few stood out. We asked our staff for their single favorite hike of the year; these were the days outside that we'll still be thinking about in 2019.
Aigüestortes i Estany de Sant Maurici National Park, Catalonia, Spain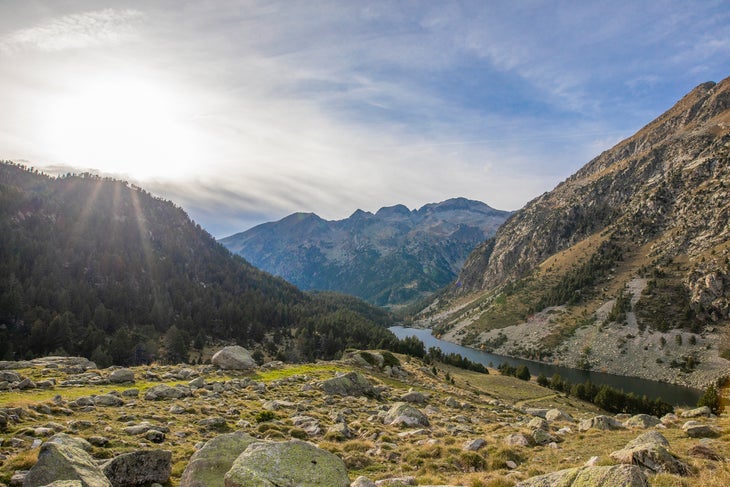 It's not every day that you get to end a hike in a national park with a glass of wine and a three-course meal. But that's exactly what's waiting at the Refugi d'Amitges, and it's an exclamation point on a day packed with spectacular alpine scenery. The 8-mile trek from the Vall de Boi taxi dropoff on the park's west side is a perfect sampler of Aigüestortes' riches: After starting in a valley threaded with windowpane-clear mountain streams, you pass a series of cobalt alpine lakes—including Etany Long and Estany Redó—en route to a 7,800-foot pass. From there, admire the twin spires of 9,000-foot Els Encantats and the view across the valley into the northern Pyrenees before heading on a roller coaster trail up to the refugi. The immense stone structure sleeps 66 and you get a bed, lunch, and traditional Catalan dinner for $71. Bonus: In the morning, catch the sunrise over the Els Encantats massif across the valley. —Eli Bernstein
Distance 8 miles (point to point) Trailhead Vall de Boi taxi dropoff (42.551627, 0.912727) Season June to November
Potato Harbor Loop, Channel Islands National Park, California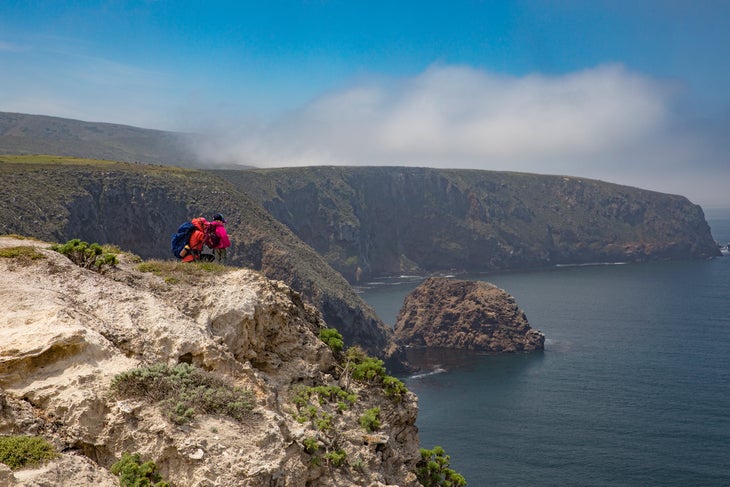 If you'd like to take in Jurassic Park's scenery, but without the danger of being eaten by dangerous carnivores, Santa Cruz Island is a great compromise. After arriving at the dock, a ranger will greet and help you find the adjacent trailhead for the Potato Harbor Loop. There's a few hundred feet of elevation gain over the first ½ mile or so, but you are rewarded with spectaculars view of rocky bluffs meeting the turquoise ocean in a forest of sea kelp. Hum John Williams as you take in the views of pelicans (just pretend they're pterodactyls) flying in formation, sea lions barking, and hundreds of dolphins passing you by. The rest of the rolling trail mostly traces the bluffs. Time your visit for late April to enjoy the wildflowers as your pass by open fields formerly used to graze the thousands of sheep who once called this island home. Time to take a break? Keep your eyes peeled for (and your snacks guarded from) the not-at-all illusive Island Foxes. —Louisa Albanese
Distance 5 miles (loop) Trailhead Potato Harbor Loop Season Year-round
Lost Coast Trail to Wheeler Beach, California
For the last 15 years, I'd been hearing stories about the magic of the Lost Coast, so when I got a chance to hike a 19.6-mile weekend sampler, I jumped on it—and you should, too. Begin at Needle Rock Visitors Center, descending a wide path for three miles down to Bear Harbor Beach. (Look for frolicking seals in the water.) From there, the trail steepens through the coastal rainforest, each descent followed by a matching hike up. There are fallen trees to duck under and climb over, wildflowers to admire (best in June), and some poison oak to avoid (wear long pants and sleeves). Finally, switchback down to sea level, and pitch camp above the high tide line or in a redwood coach, then spend your night stargazing if the coastal fog allows. The next day, make your way back along the path you came in on. (And hope you didn't bring any souvenirs home—I'm serious about that poison oak.) —Genny Fullerton
Distance 19.6 miles (out and back) Trailhead Needle Rock Visitors Center Season June for wildflowers, early fall to avoid rain and fog Permit Required (free); self-register at the trailhead. Bear canisters required everywhere.
Horseshoe Lake, Trinity Alps Wilderness, California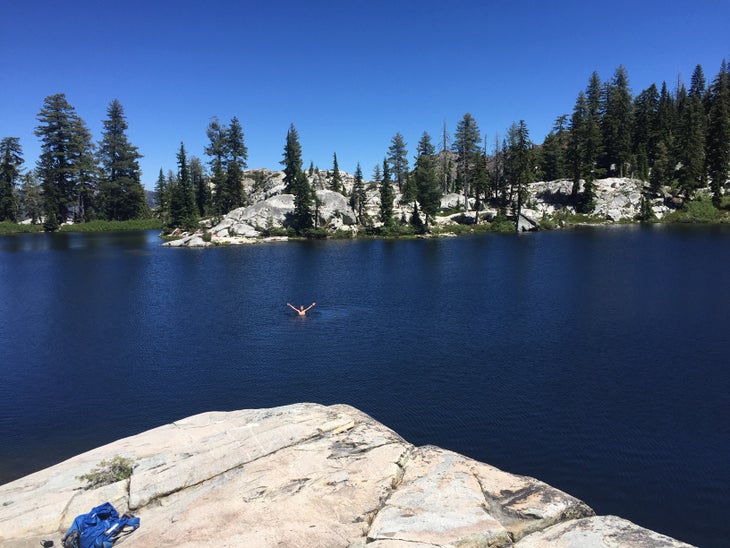 In my experience, the essential feature of great alpine lake is not the view, the color of the water, or even a primo campsite. No, the key ingredient is a slab of granite placed just so: bordering the lake, high enough for quality jumping, flat enough for lounging on sun-warmed rock, big enough for a dozen people to spread out. For a perfect example of this granite feature, hike to Horseshoe Lake in the Trinity Alps. I was there last summer, on a family-and-friends trip, and the slab was just as I recalled from being there as a kid. Horseshoe is perched at the headwaters of Swift Creek, at the end of an 8.5-mile hike that follows the creek through Mumford Meadows, a gorgeous chain of wildflower-filled fields. Plan on camping alongside one of those meadows, a few miles before reaching the lake. Camping at Horseshoe is limited, wood is scarce, and the last climb to the lake—more than 1,000 feet of vertical gain on exposed switchbacks—is much more enjoyable with a daypack. Bonus: The Swift Creek drainage offers numerous exploring opportunities to peaks and more lakes if you can pull yourself away from that one, perfect lakeside rock. —Dennis Lewon
Distance 17 miles (out and back) Trailhead Swift Creek Season July to October Permit Free, required for overnight trips
Wolf Rock/Chimney Rock Loop, Catoctin Mountain Park, Maryland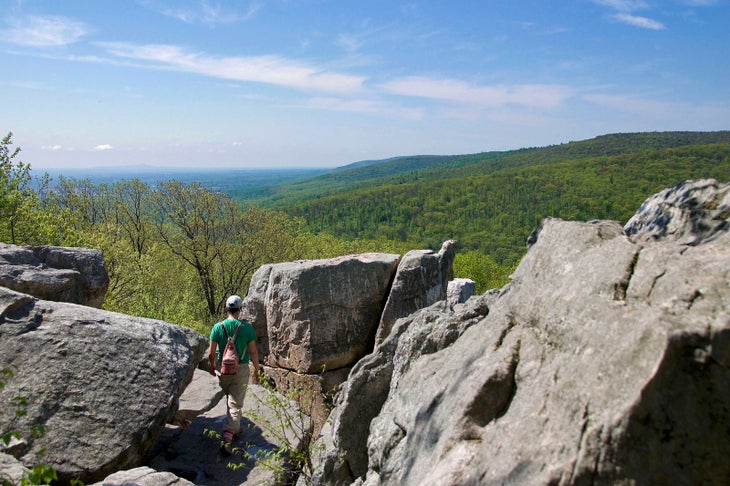 Don't let this hike's short mileage fool you: It's tougher than it looks. The trail can be rocky and often slick in some places, but the reward is one of the most beautiful views in Maryland. After a short, steep climb up switchbacks, the trail rolls along the top of a ridge, passing through thick oak, hickory, and tulip poplar forest and sunny, open meadows before arriving at Wolf Rock, a long, low outcropping that gazes out over the mountains and valleys of the eastern Appalachians. From there, it's a short jaunt to Chimney Rock, a taller formation that looks like a miniature stone city. From there, the trail drops quickly down off the ridge via more switchbacks, then meanders through the woods back to the parking area. Pro tip: Go in the fall to see the leaves in their full glory. —Mike Leister
Distance 3.9 miles (loop) Trailhead Visitor Center Season March to November Permit None to dayhike