Austin, TX: Enchanted Rock Loop
Circumnavigate a 425-foot monolith on this 4.9-miler that crosses a sandy creek and cruises classic Texas Hill Country west of Austin.
Heading out the door? Read this article on the new Outside+ app available now on iOS devices for members! Download the app.
This 4.9-mile loop begins at the parking lot just east of park headquarters and follows Sandy Creek for roughly a mile before crossing it. On the creek's north side pass between Freshman Mountain and Buzzard's Roost on an exposed granite and quartz-littered trail that widens as it continues north. The trail circles a large pinkish monolith called Enchanted Rock which covers 640 of the park's 1,643 acres and is one of the nation's largest batholiths.
Circling its north side the trail cruises an open grassy area sprinkled with wildflowers. Look for deer grazing and watch for snakes which sometimes bask trailside. Continue climbing past several spur trails—the side trips to Moss Lake and the Overlook are worth the short detours if you have time. After the high point at mile 3.2 the trail becomes rockier and skirts several boulder outcroppings popular with climbers before turning downhill and ending in the campground parking lot. Follow the road east for almost half a mile back to the trailhead.
Note: The park is a popular hiking and camping destination, especially in the fall and spring, and sometimes closes when it fills to capacity. Call the park at (830) 685-3636 before driving out, especially on weekends. Also check conditions on Sandy Creek: this route has a crossing that can be dangerous when water levels are high.
-Mapped by Melissa Gaskill
Click to PRINT AND GO.
PLAN IT
GUIDEBOOK AND MAP Hiking Texas, by Laurence Parent ($16, falcon.com); Download map (free) at tpwd.state.tx.us/spdest/findadest/park/enchanted_rock/
FEES/PERMITS $6 per person/day to access the park, payable at park entrance. To camp at one of the three primitive camping areas (20 sites available per area) near the route, it's $12/group of four/night. Reservations: texasstateparks.org; (512) 389-8900
CONDITIONS This is a popular park for picnickers, hikers, and climbers, and rangers will close the gate if the parking lot fills up (can happen as early as 11 a.m. on spring and autumn Saturdays). Call (800) 792-1112 to check on crowds and the state of creek crossings.
LOCAL LINKS
GAS
SPEEDY STOP
1501 Ford St.
Llano, TX
(325) 247-3678
Dayhiking gear list
GAS/GROCERIES
PICKY'S PANTRY COUNTY LINE
6806 Bee Cave Rd.
Austin, TX
(512) 347-1077
GROCERIES
TOWN & COUNTRY FOOD STORE
901 Bessemer Ave.
Llano, TX
(325) 247-4256
WHOLE FOODS MARKET
525 North Lamar Blvd.
Austin, TX
(512) 476-1206
GEAR
WHOLE EARTH PROVISIONS
1014 North Lamar Blvd.
Austin, TX
(512) 476-1414
RESTAURANT
SHADY GROVE
1624 Barton Springs Rd.
Austin, TX
(512) 474-9991
THE BURGER BAR
608 Bessemer Ave.
Llano, TX
(325) 247-4660
Dayhiking gear list
Wear
Synthetic T-shirt
Synthetic shorts or pants
Synthetic undies
Wool hiking socks
Sunglasses
Hiking shoes or boots
Sunscreen (SPF 15+)
Pack
Daypack
Midweight synthetic or
fleece long-sleeve top
Wool or fleece hat
Waterproof/breathable
jacket and pants
Map, compass, GPS unit
Water container and
water treatment
First-aid kit
Extra food and snacks
Firestarting kit
Lightweight gloves
Extra pair of socks
(optional)
TP and trowel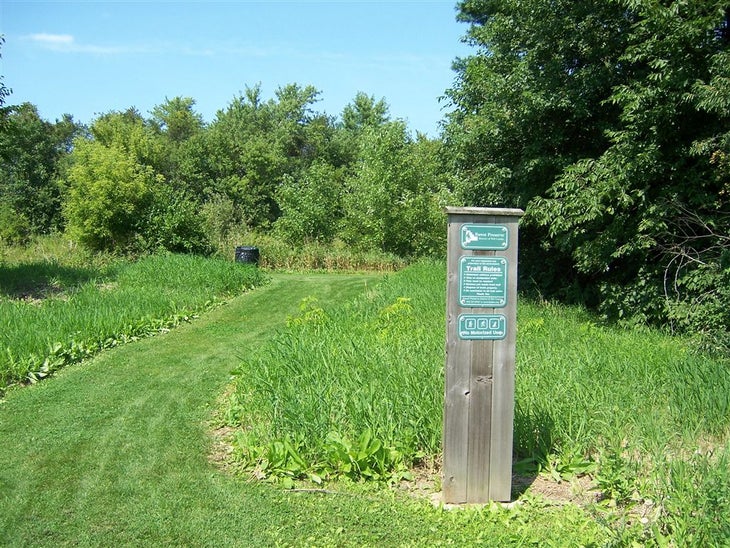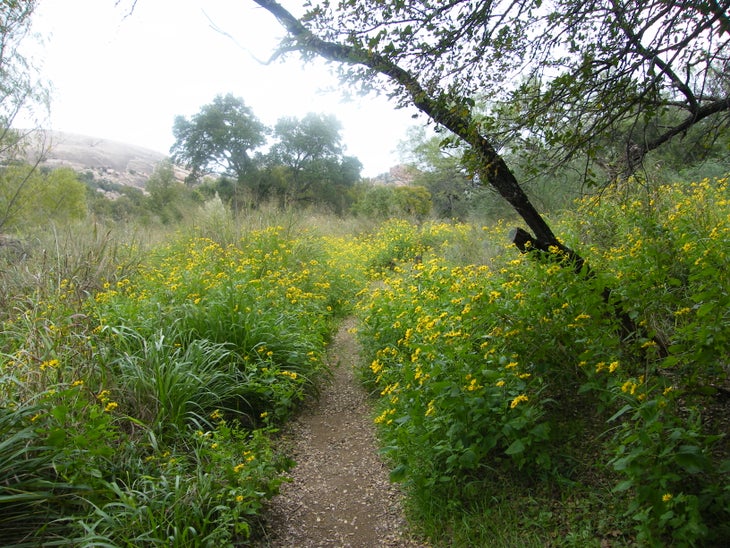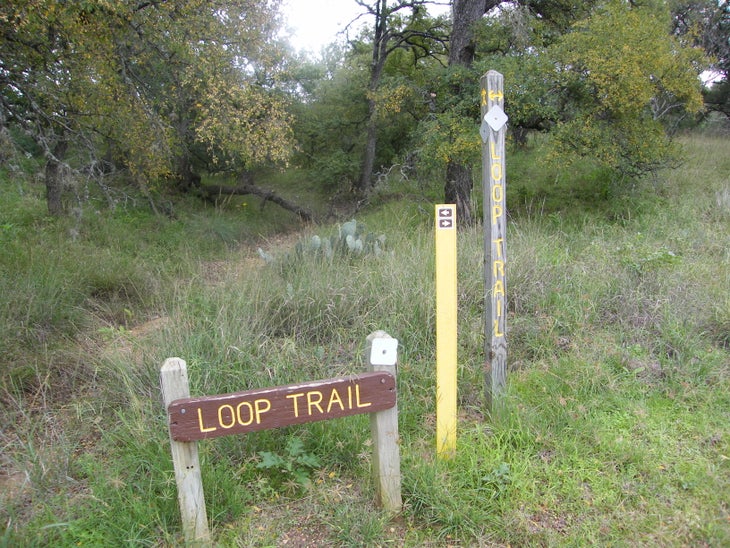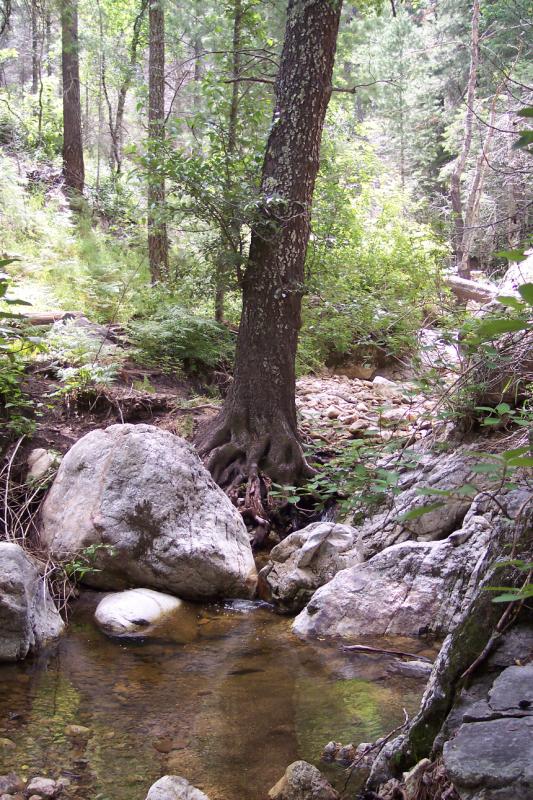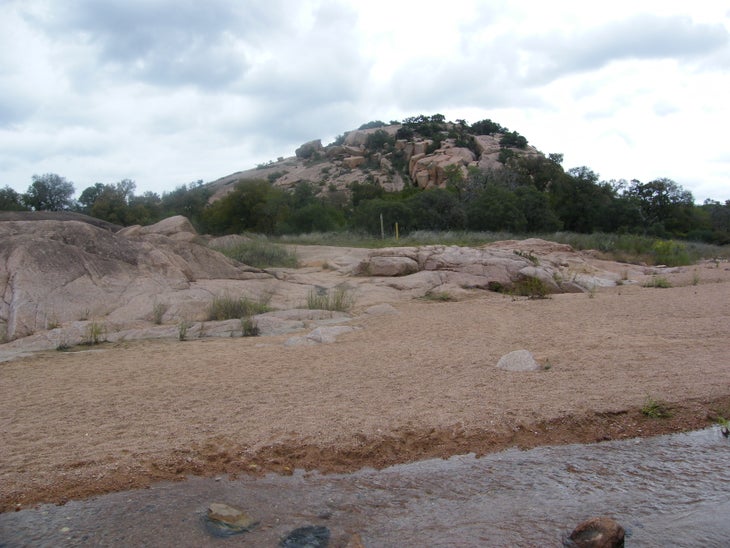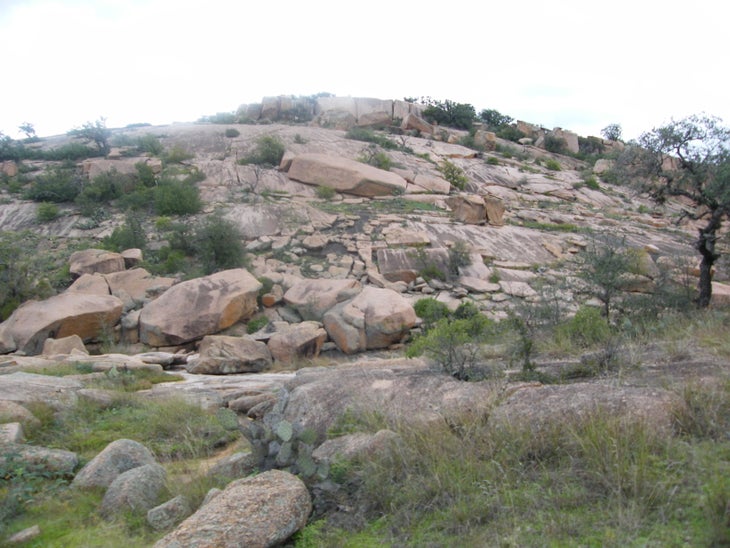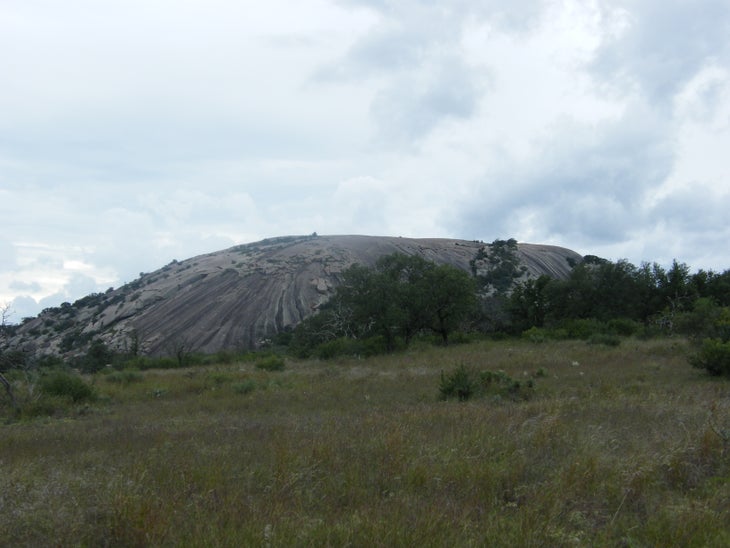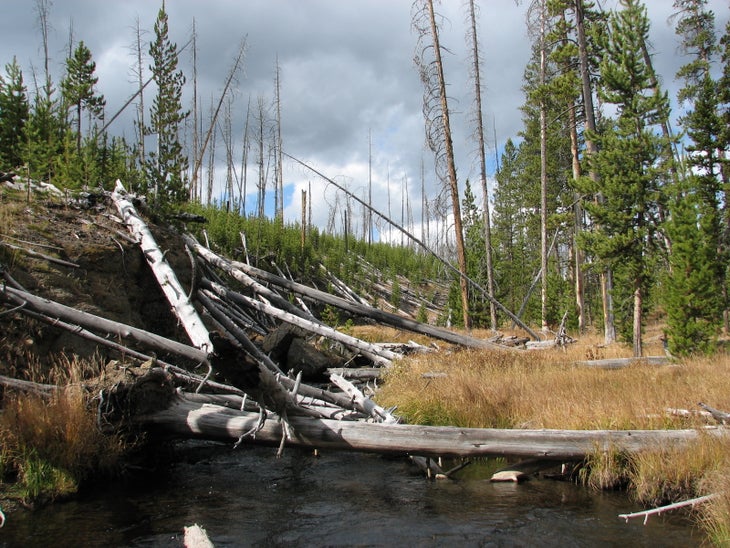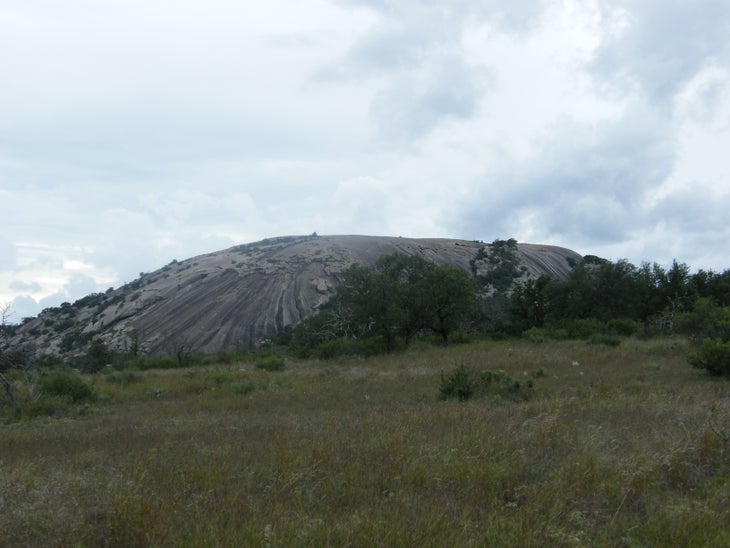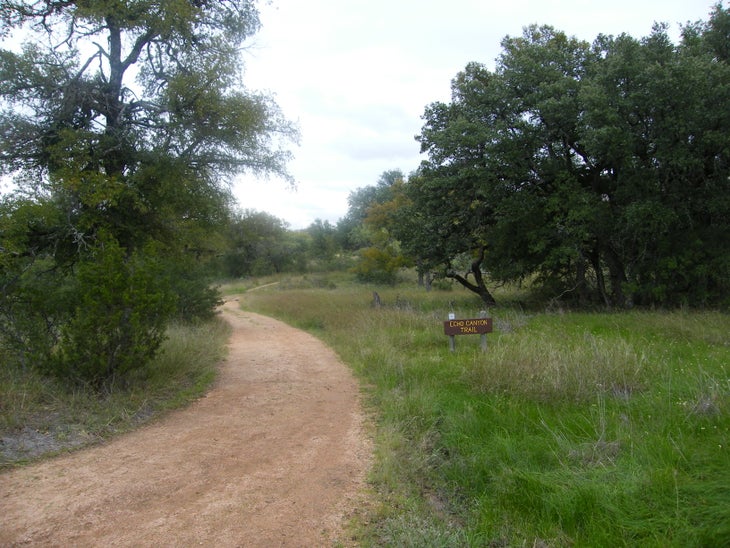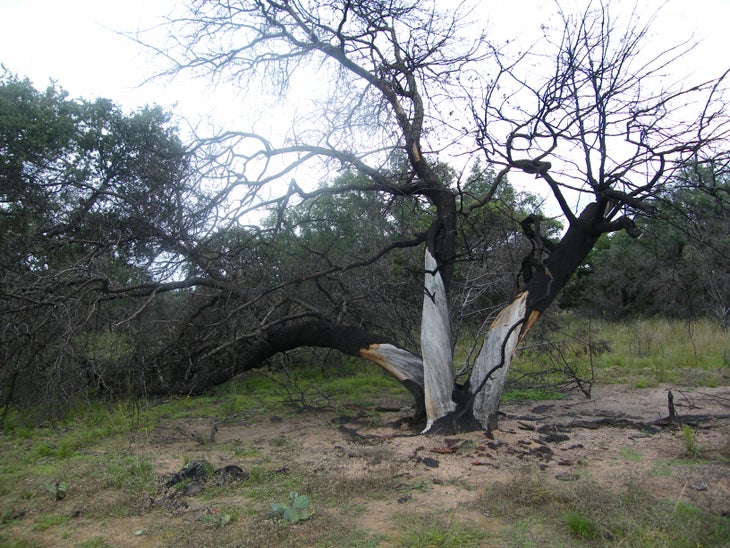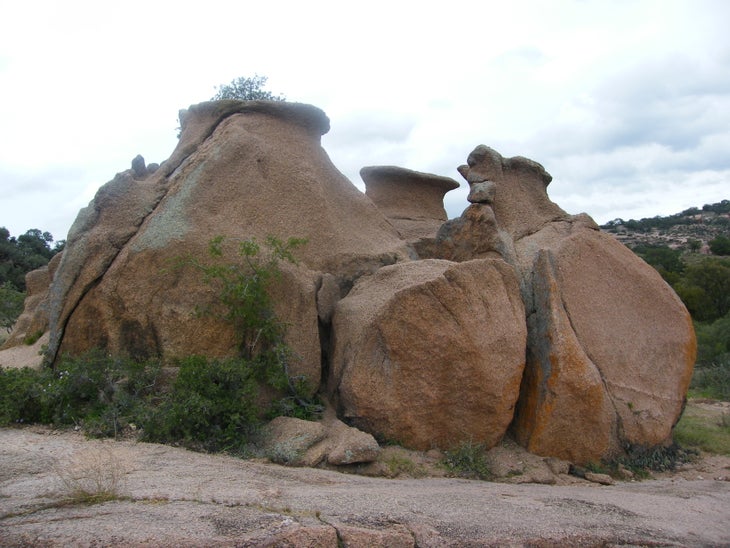 Trail Facts
Waypoints
ENC001
Location: 30.497393, -98.817955
This route approaches the Loop Trail from the day-use parking area just east of park headquarters. There is a large parking area and picnic tables here, but you'll have to stop at headquarters if you need a restroom.
ENC002
Location: 30.500164, -98.816491
Continue straight on the Loop Trail as another trail from the summit and Echo Canyon joins this wider one from the left. This trail descends to Sandy Creek and parallels it ahead.
ENC003
Location: 30.5015, -98.814318
At mile 0.4 you'll approach a large covered pavilion and group activity area. Stay straight on the Loop Trail and bypass the Turkey Pass Trail which takes off to the left near the pavilion itself.
ENC004
Location: 30.507832, -98.808659
About 100 yards from the 3-way junction with the Buzzard's Roost Primitive Campground spur, you'll reach a sandy crossing of Sandy Creek. If water levels are high, this crossing can be deep, be sure to check its condition with rangers before setting out.
ENC005
Location: 30.510704, -98.81085
As you reach the north side of Freshman Mountain you'll pass the left-hand spur where the Turkey Pass Trail starts. Though you could turn here and shorten your trip or add some difficult climbs, this route stays straight on the Loop Trail.
ENC006
Location: 30.512315, -98.825669
This northernmost stretch rolls through open grassy areas (look for deer and wildflowers), then crosses a small creek and climbs 0.2 mile to a junction with the trail to Moss Lake Primitive Camping area. There is also a backcountry toilet just off the trail to your right.
ENC007
Location: 30.510245, -98.826822
As the Loop Trail continues south, you'll bypass three junctions: stay straight on the main trail at all three junctions and roll gently uphill from this point toward an overlook up ahead.
ENC008
Location: 30.503875, -98.832375
If you have extra time, consider adding the half-mile out-and-back that heads north from this junction to a rocky observation point above Spring Creek.
ENC009
Location: 30.496491, -98.83083
Toward the southwestern edge of the loop, the trail skirts several granite outcroppings which are also popular bouldering destinations for local climbers.
ENC010
Location: 30.495775, -98.827864
Just a few hundred yards before the pavement, the wide trail merges with a maintenance road (not marked on the park's hiking map). Bear left and continue downhill toward a parking lot.
ENC011
Location: 30.496448, -98.824709
When you reach the pavement, continue east and follow the park road about half a mile back to the trailhead (it's just east of park headquarters).
Trailhead
Location: 30.498033, -98.817472
Picnic benches and the wide dirt path near the trailhead.
Flowers
Location: 30.499466, -98.816668
Trailside plants can crowd the path, especially when things are lush in the spring and early summer.
Signs
Location: 30.500289, -98.816249
The trail is well marked and there are large signs at all the junctions and intersections on this route.
Creek
Location: 30.503136, -98.811733
Sandy Creek is aptly named. You'll cruise its sandy banks on the early stretches of this loop.
Camping
Location: 30.507083, -98.808879
There are three primitive camping areas in the park. You'll skirt Buzzard's Roost before rounding Freshman Mountain.
Crossing
Location: 30.507841, -98.808546
The Sandy Creek crossing near mile 1 can be wet when water levels are high. Check with rangers about trail conditions.
Buzzard's Roost
Location: 30.508645, -98.809319
Looking north from the Loop Trail towards Buzzard's Roost.
Enchanted Rock
Location: 30.511696, -98.811582
The 640-acre granite dome for which the park is named is 425 feet high.
Stream Crossing
Location: 30.514043, -98.822773
This ephemeral crossing is sometimes dry and isn't likely to moisten your shoes or feet.
Enchanted Rock
Location: 30.513211, -98.82479
Echo Canyon Trail
Location: 30.509348, -98.827043
The other area trails are also wide and easy to follow, but with ample signage, you're not likely to make a wrong turn onto one.
Lightning Tree
Location: 30.505955, -98.828588
This charred snag was likely struck by lightning.
Rock Sculpture
Location: 30.496489, -98.830669
Large boulder formations alongside the loop trail are popular with climbers, too.