Atlanta: Raven Cliff Falls
Waterfalls, lush forests, and magnificent creekside views make this 5-mile out-and-back through Cliff Falls Wilderness a superb dayhike in northern Georgia.
Heading out the door? Read this article on the new Outside+ app available now on iOS devices for members! Download the app.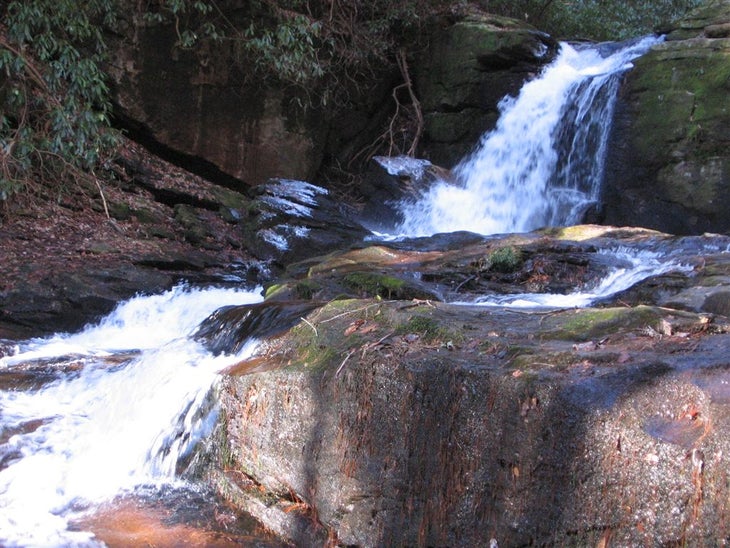 Trail Facts
Waypoints
Waterfall
Location: 34.7179527, -83.8027649
©Marcus Woolf
RCT001
Location: 34.7099495, -83.7890625
From W side of lot, hike on marked Raven Cliff Trail through a shady, verdant hemlock grove
RCT002
Location: 34.7109451, -83.7914734
Cross Dodd Creek; travel NW. In summer, creekside is covered with fragrant white blooms of mountain laurel
RCT003
Location: 34.7112122, -83.7936172
Tranquil Dodd Creek bursts into a series of whitewater stretches
RCT004
Location: 34.7131958, -83.7956314
The trail curves through rhododendron and early bloomers like trout lily, named for its mottled appearance and purple specks
RCT005
Location: 34.7179947, -83.8027878
A waterfall showers between algae-plastered boulders
RCT006
Location: 34.7182884, -83.8055725
Muffled rumble on L; part branches for a view of crashing waterfall
RCT007
Location: 34.7194862, -83.8109055
Trail deviates from the creek to ascend low ridge amid ferns and dog hubble shrubs
RCT008
Location: 34.7223167, -83.8171387
Scenic riverside campsite sits in hemlocks
RCT009
Location: 34.7230186, -83.8223038
Bear R @ Y and ascend incline; as cliffs come into view, listen for guttural croaking of ravens
RCT010
Location: 34.72332, -83.8232803
Ascend rough path on R to scenic pinnacle; a fissure in 100-foot cliff guards a waterfall that crosses and topples over rock shelves. Retrace steps back to car.