Atlanta, GA: West Palisades
Just 20 minutes from downtown Atlanta, the trails at West Palisades offer hikers, trail runners, and trout fisherman an urban escape along the Chattahoochee River.
Heading out the door? Read this article on the new Outside+ app available now on iOS devices for members! Download the app.
The West Palisades trail network in the Chattahoochee National Recreational Area offers one of Atlanta's most convenient urban escapes. This 4.8-mile out-and-back wanders north along the Chattahoochee, trekking over moderate tree-covered hills before jogging back down to the river. You'll pass a handful of premium trout fishing spots and serene views of rapids and shoals. Start from the Paces Mill Trailhead and begin hiking north along the river. One mile in, after passing the Long Island Shoals, the trail turns west and heads inland over a series of mild forested hills. Heading back east, the route passes an on-trail restroom before a spur trail option to an excellent river viewpoint/fishing spot just north of the Thornton Shoals. This hike U-turns 0.2 mile up the trail near another river view, but a bit of optional bushwhacking will reward with views of the Devils Race Course Shoals, just around the bend to the north. -Mapped by Scott Sanders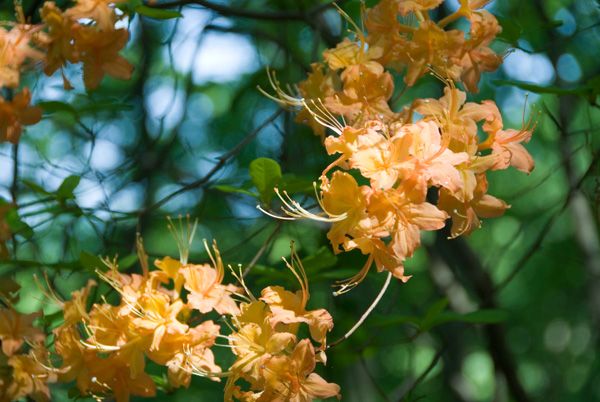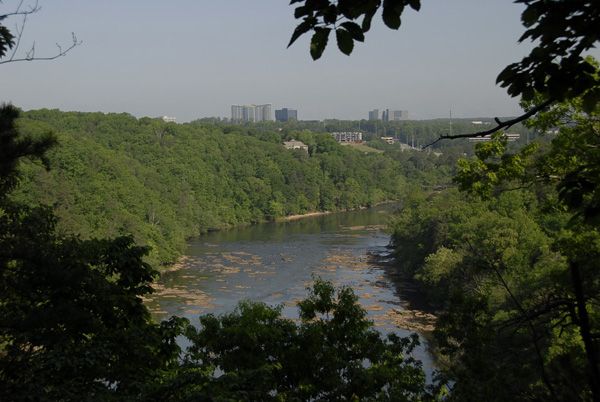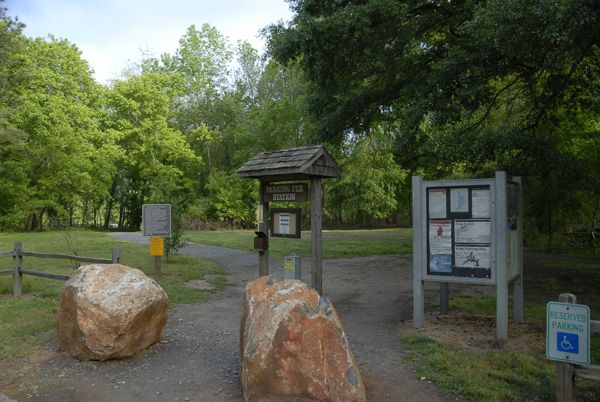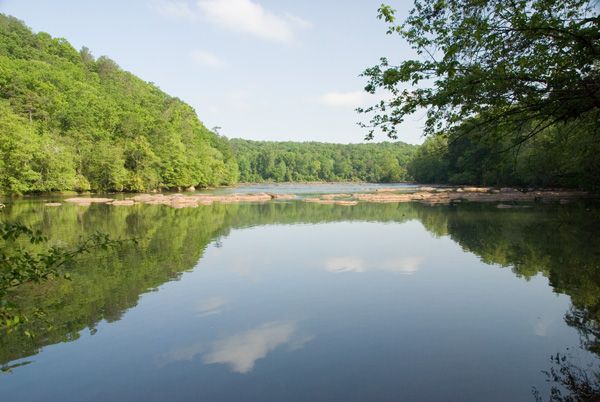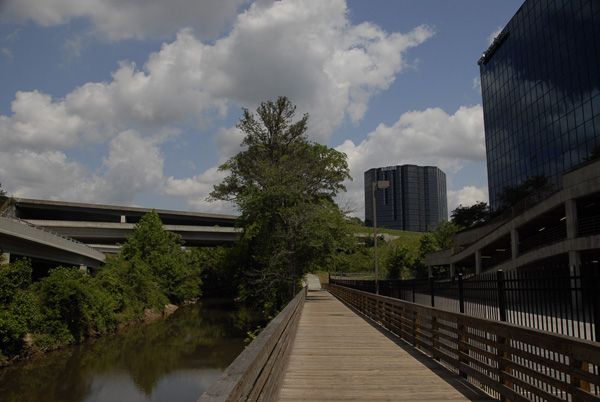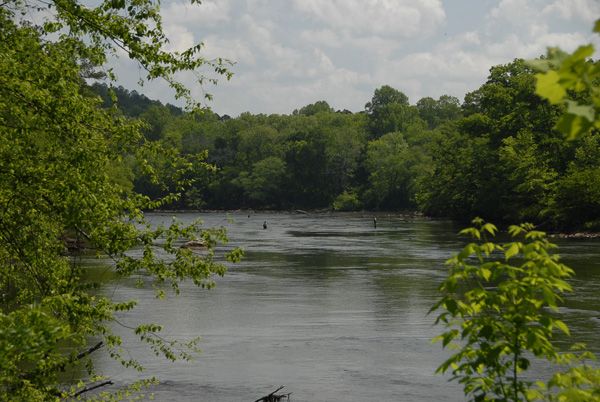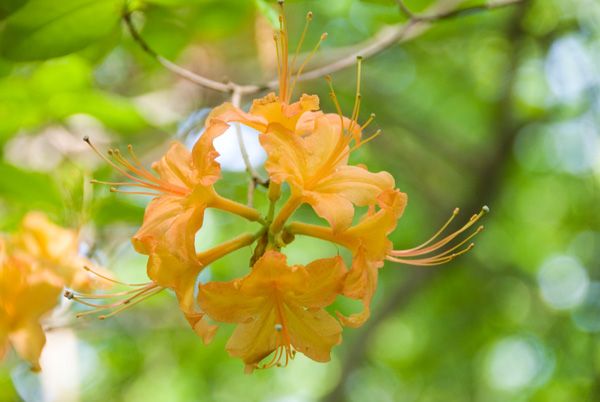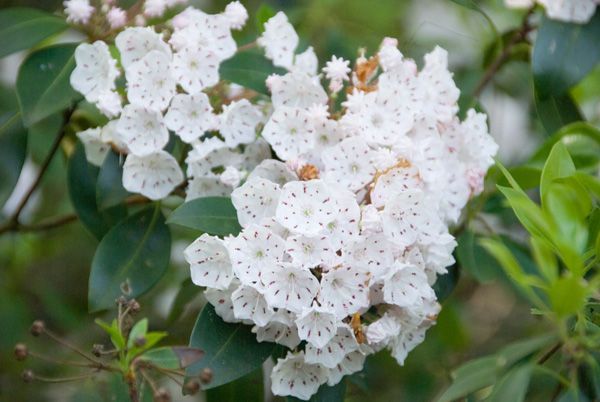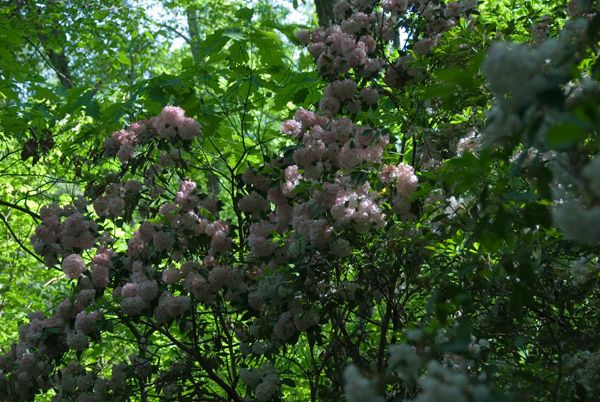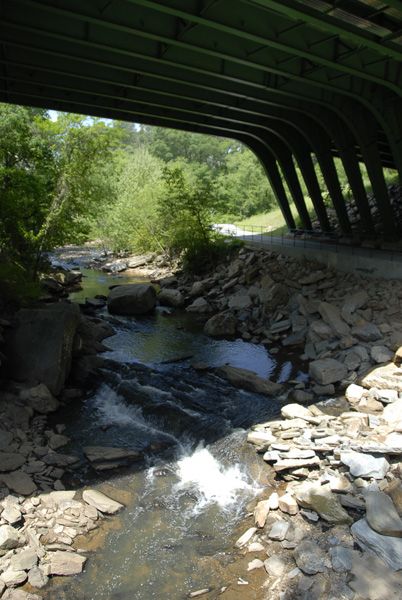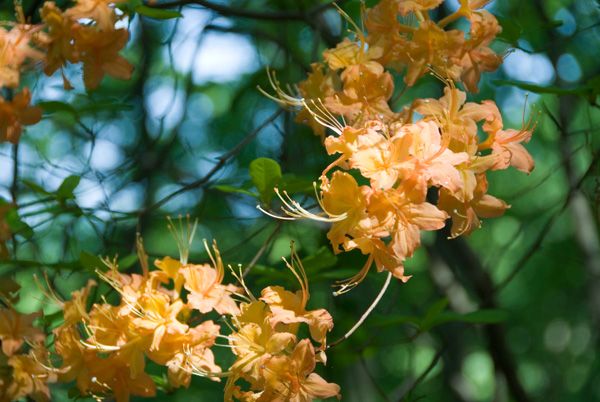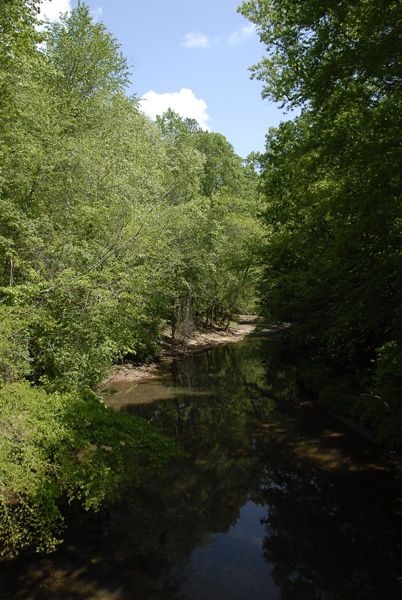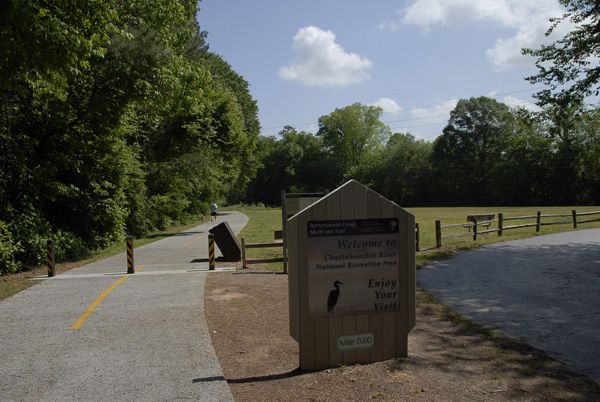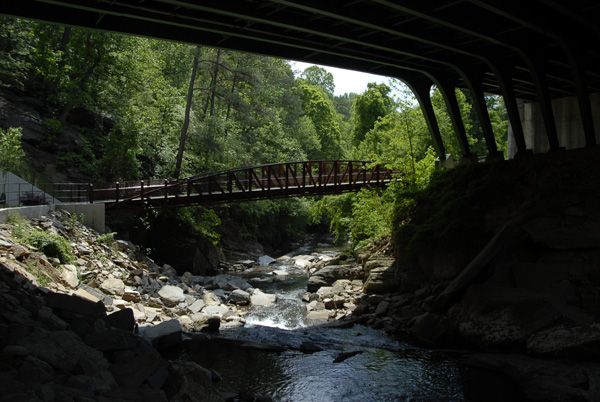 Trail Facts
Waypoints
021
Location: 33.8915901184082, -84.4288177490234
04-MAY-08 10:30:51AM turn right on paved Indian Trail
036
Location: 33.8894958496094, -84.4558410644531
04-MAY-08 12:03:51PM cross steel bridge and bear left under bridge, continue on Bob Callan trail
_AAA2827-l
Location: 33.891170501709, -84.4373779296875
003
Location: 33.8838844299316, -84.442138671875
04-MAY-08 9:34:56AM turn right at T intersection, if you don't go into the woods, turn right at the next turn and go into the woods.
030
Location: 33.8715591430664, -84.4536819458008
04-MAY-08 11:31:06AM
006
Location: 33.8880462646484, -84.439811706543
04-MAY-08 9:46:17AM go straight at T intersection
011
Location: 33.8896636962891, -84.4395217895508
04-MAY-08 9:51:20AM wooden platform overlooking view of the river
001
Location: 33.8779220581055, -84.442024230957
04-MAY-08 9:24:36AM Trailhead start, go down the dirt trail, cross the bridge, bear left and cross another bridge
031
Location: 33.8759078979492, -84.4488906860352
04-MAY-08 11:41:54AM
_AAA2822-lnp
Location: 33.8898544311523, -84.4396514892578
007
Location: 33.8885726928711, -84.439208984375
04-MAY-08 9:47:24AM turn right at T intersection, go down hill
_AAA2815-lnp
Location: 33.8777809143066, -84.442138671875
024
Location: 33.8843154907227, -84.4367599487305
04-MAY-08 10:48:36AM gravel parking lot, pick up trail to left and rear of the parking lot.
008
Location: 33.8885765075684, -84.4386291503906
04-MAY-08 9:48:19AM turn left up hill at Y intersection
_AAA2820-l
Location: 33.882682800293, -84.4427185058594
020
Location: 33.8953094482422, -84.4297027587891
04-MAY-08 10:24:46AM turn right on paved Northside Drive
014
Location: 33.8908996582031, -84.4375686645508
04-MAY-08 10:07:10AM crosses a bridge and goes uphill next to a stream
022
Location: 33.8876762390137, -84.4337158203125
04-MAY-08 10:42:01AM 1425 Indian Trail is the street address at the entrance to Northeast parking lot into East Palisades. Pathway goes back onto gravel/dirt path
017
Location: 33.8913803100586, -84.4375381469726
04-MAY-08 10:10:20AM Sharp right, less than 90 degrees, at a 4 way intersection, going up hill
010
Location: 33.8895301818848, -84.439338684082
04-MAY-08 9:50:28AM steps going down towards river
033
Location: 33.8770446777344, -84.4479522705078
04-MAY-08 11:44:06AM
015
Location: 33.890926361084, -84.4374084472656
04-MAY-08 10:07:24AM trail turns left away from stream
_AAA2835-lnp
Location: 33.891902923584, -84.4564056396484
027
Location: 33.8800582885742, -84.4403915405274
04-MAY-08 10:58:57AM go straight at T intersection
_AAA2831-lnp
Location: 33.877140045166, -84.447998046875
039
Location: 33.8938369750977, -84.4575881958008
04-MAY-08 12:11:45PM turn right at T intersection at 1.8 Mile post to end of trail. Retrace path back to beginning.
035
Location: 33.8849868774414, -84.4526062011719
04-MAY-08 11:56:34AM Little over 1 mile here.
037
Location: 33.8906898498535, -84.4560546875
04-MAY-08 12:07:02PM go under bridge and cross wooden bridge
019
Location: 33.8947334289551, -84.435661315918
04-MAY-08 10:16:59AM turn right on paved Riverview Road, or turn around and retrace tracks back through the woods.
_AAA2826-l
Location: 33.8909492492676, -84.4378204345703
_AAA2825-l
Location: 33.8895606994629, -84.4383316040039
009
Location: 33.8889236450195, -84.4388046264648
04-MAY-08 9:49:04AM go straight at 4 way intersection
025
Location: 33.8835830688477, -84.437141418457
04-MAY-08 10:50:50AM back on dirt trail, headed south and westerly
005
Location: 33.8854217529297, -84.4412307739258
04-MAY-08 9:41:00AM right hand turn at T intersection up hill
012
Location: 33.8897285461426, -84.4388198852539
04-MAY-08 9:58:36AM go straight at Y intersection, go 20 yards and make a left at a Y intersection (this intersection can be tricky)
_AAA2828-l
Location: 33.8917121887207, -84.4373931884766
_AAA2833-lnp
Location: 33.8894882202148, -84.4557418823242
_AAA2827-l
Location: 33.8914184570312, -84.4375534057617
038
Location: 33.8918380737305, -84.4563369750976
04-MAY-08 12:08:47PM go under interstate bridge
029
Location: 33.878231048584, -84.4421081542969
04-MAY-08 11:03:14AM cross back over bridge, trail turns left and heads to parking lot at the beginning
013
Location: 33.8894271850586, -84.4382476806641
04-MAY-08 9:59:44AM left on a Y intersection going downhill
002
Location: 33.8825798034668, -84.4426574707031
04-MAY-08 9:32:41AM pretty section of the river
018
Location: 33.8944320678711, -84.435905456543
04-MAY-08 False trail on left at T intersection, go straight here
028
Location: 33.8798599243164, -84.4406356811524
04-MAY-08 10:59:30AM go right at Y intersection, and cross bridge I about 50 yards
_AAA2832-lnp
Location: 33.8806610107422, -84.4511566162109
026
Location: 33.8819351196289, -84.4393768310547
04-MAY-08 10:54:57AM turn left at Y intersection
032
Location: 33.876766204834, -84.4482040405274
04-MAY-08 11:43:35AM
034
Location: 33.8805618286133, -84.4510803222656
04-MAY-08 11:49:40AM .8 mile marker
004
Location: 33.8843765258789, -84.4417037963867
04-MAY-08 9:36:00AM right hand turn up hill at Y intersection
023
Location: 33.8867416381836, -84.4350204467774
04-MAY-08 10:44:12AM go straight at T intersection, river trail is to the right here
_AAA2830-lnp
Location: 33.8716049194336, -84.4536437988281
_AAA2834-lnp
Location: 33.8908767700195, -84.4562606811524
016
Location: 33.8912544250488, -84.4372100830078
04-MAY-08 10:08:05AM cross a small stream with no bridge