Aspen, CO: West Maroon Pass
This moderate 12.7-mile out-and-back climbs a glacial valley under America's most photographed peaks, where sweeping views from 12,480-foot West Maroon Pass are more than picturesque.
Heading out the door? Read this article on the new Outside+ app available now on iOS devices for members! Download the app.
Beginning at the shores of Maroon Lake, this 12.7-mile out-and-back is a difficult day hike or a moderate overnight trip among some of North America's most photographed peaks.
The trail climbs beneath aspen in the White River National Forest before traversing a lichen-covered rock garden and turning south. Skirting Crater Lake—and 11 designated campsites—the trail settles into a lush valley sandwiched between 13,000-foot Len Shoemaker Ridge and the 14,000-foot Maroon Peaks. As it follows West Maroon Creek, the trail crosses its path several times—consider bringing trekking poles, especially in early spring when snowmelt can make crossings treacherous.
Heavy understory thins near treeline where a mind-boggling array of wildflowers await: Indian Paintbrushes, Colorado Columbine, Geyer Larkspur, and dozens of other species bloom throughout late summer. In its last two miles, the trail gains over 1,000 feet, dipping into a valley saddle at mile 5.5 before the final push up rocky slopes to the 12,480-foot pass.
Wilderness camping in the White River National Forest is free but expect to pay a per-car fee to drive to the trailhead, or a per-person fee for the shuttle bus.
-Mapped by Kristy Holland and Anne Whetzel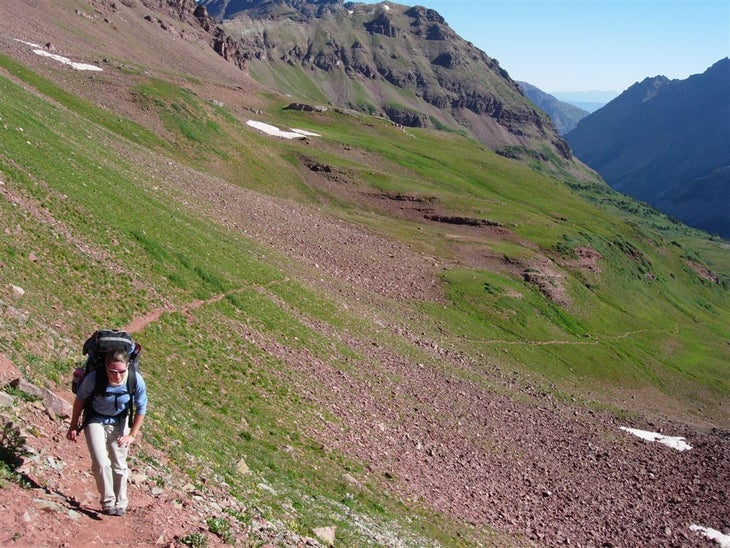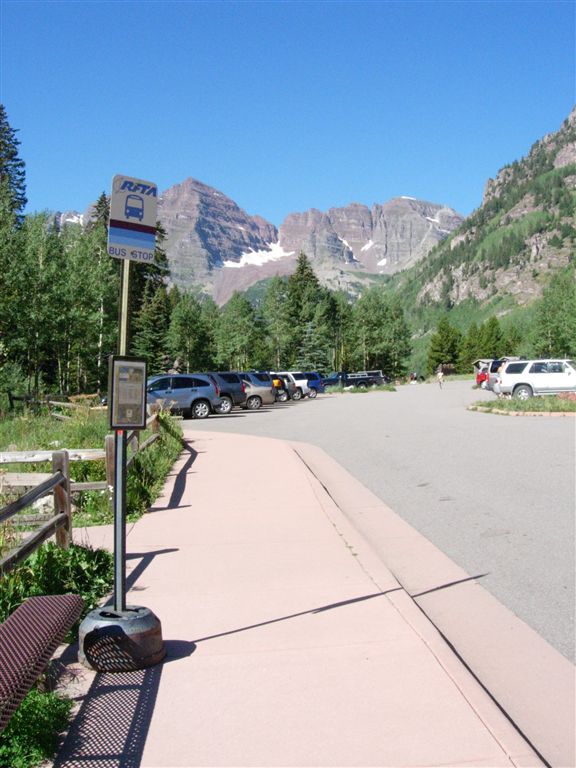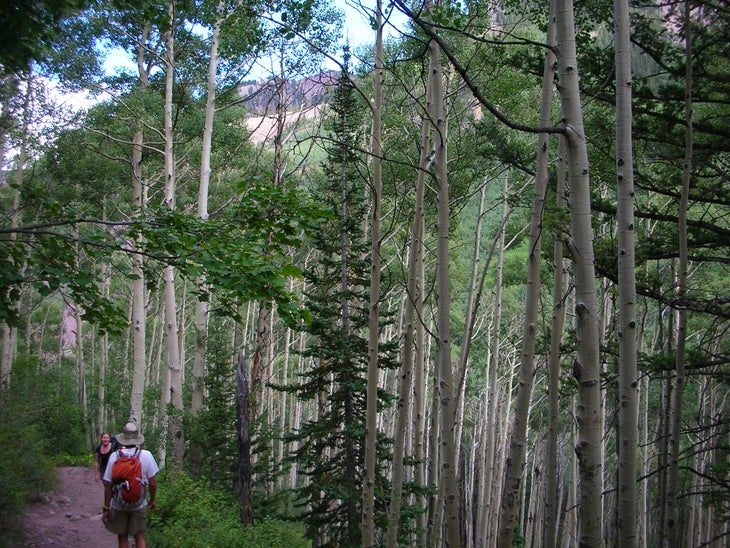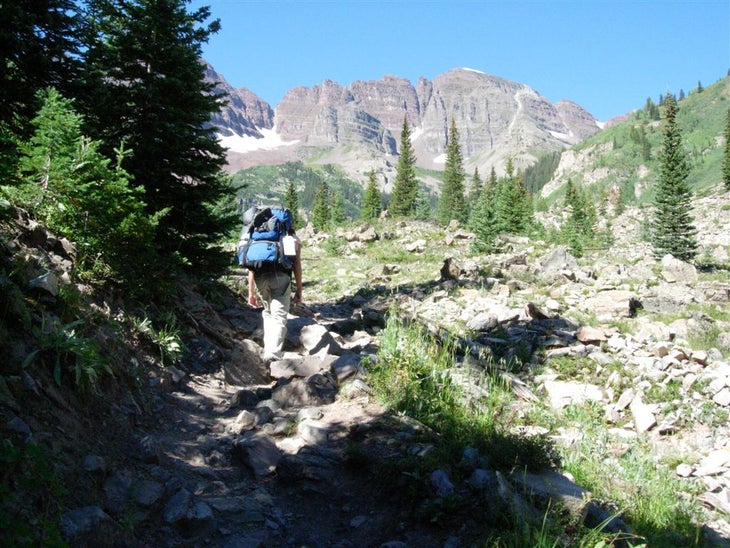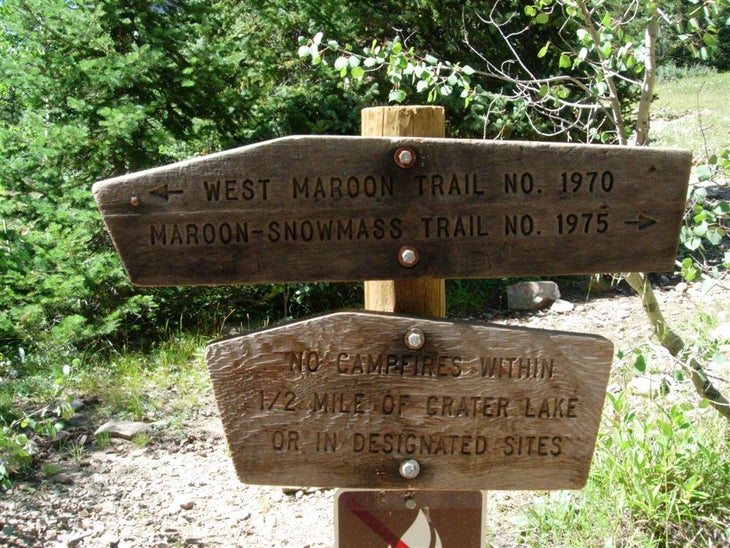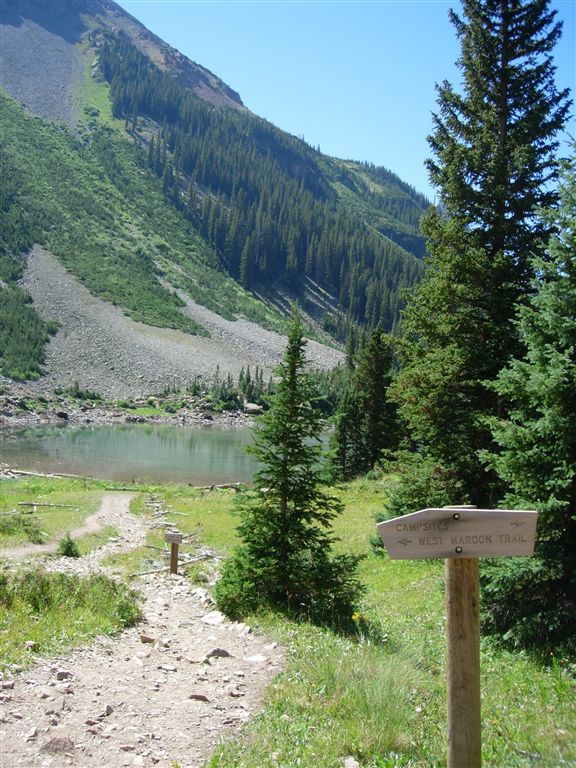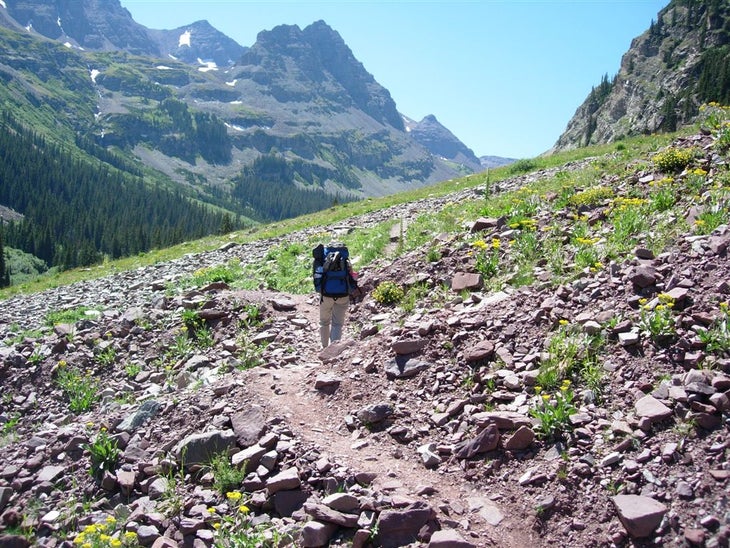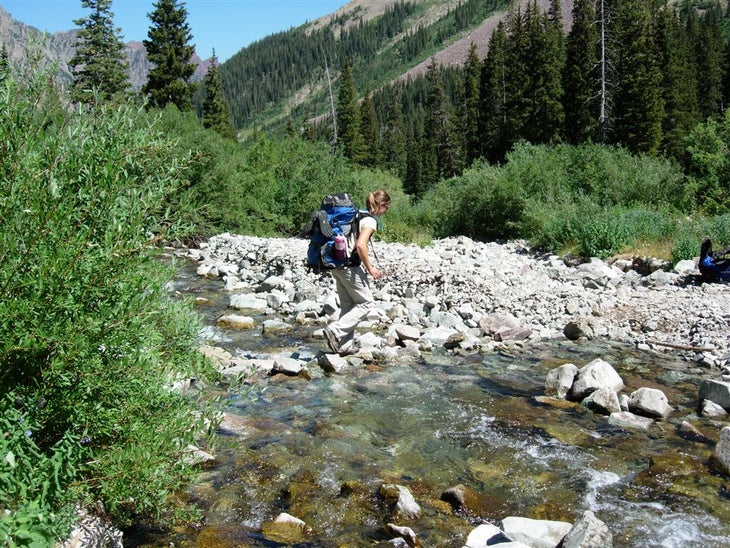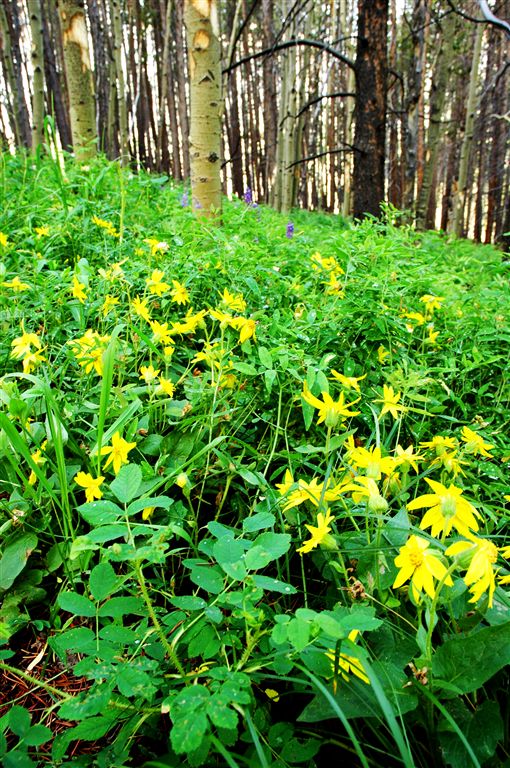 Trail Facts
Waypoints
Summit Climb
Location: 39.038414, -106.995155
The rocky trail narrows and the climb intensifies near the summit.
Trailhead Parking
Location: 39.098949, -106.9394
During peak summer hours, a bus shuttles visitors to the trailhead near Maroon Lake, a popular destination for families, fishermen and photographers.
Aspen
Location: 39.094997, -106.952934
Massive aspen groves dominate the scenery along the trail's early stretches. ©Annie Whetzel
Early Climb
Location: 39.090786, -106.95961
After emerging from the woods, the open trail skirts a tree-strewn valley and climbs toward Crater Lake.
West Maroon Trail
Location: 39.088642, -106.96579
Trailsigns point to the West Maroon Trail No. 1970.
Crater Lake
Location: 39.08765, -106.966209
The trail turns south and skirts Crater Lake's shoreline for nearly 0.25 miles.
Rocky Trail
Location: 39.078907, -106.971733
The trail is easy to follow and open as it traverses several rock slides. The crumbling debris exposes steep faces along the Maroon Bells' eastern slopes.
Stream Crossing
Location: 39.0653, -106.971481
Stepping stones made this late-August crossing a dry one, but be prepared for getting wet if the river is snowmelt-swollen earlier in the summer.
Wildflowers
Location: 39.043442, -106.986412
Approaching treeline, wildflower-filled fields are a sharp contrast to the rocky peaks.
WMP001
Location: 39.099651, -106.937668
In addition to toilets and water at the trailhead, there are three parking lots and a shuttle bus to reduce traffic during the summer.
WMP002
Location: 39.098534, -106.940826
Follow signs for the Crater Lake Trail as you head west through the parking area and along the shores of Maroon Lake.
WMP003
Location: 39.098091, -106.94603
Turn right @ signed Y-junction, heading uphill toward Crater Lake. A bench and several interpretive signs at this junction near Maroon Lake's halfway point make this a great spot for a photo-op.
WMP004
Location: 39.097122, -106.947838
Cross two plank bridges just before reaching a self-registration kiosk at the wilderness area boundary. Overnight hikers are required to fill out the free registration tag and detail their plans.
WMP005
Location: 39.091442, -106.958328
After climbing several pine-shaded switchbacks, the trail opens up and winds through lichen-covered piles of angular rock. Near the end of this 0.3-mile section of trail, get your first glimpse of Crater Lake's muddy waters to the left.
WMP006
Location: 39.088654, -106.965958
Turn left at this trail junction to follow the West Maroon Trail #1970. Skirting the lake's northern shore, you'll pass several campsite spur-trails. Campsite 6 is a favorite, but try to steer clear of Campsite 3, you may find a hornet's nest.
WMP007
Location: 39.08429, -106.969894
Cross the small stream over a split-log bridge and continue through the ponderosa-shaded clearing. Pass left-hand spur trails to Crater Lake's Campsites 7-9.
WMP008
Location: 39.080582, -106.971359
Continue on the main trail, bypassing the spur trails toward Campsites 10 and 11.
WMP009
Location: 39.078888, -106.971786
The lush understory clears as the trail winds atop a rockfall and scree field. Northern views of Crater Lake are a little distracting, but the well-trod trail is easy to follow.
WMP010
Location: 39.065227, -106.971741
You'll cross several easy streams before reaching this more substantial crossing at mile 3.5. Water levels may be low in late August, but a snowmelt-swollen river in early summer might present more of a challenge. Stop to dry your feet and have a snack on the streams open eastern side.
WMP011
Location: 39.056427, -106.975632
A rock outcropping on the trail overlooks West Maroon Creek and the valley.
WMP012
Location: 39.055191, -106.976898
Several user-created trails merge on the opposite side of this 10-foot stream crossing. Expect to get wet in the late spring or early summer when the stream is high.
WMP013
Location: 39.046791, -106.983872
A hill on the right side of the trail and thick shrubbery obscure North and South Maroon Peak. This is one of the only sections of trail where the peaks are out of sight.
WMP014
Location: 39.042553, -106.986626
This meadow area near treeline has several inviting tent sites. There are no designated campsites above Crater Lake, but using established sites helps reduce the impact of overnight visitors.
WMP015
Location: 39.042293, -106.987824
Descend a small hill for another stream crossing, which is easy to hop across.
WMP016
Location: 39.036419, -106.997261
The climb intensifies as the vegetation and air thins near the pass. Alpine meadows and flowers give way to red-tinted rocks for the final few hundred feet of climbing.
WMP017
Location: 39.035732, -106.997307
The 12,480-foot pass offers spectacular and sweeping views of Mount Belleview and the East Fork Crystal River basin. Several rocky outcroppings are a good place to soak in the view, if the wind and weather are mild.