Aspen, CO: Buckskin Pass to Snowmass Lake
There is fierce competition for the finest scenery on this challenging trek to Snowmass Lake: alpine lakes, rocky chasms, and 14,000-foot peaks.
Heading out the door? Read this article on the new Outside+ app available now on iOS devices for members! Download the app.
This challenging, 16-mile roundtrip traverses Buckskin Pass for a sampling of Maroon Bells-Snowmass Wilderness Area highlights. Admire Maroon Lake's surface reflection of the Maroon Bells before a steady climb through aspen turns sharply uphill from Crater Lake. The trail rises 2,200 feet over the next 2.7 miles, skirting Minnehaha Gulch's rocky chasm and traversing a forest of avalanche-tossed trees on the way to sub-alpine meadows below Buckskin Pass. Atop the 12,462-foot pass, western views of Snowmass Mountain, southeast views of Pyramid Peak, and southern views of the Maroon Bells compete as photo-op backdrops before the trail drops quickly below red-hued cliffs into the marshy upper reaches of Snowmass Creek. About 2 miles from the pass, the descent mellows for a pine-shaded roll past a beaver-dammed marsh and a several well-marked junctions leading to Snowmass Lake's rocky shore. Several campsites near the lake are prime real estate for base camps below Snowmass Mountain or overnight respites before the 1,400-foot climb back to Buckskin Pass. Backcountry camping in the Maroon Bells-Snowmass Wilderness is free, but expect to pay a per-car fee or per-passenger shuttle fare to access the trailhead at Maroon Lake. -Mapped by Kristy Holland and Annie Whetzel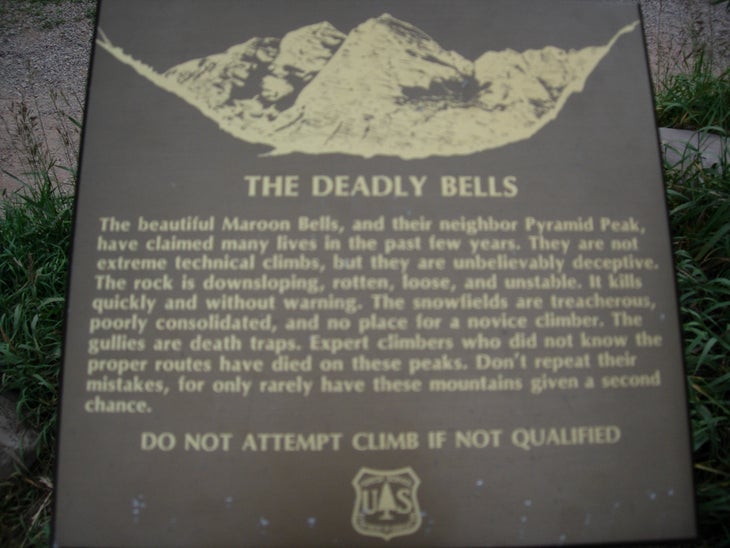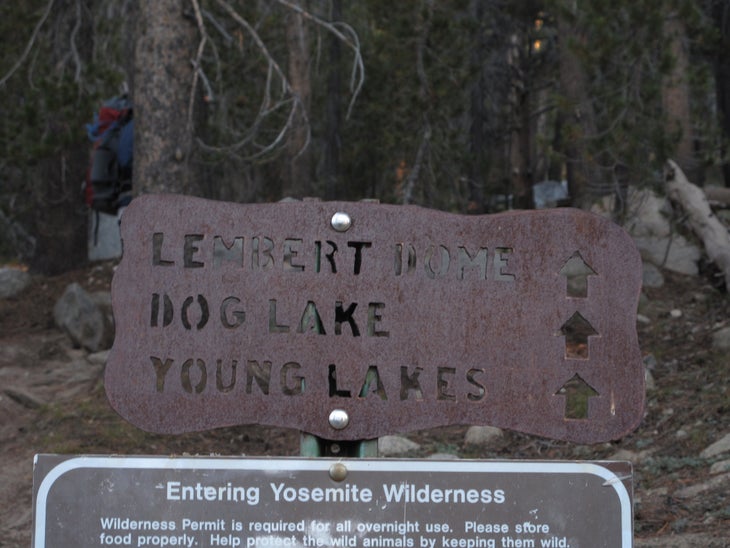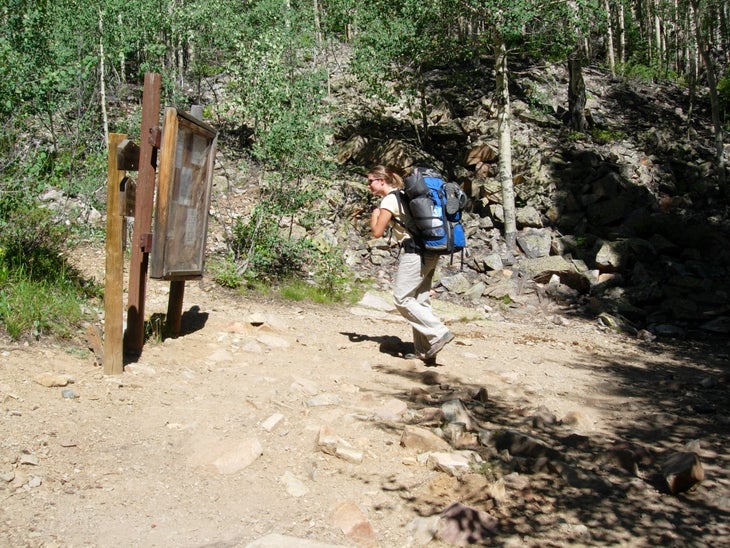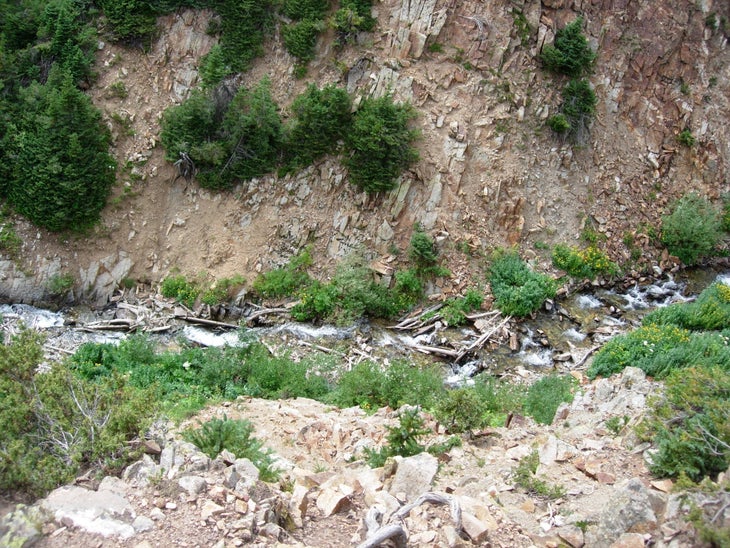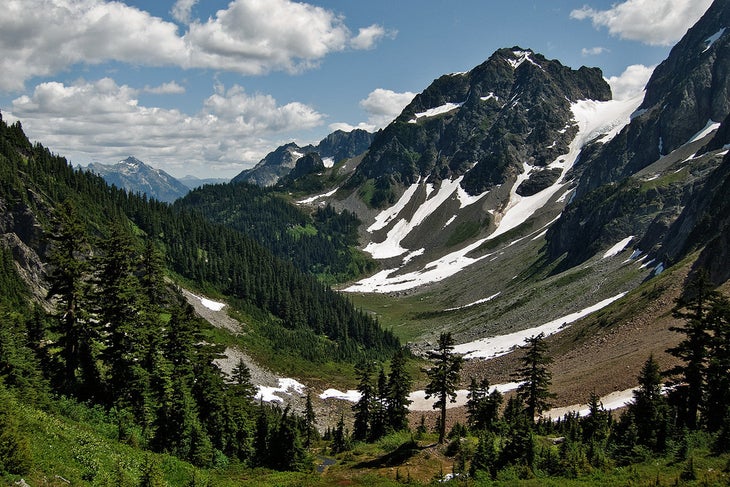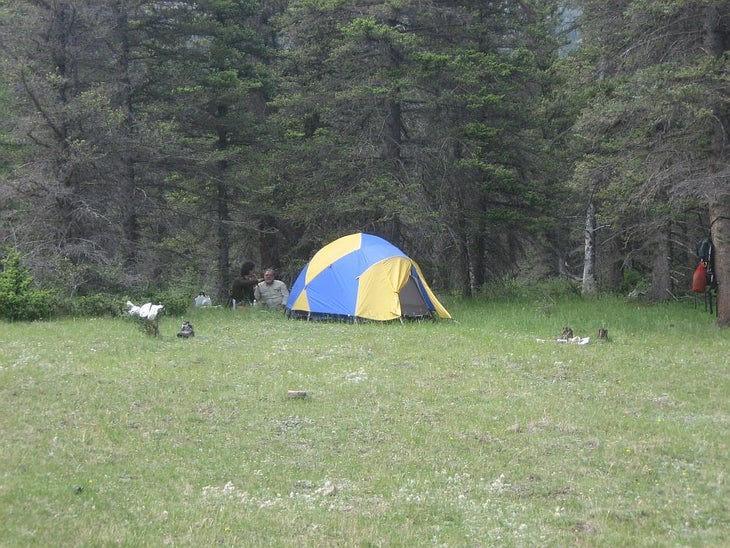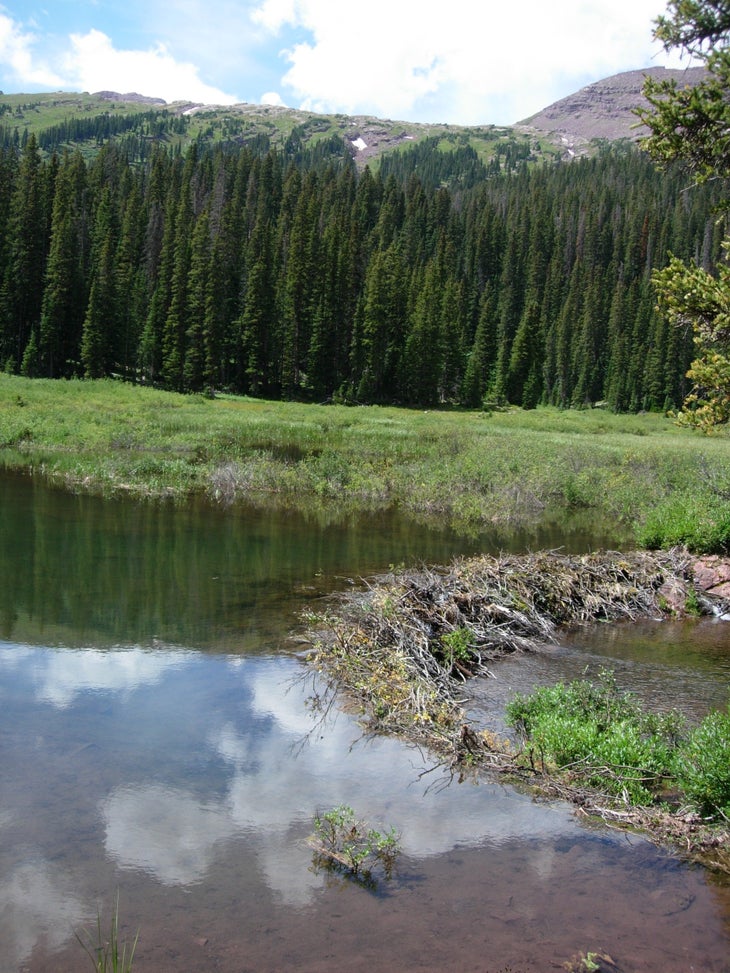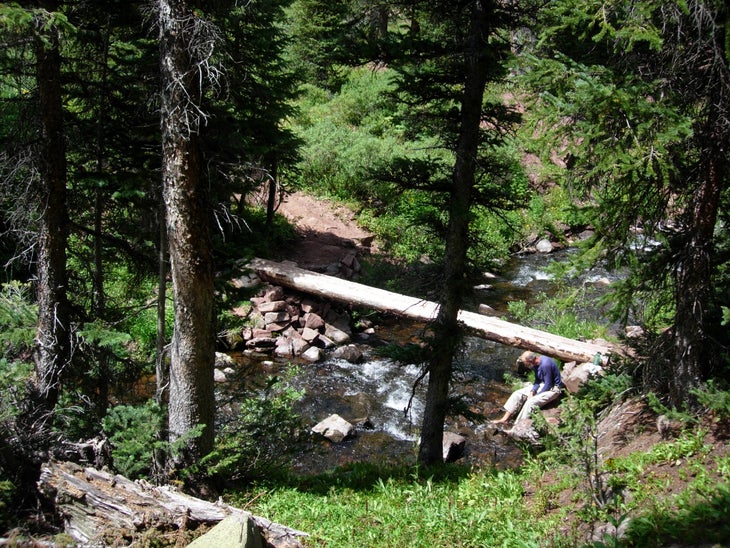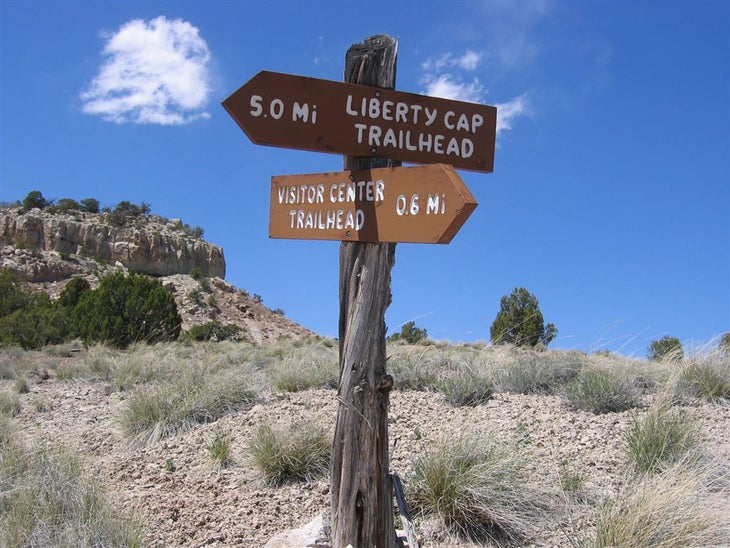 Trail Facts
Waypoints
BSM001
Location: 39.0984268, -106.9412842
From the Maroon Lake, hike west toward Crater Lake. In addition to toilets and water, there are three parking lots and a shuttle bus stop that helps reduce traffic during peak summer hours.
BSM002
Location: 39.0983925, -106.9440918
Continue straight @ 3-way junction, or if you've come via shuttle bus, join the main trail heading west along Maroon Lake.
BSM003
Location: 39.0980911, -106.9460297
Turn right @ Y-junction toward Crater Lake.
BSM004
Location: 39.0971222, -106.9478378
The trail passes the wilderness area boundary near the beginning of an aspen-shaded climb. Overnight hikers must self-register and carry the free overnight permit with them during their trip.
BSM005
Location: 39.0906105, -106.9597015
The trail flattens after a series of short switchbacks lead to a lichen-covered rock garden. Watch your footing as you wind around piles of angular rock.
BSM006
Location: 39.0896873, -106.9644547
The trail descends and offers glimpses of Crater Lake's muddy waters below the towering Maroon Bells.
BSM007
Location: 39.0886536, -106.9659576
Turn right @ Y-junction and follow the Maroon-Snowmass Trail #1975 away from Crater Lake.
BSM008
Location: 39.0890198, -106.9695587
A stretch of broken aspen are evidence of this area's winter avalanche danger.
BSM009
Location: 39.090641, -106.9779053
A rocky outcropping offers a glimpse into Minnehaha Gulch. Be careful near the cliff edge, the log-jammed river is about one hundred feet below the rocky cliff.
BSM010
Location: 39.093544, -106.9785995
A wide section of relatively flat, pine-covered trail precedes several small stream crossings. The last crossing is larger, nearly 20 feet across, and may present a challenge when water levels are high.
BSM011
Location: 39.0992393, -106.9849319
This trailside cascade is a great place to stop and rest before being fully exposed to the elements above treeline.
BSM012
Location: 39.1002541, -106.9849701
Turn left @ Y-junction toward Buckskin Pass, bypassing the Willow Pass and Willow Lake Trail.
BSM013
Location: 39.1020164, -106.9925461
Buskskin Pass (12,462 ft.) is this route's high point. Snowmass Mountain dominates the western view but nearby grassy slopes offer dramatic contrast. Watch for mountain goats that frequent the rocky outcroppings above the pass.
BSM014
Location: 39.1059532, -107.0041351
After dropping quickly from the pass, the trail crisscrosses a small stream before leveling out along the relatively flat, marshy valley.
BSM015
Location: 39.1074791, -107.008934
A few steep, loose, rocky switchbacks traverse a steep meadow. Up ahead, the trail passes below a big, open, red-hued rock face.
BSM016
Location: 39.1089668, -107.016304
This rocky outcropping hides another campsite, just 100 feet to the right of the trail.
BSM017
Location: 39.1171722, -107.0263596
Go straight @ 3-way junction, following signs for Snowmass Lake. Or, turn right to scope out several individual campsites and a larger group site. There are more sites along the trail ahead, too.
BSM018
Location: 39.1174316, -107.0301056
A clearing next to Snowmass Lake is a great spot for a picnic and offers great views of Snowmass Mountain looming above.
Buckskin View
Location: 39.1019897, -106.9925461
Views of Snowmass Mountain and Snowmass Lake reward from the saddle of 12,462-foot Buckskin Pass. © Annie Whetzel
Warnings
Location: 39.0980606, -106.9455948
The dramatic cliffs of the Maroon Bells are also dangerous. Interpretive signs at the beginning of the trail warn about the hazards of backcountry travel. © Kristy Holland
Wilderness Boundary
Location: 39.0970955, -106.9477844
Overnight hikers are required to self-register at the wilderness area boundary. © Kristy Holland
Junction
Location: 39.0887032, -106.9663239
This signed Junction has a map of the Crater Lake campsites and marks the split between the West Maroon and Maroon-Snowmass trails. © Kristy Holland
Minnehaha Gulch
Location: 39.0907326, -106.9781723
© Kristy Holland
Cascade
Location: 39.0991592, -106.9850311
A trailside cascade is a good resting point before the final push toward Buckskin Pass. © Kristy Holland
Campsite
Location: 39.1069183, -107.0062332
There are several established campsites between the pass and the lake. This one is perched near the top of a cliff a few hundred feet left of the trail. © Kristy Holland
Beaver Dam
Location: 39.1081505, -107.0147324
Watch for beaver tending this trailside dam, an integral feature in the wetland marsh you've skirted on the north. © Kristy Holland
Snowmass Creek
Location: 39.1087761, -107.0153656
A log bridge crosses Snowmass Creek. A spur trail before the bridge leads to a pleasant campground that is more private than ones closer to the lake. © Kristy Holland
Trail Sign
Location: 39.1171417, -107.0263824
The area around Snowmass Lake is well-signed making navigation to campsite areas easy. There is no camping within 0.25-miles of the lake, and there are many established campsites outside that boundary.