Asheville, NC: Nantahala Headwaters Loop
Hike 24.8 miles around the source of the Nantahala River on the Appalachian Trail and camp atop Albert Mountain for night-sky views. On night two, pitch your tent on 5,498-foot Standing Indian, a treeless bald with front-row sunset vistas.
Heading out the door? Read this article on the new Outside+ app available now on iOS devices for members! Download the app.
From reader and map contributor kurtisk, this popular-for-a-reason loop hike circles the headwaters of the Nantahala River.
Text by Andrew Matranga. Mapped and Photographed by Steven Kruse
Plan it
Click to PRINT AND GO
GUIDEBOOK AND MAP Appalachian Trail Conservancy North Carolina/Georgia Guide #111; ($28, atctrailstore.org). Get ground-truthed advice for this route—or plan a 2,175-mile thru-hike with BACKPACKER's Guide to the Appalachian Trail (free, backpacker.com/AT).
FEES/PERMITS None
CONTACT Nantahala National Forest, Nantahala Ranger District (828) 524-6441; fs.fed.us/r8/
CONDITIONS Water sources at shelters are reliable. At 4,000 feet, temperatures are pleasant from May to September. Target late May to early June for flowers and mid-October to early November for showy foliage.
GPS DATA Download tracks and waypoints, print or order custom topos, from the menu on the right.
LOCAL LINKS
GAS
EXXON
51 Merrimon Ave.
Asheville, NC 28801
(828) 258-1670
GEAR
BLACK DOME MOUNTAIN SPORTS
140 Tunnel Rd.
Asheville, NC
(828) 251-2001
GROCERIES
FRENCH BROAD FOOD CO-OP
90 Biltmore Ave.
Asheville, NC
(828) 255-7650
RESTAURANTS
THIRSTY MONK
50 Commerce St.
Asheville, NC
(828) 254-5470
MAST GENERAL STORE
63 North Main St.
Waynesville, NC
(828) 452-2101
SOUL INFUSION TEA HOUSE
628 East Main St.
Sylva, NC
(828) 586-1717
CAFF-E REL
457 East Main St.
Franklin, NC
(828) 369-9446
Multiday gear list
Backpack
Three-season tent
Down bag (15° to 40°F)
and sleeping pad
Compass, map, GPS unit
Gas stove and fuel bottles
Lighter and matches
Cookset, bowl, insulated
mug, eating utensils
32 oz. water bottle (2)
Water treatment
Multitool/knife
Bear-bagging rope
Headlamp with
extra batteries
Waterproof/breathable
jacket and pants
Fleece and down jackets
Synthetic pants and
shorts
Midweight baselayers
Synthetic T-shirt (2)
Hat and gloves
Hiking boots
Camp footwear
Wool/synthetic socks (3)
Trekking poles
Bug repellent and
sunscreen (SPF 15+)
Stuffsacks
Zip-top bags
Toilet paper and trowel
First-aid kit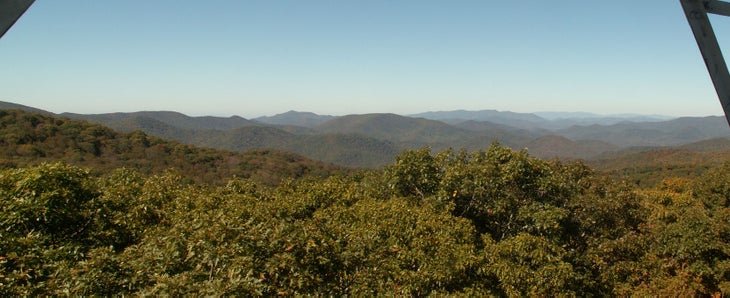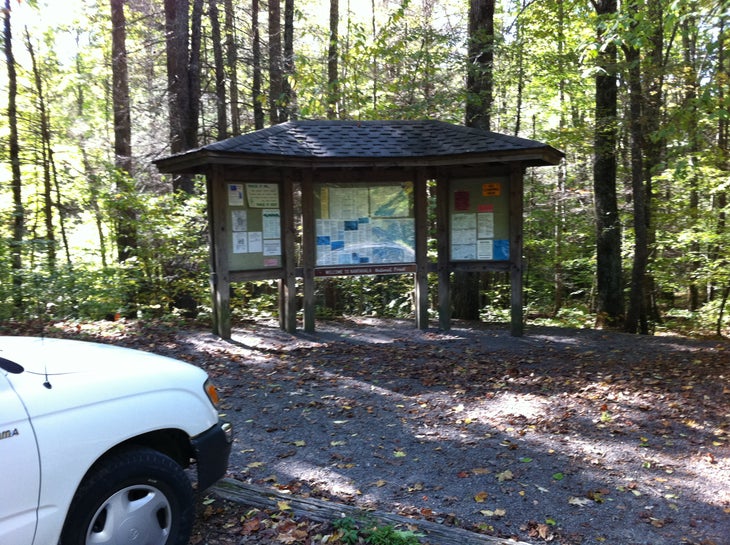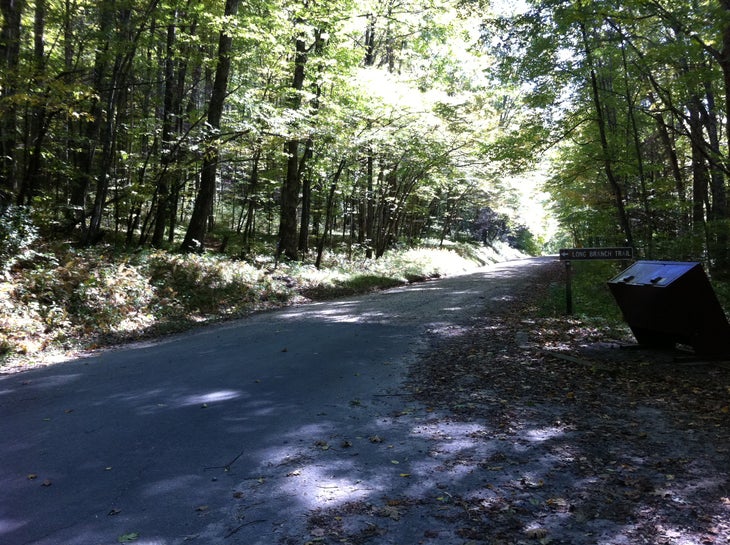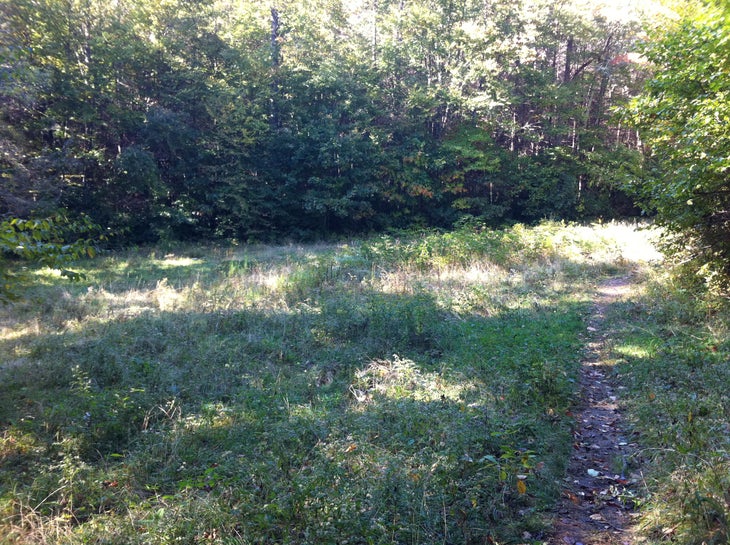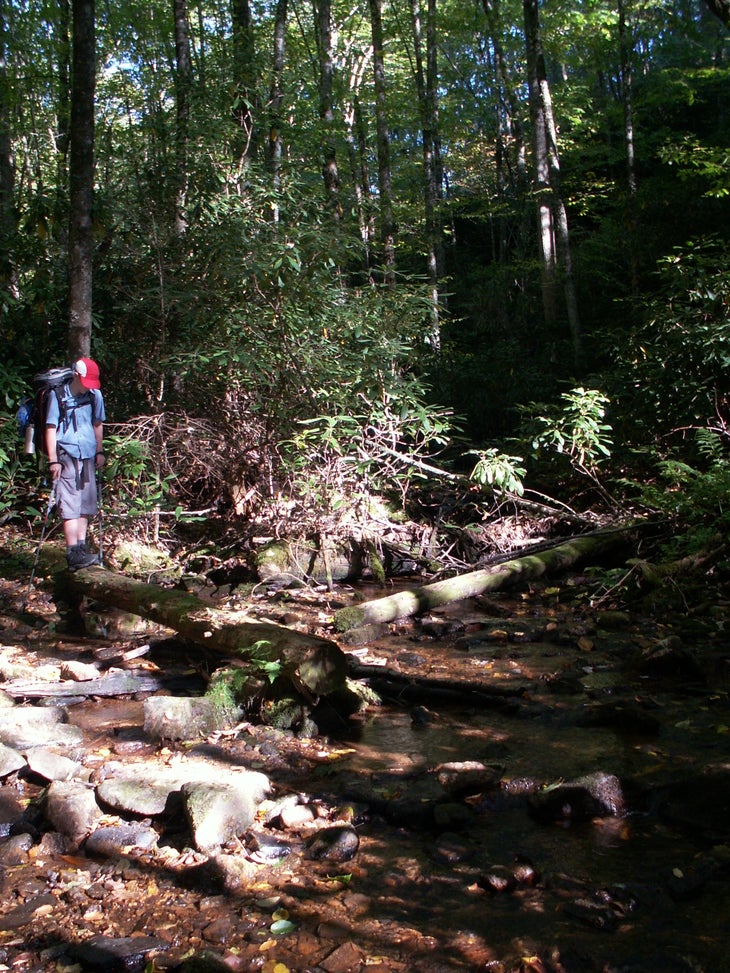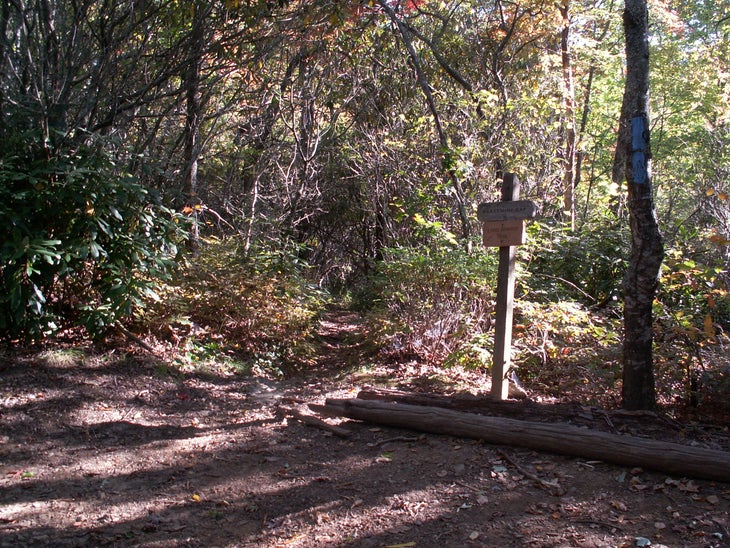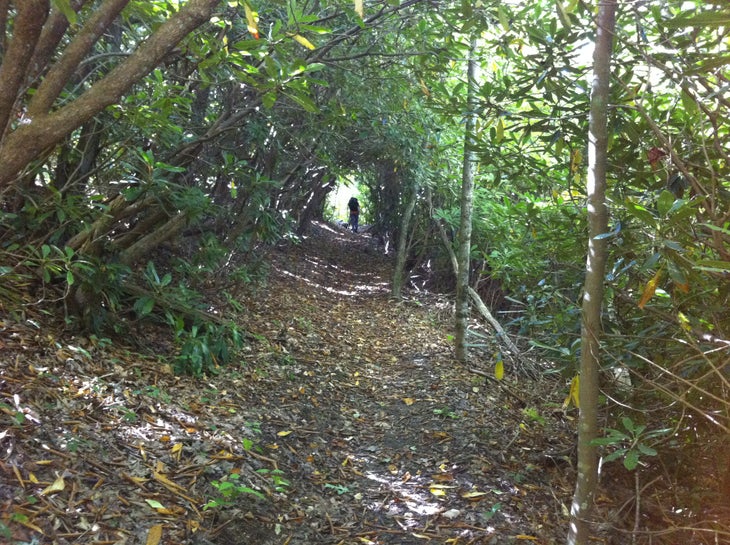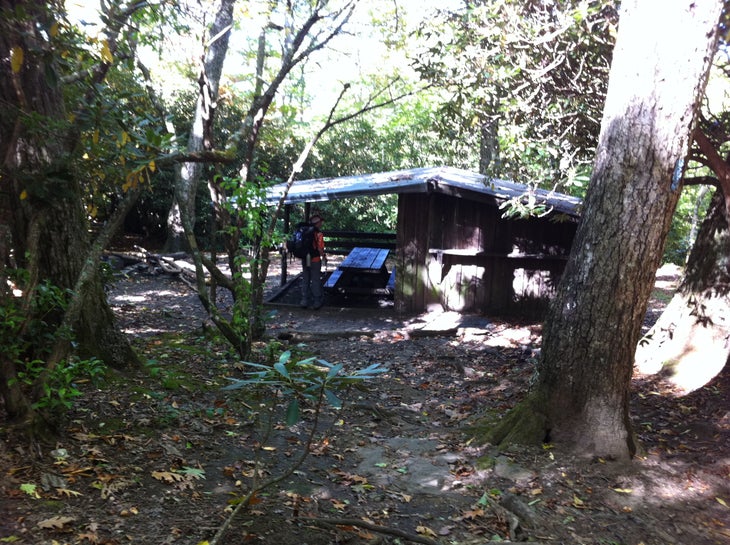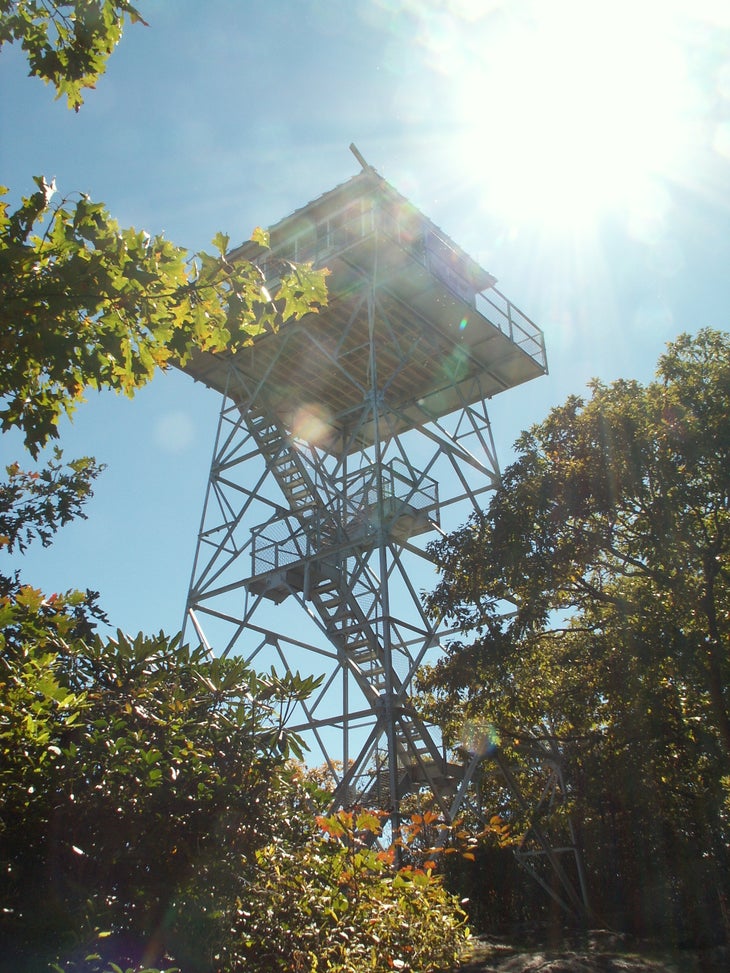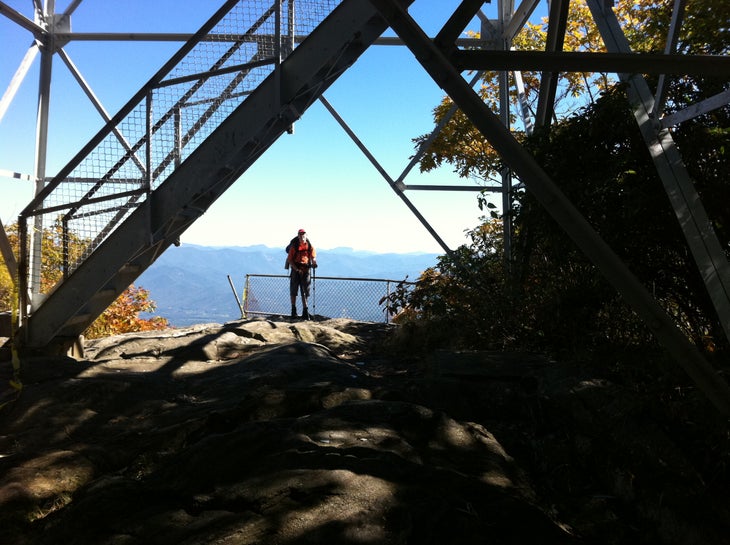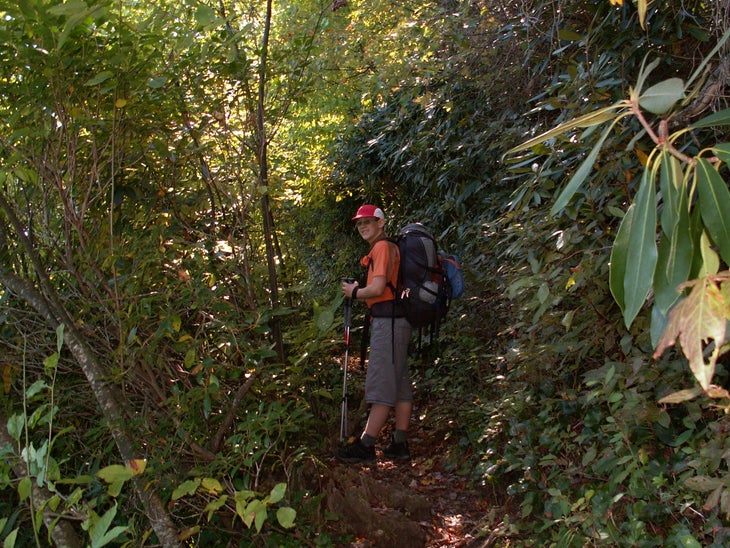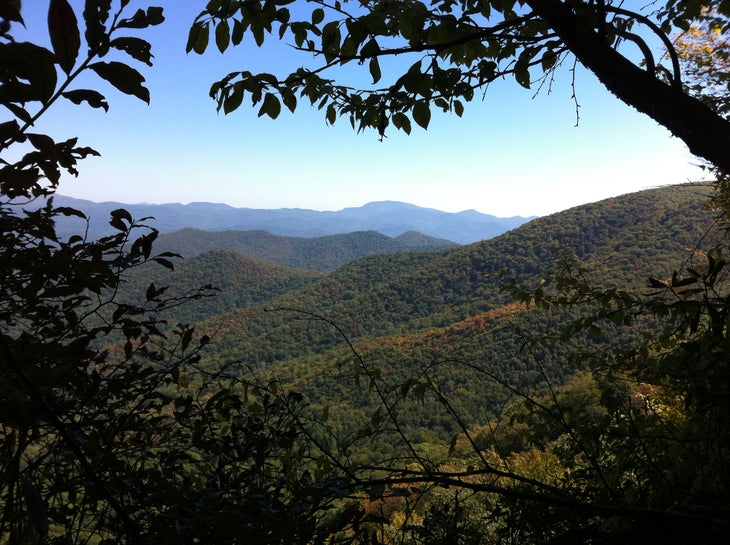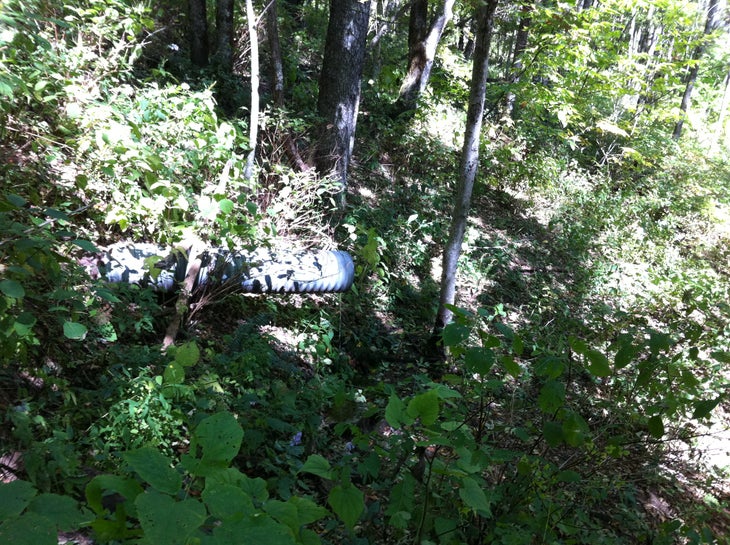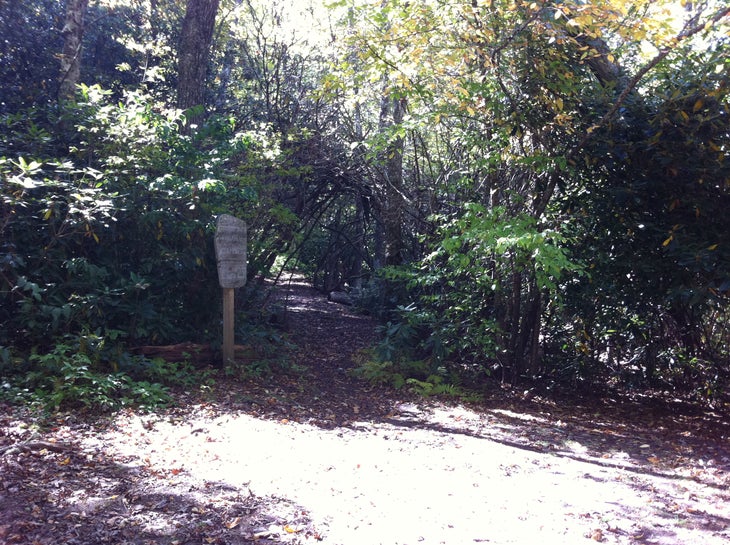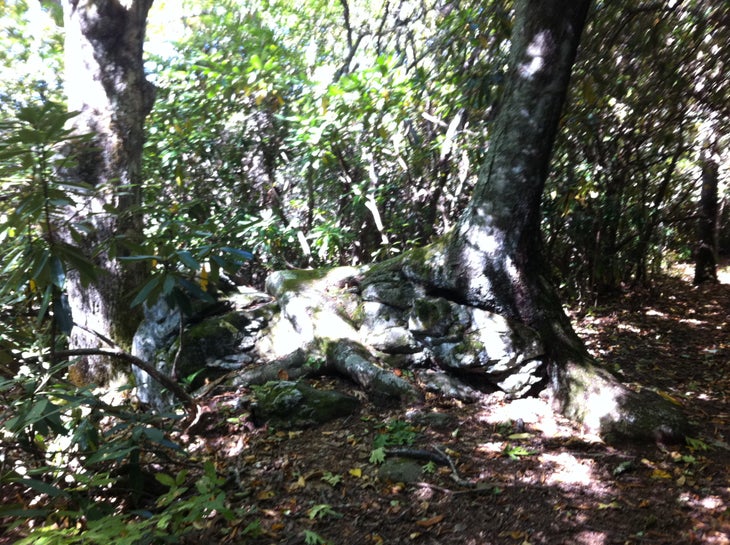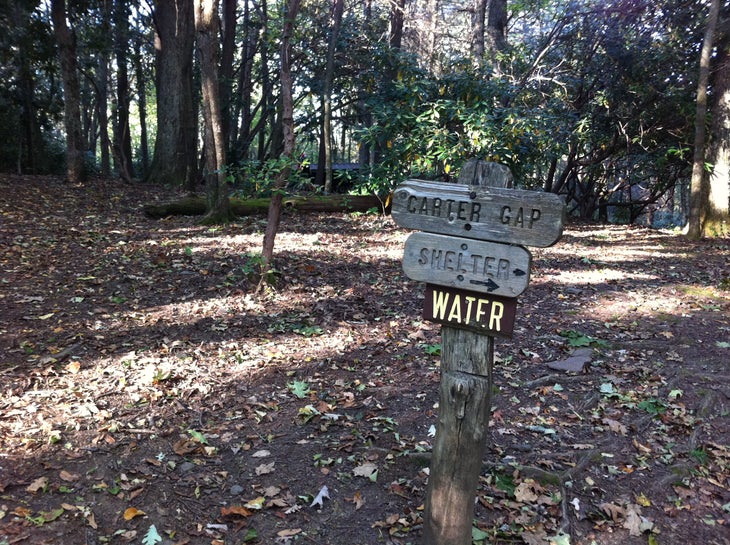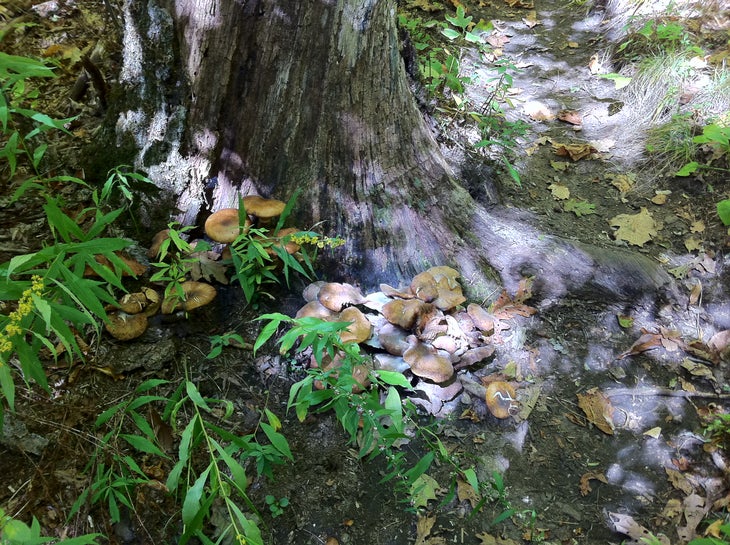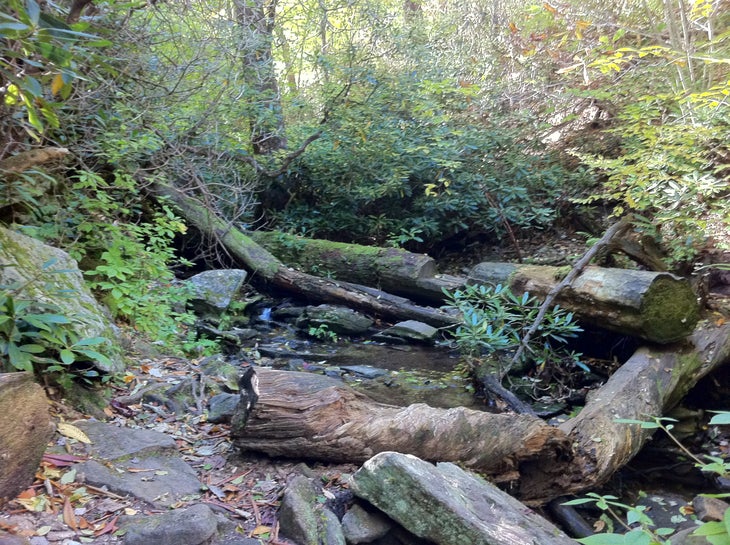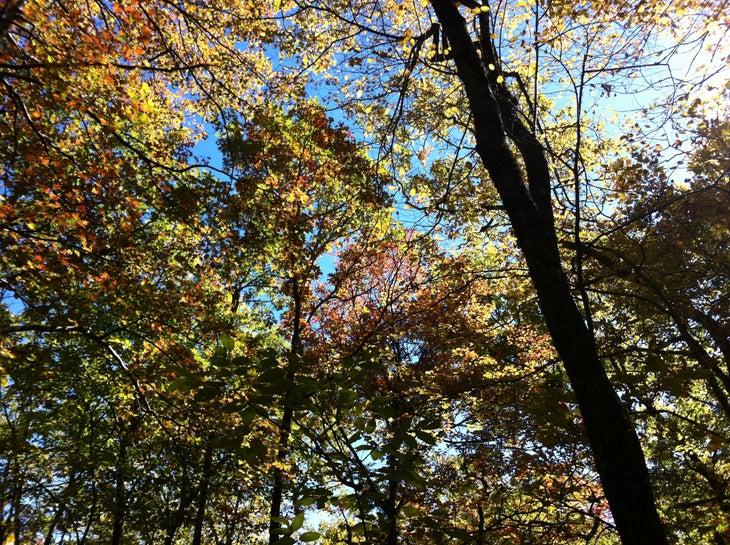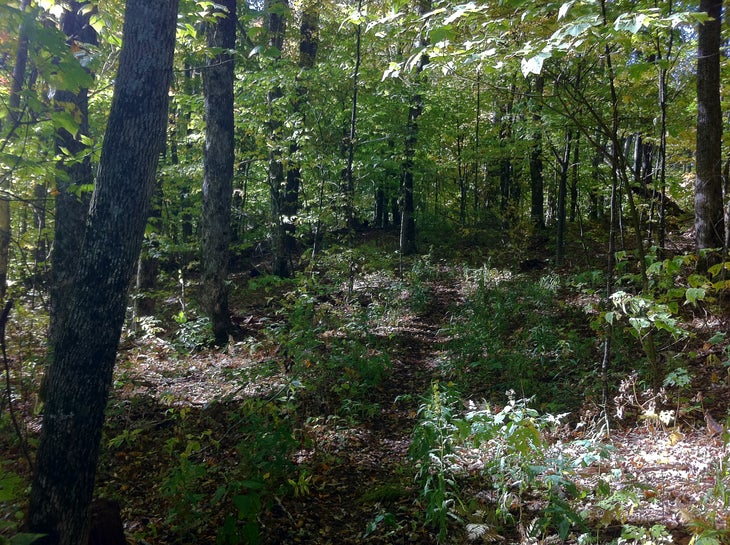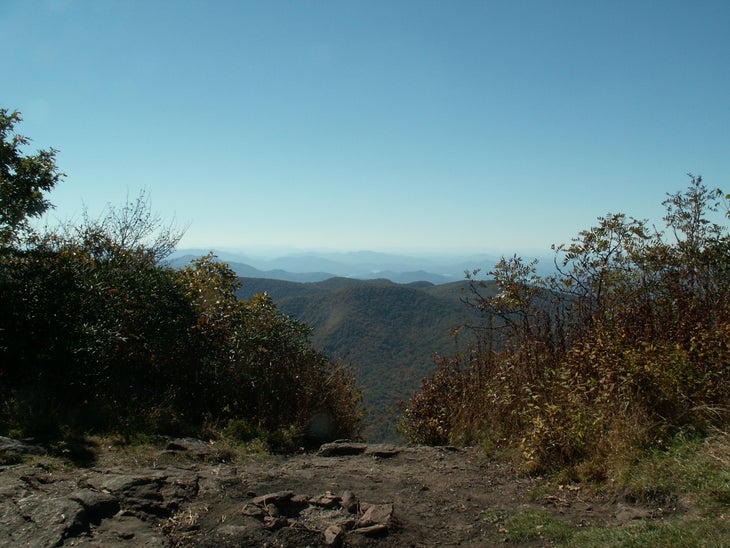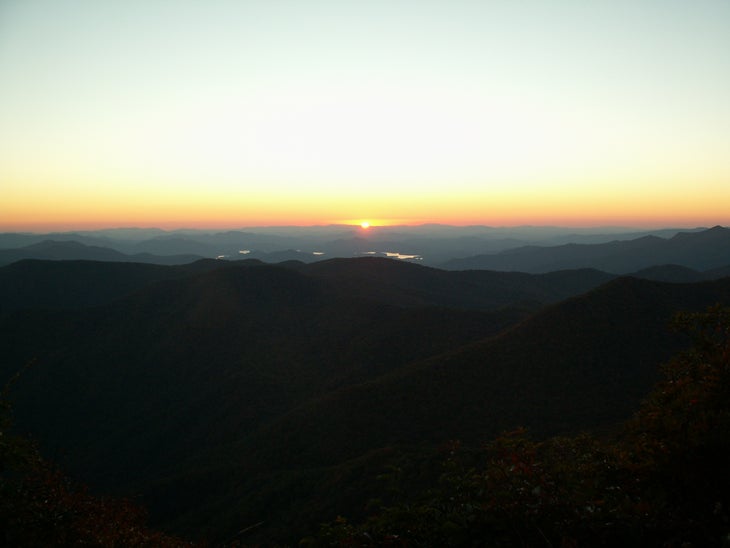 Trail Facts
Distance: 39.9
Miles from city center: 86
Waypoints
NHL001
Location: 35.074758, -83.527268
From backcountry info sign at Standing Indian Campground, head east on blue-blazed Long Branch Trail.
NHL002
Location: 35.077053, -83.502217
Turn right onto the Appalachian Trail (AT) and head up Sassafras Ridge through Glassmine Gap
NHL003
Location: 35.069469, -83.497117
The AT zags east at this unsigned intersection and continues to climb.
NHL004
Location: 35.059031, -83.478633
Reach Big Spring Gap (4,940 feet) and Big Spring Shelter, which sleeps seven (first come, first served).
NHL005
Location: 35.055402, -83.477603
Follow the AT east at junction with blue-blazed trail.
NHL006
Location: 35.052699, -83.477499
Reach 5,280-foot summit of Albert Mountain with 360-degree views from the observation tower
NHL007
Location: 35.049865, -83.473281
Drop into Bearpen Gap. Stay on the AT at junctions in .25 and .4 miles.
NHL008
Location: 35.035307, -83.470178
Mooney Gap (4,480 feet). Continue south on AT past Betty Creek Gap along Little Ridgepole Mountain.
NHL009
Location: 34.999455, -83.49445
Need water? Take the .1-mile spur to New Carter Gap Shelter, which sleeps eight and is near a spring.
NHL010
Location: 35.010004, -83.525733
Start the 1,000-foot climb out of Beech Gap (4,480 feet) to the Tennessee Valley Divide ridgeline.
NHL011
Location: 35.036354, -83.53734
The tower atop 5,498-foot Standing Indian bald has choice sunset views. Arrive early for campsites.
NHL012
Location: 35.041179, -83.547945
Tank up at Standing Indian Shelter, then close the loop with a 5.7-mile hike down the Lower Ridge Trail.
View E from Mt Albert Panorama
Location: 35.05248, -83.477229
Image Credit: Steven Kruse
View S from Mt Albert Panorama
Location: 35.052972, -83.477409
Image Credit: Steven Kruse
View N from Mt Albert Panorama
Location: 35.052926, -83.47698
Image Credit: Steven Kruse
View W from Mt Albert Panorama
Location: 35.05278, -83.477984
Image Credit: Steven Kruse
Standing Indian Afternoon Panorama
Location: 35.035319, -83.538097
Image Credit: Steven Kruse
Lake Chatuge from Standing Indian.jpg
Location: 35.035327, -83.538105
Tallula River Basin Panorama.jpg
Location: 35.03463, -83.537856
Standing Indian Panorama Southern Overloook.jpg
Location: 35.03397, -83.537507
View SE from AT Panorama.jpg
Location: 35.00785, -83.481119
Image Credit: Steven Kruse
Standing Indian Panorama Sunset.jpg
Location: 35.035304, -83.537965
Standing Indian Panorama Sunset2.jpg
Location: 35.035304, -83.537965
Standing Indian Panorama AM.jpg
Location: 35.035304, -83.537965
IMG_0041.jpg
Location: 35.07475, -83.527315
IMG_0043.jpg
Location: 35.074629, -83.527239
IMG_0048.jpg
Location: 35.075385, -83.508032
PICT3681.JPG
Location: 35.076668, -83.505239
PICT3688.JPG
Location: 35.077083, -83.502199
IMG_0058.jpg
Location: 35.062377, -83.486
IMG_0061.jpg
Location: 35.059049, -83.47838
IMG_0066.jpg
Location: 35.058914, -83.477995
PICT3724.JPG
Location: 35.052361, -83.476932
IMG_0070.jpg
Location: 35.052536, -83.477211
PICT3728.JPG
Location: 35.040058, -83.471792
IMG_0075.jpg
Location: 35.040241, -83.471796
Image Credit: Steven Kruse
IMG_0079.jpg
Location: 35.026622, -83.493687
Image Credit: Steven Kruse
IMG_0086.jpg
Location: 35.028355, -83.478616
Image Credit: Steven Kruse
IMG_0089.jpg
Location: 35.01859, -83.47785
Image Credit: Steven Kruse
IMG_0096.jpg
Location: 34.999665, -83.494763
Image Credit: Steven Kruse
IMG_0110.jpg
Location: 35.012941, -83.522756
Image Credit: Steven Kruse
IMG_0103.jpg
Location: 35.005431, -83.518888
Image Credit: Steven Kruse
IMG_0105.jpg
Location: 35.009081, -83.525858
Image Credit: Steven Kruse
IMG_0129.jpg
Location: 35.05167, -83.533396
Image Credit: Steven Kruse
PICT3779.JPG
Location: 35.035329, -83.538053
Image Credit: Steven Kruse
PICT3828.JPG
Location: 35.035301, -83.53796