Asheville, NC: Mount Rogers via Massie Gap
Mount Rogers via Massie Gap: A state high point, the Appalachian Trail, and wild ponies all in one hike—jackpot!
Heading out the door? Read this article on the new Outside+ app available now on iOS devices for members! Download the app.
State high points come in many shapes and sizes, and each is unique in its own way. In some states, finding a way to stand atop its highest point is often more about finding an obscure spot in an unexpected place, while in other states the journey can involve a long hike, backpack and/or climb to reach the destination. Virginia's Mt. Rogers falls more into the latter category but is in a league of its own for other reasons, as well. BY MATT MILLS
I say that Mount Rogers falls more into the latter category, but it really depends on who's in your hiking group and what your definition of "long hike" is at any given time. You see, I have this little problem in that I like to hike long trails but certain members of my family don't necessarily share my views on this. Their tiny legs have to work harder to get those miles in, and I need to factor this into any trail plans.
So in this way, Rogers qualifies as a longish hike that toes the line as a "family" hike or not, much like many other trails out there all over the U.S. But hiking Mount Rogers via Massey Gap is also different from your standard hike in that it offers some unique benefits. For starters, wild ponies frequent the areas surrounding Mount Rogers, so pony sightings are extremely common on this route. In fact, hikers can often safely get within feet of these largely calm animals, to the delight of many a pony-loving kid out there. Other wildlife sightings are common, as well.
Additionally, a portion of this hike occurs on the Appalachian Trail, which gives the bonus of well-maintained trails, frequent camping spots, and even a shelter.
Lastly, this hike is a tale of two hikes in one. There's the first 3.75 miles of trail hiking (most on the AT) with expansive views and frequent wildlife sighting, and then there's the last half mile up to the summit of Rogers.
Not since my days living in Seattle have I felt more like I was in the Pacific Northwest than the last portion of trail leading up to the highpoint of Virginia. The summit is completely tree-covered (no views from up there) and you'll feel suddenly transplanted to a damp old growth forest marked by tall pines covered in varying shades of green.
It was a frigid, windy day and a long time on the trail, so I jogged up the last half mile to the summit and back solo, while my cold and tired family ate some lunch.
Trip stats
Distance: 8.5 miles
Elevation change: 1,300 feet
Time: 6.5 hours
Distance from Asheville, NC: 2.5 hours
More info: Hiking Mount Rogers via Massie Gap
Prep
1. There is no fast way to reach this trailhead. Plan in extra travel time.
2. There are no parking fees or trail use fees.
3. This hike is family friendly.
4. There are a number of decent campsites along this route.
Explore
Mile 0.0: Begin at the Massie Gap trailhead and start on the Rhododendron Gap Trail.
0.75: Reach the junction with the Appalachian Trail and get on the AT heading toward Mount Rogers.
1.25: Watch for wild ponies.
1.5: Reach the junction with Wilburn Ridge. You can take this or continue on the AT (white blazes). We chose the latter.
2.0: Watch for wild ponies.
2.5: At Rhododendron Gap, continue following the AT (white blazes) toward Mount Rogers.
3.5: Reach the Thomas Knob Shelter and continue on the AT toward the Mount Rogers spur trail.
3.75: Continue on the Mount Rogers Spur Trail (blue blazes).
4.25: Try to locate the summit marker designating the top of the state of Virginia in the dense forest.
Reward
1. Wildlife! Wild ponies and groups of steer are almost impossible to miss. The ponies in particular get very close to the trail. You'll most likely encounter multiple groups of ponies.
2. Expansive views. The views are all around on this hike. During the majority of this hike, you don't have to try hard to get that great view. The tough part is keeping the camera put away.
3. A quick mile of Pacific-Northwest-like terrain. It almost feels as though you are transplanted across the country for a short time.
My Trip
Month: October
Weather: 25 to 35 degrees; windy and cold; some ice on the trail
Food: A lot of water & a lot of snacks
Company: Myself, one other adult & two kids under the age of 8.
More info: Grayson Highlands State Park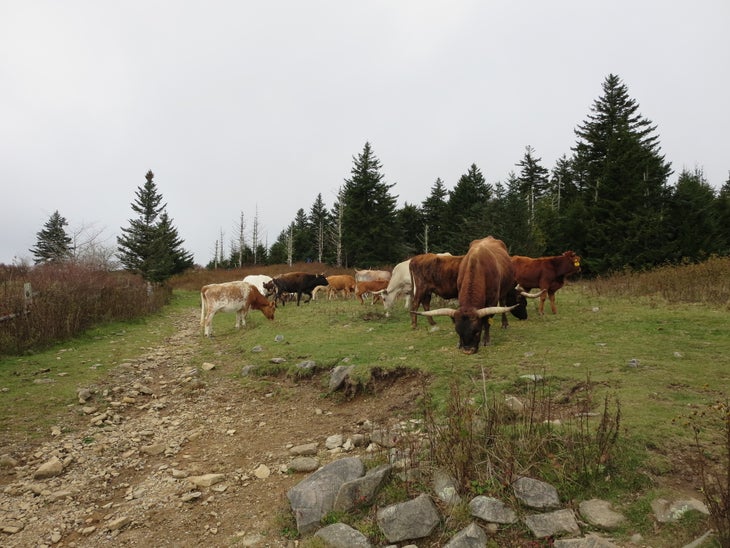 Mount Rogers via Massie Gap [Photo by Matt Mills]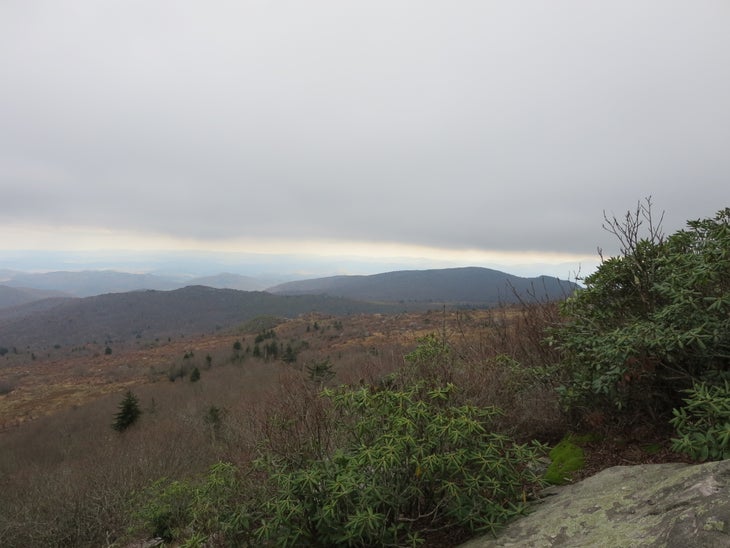 Mount Rogers via Massie Gap [Photo by Matt Mills]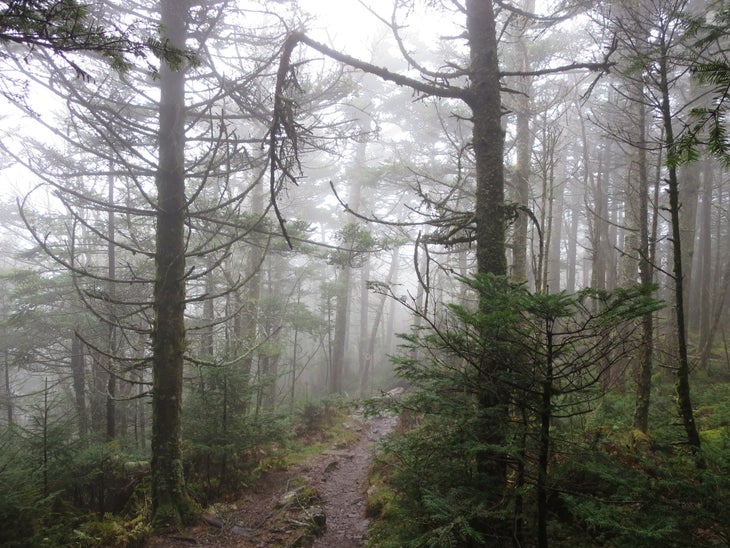 Mount Rogers via Massie Gap [Photo by Matt Mills]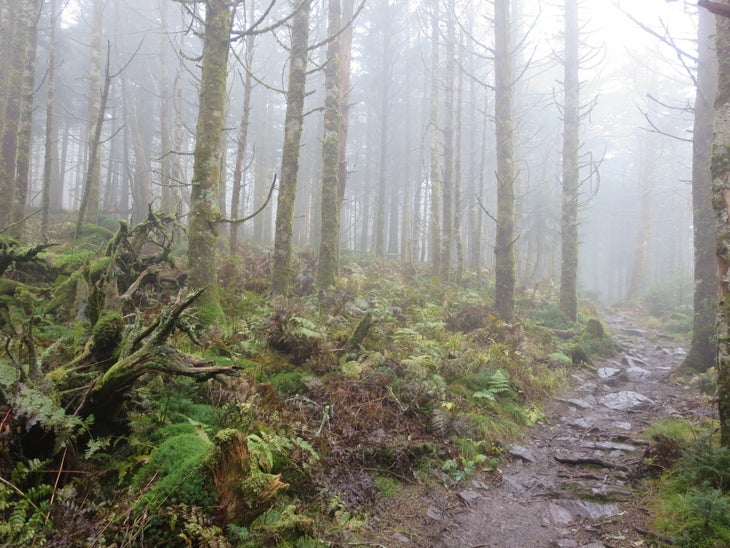 Mount Rogers via Massie Gap [Photo by Matt Mills]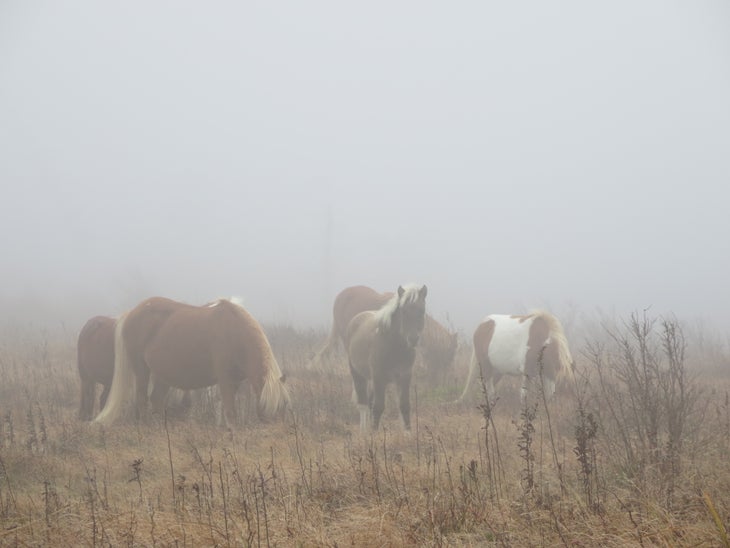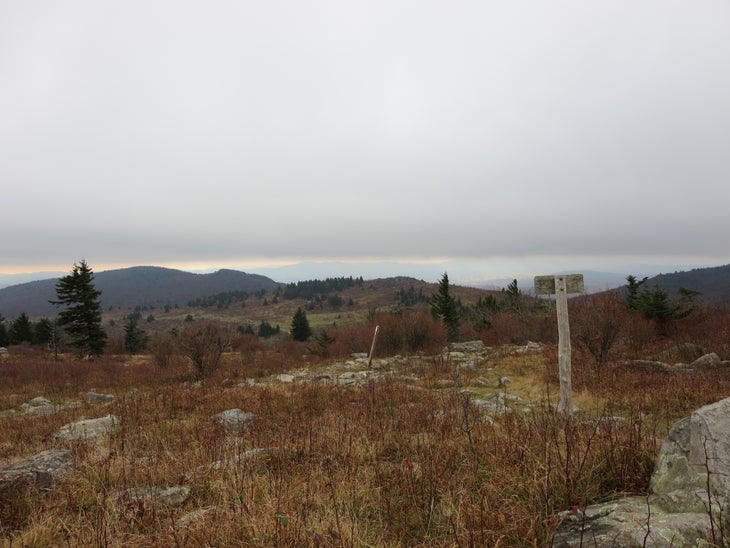 Mount Rogers via Massie Gap [Photo by Matt Mills]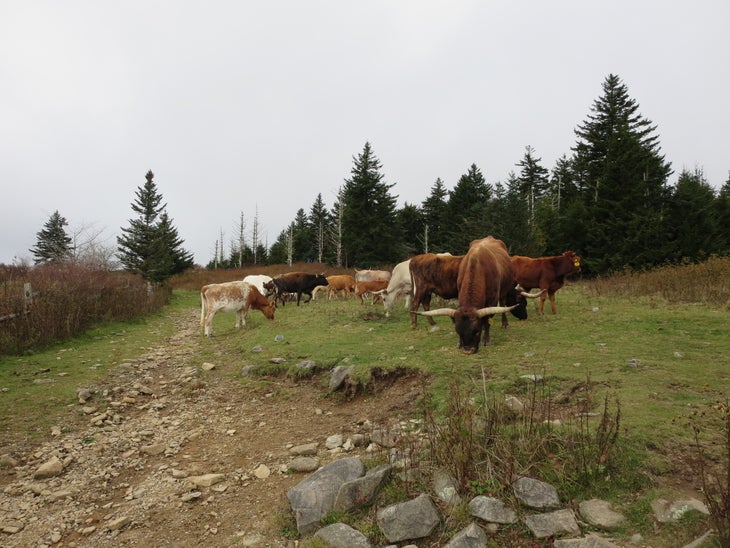 Mount Rogers via Massie Gap [Photo by Matt Mills]
Mount Rogers via Massie Gap [Photo by Matt Mills]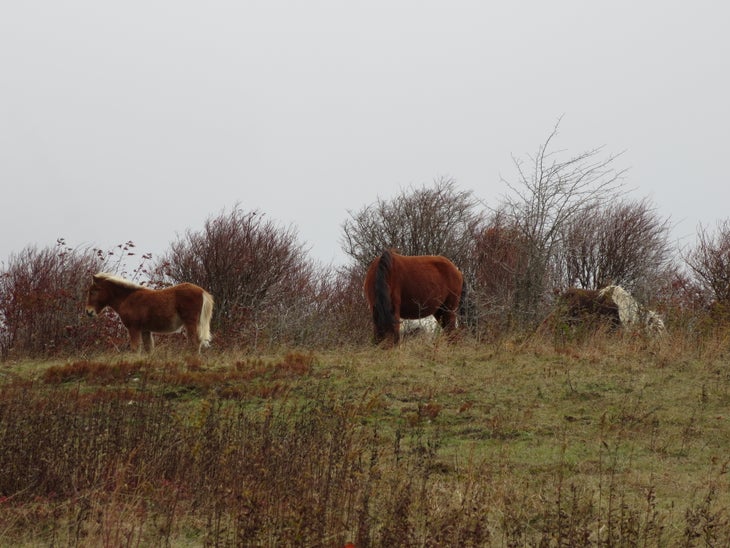 Mount Rogers via Massie Gap [Photo by Matt Mills]
Trail Facts
State: VA
City: Asheville, NC
Distance: 0.0