Asheville, NC: Cedar Rock Loop
Climbing granite slickrock to a highpoint above DuPont State Forest, this 4.4-mile loop jogs back down into a dense forest toward a trailside swimming hole.
Heading out the door? Read this article on the new Outside+ app available now on iOS devices for members! Download the app.
At just 4.4 miles, this loop through DuPont State Forest samples a bit of everything this lesser-used North Carolina trail system has to offer. You'll find sustained sections of granite slabs, a white pine and hemlock forest with a diverse floral population, and solitary riverside swimming holes. Start heading east (past the junction with Longside Trail) and pick up the Big Rock Trail, heading north along cobblestone singletrack crowded by rhododendron. The trail soon opens up into a broad cairn-finding quest up exposed slabs of granite slickrock (dotted with moss and lichen). Just 0.8 mile in, the trail tops out at a granite clearing on Cedar Rock, where high-summer hikers can enjoy fresh blueberries and views of neighboring ridgelines. Dropping back down into a diverse deciduous forest, the hike wanders along the Little River before detouring south down to the Corn Mill Shoals, an idyllic swimming hole (complete with water slide) just down stream from DuPont's popular falls. Soak it all in (and soak in it) before hiking 1.1 miles back to the trailhead. -Mapped by Tim Johnson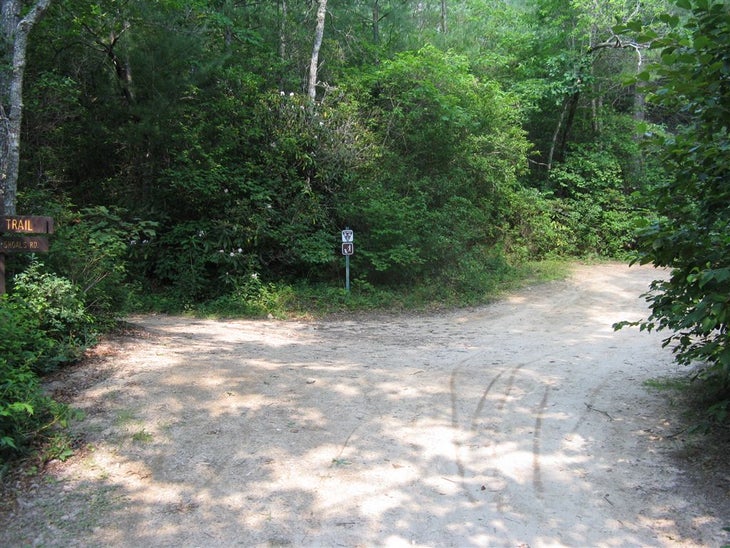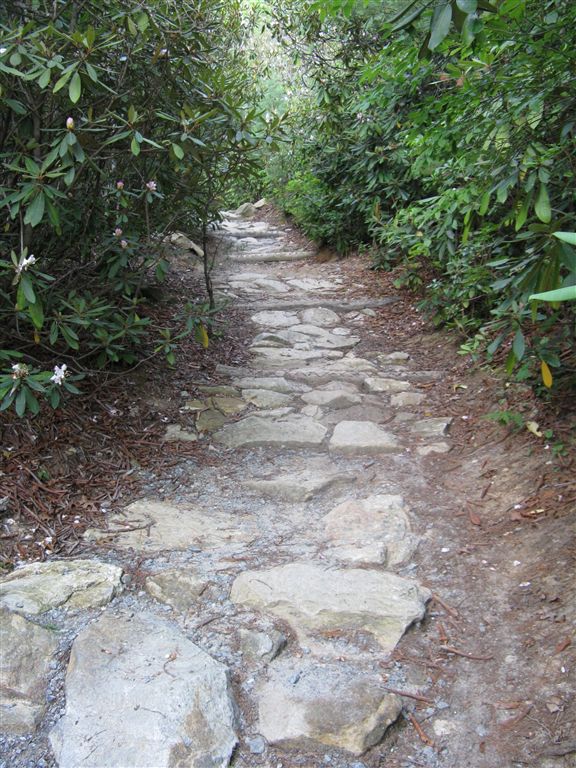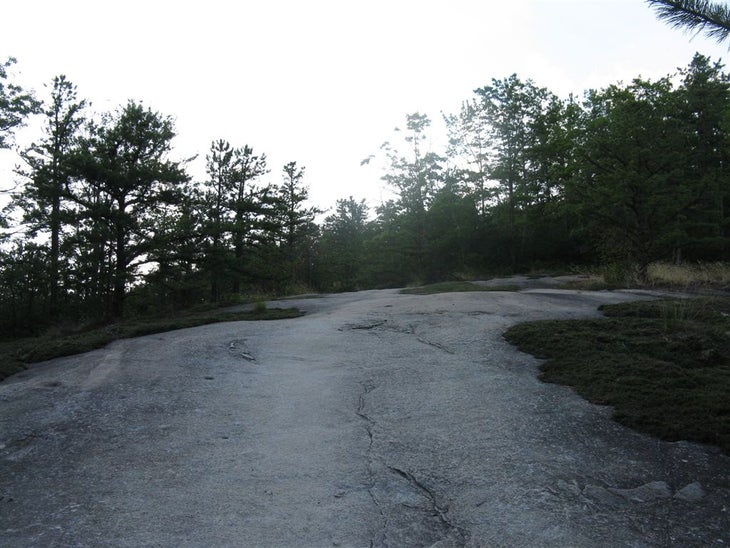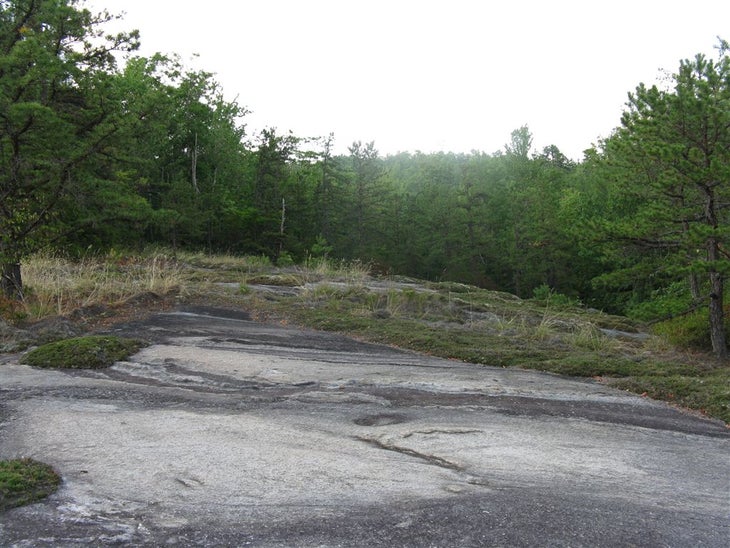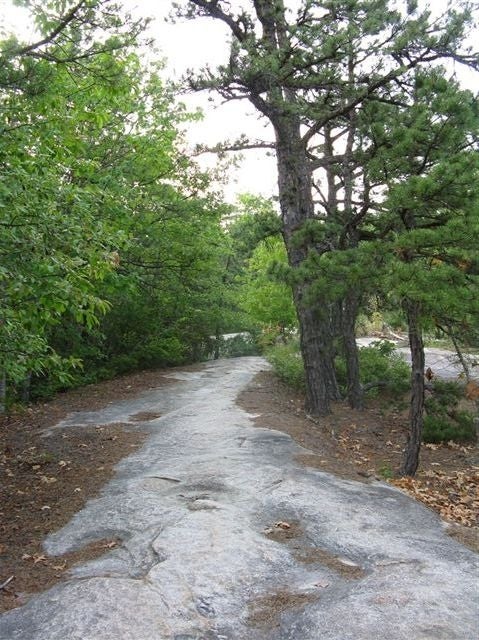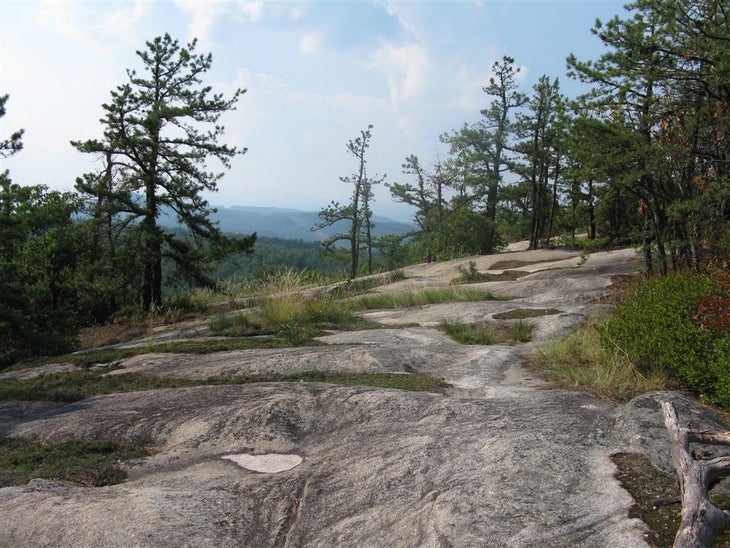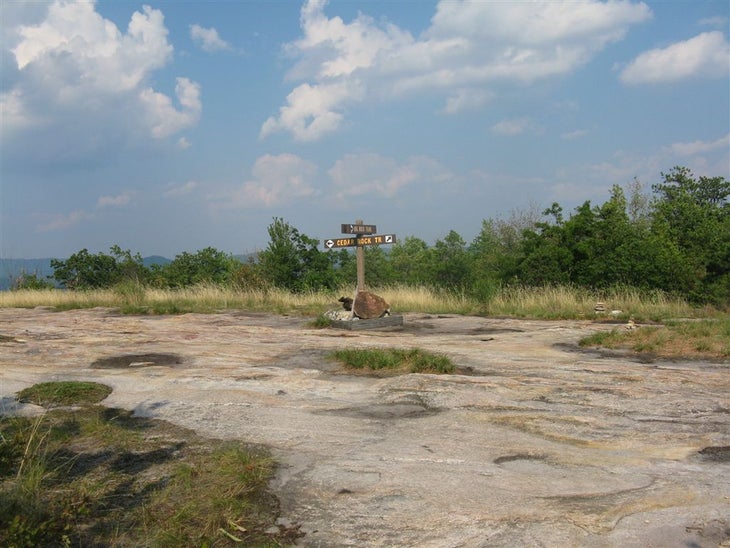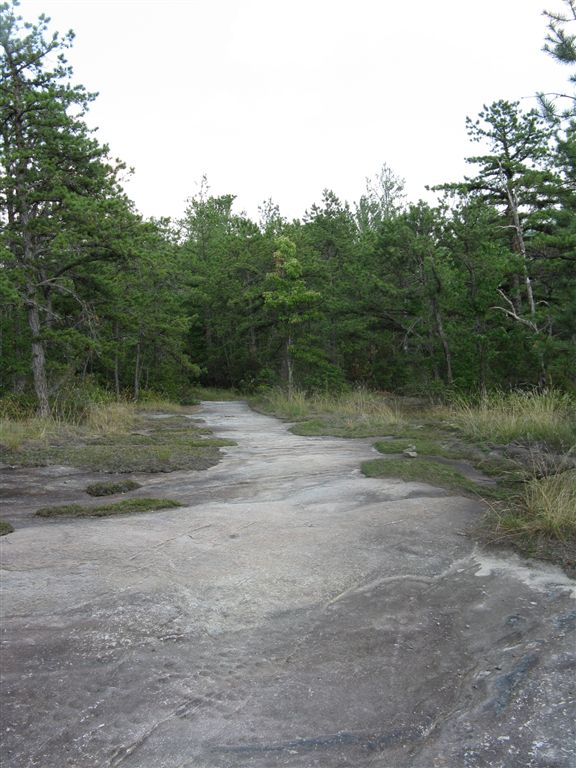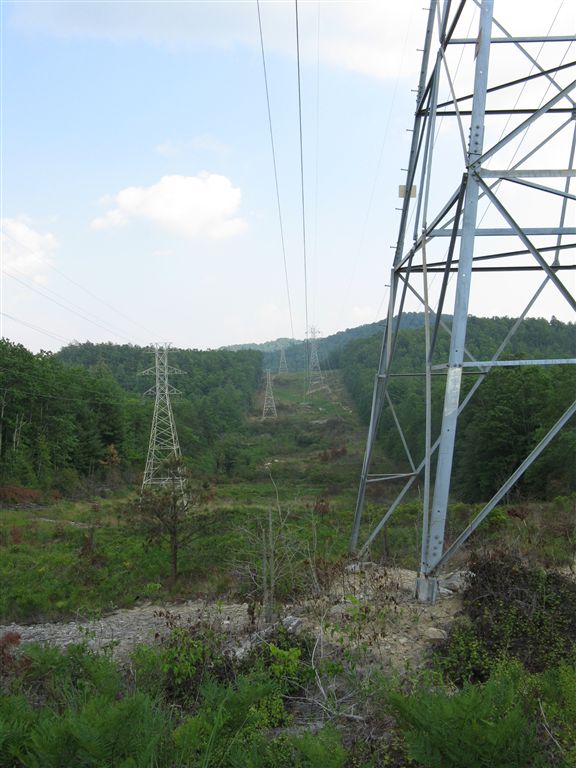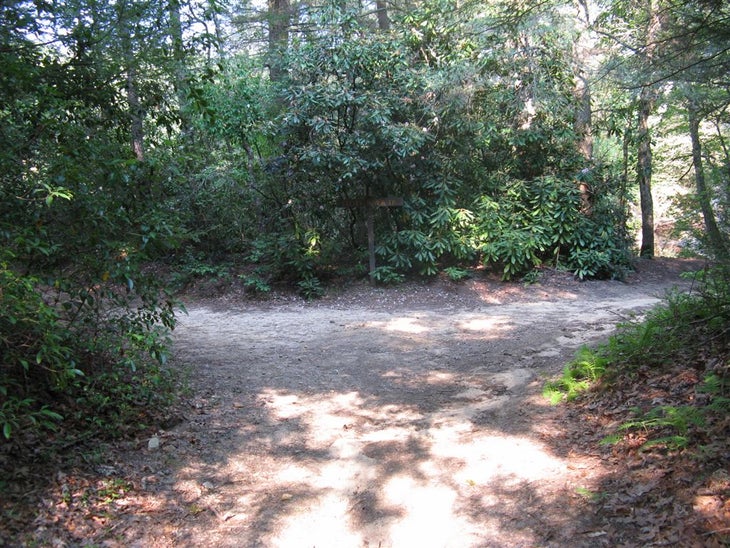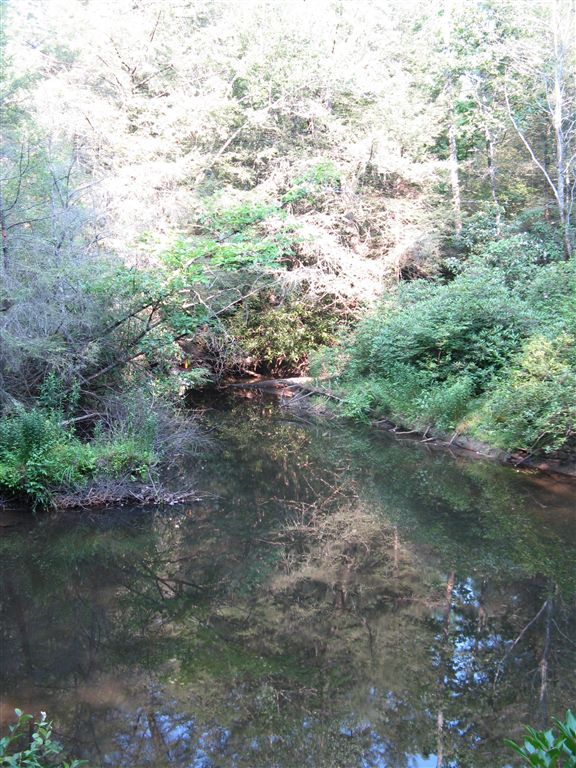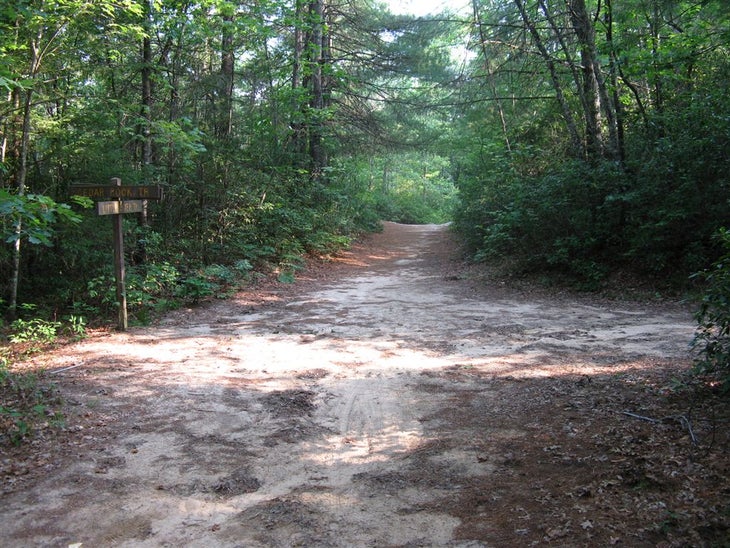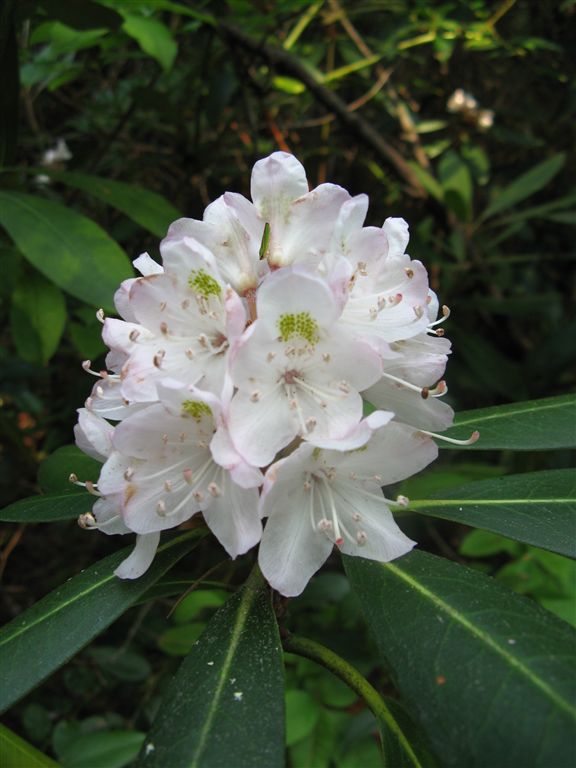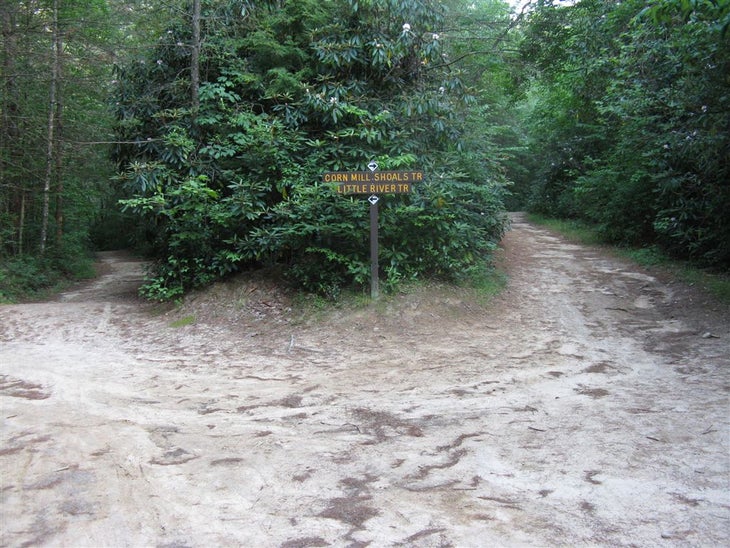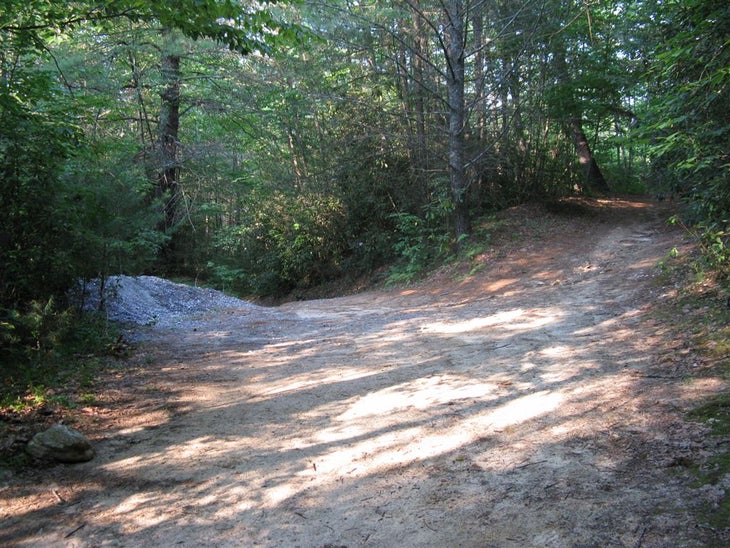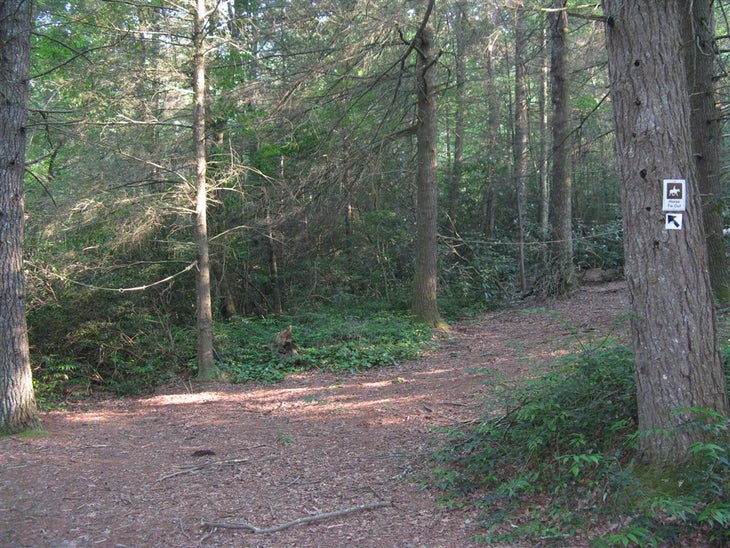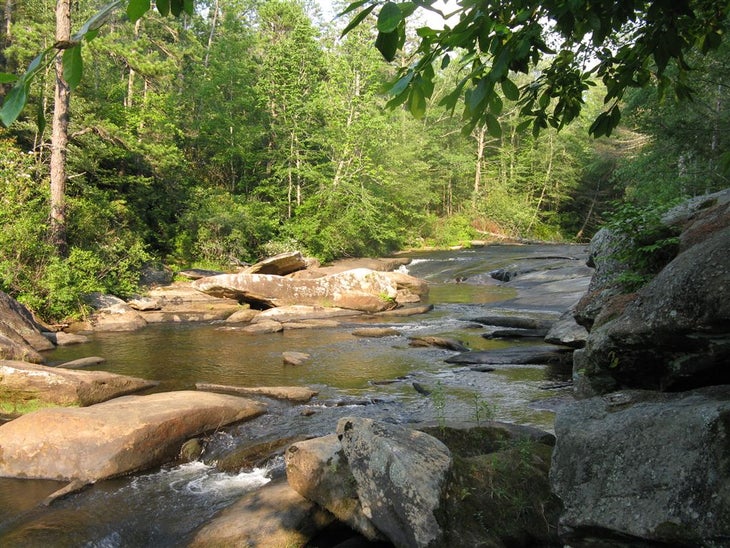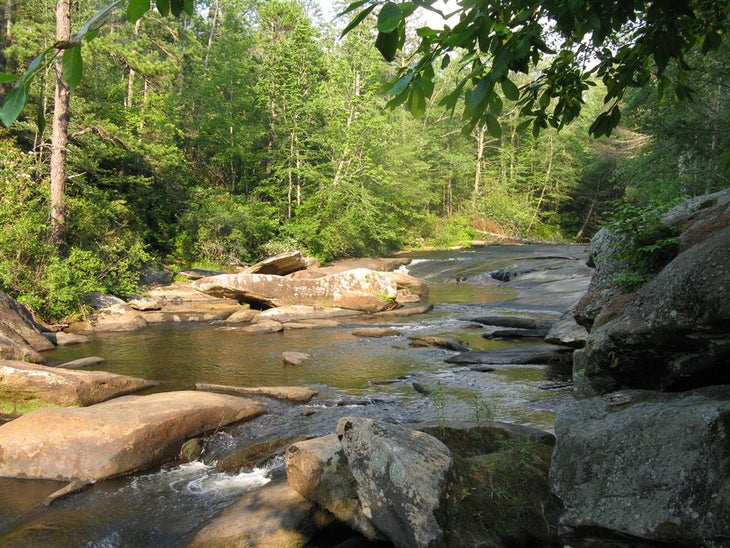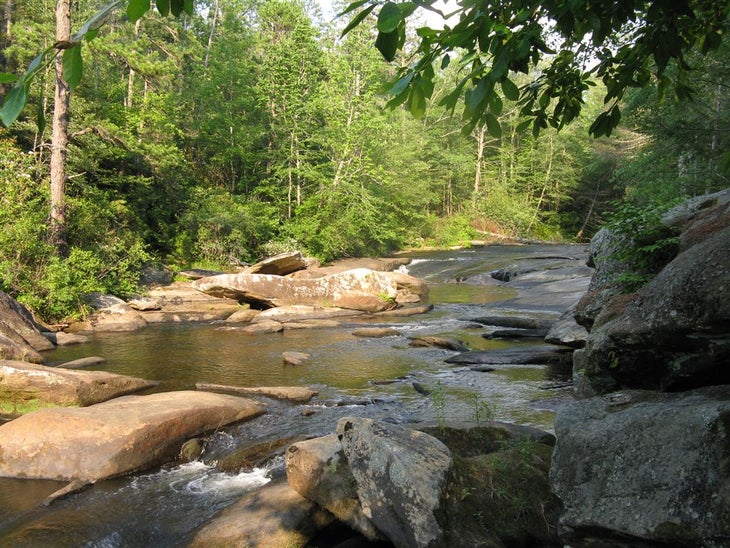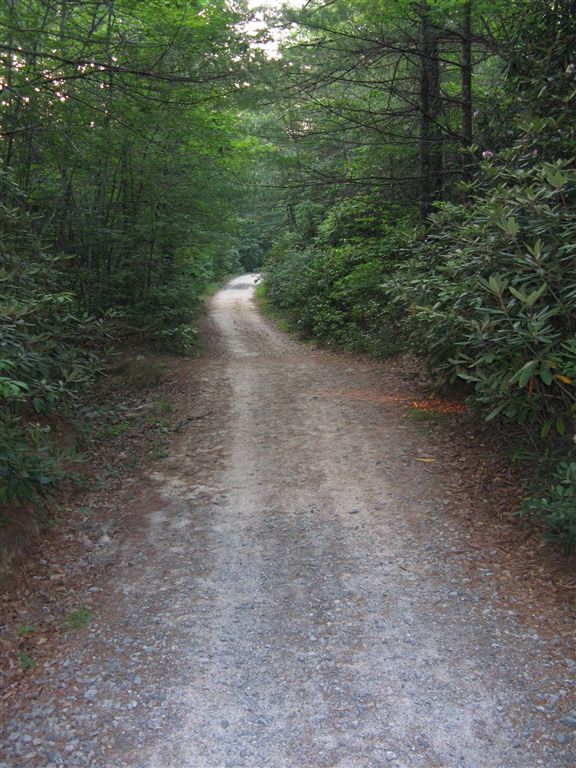 Trail Facts
Waypoints
CRL001
Location: 35.1729393, -82.6388779
From the parking area, cross Cascade Lake Road and pass through a yellow gate onto Corn Mill Shoals Trail (a woods road). Continue straight @ intersection with Longside Trail on left.
CRL002
Location: 35.1720467, -82.6374512
Go left @ Y-junction on the Big Rock Trail. Begin a steady ascent on rolling singletrack over rocky cobblestone, passing rhododendron thickets. Hike through scattered areas of woods and granite slickrock. Rock cairns lead the way over the exposed granite dome dotted by fragile moss and lichen. Look west for a nice view the distant ridges.
CRL003
Location: 35.1792183, -82.6340942
At the summit of Cedar Rock (3,080 ft.), make a hard left into a large, open flat area. Just 120 feet later, take another left @ the T-intersection onto the Cedar Rock Trail. Although this peak rises only 500 feet above the Little River, the granite outcroppings make it an unusual habitat for plants and animals. In late summer, snack on blueberries as you walk through red maple, mountain laurel, and bracken fern. A right turn at this T would shorten the hike, synching up with this track down at waypoint 7
CRL004
Location: 35.1799126, -82.625351
Emerge from the woods into a powerline clearing and take a hard right to head down the hill for about 200 feet before the trail heads back into the woods on old roadbed (to the right).
CRL005
Location: 35.1783904, -82.62591
At the fork in the trail, veer left to take the more heavily used route down a steep, rocky descent.
CRL006
Location: 35.1778831, -82.6245804
Turn right @ T-intersection with the needle-covered Little River Trail. Continue through a mix of white pine and hemlock forest, catching occasional glimpses of Little River to the left. The intertwining branches of dog hobble clog the forest floor.
CRL007
Location: 35.1724052, -82.6295166
Continue straight @ 3-way intersection with the southern terminus of Cedar Rock Trail. Ahead, cross a small creek on a log footbridge. Hit the trail in early- to mid-July to see blooming bluets (look for their small white flowers) and rhododendron lining the trail.
CRL008
Location: 35.1673279, -82.6315842
Turn left (almost a U-turn) @ 3-way junction onto the Corn Mill Shoals Trail. Continue along sandy trail on mostly even terrain.
CRL009
Location: 35.1654968, -82.6285248
Stay left ahead on the Corn Mill Shoals Trail @ 3-way intersection with Burnt Mountain Trail.
CRL010
Location: 35.1665115, -82.6279373
Enjoy Corn Mill Shoals, a gentle water slide and popular swimming spot on the Little River. Water flows over the smooth granite as it slowly makes its way to the French Broad River. From here, backtrack to Waypoint 8, and turn left on the Corn Mill Shoals Trail.
CRL011
Location: 35.1675529, -82.6319656
At the intersection with Burnt Mountain Trail (just northwest of Waypoint 8), head west on Corn Mill Shoals Trail along a wide gravel road. Look for a variety of plants (non-native lespedeza, native Joe Pye weed, and trailing arbutus) as the trail winds north. At Waypoint 2, turn left to return to the trailhead.
Longside Trail Junction
Location: 35.1729355, -82.6381073
©Tim Johnson
The First Junction
Location: 35.1720428, -82.6374512
©Tim Johnson
Armored Trail
Location: 35.1731023, -82.6368588
©Tim Johnson
Granite Slickrock
Location: 35.1752853, -82.6352692
©Tim Johnson
Grassy Granite
Location: 35.1766541, -82.6355284
©Tim Johnson
Pockets of Pitch Pine
Location: 35.1787412, -82.6355124
©Tim Johnson
Northwest Views
Location: 35.1791725, -82.6353989
©Tim Johnson
Cedar Rock Trail Intersection
Location: 35.1790581, -82.633728
©Tim Johnson
The Granite Path
Location: 35.1787376, -82.6284866
©Tim Johnson
Powerline Clearing
Location: 35.1799316, -82.6252136
©Tim Johnson
Little River Trail Intersection
Location: 35.1778793, -82.6246109
©Tim Johnson
Little River
Location: 35.1755066, -82.6254425
©Tim Johnson
Cedar Rock Trail
Location: 35.1724129, -82.6295166
The south terminus of the Cedar Rock Trail. ©Tim Johnson
Rhododendron
Location: 35.1696815, -82.6288605
©Tim Johnson
Corn Mill Shoals Junction
Location: 35.1673203, -82.6315842
Looking back (from the west) on the U-turn junction of the Little River Trail and the Corn Mill Shoals Trail. ©Tim Johnson
Down to the Shoals
Location: 35.1655083, -82.6285248
©Tim Johnson
Horse Tie Lines
Location: 35.1661072, -82.6279831
©Tim Johnson
Corn Mill Shoals
Location: 35.1666565, -82.6281586
©Tim Johnson
Corn Mill Shoals
Location: 35.1667175, -82.6282272
©Tim Johnson
Corn Mill Shoals
Location: 35.1667328, -82.6282654
©Tim Johnson
Gravel Trail
Location: 35.1705437, -82.6369476
©Tim Johnson