Get a New Perspective on Your Favorite Mountain With These 14 Loops
We're all for tagging summits, but the best way to experience a peak? Hike around it. You'll see a mountain's many faces on a single, peak-circling loop. These 14 trips circumnavigate the best of the best.
Heading out the door? Read this article on the new Outside+ app available now on iOS devices for members! Download the app.
Wonderland Trail, Mt. Rainier National Park, WA
DISTANCE: 93 mi.   DAYS: 10   ELEVATION CHANGE: 21,539 ft.
If there's a mother of all mountains in the Lower 48, it's this Cascade volcano. Climbing it is a life-list experience—hiking around it is even better. Ironically, the 93-mile Wonderland Trail encircling 14,410-foot Mt. Rainier was initially built as a utilitarian—not recreational—route. Completed in 1915, the original path was 130 miles long and used by rangers to monitor wildfires, poachers, and vandals throughout the park. Today, it's a highlight-reel thru-hike that threads subalpine meadows, ice-fed waterfalls, and shady temperate rainforests, all with views of the peak's 25 major glaciers. Two must-camp spots: On the peak's remote west side, spend a night at Klapatche Park for meadows reaching to Rainier's rock-studded shoulder below Point Success; on its north side, spend a night near Mystic Lake to watch ice and snow tumble from the constantly avalanching Willis Wall.
Trailhead: White River
Season: July to September
Permit Required ($20); apply online.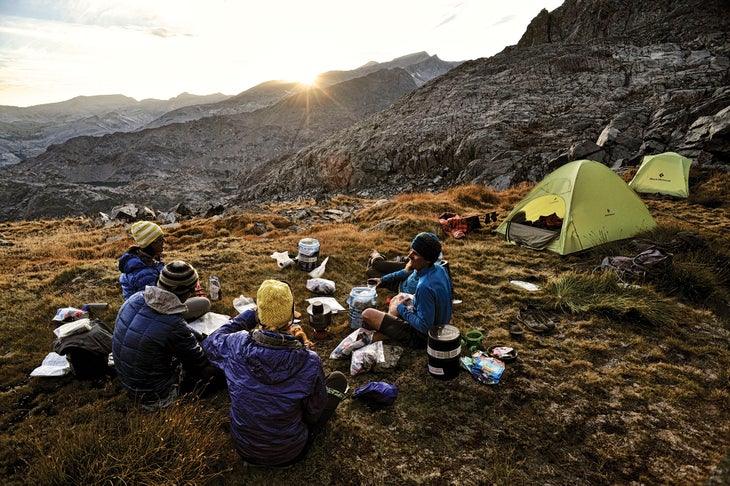 Ritter Range, Ansel Adams Wilderness, CA
DISTANCE: 43 mi.   DAYS: 4+   ELEVATION CHANGE: 19,022 ft.
John Muir loved the serrated Ritter Range, highlighted by Banner Peak, Mt. Ritter, and the Minarets—but he probably wouldn't have loved how crowded his namesake trail past it has become. In fact, he likely would have preferred this spin-off, which uses just part of the popular John Muir Trail to access the trailless high country for a spicy, experts-only circumnavigation.
Circle the granite teeth of the Ritter Range on a 43-miler, starting easy by following the Pacific Crest/John Muir Trail 8 miles north from Agnew Meadows to spend night one beneath Banner Peak's triangular north face. In the morning, abandon the crowds—and your hubris—and follow the shore of Thousand Island Lake to the base of the range, where the going gets tough. Pick a path of least resistance to North Glacier Pass at mile 12 before climbing to the col between Banner Peak and Mt. Ritter. Drop off to the west side of the ridge, negotiating scree, snowfields, and the Ritter Lakes to reach the North Fork San Joaquin River near mile 15, if everything goes to plan. There, find a blessed, blessed trail (called 25E01 on most topos) that wends downstream; follow it to camp in the shadow of the west side of the Ritter Range near a 25-foot waterfall at Hemlock Crossing (mile 20). The next day, link two more seldom-used trails—25E02 and 26E01—back up and over the ridge south of Iron Mountain to camp at Summit Meadow near mile 32.5. Last day, descend to the PCT at Devils Postpile and close the circuit north to Agnew Meadows at mile 43.
Trailhead: Agnew Meadows
Shuttle Required; pick it up from Mammoth Mountain Adventure Center ($7).
Season: June to October
Permit Required (free); obtain at the Mammoth Lakes Welcome Center
Climb Mt. Ritter Southeast Glacier (class 3); 5,100 feet in 9.6 miles from Agnew Meadows trailhead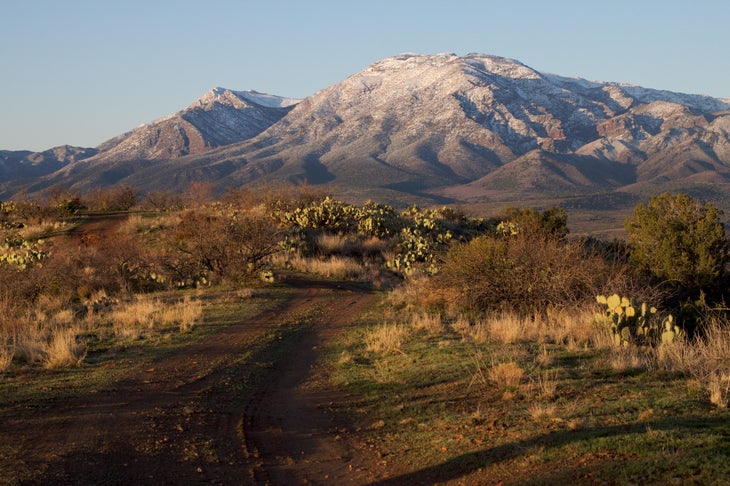 Mazatzal Peak, Mazatzal Wilderness, AZ
DISTANCE: 14.5 mi.   DAYS: 2   ELEVATION CHANGE: 8,070 ft. 
Just 80 highway miles from Phoenix, the 252,000-acre Mazatzal Wilderness's mix of scrub-oak forests, cactus-spiked hillsides, and rocky canyons is one of the best-kept secrets in Arizona—and this 14.5-mile loop around its 7,903-foot namesake peak is the best way to see it all. Take the Barnhardt Trail west, tracing a redrock canyon to views of the Mogollon Rim. At mile 5, continue along the Arizona Trail, following it a mile around Mazatzal to an abandoned cowboy corral: Chilson Camp. Spend the night beneath Mazatzal's south face before linking the Brody, Mazatzal Divide, and Y Bar Trails to close the loop around the escarpment.
Trailhead: Barnhardt
Season: March to April and September to November
Permit: None
Water: Pack your own; springs are unreliable.
Climb Mazatzal Peak Northwest Ridge (class 2); 4,300 feet in 7.2 miles from Barnhardt trailhead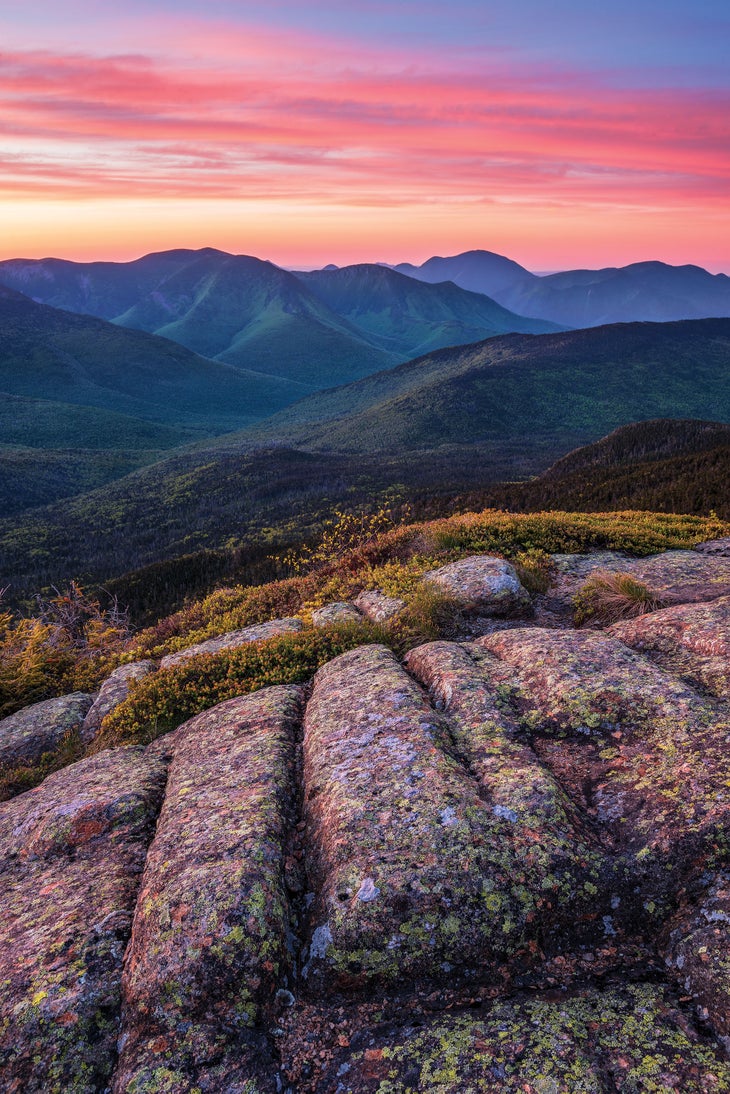 Pemi Loop, Pemigewasset Wilderness, NH
DISTANCE: 32 mi.   DAYS: 2   ELEVATION CHANGE: 17,658 ft.
With the East's most iconic Stairmaster circuit, you really can have your cake and eat it, too. Be a peakbagger and a circumnavigator on the 32-mile Pemi Loop, which crosses eight summits as it revolves around 4,025-foot Owls Head, a sky island surrounded by long valleys.
Hoof it up Bondcliff, Bond, South Twin, Garfield, Lafayette, Lincoln, Liberty, and Flume mountains, following a horseshoe-shaped ridge around Owls Head. Go midweek or in the off-season to avoid crowds, and plan to do it as an overnight to rest sore legs from the punishing elevation change. Drop off the ridge near the midway point to camp at Thirteen Falls, where 24 tent platforms dot the hillside north of Owls Head ($8; first-come, first-serve). Next day, head back to the spine to close the Pemi, or forgo the last five summits and loop back to the trailhead on the Lincoln Brook Trail: a 24-mile variation known as the Semi-Pemi.
Trailhead: Lincoln Woods
Season: May to October
Permit: None
Climb Owls Head Owls Head Trail (class 1); 3,200 feet in 8.7 miles from Lincoln Woods trailhead.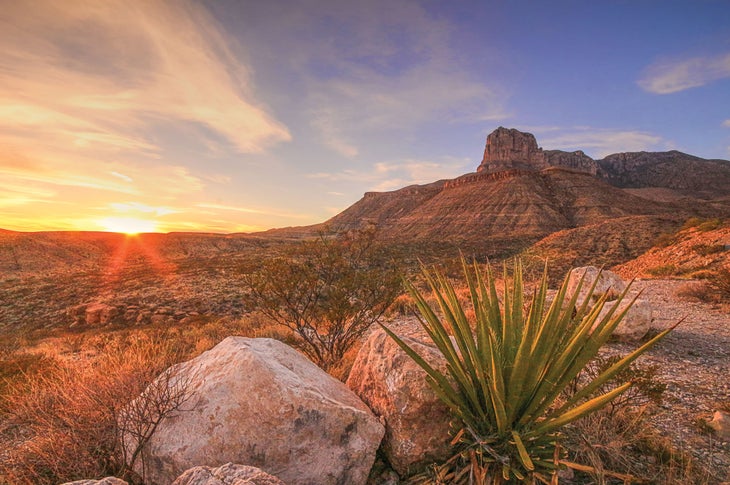 Guadalupe Peak, Guadalupe Mountains National Park, TX
DISTANCE: 19.2 mi.   DAYS: 2   ELEVATION CHANGE: 9,010 ft.
When a national park is named after the mountains it protects, you can bet the namesake peak is going to be a bit more popular than the areas around it. That's the case in Guadalupe Mountains, where the 8,749-foot highpoint sees the lion's share of backcountry visitors. What doesn't is the path that traces three-quarters of the way around the crumbly massif; it not only enjoys wide-open, desert vistas of the peak, but also visits an abandoned farmhouse and a quiet, cactus-framed campsite. Since the route doesn't completely circle the peak (and off-trail travel is strongly discouraged here), do it as a 19.2-mile out-and-back, overnighting near the midway point.
From the Pine Springs trailhead, follow the El Capitan Trail's catwalk 9.6 miles around the southern slopes of Guadalupe and its sister, prow-like El Capitan. Glimpse tree-topped mesas and the vast desert over the ocotillo and prickly pear, while steep drop-offs yield top-down views over the web of dusty canyons and the Chihuahuan Desert to the south. The path deposits you at historic Williams Ranch, a blue-framed farmhouse with a corral, where you can poke around before retracing your steps .4 mile to Shumard Canyon. Spend the night among sumacs beneath 8,615-foot Shumard Peak's yellow-orange rock walls before retracing your steps to the trailhead. (Or pick up the Salt Basin Trail to change up the scenery for a 22-mile loop, but this path travels farther away from Guadalupe.)
Trailhead: Pine Springs
Season: September to May
Permit Required (free); obtain at the Pine Springs Visitors Center.
Water: Pack your own.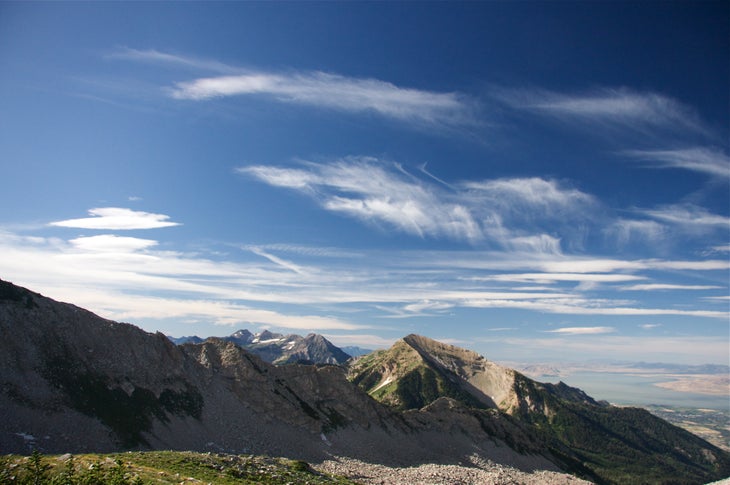 Box Elder Mountain, Uinta National Forest, UT
DISTANCE: 12.5 mi.   DAYS: 2   ELEVATION CHANGE: 10,178 ft. 
With popular Timpanogos, Lone Peak, and the Pfeifferhorn close by, the Wasatch's 11,101-foot Box Elder Peak remains blissfully off the radar. Not only that, but its swaths of alpine meadows offer something like grandstand seats to the big boys. Circle the broad-shouldered peak on a 12.5-mile lollipop-loop to savor views from mountaintops to the Utah Valley.
Follow the Dry Creek Trail up Deer Creek Canyon, the drainage between Box Elder and White Baldy, looking southwest for views of Box Elder painted with alternating snowfields and meadows. Crest its long north ridge at mile 3.5 and camp in a grassy area perfect for watching alpenglow on the mountain's north face. (Top off water at nearby Deer Creek.) The next morning, wrap around the peak's west and south sides on the Dry Creek and Box Elder Trails before dropping back down to the trailhead. 
Trailhead: Granite Flat
Season: June to October
Permit: None
Climb Box Elder Peak South Saddle (class 1); 4,700 feet in 5.1 miles from Granite Flat trailhead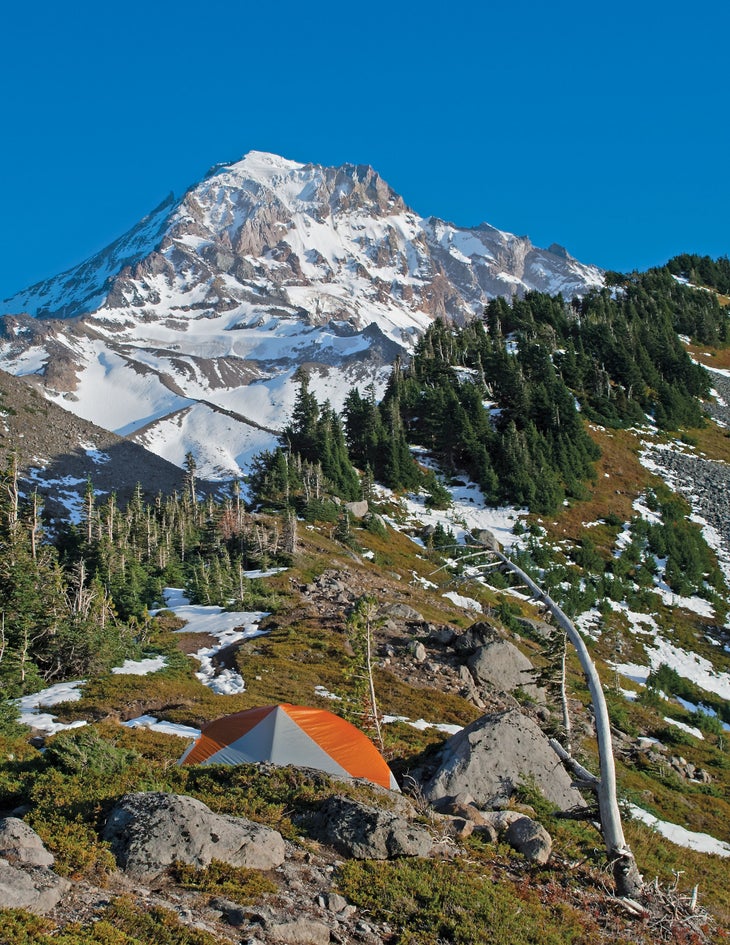 Timberline Trail, Mt. Hood National Forest, OR
DISTANCE: 40 mi.   DAYS: 4    ELEVATION CHANGE: 18,864 ft.
Dictionaries could save a few words when defining "mountain" by simply showing a picture of Mt. Hood. The classic pyramid may be the most aesthetic peak in America. The best way to take in its gradually steepening flanks, ice- and rock-wreathed silhouette, and 11,240-foot summit is from the 40-mile Timberline Trail. The aptly named route hugs the peak's treeline, granting alpine views of Oregon's highpoint between scree canyons and stands of fire-charred tree husks. Do it in four days, and savor campsites with vistas that stretch from the summit to the Columbia River (best ones: mile 12, tucked in the rocky slope of Cooper Spur; and mile 28, near multi-stream Ramona Falls).
Trailhead: Timberline
Season: July to October
Permits Required (free); self-issue at trailhead.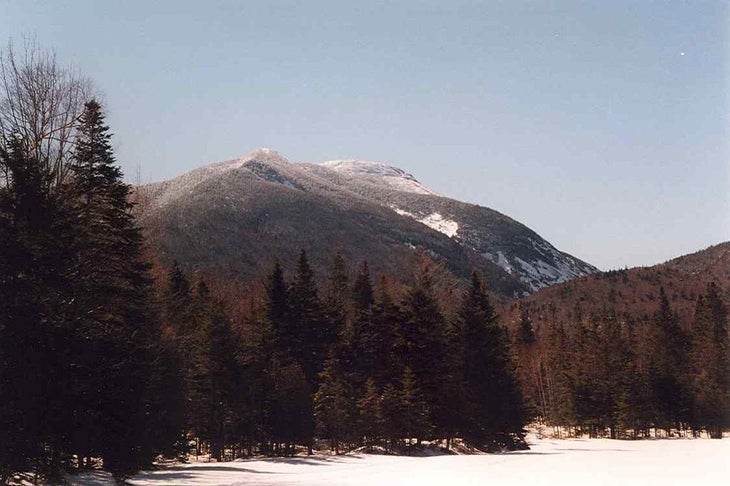 Mt. Colden Loop, High Peaks Wilderness, NY
DISTANCE: 14 mi.    DAYS: 2    ELEVATION CHANGE: 4,594 ft. 
New York hikers recognize the view of 4,715-foot Mt. Colden's scalped west slope. But not many visit its lonely east side, which offers a new take on its wooded flanks, as well as an up-close view of 5,344-foot Mt. Marcy, a mile east. Circle Colden on a 14-mile lollipop-loop linking the Van Hoevenberg, Avalanche Pass, Lake Colden, Feldspar Brook, and Lake Arnold Trails. Overnight at any of the first-come, first-serve lean-tos along the way.
Trailhead: Adirondack Loj
Season: May to November
Permit: None
Climb Mt. Colden Lake Arnold Trail (class 1); 2,900 feet in 6.1 miles from Adirondack Loj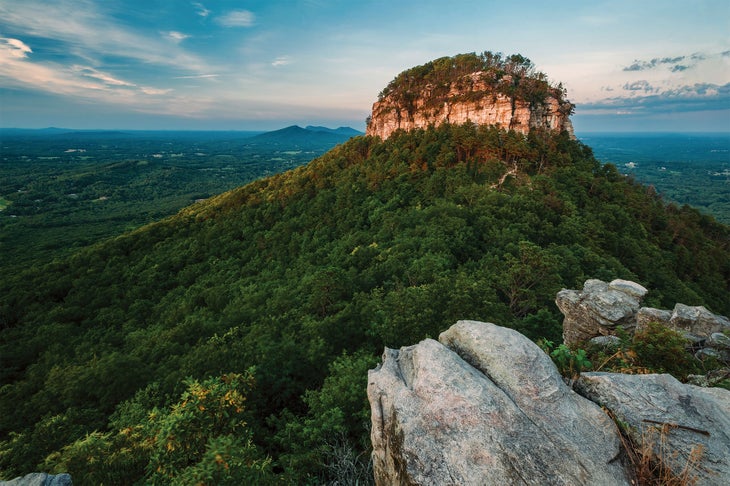 Pilot Mountain Loop, Pilot Mountain State Park, NC
DISTANCE: 5.7 mi.    DAYS: 1    ELEVATION CHANGE: 1,710 ft. 
The view from Pilot Mountain? Spare. The view of Pilot Mountain? One of the South's best. Circle the 2,420-foot monadnock on a 5.7-mile dayhike with vistas of the anomaly's distinctive, silvery rock walls rising above a carpet of hardwoods. Link the Grindstone and Mountain Trails; the latter carries you through open boulderfields with big views of the peak.
Trailhead: Grindstone
Season: Year-round, but views of Pilot Mountain are best in fall and winter, after the leaves drop.
Permit: None
Climb Pilot Mountain: Black Rain (class 5.9)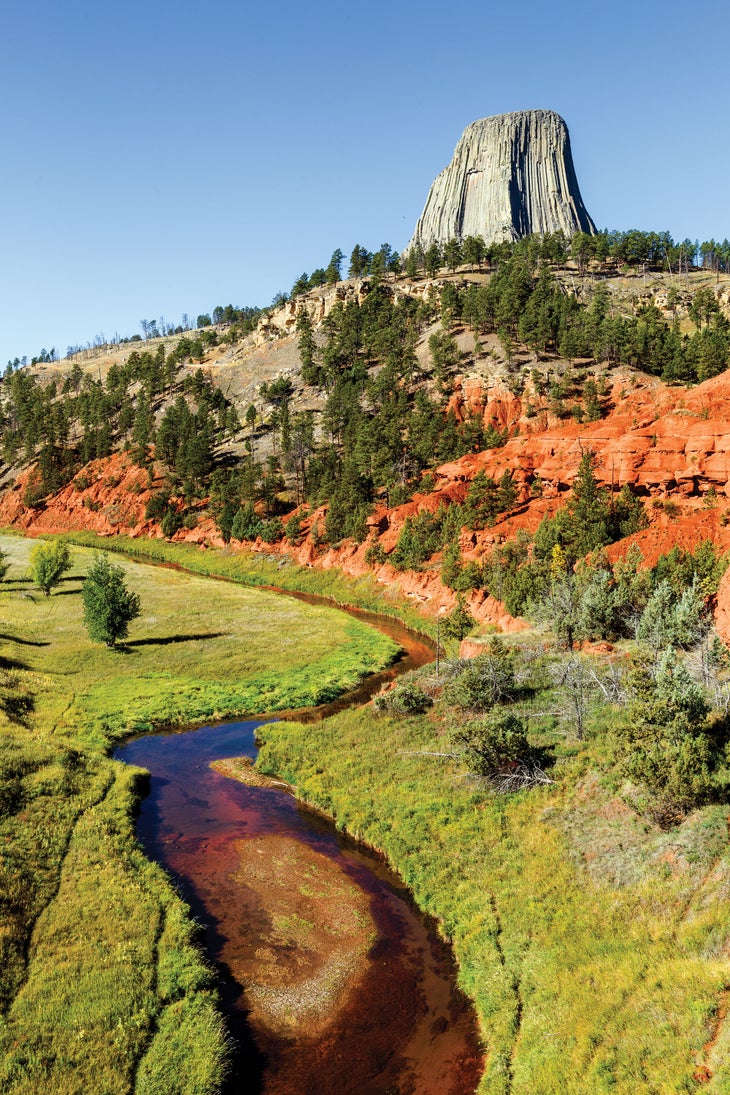 Red Beds Trail, Devils Tower National Monument, WY
DISTANCE: 2.8 mi.   DAYS: 1    ELEVATION CHANGE: 1,300 ft. 
An old Kiowa legend tells the story of a group of girls that was playing in the woods when bears began chasing them. The girls ran to a small plate of rock and stopped to pray for safety. Heeding their prayer, the Great Spirit lifted the rock into the air like a pedestal above a carpet of ponderosas, forming 867-foot-tall Devils Tower. The legend maintains that the hexagonal columns of igneous rock on the sides of the tower are grooves scraped by the bears unable to climb it. Instead, they circled the tower, which you can, too, on the easy, 2.8-mile Red Beds Trail. The best views start right away with the straight shot to the stone gumdrop's west face; scan for the remnants of giant, pencil-like columns that tumbled off the tower.
Trailhead: Visitor Center
Season: April to October
Permit: None
Climb Devils Tower: Durrance (class 5.7)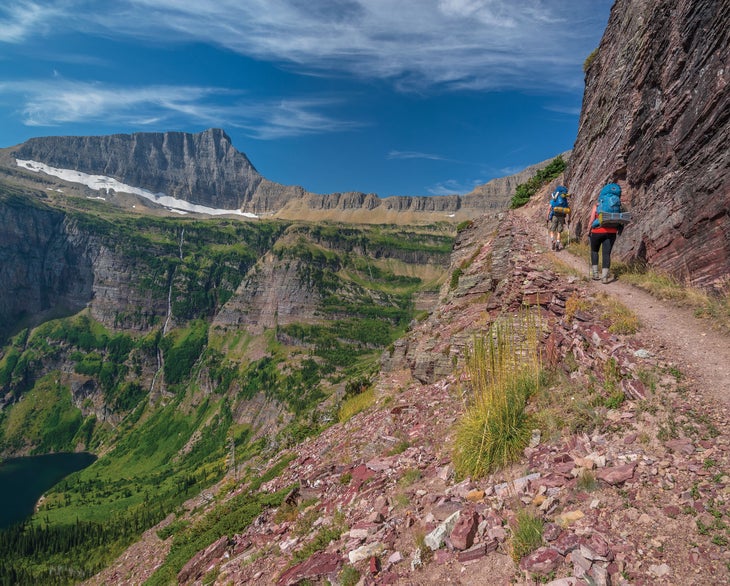 Five Pass-Red Eagle Loop, Glacier National Park, MT
DISTANCE: 44 mi.    DAYS: 4    ELEVATION CHANGE: 16,804 ft. 
When rain or snow falls on Triple Divide Peak, it ultimately ends up in one of three very different places: the Pacific, Atlantic, or Arctic Oceans. The 8,020-foot peak sits at the junction of the Continental and Laurentian Divides—one of the only spots on Earth where three oceanic drainages meet. Hike through all three watersheds— and savor eyefuls of the near-perfect pyramid-shaped peak—when you circle it on a four-day, 44-mile loop.
From the Cut Bank trailhead, follow the Cut Bank Pass and Triple Divide Trails along Atlantic Creek (which drains into the Missouri River and eventually the Atlantic Ocean). Camp beside the creek near mile 4.3 to gear up for a big day two: Crest the 7,397-foot pass, savoring vistas down to jade Medicine Grizzly Lake and across the spine of Razoredge Mountain, before continuing across Hudson Bay Creek (which eventually empties into Hudson Bay and the Arctic Ocean). Camp at the south end of Red Eagle Lake with a view of Split Mountain's distinct turret at mile 14.2. The next morning, backtrack 1.2 miles and bushwhack up Red Eagle Creek, keeping your eyes open for an abandoned trail at the end of the valley. (Note: Always travel in groups and practice bear safety; this is griz country.) Make sure it isn't a game trail, then follow the snaking path over 6,400-foot Red Eagle Pass to the Nyack Creek Trail at mile 26. From there, it's just over 2 miles east to the Upper Nyack Campground, tucked at the bottom of a long, wooded valley. The final day, cross Pacific Creek (which ends up in the Flathead River and Pacific Ocean) and climb Cut Bank Pass before descending back to your car.
Trailhead: Cut Bank
Season: June to September
Permit Required ($7/person per night); obtain at the St. Mary Visitor Center.
Climb Triple Divide Peak: Triple Divide Trail (class 2); 2,400 feet in 7.4 miles from Cut Bank trailhead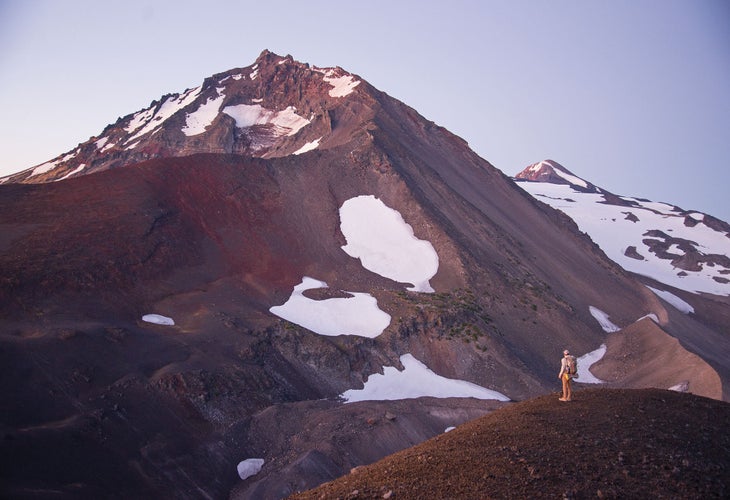 Three Sisters Mountain, Three Sisters Wilderness, OR
DISTANCE: 48 mi.   DAYS: 4    ELEVATION CHANGE: 14,016 ft.
Lesser known than the Timberline Trail, but no less grand—that's the beauty of this loop around the North, Middle, and South Sisters. The underrated circuit takes you through moss-crusted forests of lodgepole pine with peekaboo looks at the rocky hulks of Cascade volcanoes, totaling only 7,000 feet of elevation gain in 48 easy-breezy miles. Take it slow, savoring lakeside campsites that seem to float below the trio of glacier-mantled, 10,000-foot peaks.
From the Lava Camp Lake trailhead, follow the Pacific Crest Trail 2.3 miles south before bearing east onto the Scott Pass Trail, which twists through meadows with views of North Sister. Peel onto the Green Lakes Trail to land a campsite near Squaw Creek beneath Middle and South Sisters at mile 11.5. Next day, climb to 7,000-foot Green Lakes Pass (mile 17.5), nestled between South Sister and 9,175-foot Broken Top, a separate volcano that doesn't get to be part of the family but should. At mile 21.6, veer onto the Moraine Lake Trail to camp beside the route's quietest pool at mile 23. Next morning, cross Wickiup Plain around domed South Sister and link back up with the PCT at mile 27. Pass black obsidian hillsides on the way to Glacier Creek (mile 38) for your last night, then close the circuit around North Sister and its receding Collier Glacier.
Trailhead: Lava Camp Lake
Season: June to September
Permits Required: Northwest Forest Pass ($30); Obsidian Limited Entry Area ($10); and wilderness (free; self-issue at trailhead).
Climb South Sister: South Ridge (class 3); gain 5,000 feet in 5.8 miles from Devils Lake trailhead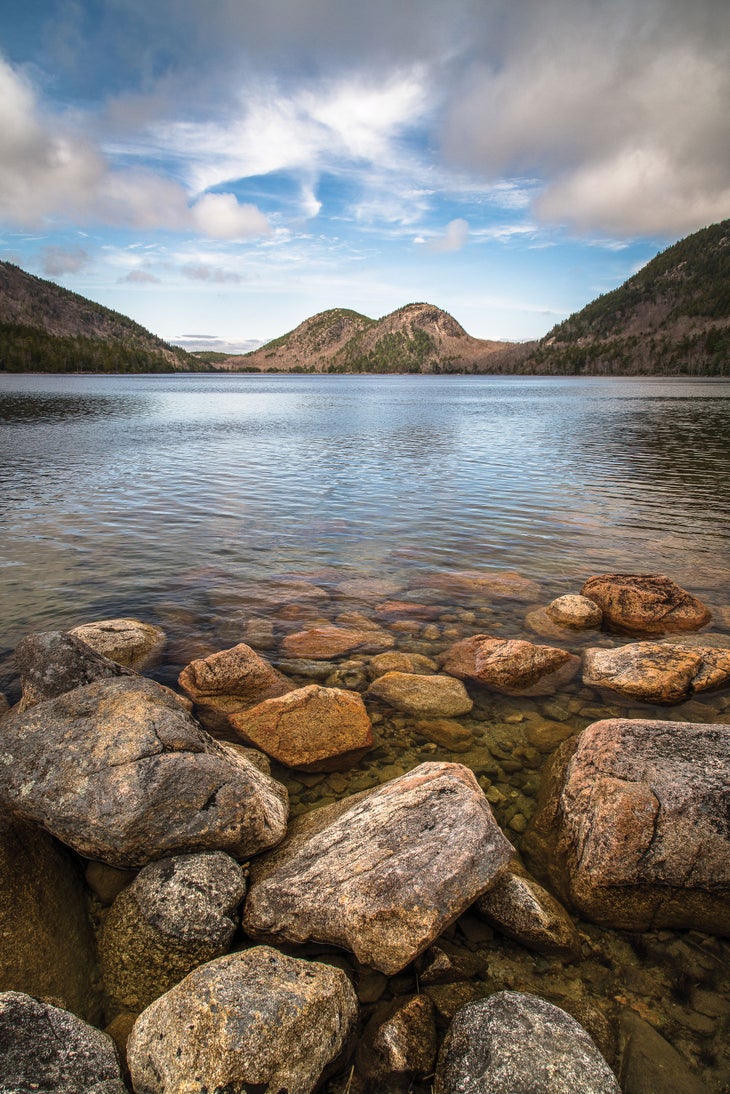 Round the Mountain Carriage Trail, Acadia National Park, ME
DISTANCE: 11.6 mi.   DAYS: 1   ELEVATION CHANGE: 2,822 ft.
The original philosophy at this park was, "Don't work too hard for the views." Early visitors here toured the coastal mountains on a 45-mile network of carriage roads built between 1913 and 1940. The once-state-of-the-art, gravel routes now offer hikers sweeping views of Mt. Desert Island and the ponds and sounds that dot the liquid labyrinth. See it all on an 11.6-mile dayhike that circles six named peaks. From the Jordan Pond House, hike north past the blocky slopes of 1,196-foot Penobscot Mountain and the bare domes of the Bubbles to mile 3.5. Veer west and south around Sargent, Gilmore, and Bald Peaks (bag them on optional spurs, if you'd like) before closing the circuit back at Jordan Pond.
Trailhead: Jordan Pond
Season: April to November
Permit: None
Climb Sargent Mountain Northwest Trail (class 1); 1,200 feet in 2.1 miles from Giant Slide trailhead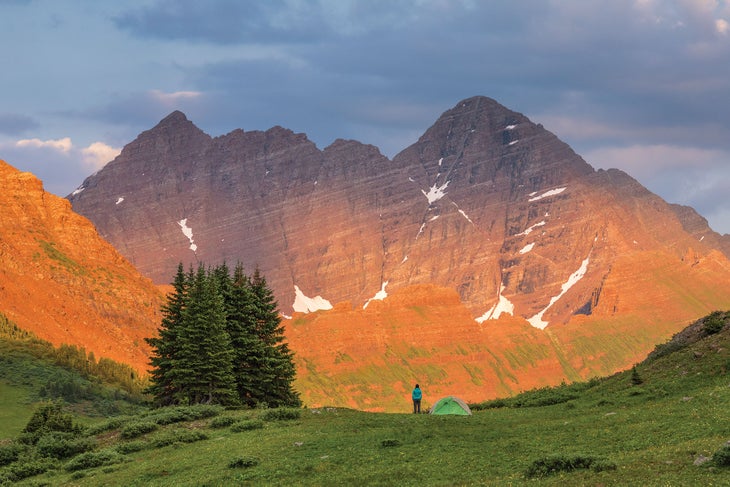 Four Pass Loop, Maroon Bells-Snowmass Wilderness, CO
DISTANCE: 28.8 mi.   DAYS: 3   ELEVATION CHANGE: 15,646 ft.
In a state flush with mountains, the Maroon Bells' brick-red, striated pyramids—wreathed with aspens and reflected in Maroon Lake—still stand out. That makes the 28.8-mile circumnavigation, which tags four 12,000-foot passes and tallies nearly 16,000 feet of elevation change, rightfully popular. But you don't have to settle for crowded campsites. Our advice: Cash in on the wilderness's dispersed camping policy. The conifer stands in West Maroon Valley (mile 6), the North Fork Crystal River (mile 15), and Minnehaha Gulch (mile 25) all hold secret, A-list sites. Go in the middle of the week, too, so you can also enjoy the carpets of midsummer wildflowers, roiling waterfalls, knife-edge ridges, and teal tarns that fill the spaces between without company.
Trailhead: Maroon Lake
Shuttle Required; pick it up from Aspen Highlands Village ($8).
Season: July to October Permit Required (free); self-issue at trailhead.
Climb Maroon Peak: Maroon Peak Trail (class 2); 4,867 feet in 5.5 miles from West Maroon trailhead
How to Master the Mountains
Avoid Bonking
Long mountain days require lots of energy. Dial in your fueling strategy.
Eat breakfast. Consuming a balanced meal in the morning (including fats, carbs, and protein) will give you both short-term and long-term energy.
Keep snacking. Down 100 to 200 calories every hour. Increase the ratio of carbs in heat above 80°F or at high altitude.
Indulge your sweet tooth. Feeling sluggish? Candy bars, gummies, and dried fruit provide an instant hit of get-up-and-go.
Predict Storms
Fact-check your forecast.
Watch your altimeter. Seeing an unaccounted-for rise in elevation? That means the barometric pressure has dropped, usually signifying incoming storms. If your watch thinks you've descended, that means the opposite, foretelling clear skies and mild weather.
Know your clouds. Look for nimbostratus clouds (low-lying gray sheets), mammatus clouds (lumpy, egg carton-looking swaths), thunderheads (dark-bottomed and anvil-shaped),and scuds (dark, wispy cloud scraps), which can all signify incoming storms.
Learn prevailing patterns. In the Rockies, clouds build up during the morning, creating fairly reliable afternoon thunderstorms May through August. The Southwest experiences monsoon season July through September. On the coast, moisture from the ocean can blow inland; coastal winds and cloudy skies often mean incoming storms.
Dress for Comfort
Mountains make their own weather.
Layer for efficiency. On cold, windy days, hike in your shell and put your puffy on over the top at rest breaks.
Prevent chills. Stop and put on a layer before reaching a windy ridge. Add layers for the descent.
Stay dry on the inside. Before you start hiking, delayer until you're comfortably cool. Moderate your pace so you don't overheat under a shell.
Don't let rain sneak in. Wear gaiters. Snug your hood. Cinch cuffs and make sure no baselayer sleeves are exposed.