Arizona Hot Springs / Ringbolt Hot Springs
360 degree views of the mighty Colorado River sound breathtaking? How about a soak in natural hot springs? This hike has it all! Stay for an hour or set up camp on a nearby beach to take full advantage of this easy hike just one hour from Las Vegas.
Heading out the door? Read this article on the new Outside+ app available now on iOS devices for members! Download the app.
A leisurely walk winds you a few miles down through an ancient wash, making you feel small as the canyon walls rise up around you. Marvel at the way the canyon was formed by ancient waters as you follow the wash that snakes you down to banks of the brilliantly blue Colorado River. Try not to trip as you scan the rocky enclave above for Big Horned Sheep and small Arches. Once you reach the river, you'll walk South along the banks, up and over a rocky crop and back up into another wash leading to the springs – a final climb up a rusting ladder will bring you to the 110 degree springs. The hike out is slower going as you retrace your steps, the soft sand and gravel is taxing on your calves. Make sure you wear shoes that can get wet.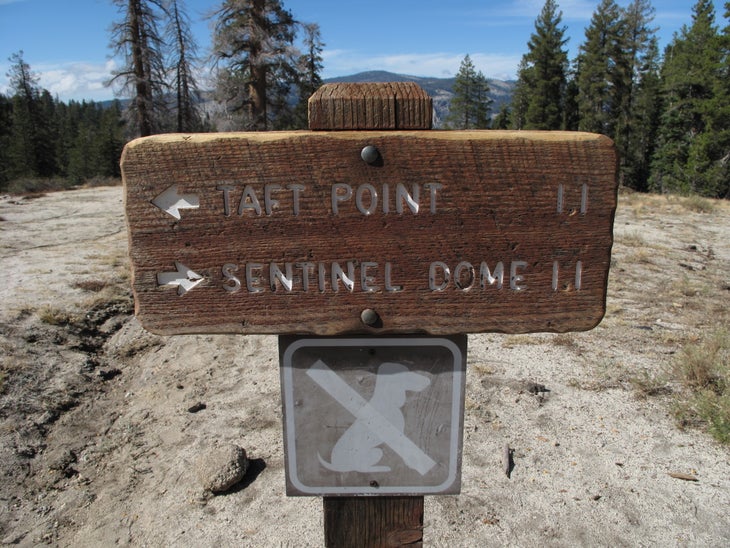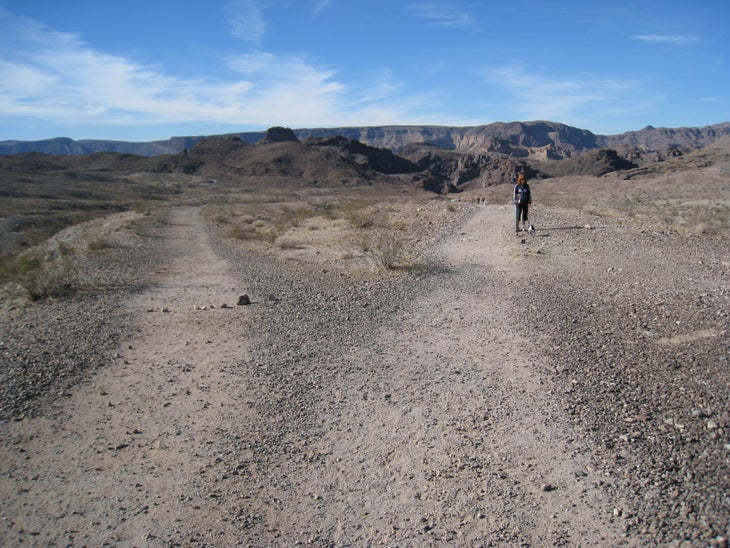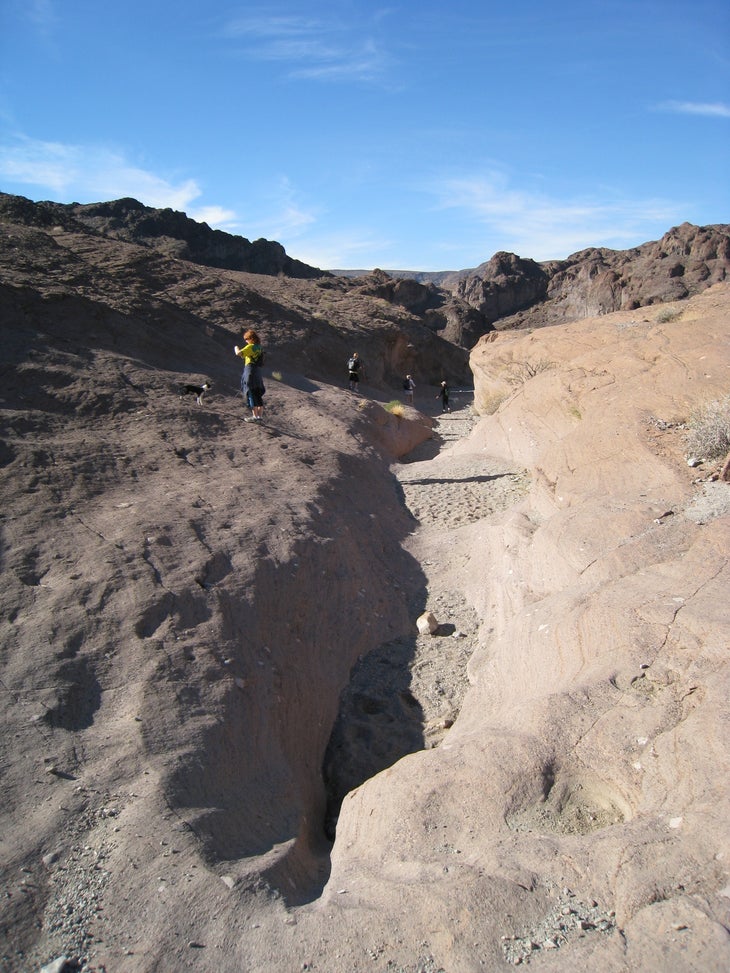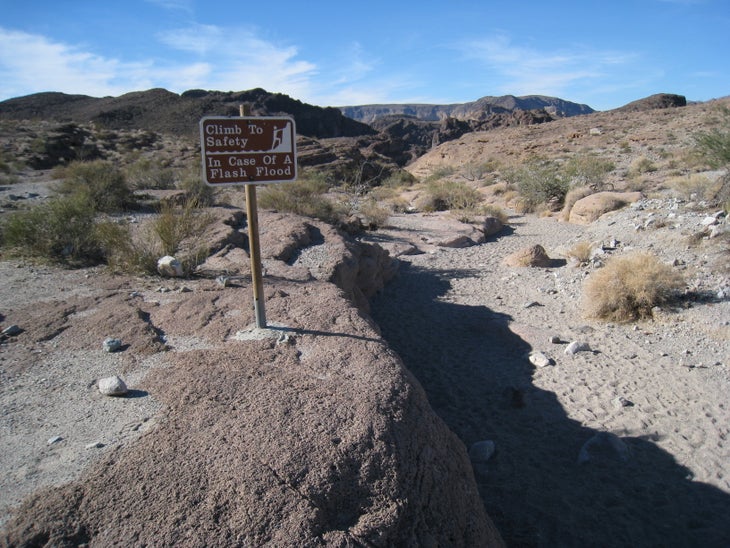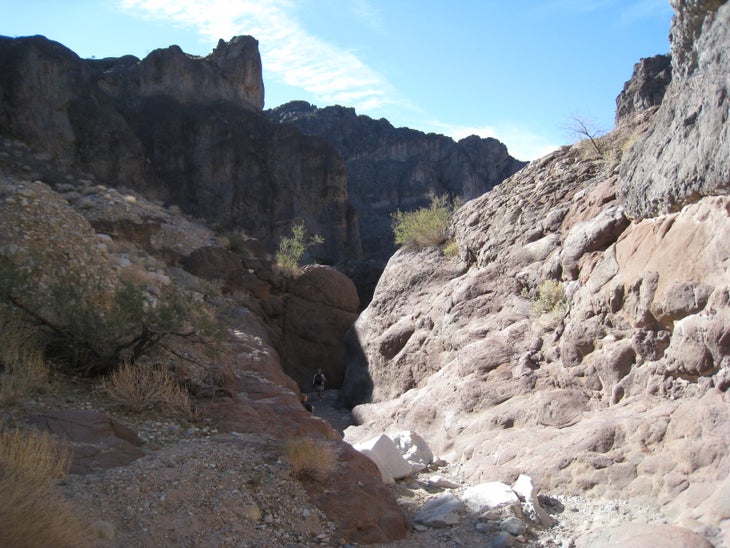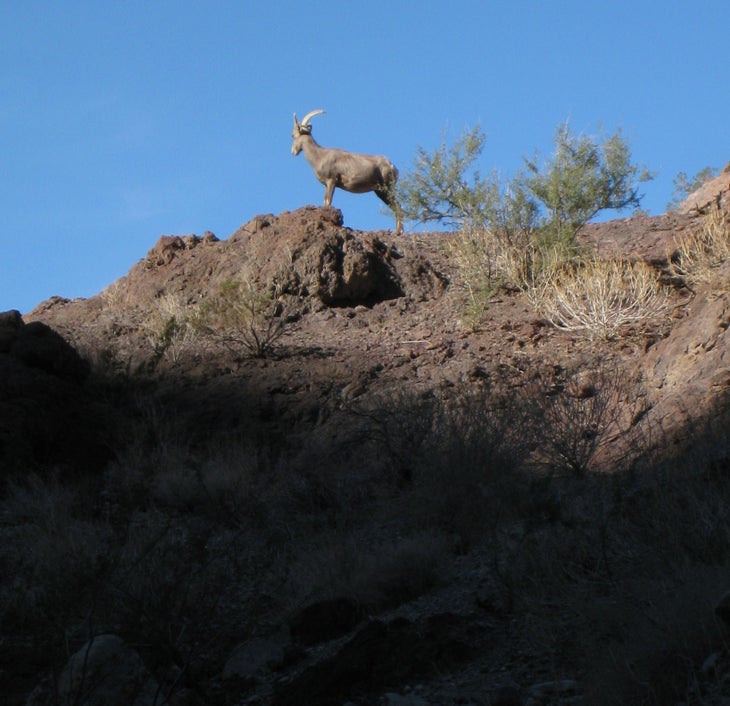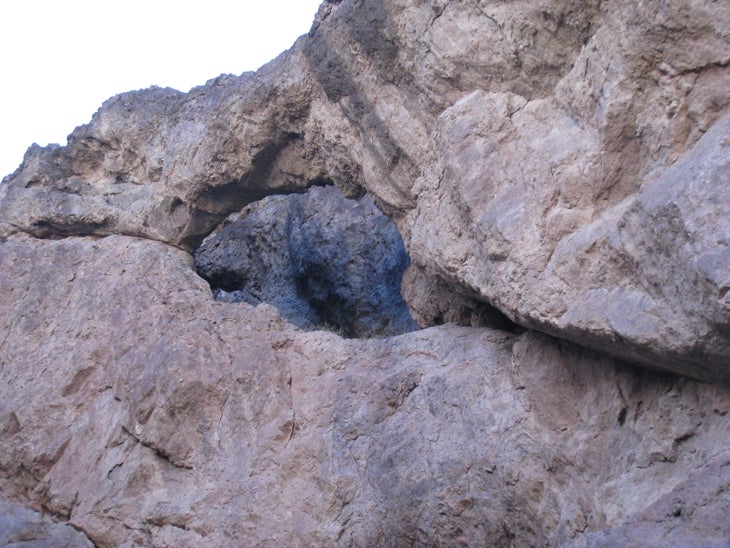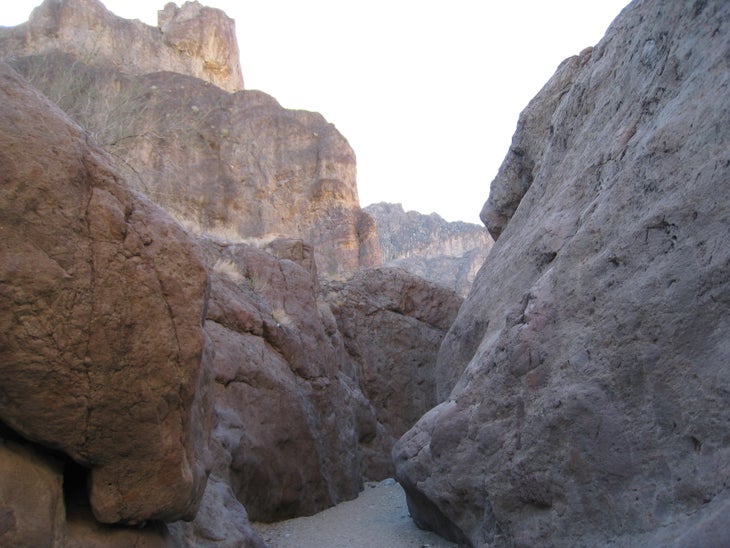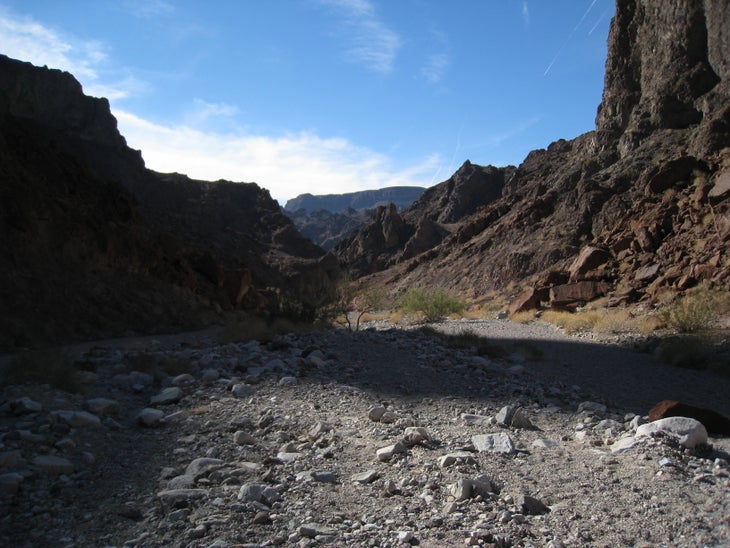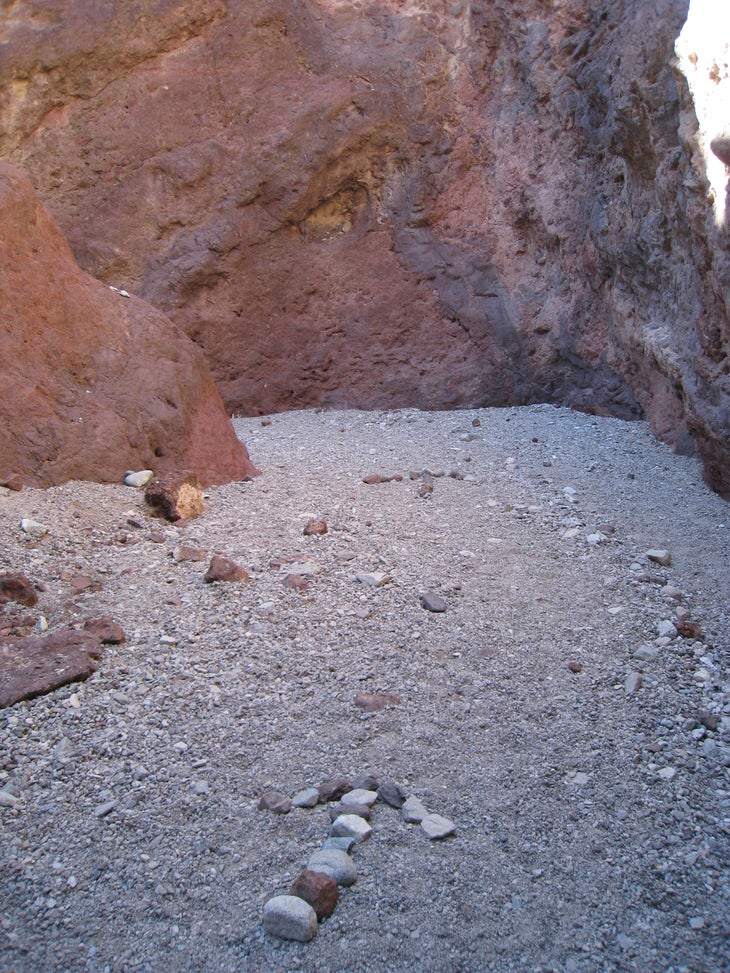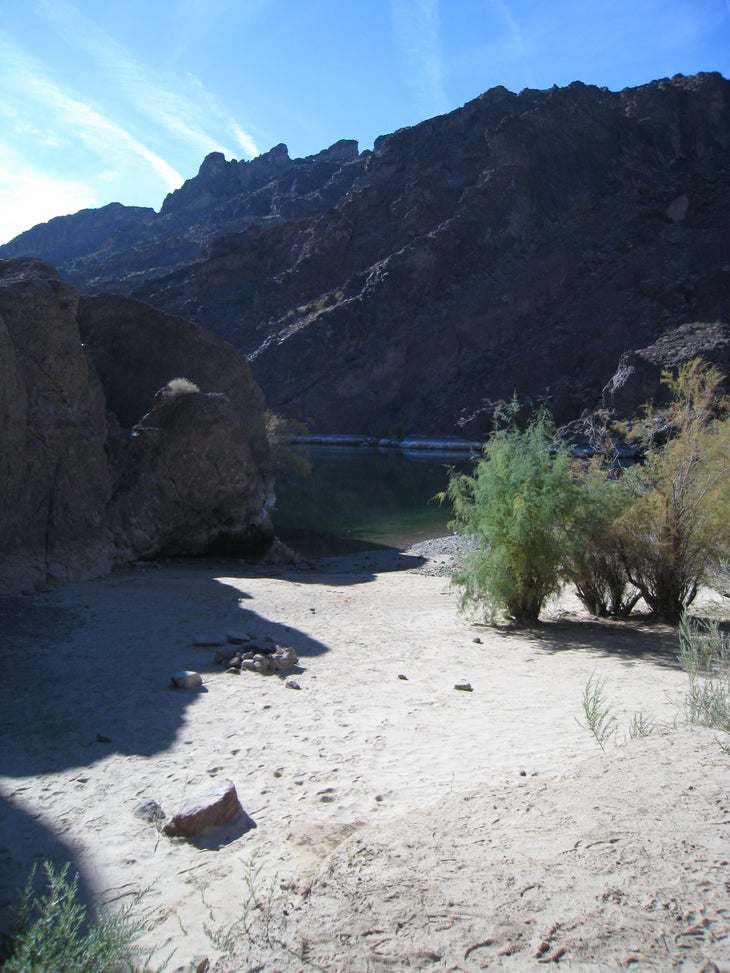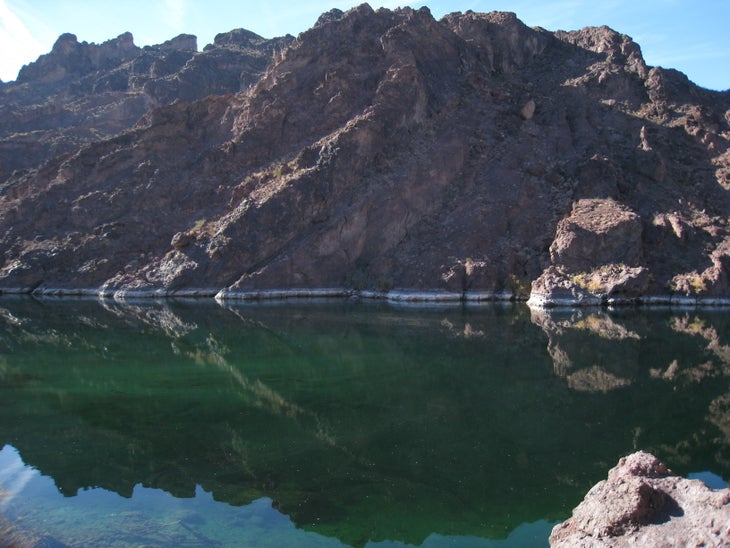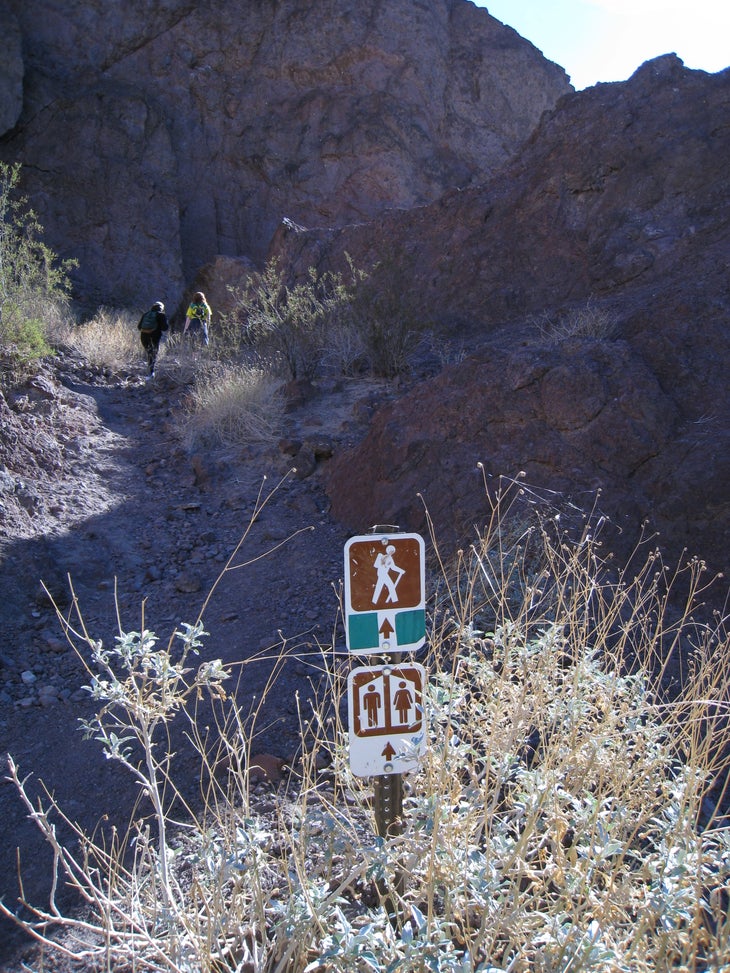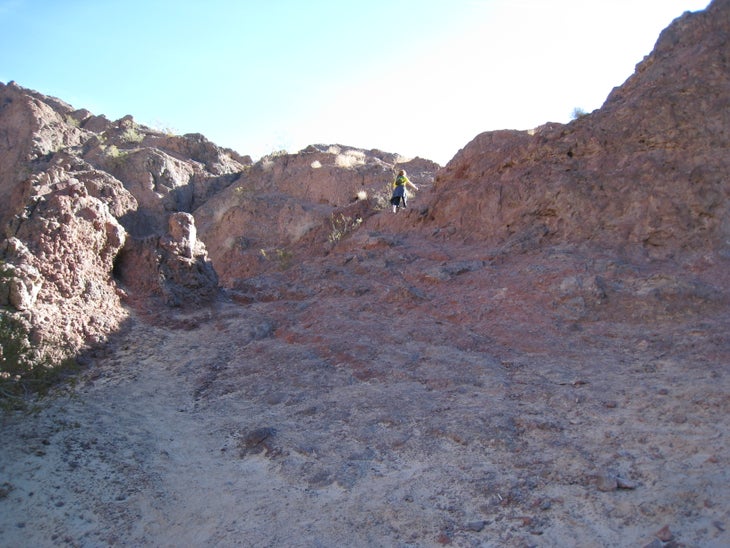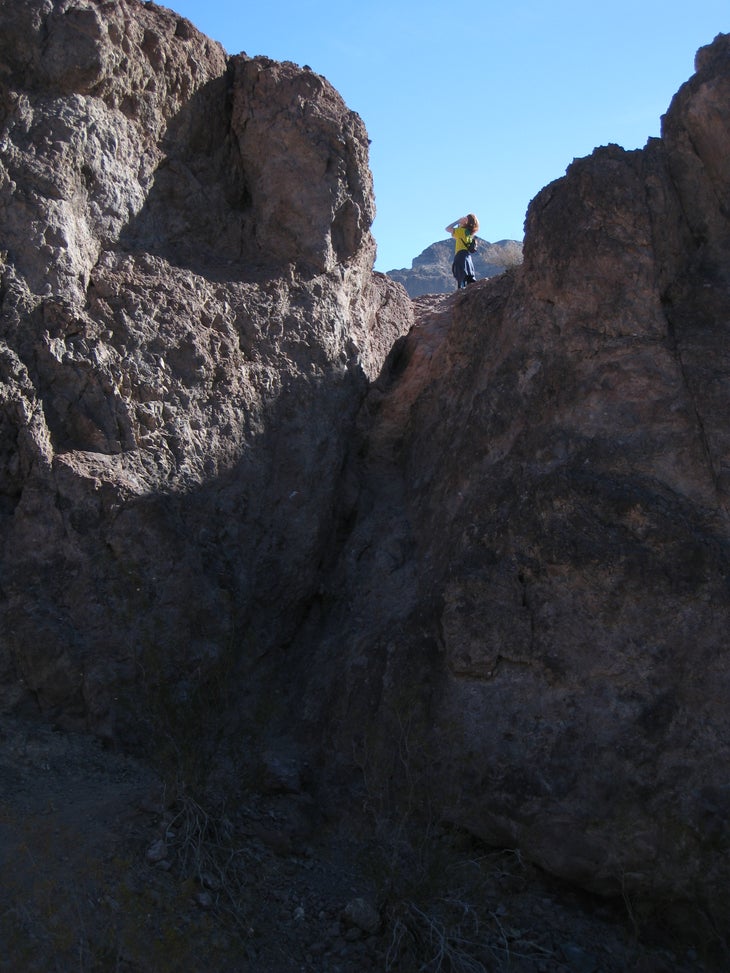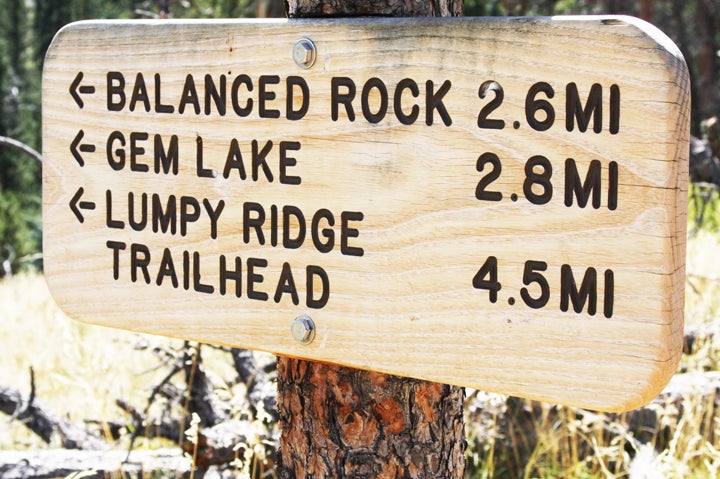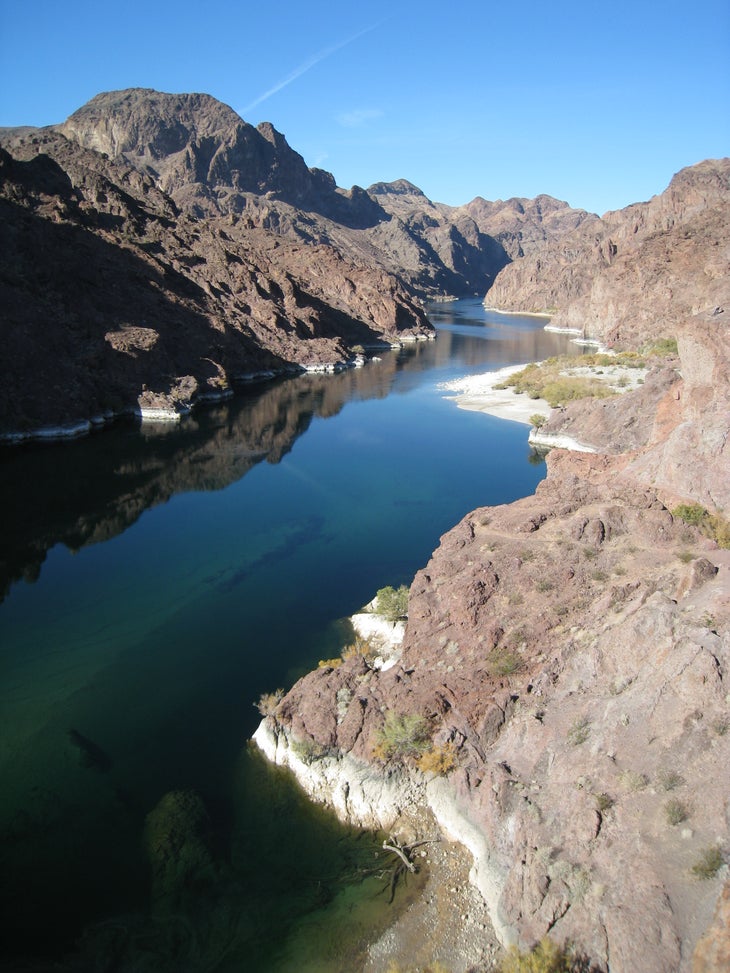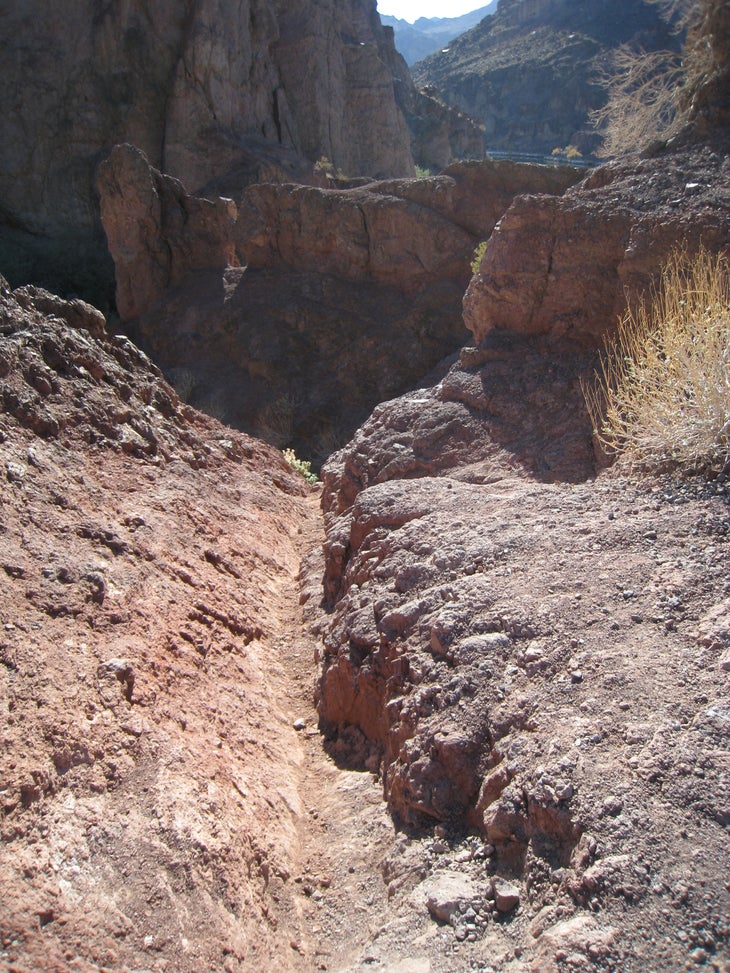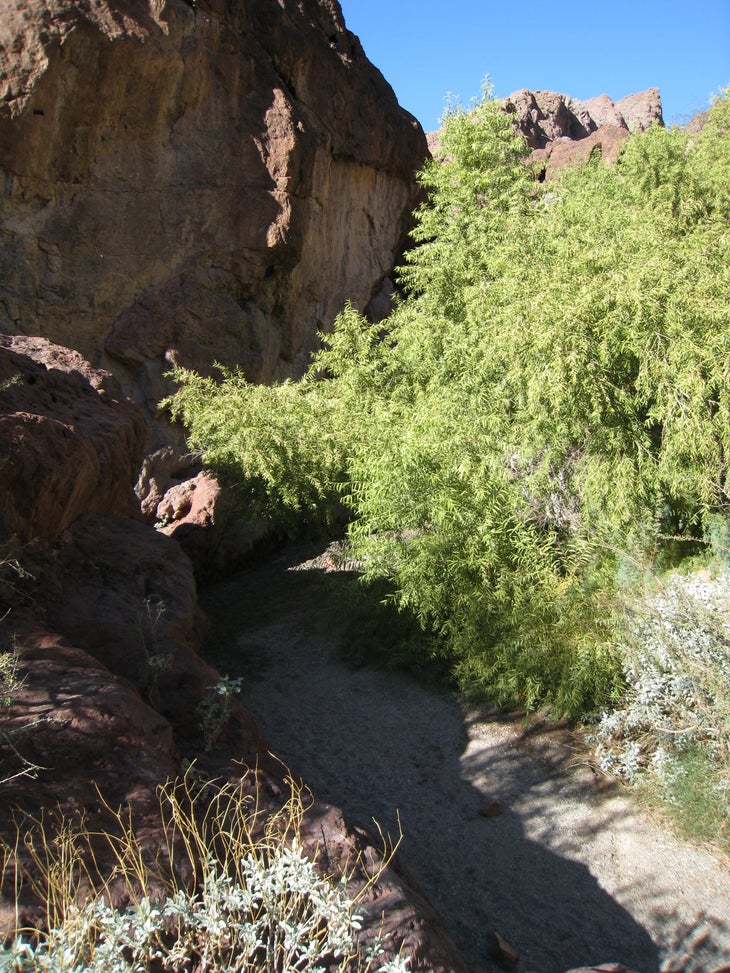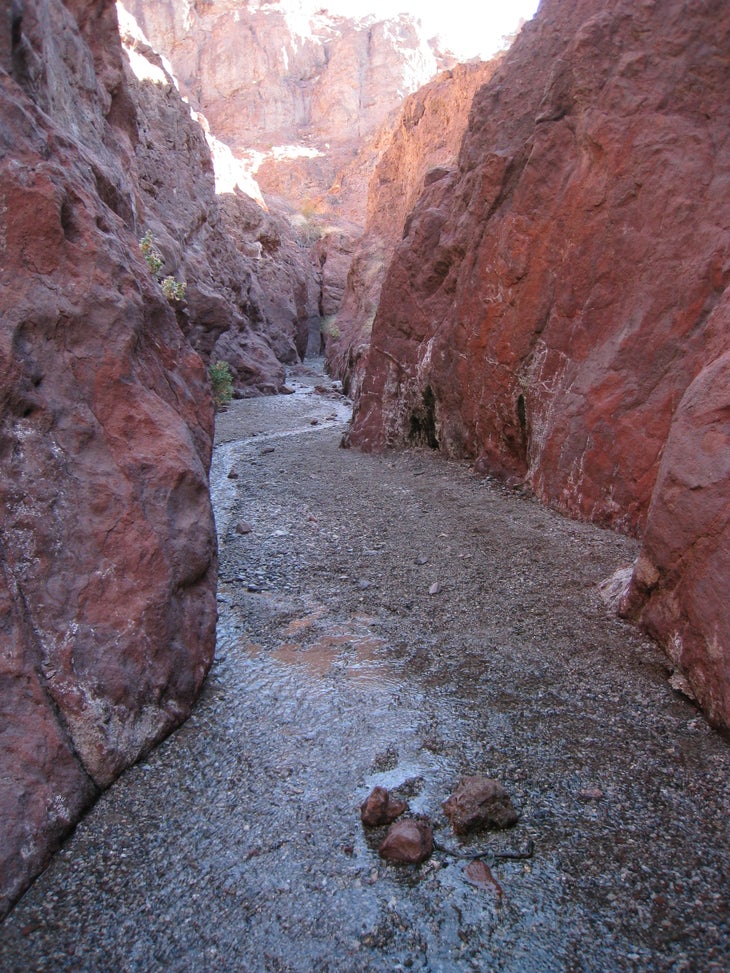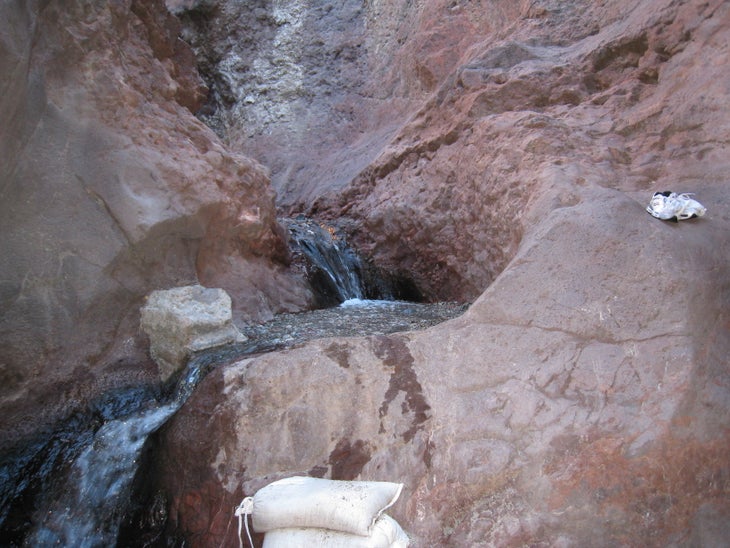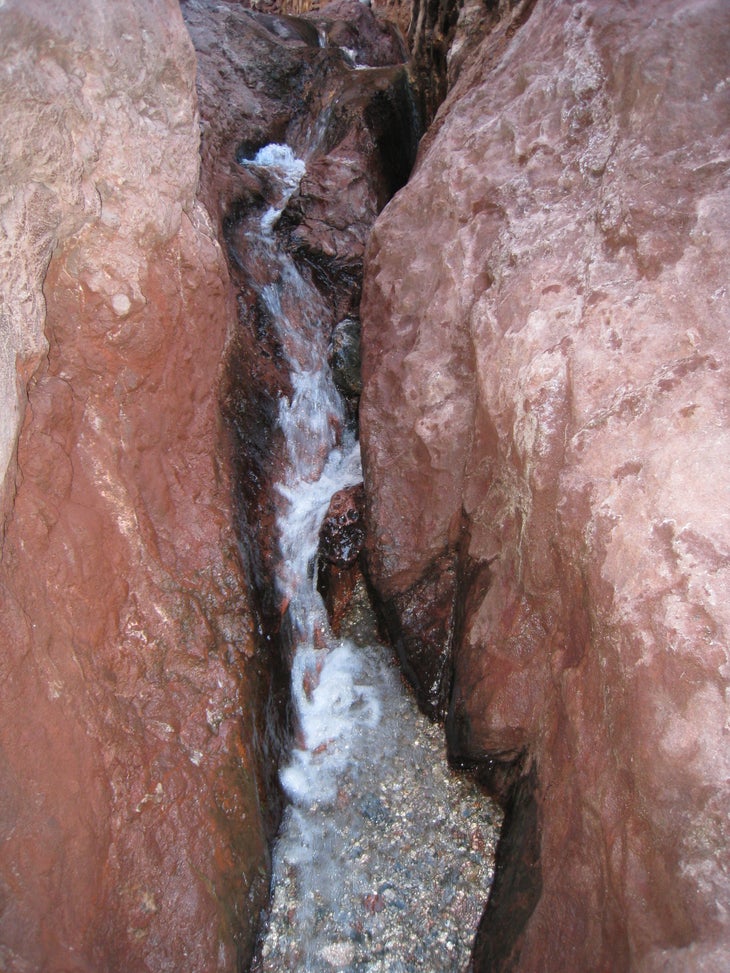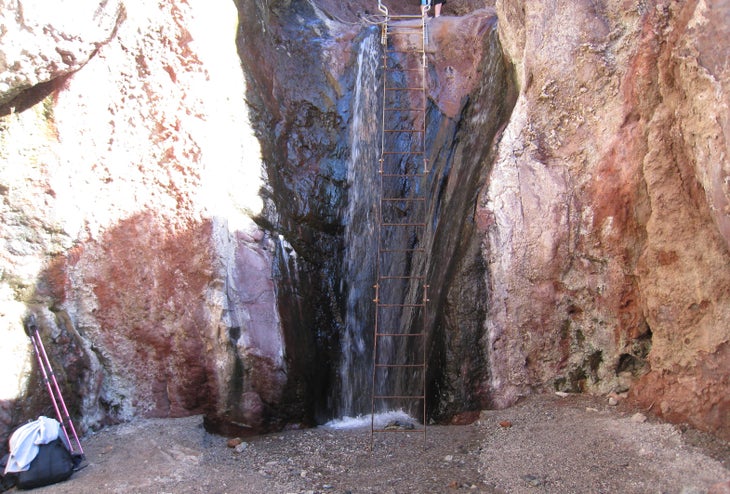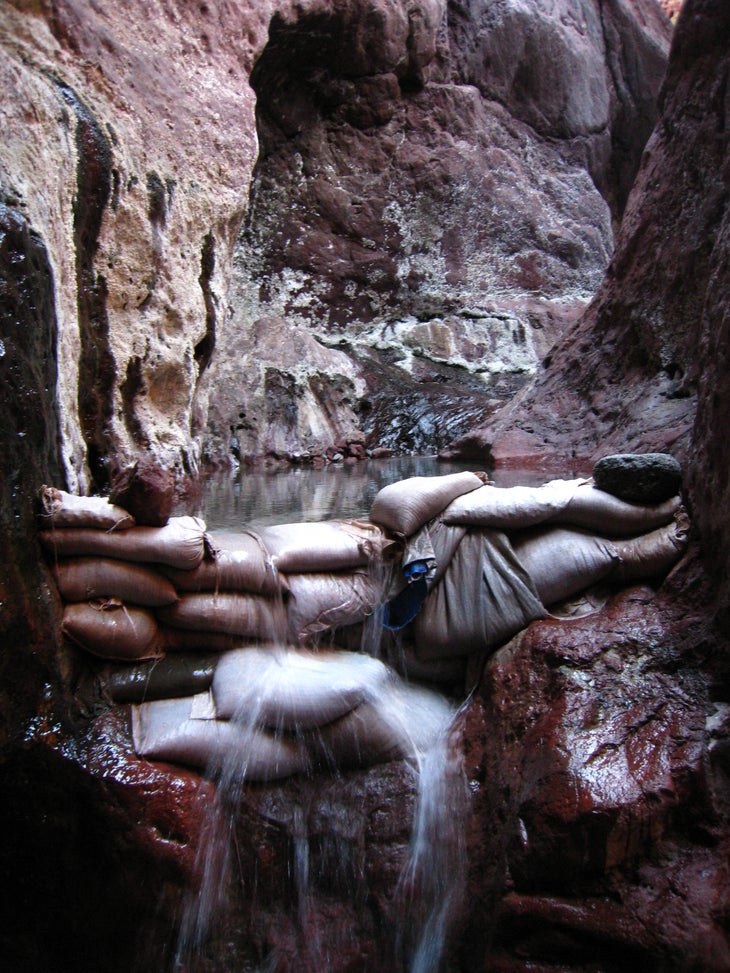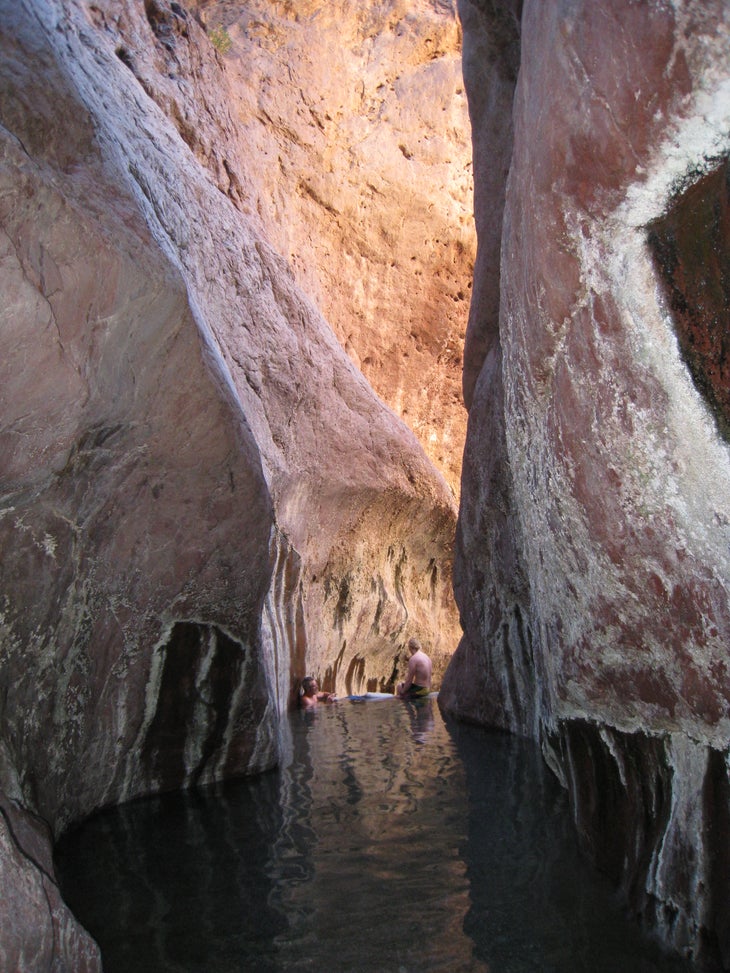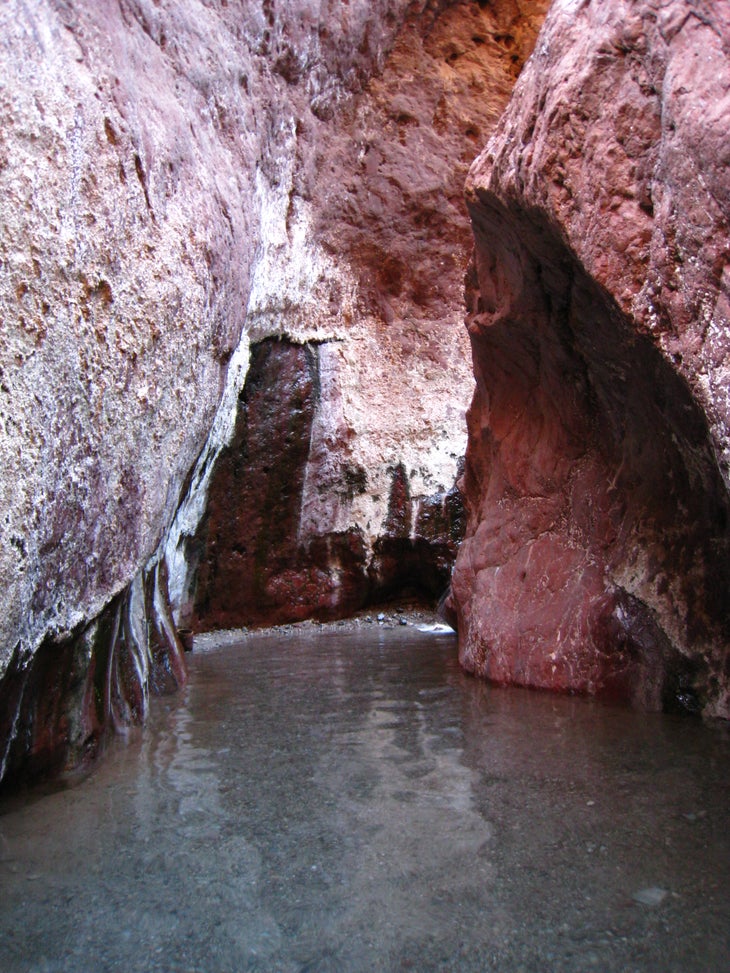 Trail Facts
Waypoints
AHS001
Location: 35.9772774, -114.6977348
From trailhead go West on gravel path. At trail split, stay right.
AHS002
Location: 35.9755758, -114.705408
Trail decends down into Canyon wash at slight grade. Follow trail signs.
AHS003
Location: 35.9743227, -114.7111222
Canyon walls raise above you. Easy rock scrambling.
AHS004
Location: 35.9731447, -114.7168204
Veer South off path, scramble up to base of unnamed Arch.
AHS005
Location: 35.9708104, -114.7164635
Unnamed Arch. From here head back to trail.
AHS006
Location: 35.9690803, -114.722414
Wash opens up as canyon walls widen.
AHS007
Location: 35.96516, -114.7258678
Canyon walls tighten, continue on trail towards river.
AHS008
Location: 35.96316, -114.7292477
AT Colorado River head South. Walk parrallel to river.
AHS009
Location: 35.9627243, -114.729086
Camping is possible @ this sandy beach.
AHS010
Location: 35.9620785, -114.7290496
Go out on rocky overlook for views of Colorado River. From here follow path to another sandy beach.
AHS011
Location: 35.9616807, -114.7285985
From beach head inland, up & over rocks. Do not follow wash back from river. Trail not obvious here, but stay close to river. After a short scramble the path begins obvious again.
AHS012
Location: 35.9614179, -114.7283743
After a short climb, head away from river. Veer right through a small crevice. Minimul climbing required. Look for trail sign above (East) of you.
AHS013
Location: 35.9612625, -114.7279546
Head away from river. To the left & below is the wash you'll follow.
AHS014
Location: 35.9610644, -114.7275384
Veer South (right) at junction for rocky overlook or down steep, gravel path to wash below.
AHS015
Location: 35.9608118, -114.7283408
Rocky overlook for Colorado River views. Head back to waypoint 15 & continue to Hot Springs.
AHS 016
Location: 35.9605078, -114.7270621
At bottom of steep decent head left towards wash you saw from above. Wash gets wetter & some scrambling required. Use caution on slippery rocks. Zig zag up wash – feet will get wet.
AHS018
Location: 35.9606415, -114.7254427
Put your bags off to the side & relax in the hot springs.
AHS017
Location: 35.9606182, -114.7255175
Climb up rusty, but safe ladder to Springs above.
Trailhead
Location: 35.9773116, -114.6974802
Trail Split
Location: 35.9759919, -114.7001839
stay right
IBeginning of Canyon Walls
Location: 35.9755404, -114.7040033
IMG_3764.JPG
Location: 35.9754362, -114.7059774
Beginning of Canyon Walls
Location: 35.9748111, -114.7088313
Big Horned Sheep
Location: 35.973144, -114.7124147
Unnamed Arch
Location: 35.9698097, -114.7167492
Canyon Walls
Location: 35.9713379, -114.7190452
Wash Opens Up
Location: 35.9701571, -114.7215343
Back in The Canyon Again
Location: 35.9651207, -114.7264266
Sand Beach
Location: 35.9627934, -114.7288835
View of Colorado River
Location: 35.962064, -114.728862
Restrooms Ahead
Location: 35.9625503, -114.7286904
Head Away From the River
Location: 35.961378, -114.7282854
Climb up Crevice
Location: 35.9614127, -114.7279313
Trail Junction
Location: 35.9609872, -114.7275263
Spur View
Location: 35.9608309, -114.7281995
Steep Climb Down
Location: 35.9608482, -114.7273251
Beginning of Wash Back to Pools
Location: 35.9606442, -114.7270086
The Wash
Location: 35.960566, -114.726719
Rock Scrambling
Location: 35.9605009, -114.7263864
Narrow Wash
Location: 35.9604531, -114.7260645
Ladder
Location: 35.960388, -114.7258446
This climb up the ladder will take you to the pools.
Sand Bags
Location: 35.9606355, -114.7255442
Volunteers separate pools with bags. Park Service often removes these bags. Each time you visit it will look differently.
Bottom Pool
Location: 35.9607093, -114.7255307
Upper Pool
Location: 35.9606919, -114.7255442