Arches National Park: Park Avenue
Hike among high-rise sandstone walls and massive fins on this 1.9-miler that's a perfect introduction to Arches National Park.
Heading out the door? Read this article on the new Outside+ app available now on iOS devices for members! Download the app.
With sandstone walls that rival New York City skyscrapers, this easy, 1.9-mile out-and-back along the Park Avenue of Arches National Park, shows how wind and erosion can create a variety of rock sculptures. From the Park Avenue parking lot, check out the La Sal Mountains in the distance before heading down a paved trail to the Park Avenue overlook.
At the overlook take in the expansive views of the 300- to 400-foot-tall red rock walls that line the wash below. To the right is a deep notch carved into a fin; bulky rock formations sit to the left, and Courthouse Towers (an assortment of tall stone columns) rises in the distance. Take the stone steps from the overlook to continue the hike.
Once on the canyon floor, look around in all directions. Beneath your feet are ripples in the rock and above are towering red cliffs, balanced rocks, and tiny holes in the rocks. Desert shrubs and juniper trees are sprinkled in the red sand throughout the canyon. As the trail makes its way to the road, Courthouse Towers comes into view. Once the trail meets the road, turn around and hike back.
Note: This hike has parking lots at both ends, so if you're short on time and have two cars, you can turn this into a shuttle hike.
-Mapped by Sarah Curry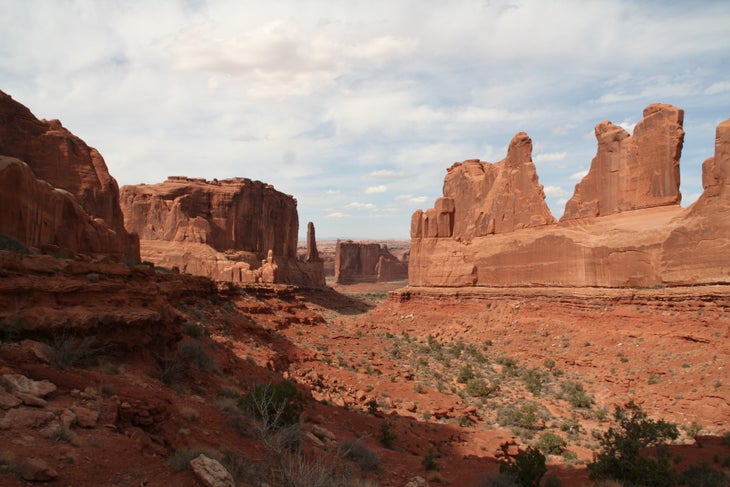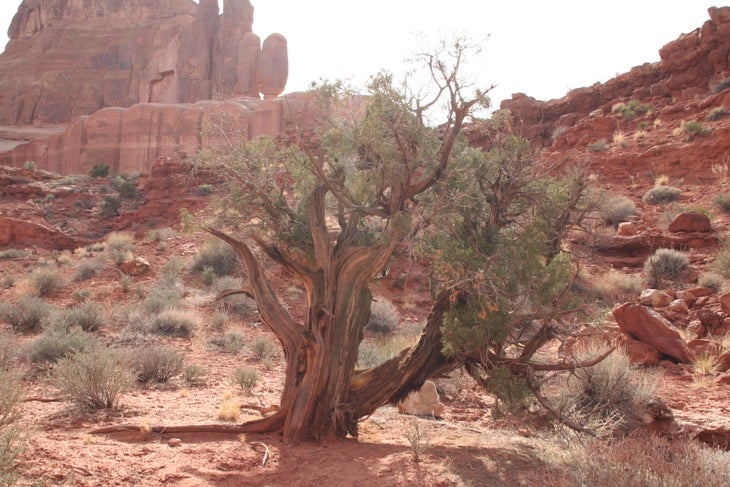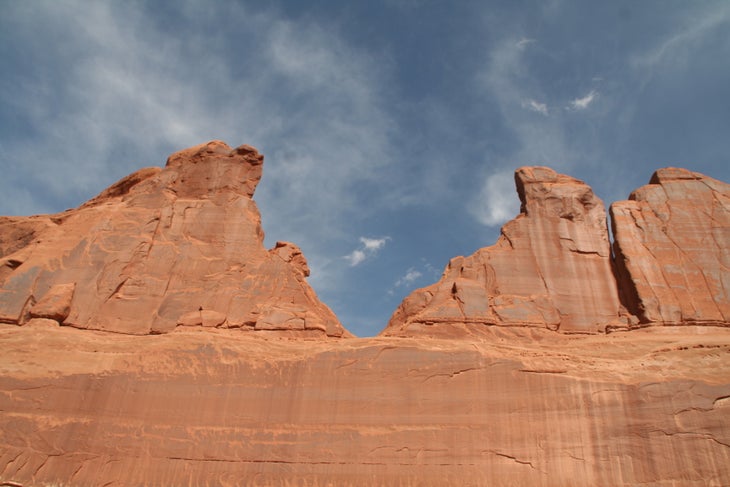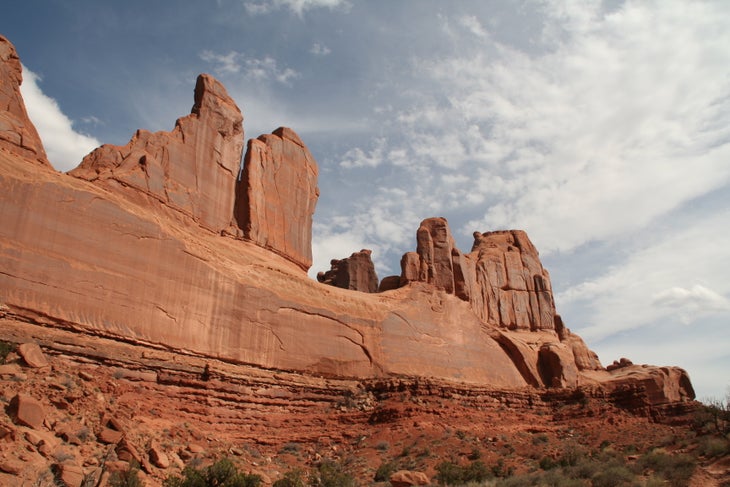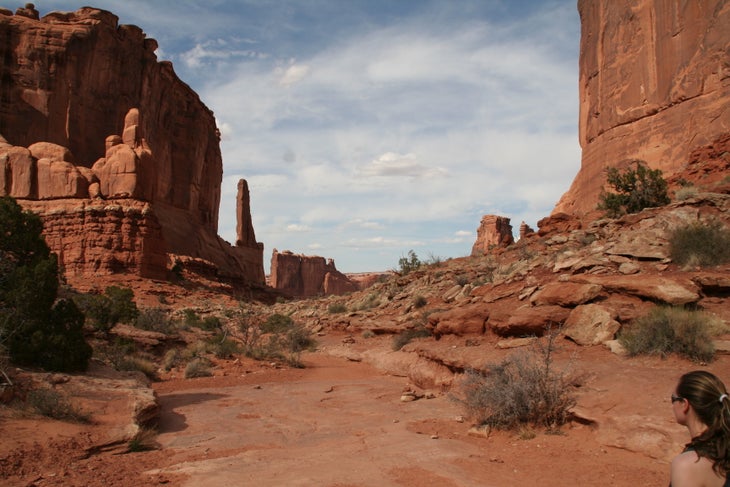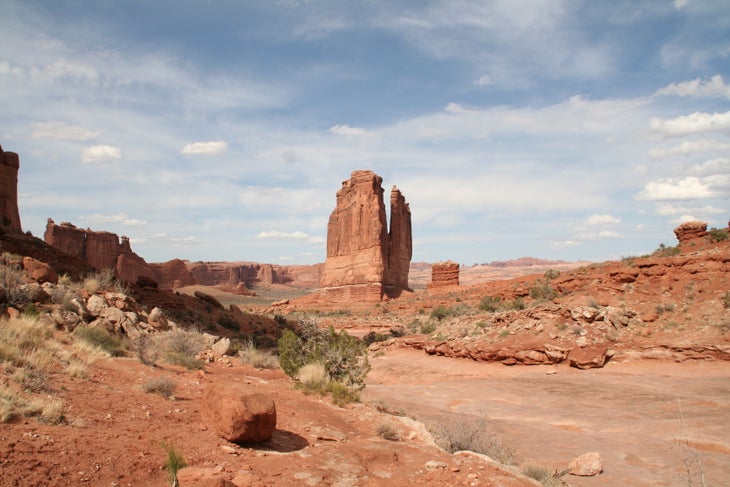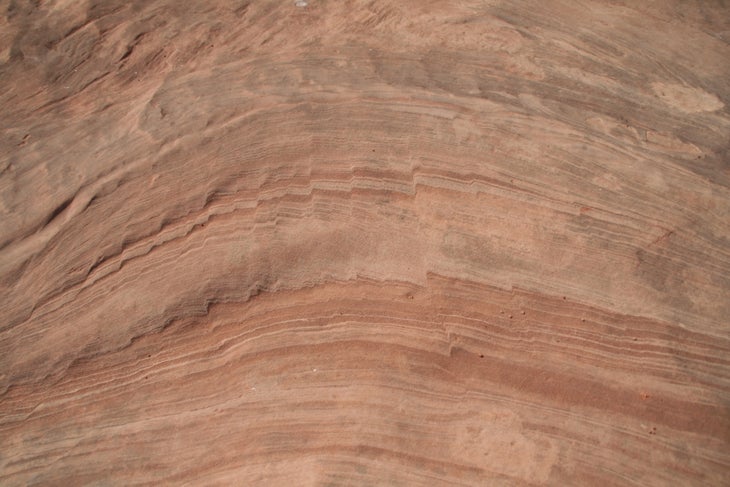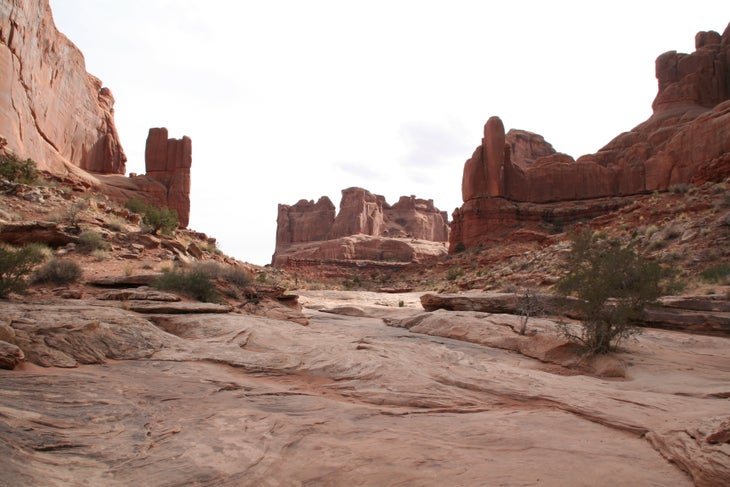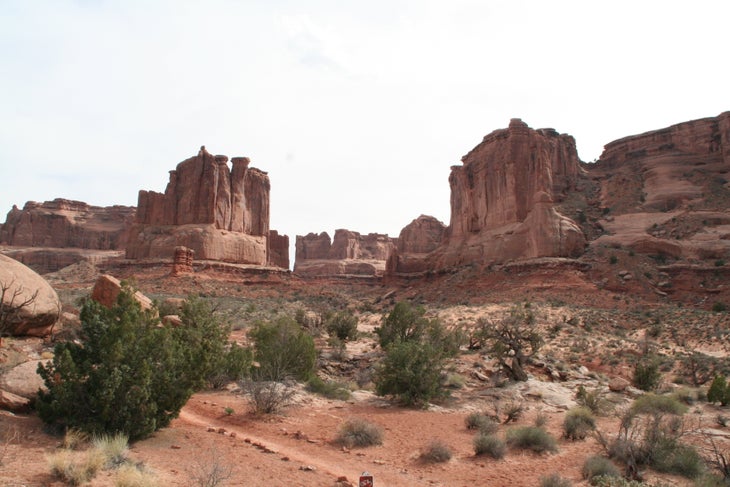 Trail Facts
Waypoints
PAV001
Location: 38.624402, -109.5997703
From the parking lot, take a short stroll on a paved trail to the Park Avenue overlook. After enjoying the view, descend the rock steps to begin the hike. A "Primitive trail beyond this point" sign sits beside the trail, but don't let that deter you from this well-worn trail.
PAV002
Location: 38.6258982, -109.5995128
The steps end here and the trail continues on to the left of the canyon floor on red sand.
PAV003
Location: 38.6282115, -109.6010041
The trail now drops onto the canyon floor. Keep an eye out for chalk etchings left on the red rock by visitors. Technical rock climbing routes are also visible to the right.
PAV004
Location: 38.6356037, -109.6003067
Stay right @ Y-junction. A sign with a red arrow indicates the rock-lined path.
PAV005
Location: 38.6364249, -109.6001136
The trail ends here (or begins; you can start from either end) and meets up with the road. The Courthouse Towers parking lot is right across the road.
View from Park Avenue Overlook
Location: 38.6258228, -109.5994055
Weathered Juniper Tree
Location: 38.6277254, -109.6004033
Sandstone Fins
Location: 38.6278008, -109.6004784
Sandstone Walls
Location: 38.6284127, -109.6011972
Along the Canyon Floor
Location: 38.6286893, -109.6013904
Courthouse Towers
Location: 38.6315557, -109.6009398
Ripples in the Canyon Floor
Location: 38.6321256, -109.6005321
Park Avenue
Location: 38.6327626, -109.6007466
View of Park Avenue from North
Location: 38.6355869, -109.6001995