Arches National Park: Devils Garden
Hike 6.1 miles into a redrock paradise full of wind-and-water sculptures that seem to defy gravity. You'll see seven amazing arches on this route.
Heading out the door? Read this article on the new Outside+ app available now on iOS devices for members! Download the app.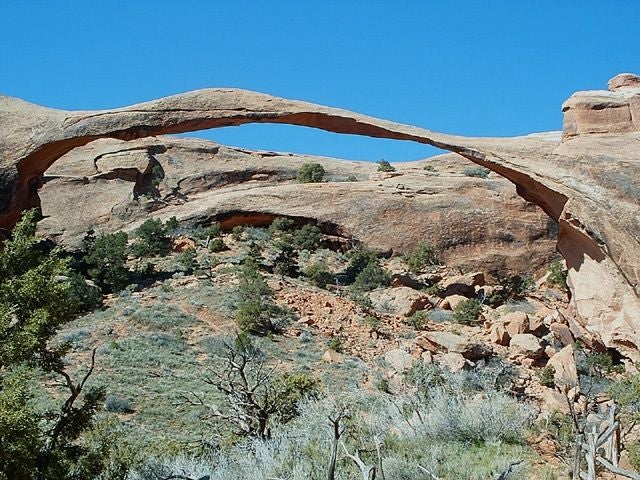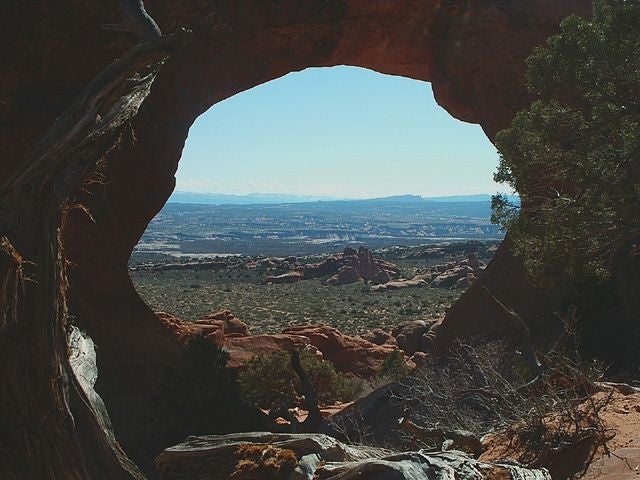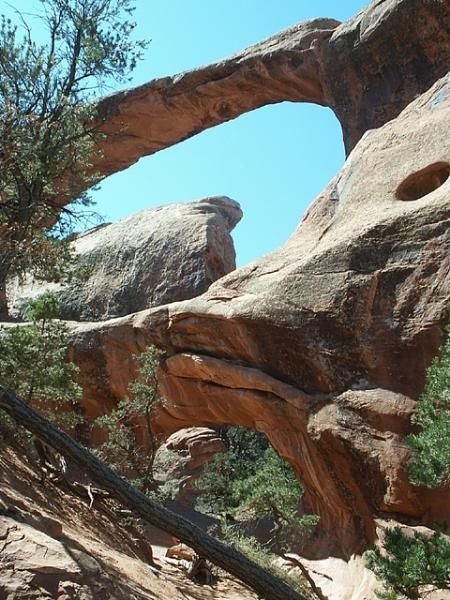 Trail Facts
Waypoints
Landscape Arch
Location: 38.790837, -109.605703
©Steffan Fay
Partition Arch
Location: 38.791724, -109.608064
©Steffan Fay
Double O Arch
Location: 38.799467, -109.620852
©Steffan Fay
ADG001
Location: 38.782742, -109.595275
Pack a camera! Head NW on gravel trail past yucca and cacti into a sandy sea of crimson rock
ADG002
Location: 38.785301, -109.597635
Turn R onto spur past Tunnel Arch, a sandstone Arc de Triomphe, to Pine Tree Arch with a skirt of pinions on its base. Backtrack and turn R to continue on main path
ADG003
Location: 38.790562, -109.604401
Veer L @ Y
ADG004
Location: 38.790939, -109.605904
Landscape Arch: This thin ribbon of rock stretches the length of a football field. Shortly after, hike along a new section of trail through the rubble pile that formed from the collapse of Wall Arch in August 2008.
ADG005
Location: 38.79422, -109.610298
Turn L past honeycombed fins to Navajo Arch, a massive rock arc with small peephole. Head S to next arch
ADG006
Location: 38.791757, -109.608278
Step to far side of Partition Arch for a vibrant vista of gravity-defying red rock shapes. Return to WPT 5 and veer L
ADG007
Location: 38.79948, -109.621002
Peer @ the short stack of egg-shaped windows of Double O Arch. Then veer R @ Y onto Primitive Trail, but not before identifying the enormous black-varnished obelisk Dark Angel in the distance on the L
ADG008
Location: 38.80348, -109.617441
Follow cairns over line-seared sandstone slabs, down moderate slopes
ADG009
Location: 38.801106, -109.612548
Drop into sandy wash and veer L
ADG010
Location: 38.802212, -109.609802
Veer R and exit drainage, then scan R side for Black Arch and surrounding fins. Complete loop WPT 3; return to car