Appalachian Trail: Wind Gap to Delaware Water Gap
Trek to the border of New Jersey along PA's finest section of the Appalachian Trail.
Heading out the door? Read this article on the new Outside+ app available now on iOS devices for members! Download the app.
Thru-hikers refer to the Keystone state as "rocksylvania" because the trail seems paved haphazardly with jagged stones. The payoff for the occasional stubbed toe? Long, rolling views from countless outcropping and balds. Access the trail, northbound, in Wind Gap for an easy start along a gentle climb through oak and box elder, crossing the Blue Mountain Water Company Rd. at 2.1 miles. Gain 570 feet as you climb to a wooded ridge and track along it for 4.7 miles.
At mile 6.8, you'll reach 1,620-foot Wolf Rock, a lichen-covered knob with views over a sea of white pines. On a clear day, you can spot New Jersey's Kittatinny Ridge, whose name means "endless mountains." In .3 mile, you'll reach an old road. Turn right and follow it .9 mile. At mile 7.7, head left back into the woods. Walk .5 mile to Fox Gap at PA 191. The Kirkridge shelter (sleeps six) lies straight ahead at mile nine. (Pack a tent? Hike another .5 mile north to camp in an open meadow.) Spend the night listening to thru-hiker anecdotes (they'll be blazing through en force midsummer).
The next day, hike .8 mile to Lunch Rocks and another sweeping vista. The trail turns into a gravel road at mile 11.1 and back into singletrack 1.7 miles later, where you'll begin an easy ascent of 1,461-foot Mt. Minsi; look and listen for red-bellied woodpeckers (chuf-chuf-chuf's alternating with br-r-r-r-t's). A mile after the summit, the AT crosses the Lookout Rock Trail, which leads to, yes, a sweet lookout. Gaze across the Delaware River to see 1,527-foot Mt. Tammany.
Continue .1 mile through a rhododendron tunnel to Eureka Creek. Slosh across and reach Council Rock at mile 14.4. Descend .7 mile to the Lake Lenape trailhead and your shuttle car.
Gear up: Get last-minute supplies like duct tape, batteries, and fuel at Cramer's Home Center (519 N. Broadway, Wind Gap, PA; 610-863-6064).
-Mapped by Jeff Chow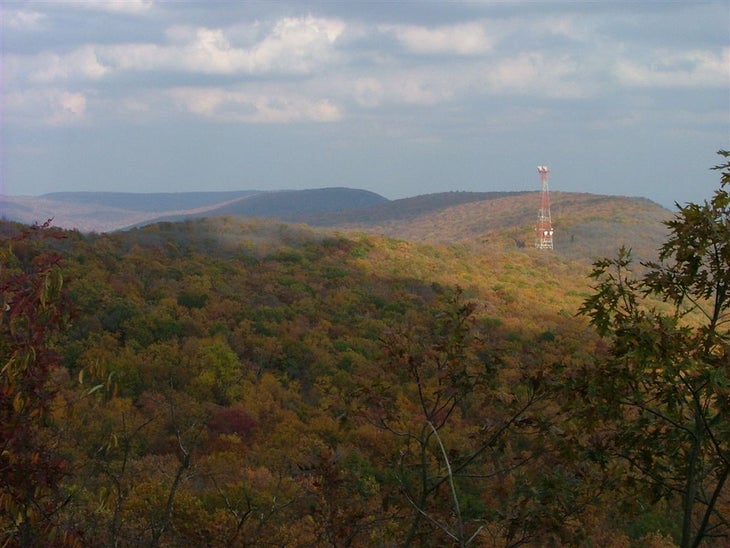 Trail Facts
Waypoints
WPT001
Location: 40.861504, -75.294952
Wind Gap: AT turns E on PA 512 under PA 33 before turning L at AT sign. and parking area
WPT002
Location: 40.913952, -75.232765
AT turns E
WPT003
Location: 40.925316, -75.221497
Rocky scramble to Wolf Rock; view to ENE
WPT004
Location: 40.928432, -75.21833
Powerline
WPT005
Location: 40.935349, -75.19677
PA 191; Fox Gap
WPT006
Location: 40.936016, -75.189819
Telephone line
WPT007
Location: 40.936218, -75.18737
Sidetrail to Kirkridge Shelter
WPT008
Location: 40.936733, -75.186432
Kirkridge Shelter – Shelter with covered cooking and sitting area.
WPT009
Location: 40.937904, -75.183144
Nelson Overlook
WPT010
Location: 40.9435, -75.177101
Lunch Rocks
WPT011
Location: 40.948383, -75.163467
Two telephone lines
WPT012
Location: 40.948448, -75.16172
Tots Gap
WPT013
Location: 40.948101, -75.16053
Radio tower
WPT014
Location: 40.958935, -75.128616
Expanisve vista just off AT of 330-mile Delaware River, farmland, and small towns of Portland, PA and Warrington, NJ
WPT015
Location: 40.959751, -75.128586
Tree-shaded summit of 1,480-foot Mt.Minsi
WPT016
Location: 40.95995, -75.1287
Old fire tower site
WPT017
Location: 40.962715, -75.126816
Lookout: View of craggy quartzite layers that hug SW side of Mt. Tammany, a.k.a. Indian head (look for profile of Chief Tammany in rock)
WPT018
Location: 40.963516, -75.12838
AT turns L
WPT019
Location: 40.963966, -75.129532
Turn R @ T with fire road
WPT020
Location: 40.965668, -75.133385
rock wall
WPT021
Location: 40.968601, -75.135468
Lookout Rock offers views of Kittatinny Ridge and Delaware River. AT turns W
WPT022
Location: 40.967716, -75.136986
Cross Eureka Creek
WPT023
Location: 40.969883, -75.137932
Bear Right
WPT024
Location: 40.974033, -75.138603
Council Rock
WPT025
Location: 40.975052, -75.13887
View of bridge over the Delaware River
WPT026
Location: 40.979084, -75.140633
Lake Lenape, named for native tribe of the Delaware Valley
WPT027
Location: 40.979885, -75.141701
Parking on Mountain Rd.
View from Lunch Rocks
Location: 40.943537, -75.176783