Appalachian Trail: Wind Gap to Delaware River Bridge
The windy skyways above this 15.4-mile section attract gliders (migrating birds, paragliders, and some hang gliders). The rocky trail attracts birdwatchers and photographers to several outcrops overlooking tawny farmlands and the Delaware River.
Heading out the door? Read this article on the new Outside+ app available now on iOS devices for members! Download the app.
Shelters: Kirkridge Shelter; sleeps 6.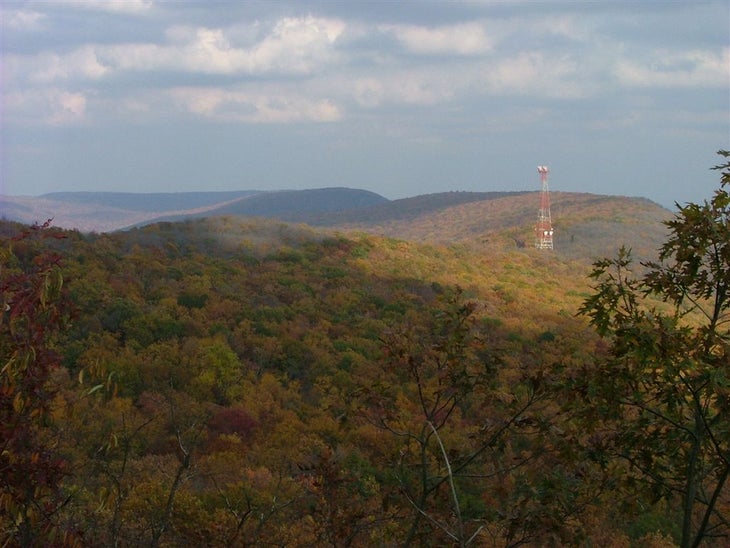 Trail Facts
Waypoints
WPT015A
Location: 40.8615036, -75.2949524
Wind Gap: AT turns E on PA 512 under PA 33 before turning L at AT sign. and parking area
WPT010
Location: 40.9139519, -75.2327652
AT turns E
WPT014
Location: 40.9590988, -75.1286469
Vista
WPT001
Location: 40.9367332, -75.1864319
Kirkridge Shelter – Nice brand new shelter with covered cooking and sitting area.
WPT002
Location: 40.9798851, -75.1417007
Parking; Turn R on Mountain Rd.
WPT007
Location: 40.9284325, -75.2183304
Powerline
WPT007
Location: 40.9740334, -75.1386032
Council Rock
WPT019
Location: 40.9483833, -75.1634674
Two telephone lines
WPT022
Location: 40.9369659, -75.1852188
Trail to Kirkridge Shelter
WPT021
Location: 40.9379044, -75.1831436
Nelson Overlook
WPT015
Location: 40.9491158, -75.1569366
Carefully look for white blazes; site of hang glider and paraglider launches
WPT018
Location: 40.9486656, -75.1619797
Delaware Water Gap
WPT001
Location: 40.9832001, -75.1403656
AT turns E onto Waring Dr. (roadwalk ahead). Note: Turn W to head into Delaware Water Gap; You'll find a farmer's market, the Trail End Cafe, and The Pack Shack (backpacking gear, supplies, and minor gear repairs, too)
WPT016
Location: 40.948101, -75.1605301
Radio tower
WPT005
Location: 40.9761009, -75.1397476
AT turns E on paved road
WPT012
Location: 40.9635162, -75.1283798
AT turns L
WPT003
Location: 40.9362183, -75.1873703
Trail to Kirkridge Shelter
WPT005
Location: 40.9353485, -75.1967697
PA 191; Fox Gap
WPT004
Location: 40.979084, -75.1406326
Lake Lenape
WPT009
Location: 40.9686012, -75.1354675
Trail to V; AT turns W
WPT011
Location: 40.9638824, -75.1293182
Trail
WPT017
Location: 40.9484482, -75.1617203
Tots Gap
WPT004
Location: 40.9360161, -75.1898193
Telephone line
WPT013
Location: 40.9599495, -75.1287003
Old fire tower site
WPT006
Location: 40.9750519, -75.1388702
View of Delaware River Bridge & gap
WPT020
Location: 40.9435005, -75.1771011
Lunch Rocks
WPT009
Location: 40.9253159, -75.2214966
Rocky scramble to Wolf Rocks; view to ENE
WPT008
Location: 40.9678841, -75.1371689
Eureka Creek
DSCF0756
Location: 40.9434662, -75.1769333