Appalachian Trail: VT 9 to Stratton-Arlington Road
The hotspot on this 21.1-miler is Glastenbury Mountain, a 3,748-foot summit that Native Americans believe is cursed and a place where several people went missing in the mid-1900s.
Heading out the door? Read this article on the new Outside+ app available now on iOS devices for members! Download the app.
Shelters: Melville Nauheim Shelter; sleeps 8. Goddard Shelter: sleeps 10. Kid Gore Shelter: sleeps 8. Caughnawaga Shelter; sleeps 4. Story Spring Shelter; sleeps 8.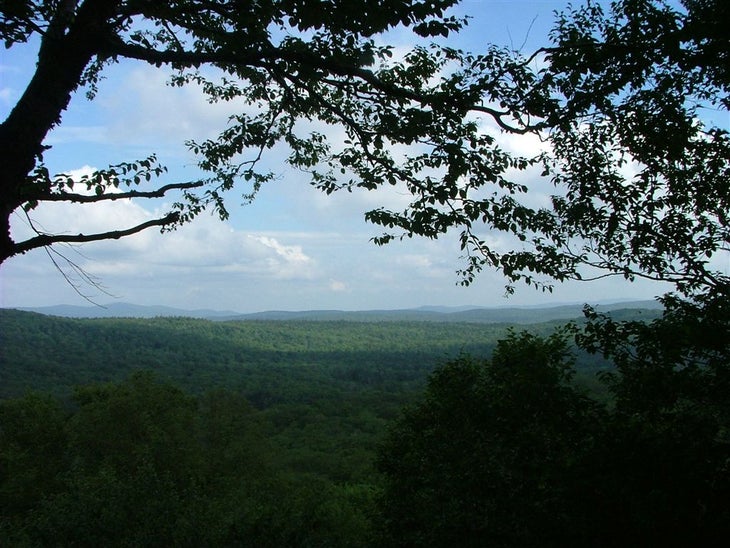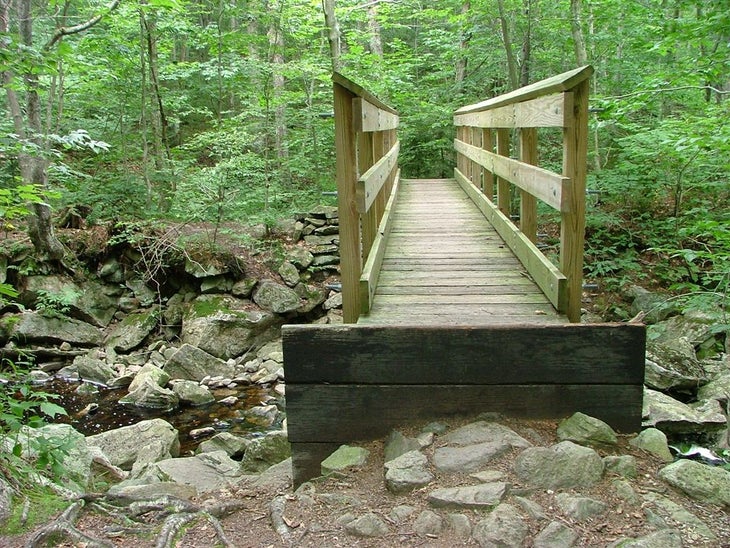 Trail Facts
Waypoints
WPT004
Location: 42.9575004577637, -73.0611801147461
Campsite (room for 3 tents) with fire ring
WPT005
Location: 42.9741668701172, -73.0720138549805
Goddard Shelter: New beautiful timber-framed construction with view from porch and luxury privy
WPT006
Location: 42.9765663146973, -73.0719528198242
Tent Campsites for Goddard Shelter
WPT010
Location: 43.0141181945801, -73.04296875
Kid Gore Shelter: Great view into valley
WPT010
Location: 42.8878326416016, -73.0955352783203
Melville Nauheim Shelter: Check the shelter register bag for a little fun
WPT016
Location: 42.9334831237793, -73.0684204101562
Little Pond Lookout; may be mostly overgrown
WPT009
Location: 43.0611953735352, -72.9685974121094
AT turns E on Stratton-Arlington Rd. across East Branch Deerfield River, then W @ far end of parking lot
WPT014
Location: 43.0411987304688, -73.0197525024414
Swamp; look for beaver dam protecting trail
WPT005
Location: 43.0533180236816, -72.9748306274414
Black Brook
WPT014
Location: 42.9188499450684, -73.0776138305664
Porcupine Lookout
WPT011
Location: 42.8880348205566, -73.0965194702148
Stream and trail to shelter
WPT013
Location: 42.9066314697266, -73.0873184204102
Hell Hollow Brook
WPT007
Location: 42.8848648071289, -73.1161193847656
VT 9. AT continues straight over William MacArthur Memorial Bridge. Parking; privy to the E of the parking lot
WPT007
Location: 42.9775314331055, -73.0716323852539
Fire tower now lookout tower on Glastenburg Mtn.; open to climb, great views if clear
WPT002
Location: 43.0537986755371, -72.9904861450195
USFS 71
WPT009
Location: 42.8851013183594, -73.1004028320312
Double track
WPT009
Location: 43.0076332092285, -73.0476684570312
Big Rock
WPT013
Location: 43.023365020752, -73.0373840332031
View to W
WPT001
Location: 43.0503997802734, -73.012451171875
Story Spring Shelter
WPT011
Location: 43.0150680541992, -73.0433502197266
Caughnawaga Shelter
WPT007
Location: 43.0598335266113, -72.9697189331055
Small stream
WPT008
Location: 42.9837989807129, -73.0689315795898
Snowmobile trail
WPT006
Location: 43.0538177490234, -72.9718017578125
AT turns E off jeep road
WPT012
Location: 43.0214653015137, -73.035400390625
View
DSCF6925
Location: 42.9189147949219, -73.0777816772461
DSCF6958
Location: 43.014965057373, -73.0432815551758
DSCF6922
Location: 42.9065017700195, -73.0874176025391