Appalachian Trail: US 220 to FS 191
Wind through mid-Atlantic woodlands and farmland to Fullhardt Knob on this 5.3-mile dayhike. Along the way, pass a collier's pit where charcoal was made for nearby iron furnaces during the 19th century.
Heading out the door? Read this article on the new Outside+ app available now on iOS devices for members! Download the app.
Shelters: Fullhardt Knob Shelter; sleeps 6.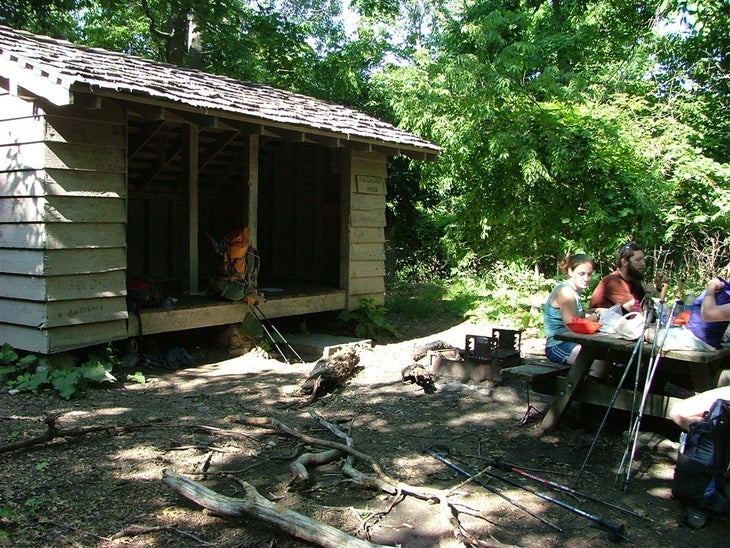 Trail Facts
Waypoints
WPT015
Location: 37.397518157959, -79.8714981079102
Smooth; graded
WPT017
Location: 37.3955001831055, -79.8635330200195
AT turns W
WPT010
Location: 37.401481628418, -79.8877182006836
Stile; field
WPT011
Location: 37.4002990722656, -79.8871994018555
AT turns W
WPT013
Location: 37.399299621582, -79.8852691650391
VA 652
WPT021
Location: 37.3979682922363, -79.8510360717774
Campsite (room for 1 tent)
WPT003
Location: 37.4047012329102, -79.8959655761719
AT turns E @ jct. with VA 779
WPT019
Location: 37.3984336853027, -79.854736328125
Trail to shelter leads E for .1 mi.
ZZZ050
Location: 37.3983840942383, -79.8490829467774
FS 191. AT turns E @ jct. with forest road
DSCF5416
Location: 37.398681640625, -79.8854522705078
WPT018
Location: 37.396800994873, -79.8613357543945
Campsite
WPT016
Location: 37.4011154174805, -79.8676300048828
AT turns E, heading uphill
WPT007
Location: 37.4042663574219, -79.8904647827148
Cross bridge over stream
WPT012
Location: 37.3996505737305, -79.8852462768555
Bridge
WPT009
Location: 37.4039840698242, -79.8892364501953
Norfolk and Western railroad crossing
WPT006
Location: 37.4049835205078, -79.892936706543
Bridge over small stream
WPT008
Location: 37.4041481018066, -79.8898010253906
US 11
WPT005
Location: 37.4046821594238, -79.8948974609375
AT turns E; path
WPT020
Location: 37.3984184265137, -79.8539199829102
Full Hardt Knob Shelter
WPT002
Location: 37.4018173217773, -79.8978652954102
Bridge
WPT004
Location: 37.4047164916992, -79.8954162597656
I-81 underpass
WPT014
Location: 37.3983840942383, -79.8813323974609
2 gates
DSCF5421
Location: 37.3984184265137, -79.8539810180664
ZZZ049
Location: 37.3936157226562, -79.9066696166992
US 220
DSCF5421
Location: 37.3984184265137, -79.8539810180664