Appalachian Trail: Raven Rock Road to Pen Mar Road
This 5.1-mile section hosts one of the oddest named shelters (Devils Racecourse), crosses the Mason-Dixon Line, and climbs to the highest point on the AT in Maryland.
Heading out the door? Read this article on the new Outside+ app available now on iOS devices for members! Download the app.
Shelters: Devils Racecourse Shelter; sleeps 7.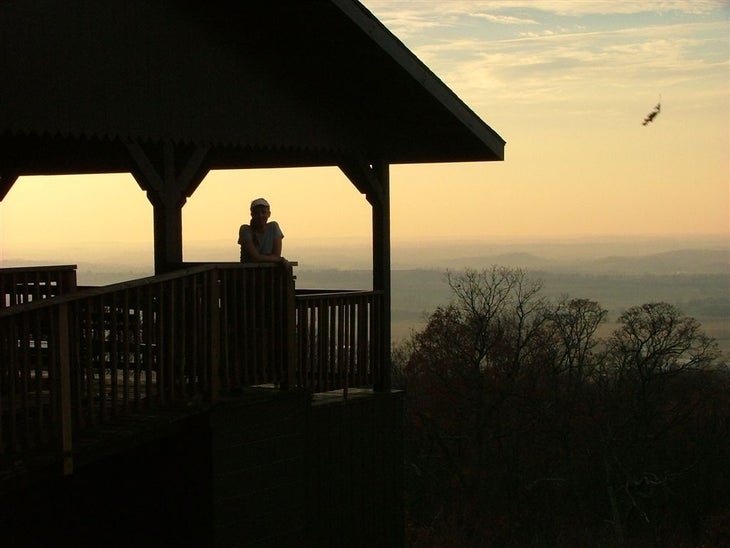 Trail Facts
Waypoints
WPT038
Location: 39.6719818115234, -77.5244827270508
Devils Racecourse Shelter
WPT036
Location: 39.6937828063965, -77.5220031738281
High rocks trail
WPT027
Location: 39.7209777832031, -77.5070037841797
Pen Mar Road
WPT029
Location: 39.7173347473144, -77.5086822509766
View Pen Mar Park
WPT037
Location: 39.6732749938965, -77.5283432006836
Trail to shelter
WPT032
Location: 39.70556640625, -77.5182647705078
Double track
WPT031
Location: 39.7078819274902, -77.5169982910156
Pipeline
WPT035
Location: 39.6935157775879, -77.5235824584961
Blue blaze trail to High Rocks view; 2 mi. long
WPT028
Location: 39.7197303771973, -77.5071868896484
Near PA/MD state border; cross rail road
WPT033
Location: 39.7038497924805, -77.5205841064453
Trail
WPT034
Location: 39.6921501159668, -77.5252532958984
Rock
WPT007
Location: 39.6645164489746, -77.5361633300781
PA 491 and Raven Rock Hollow
WPT003
Location: 39.6647987365723, -77.5332336425781
Blue blaze to Raven Rock Cliff view
Pen Mar
Location: 39.71728515625, -77.5087203979492
Sunset at Pen Mar
Location: 39.7172813415527, -77.5087203979492