Appalachian Trail: PA 94 to Bucher Hill Road
Climb. Descend. Repeat. This 8.3-mile leg connects 4 unnamed highpoints along Rocky Ridge. No surprise: Lots of giant rocks on the trail too.
Heading out the door? Read this article on the new Outside+ app available now on iOS devices for members! Download the app.
Shelters: Alec Kennedy Shelter; sleeps 7.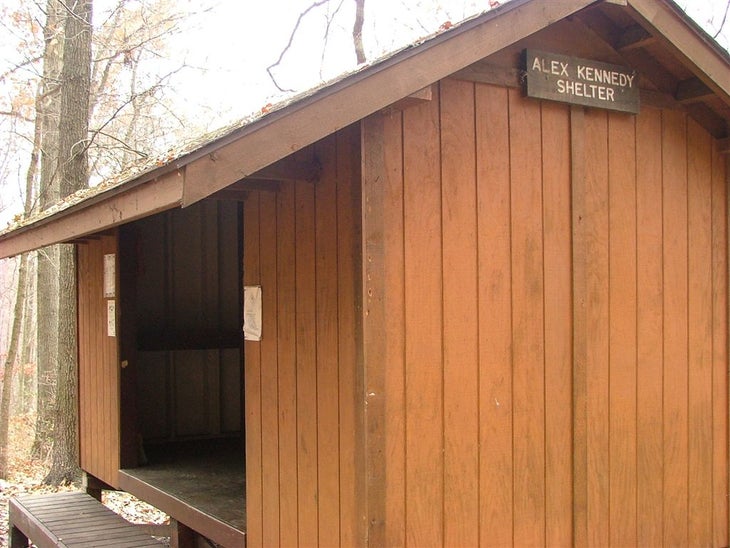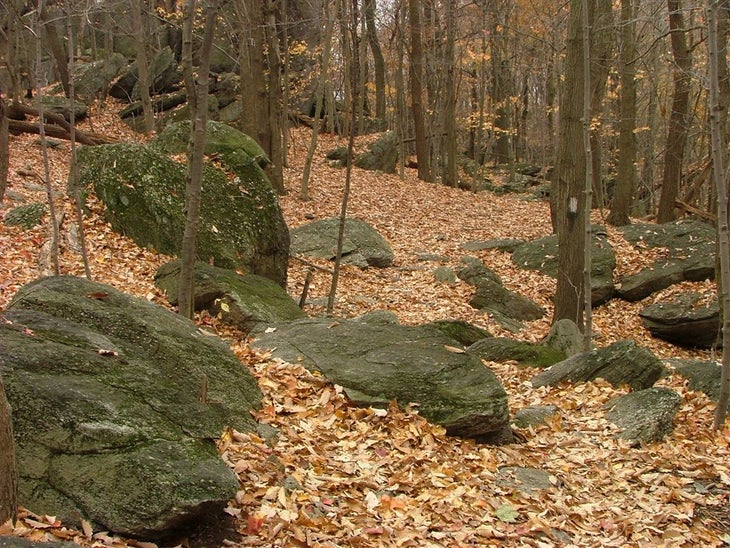 Trail Facts
Waypoints
WPT054
Location: 40.1136322021484, -77.1042175292969
Trail to shelter
WPT008
Location: 40.0982818603516, -77.1284637451172
Whiskey Spring, Whiskey Spring road, blue blaze mason-dixon trail's west terminus
WPT014
Location: 40.0928344726562, -77.152702331543
Double track
WPT001
Location: 40.093147277832, -77.1645431518555
Old Sheet Iron Rd
WPT052
Location: 40.1233177185059, -77.1042861938476
AT turns W @ jct. with White Rocks Trail
WPT005
Location: 40.0998001098633, -77.1197509765625
blue blaze
WPT004
Location: 40.1045265197754, -77.1126174926758
Pipeline
WPT015
Location: 40.0935821533203, -77.1536636352539
Stream
WPT002
Location: 40.0932006835938, -77.1661682128906
Powerline
WPT003
Location: 40.091926574707, -77.1677703857422
PA 94
WPT049
Location: 40.1255149841309, -77.1071472167969
AT turns W
WPT050
Location: 40.1253318786621, -77.1046524047852
AT turns W
WPT010
Location: 40.0938835144043, -77.1384353637695
AT turns E
WPT055
Location: 40.1117324829102, -77.1040191650391
Alec Kennedy Shelter
WPT053
Location: 40.1175003051758, -77.1031188964844
AT turns E
WPT009
Location: 40.0956344604492, -77.1335525512695
Rocky ridge; bouldering area
WPT013
Location: 40.0918998718262, -77.1478652954102
Old Town Mountain Gravel Road
WPT046
Location: 40.1468505859375, -77.122932434082
AT turns east; railroad
WPT017
Location: 40.0915184020996, -77.1574020385742
Stream
WPT047
Location: 40.1424255371094, -77.1164779663086
AT turns W; powerline
WPT051
Location: 40.1234321594238, -77.1054992675781
Center Point Knob
WPT011
Location: 40.0932350158691, -77.1415634155274
Blue blaze trail W to viewpoint
WPT007
Location: 40.0988655090332, -77.1262817382812
AT turns east, old white blaze
WPT048
Location: 40.1415176391602, -77.1162796020508
AT turns E; Leidigh Drive
WPT044
Location: 40.1478157043457, -77.1235656738281
Turn E across stream, bridge
WPT043
Location: 40.1478309631348, -77.1247940063476
Cross Bucher Hill Road; parking
WPT045
Location: 40.1473846435547, -77.1237335205078
AT turns E on road; bridge
DSCF1328
Location: 40.1118011474609, -77.1041641235352
DSCF1334
Location: 40.0993995666504, -77.1224365234375