Appalachian Trail: Neels Gap to Tesnatee Gap
Start by walking through Mountain Crossings at Walasi-Yi--the only indoor section of the AT that runs through a stone building built by the Civilian Conservation Corps in 1934--and then climb up into Raven Cliffs Wilderness.
Heading out the door? Read this article on the new Outside+ app available now on iOS devices for members! Download the app.
Shelters: None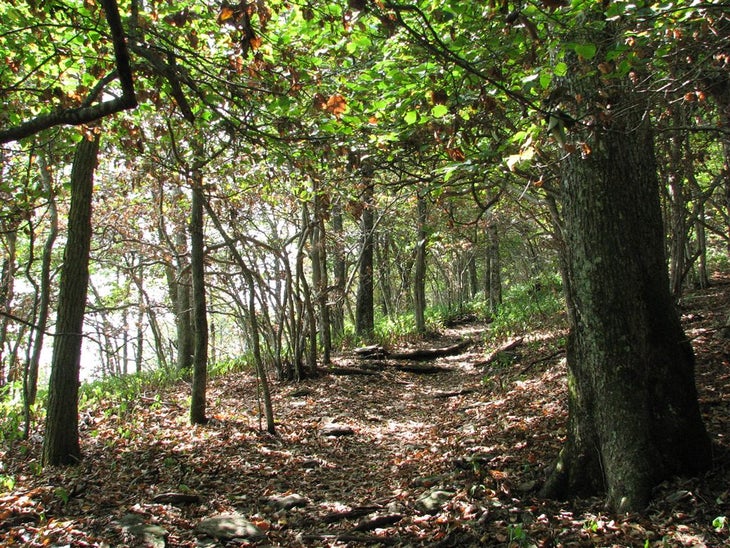 Trail Facts
Waypoints
WPT025
Location: 34.7252159118652, -83.862548828125
Baggs Creek Gap. Blue-blazed trail leads W to water. Campsite (room for 2 tents)
WPT024
Location: 34.7243995666504, -83.8618698120117
Campsite (room for 1 tent)
WPT028
Location: 34.7251014709473, -83.8747024536133
Wolf Laurel Top; side trail to the E leads to campsite with views (room for 4 tents)
WPT032
Location: 34.7266998291016, -83.8852996826172
Rock Spring Top. Blue-blazed trail leads W 20 ft. to dry spring
WPT031
Location: 34.7254333496094, -83.8821029663086
Campsite (room for 2 tents)
WPT020
Location: 34.7239685058594, -83.8531036376953
Views of Wildcat Mtn.
WPT023
Location: 34.7227516174316, -83.8576202392578
Views of endless mountains to the WSW
ZZZ005
Location: 34.7263984680176, -83.8471145629883
Tesnatee Gap and Logan Turnpike; GA 348; side trail to the E; parking
WPT022
Location: 34.7220344543457, -83.8566970825195
Cowrock Mtn.
WPT026
Location: 34.7264175415039, -83.8654632568359
Baggs Creek Gap; blue-blazed trail leads W to water; campsite (room for 4 tents)
WPT033
Location: 34.726318359375, -83.8870468139648
Campsite with views (room for 2 tents)
ZZZ004
Location: 34.7351684570312, -83.9175491333008
Neels Gap: Walk through Mountain Crossings @ Walasi-Yi, a small, stone building built in 1934 by the CCC (the only spot where the AT passes through a man-made structure). Mail-drop, hostels, and cabins available here. Staff will evaluate your pack and ship back any unwanted gear
WPT036
Location: 34.7305488586426, -83.8982162475586
Levelland Mtn.; small clearing
WPT037
Location: 34.7318496704102, -83.8999633789062
Levelland Mtn.
WPT021
Location: 34.7216682434082, -83.8565826416016
Magnificent views to the SE from rock slab on summit. AT turns W
WPT030
Location: 34.7233657836914, -83.8785171508789
Corbin Horse Stamp
WPT027
Location: 34.7251510620117, -83.8744201660156
Great views of Cowrock Mtn. to the ESE
WPT035
Location: 34.729549407959, -83.8970184326172
Views to the SW
WPT034
Location: 34.7276153564453, -83.8952331542969
Swaim Gap; campsite (room for 2 tents)
WPT039
Location: 34.7324676513672, -83.9073028564453
Bull Gap; campsite (room for 7 tents)
WPT029
Location: 34.7268180847168, -83.8845367431641
Campsite (room for 2 tents)
WPT017
Location: 34.7262496948242, -83.84716796875
Senator Hwy. plaque
IMG_5871
Location: 34.7242317199707, -83.8531036376953