Appalachian Trail: Millbrook-Blairstown Road to Culvers Gap
This 13.7-miler unfurls across the backbone of Kittatinny Ridge showcasing lake-dotted landscapes and views above Culvers Lake. Must see!: Take the sidetrip to Buttermilk Falls, New Jersey's highest waterfall.
Heading out the door? Read this article on the new Outside+ app available now on iOS devices for members! Download the app.
Shelters: Brink Road Shelter; sleeps 5.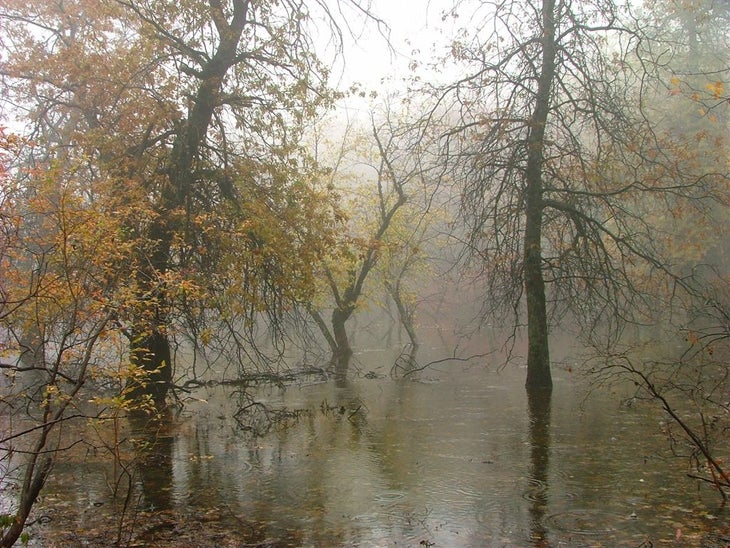 Trail Facts
Waypoints
WPT016
Location: 41.1194839477539, -74.8852462768555
AT turns L
WPT024
Location: 41.0905838012695, -74.9110336303711
Delware Water Gap NRA sign and register. Trail to Ken-Etiwa-Pec Shelter; sign in @ camp office
WPT015
Location: 41.119815826416, -74.8850860595703
Buttermilk Falls Trail leads 2 mi. to falls (blue blaze)
WPT017
Location: 41.1118507385254, -74.8967666625976
Hemlock Pond Trail (yellow blaze)
WPT016
Location: 41.170783996582, -74.7975997924805
Views to the SSE
WPT038
Location: 41.0611152648926, -74.9588165283203
AT along swamp
WPT026
Location: 41.0895004272461, -74.9120330810547
End gravel roadwalk. Blue Mountain Lakes Road. Water pump on S side of road to the W
WPT007
Location: 41.136116027832, -74.8629150390625
Small stream
WPT002
Location: 41.1510162353516, -74.8375854492188
Trail to Brink Road Shelter
ZZZ039
Location: 41.0590667724609, -74.9640197753906
Millbrook-Blairstown Rd./CR 602
WPT006
Location: 41.1413497924805, -74.8583984375
Trail to view
ZZZ013
Location: 41.1770515441894, -74.791015625
Culvers Gap. AT crosses both Sunrise Mtn. Rd. and US 206, zigging E
WPT020
Location: 41.1087989807129, -74.9001007080078
AT turns West on gravel road followed by Trail to Crater Lake
WPT004
Location: 41.1472015380859, -74.8481369018555
View bald
WPT023
Location: 41.1068153381348, -74.9001846313476
Gravel road
WPT030
Location: 41.0835342407227, -74.9190521240234
Grassy campsite, site of former homes and cottages
WPT011
Location: 41.1283493041992, -74.8747863769531
Trail leads to NW views
WPT015
Location: 41.1714820861816, -74.793586730957
Jeep road to peak
WPT008
Location: 41.1320495605469, -74.8636322021484
Rattlesnake Mountain; good view of hawk migration
WPT029
Location: 41.0859832763672, -74.915397644043
Trail E
WPT034
Location: 41.0636329650879, -74.9538497924805
View
WPT014
Location: 41.1721992492676, -74.792236328125
View of Culvers Lake
WPT001
Location: 41.1530799865723, -74.8376922607422
Brink Road Shelter
WPT003
Location: 41.148265838623, -74.8455200195312
View
WPT018
Location: 41.1109352111816, -74.8976516723633
Old road to Crater Lake
WPT018
Location: 41.1611328125, -74.813835144043
Jacobs Ladder Trail
WPT005
Location: 41.1444511413574, -74.8535003662109
Delaware Water Gap NRA Boundary
WPT009
Location: 41.1315841674805, -74.8694534301758
Bridge over stream
WPT017
Location: 41.1672515869141, -74.8029327392578
Views to the SSE
WPT022
Location: 41.1078338623047, -74.9001007080078
Steep scramble then cross gravel road
WPT001
Location: 41.0631294250488, -74.9590759277344
AT turns R past two towers
WPT012
Location: 41.1221008300781, -74.8819198608398
AT leaves gravel road
DSCF0628
Location: 41.1038665771484, -74.9001312255859