Appalachian Trail: ME 17 to ME 4
Connect four picturesque ponds on this 12.2-mile leg that rolls across wooded hills to the Sandy River. Watch for moose too.
Heading out the door? Read this article on the new Outside+ app available now on iOS devices for members! Download the app.
Shelters: Sabbath Day Pond Lean-to; sleeps 8.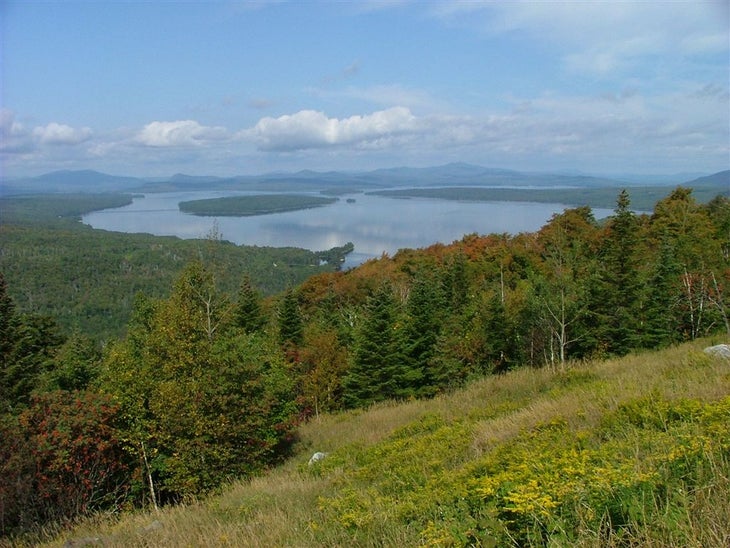 Trail Facts
Waypoints
WPT009
Location: 44.8428497314453, -70.6569671630859
Stream
WPT003
Location: 44.8460350036621, -70.6859664916992
Moxie Pond
WPT006
Location: 44.8463172912598, -70.6630325317383
Streams
WPT014
Location: 44.8664512634277, -70.5591659545898
South Pond; water, canoes, rowboats, and moose
WPT008
Location: 44.8401985168457, -70.6636657714844
Sabbath Day Pond Lean-to
WPT010
Location: 44.8428649902344, -70.6562194824219
Houghton Fire Road
WPT002
Location: 44.8785667419434, -70.5557479858398
View of Saddleback Mtn.
WPT013
Location: 44.8580169677734, -70.5808639526367
Swamp Outlet
WPT001
Location: 44.8685836791992, -70.5606536865234
Stream
WPT004
Location: 44.8501510620117, -70.6757659912109
Stream
WPT001
Location: 44.8359832763672, -70.7100524902344
ME 17. View of Mooselookmeguntic Lake
WPT011
Location: 44.8430824279785, -70.6276702880859
Unnamed Peak
WPT007
Location: 44.8446350097656, -70.6625671386719
Beach and picnic tables on shore of Long Pond
WPT002
Location: 44.8457832336426, -70.686897277832
Water; inlet to Moxie Pond
WPT005
Location: 44.8498649597168, -70.6669006347656
View of Long Pond
WPT012
Location: 44.8500671386719, -70.5922317504883
Little Swift River Pond; campsite with canoes
WPT017
Location: 44.8868713378906, -70.5406799316406
ME 4
DSCF9085
Location: 44.8359832763672, -70.7100524902344