Appalachian Trail: East Hill B Road to South Arm Road
A stiff climb—you'll gain roughly 1,300 feet in a mile—and an even steeper descent make this 8.8-miler a challenging daytrip.
Heading out the door? Read this article on the new Outside+ app available now on iOS devices for members! Download the app.
Shelters: Hall Mountain Lean-to; sleeps 6.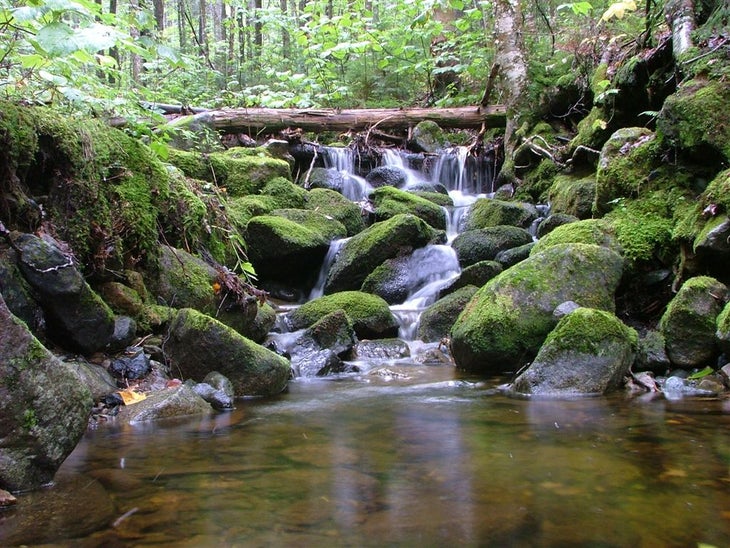 Trail Facts
Waypoints
WPT014
Location: 44.7125663757324, -70.8148193359375
Sawyer Brook; Sawyer Notch
ZZZ001
Location: 44.6677742004394, -70.8927917480469
East B Hill Rd. (8 mi. to Andover, ME)
ZZZ022
Location: 44.7214012145996, -70.7859649658203
South Arm Rd. and Black Brook
WPT003
Location: 44.6738815307617, -70.8640823364258
Surplus Pond
WPT005
Location: 44.6736335754394, -70.8635635375976
Dirt road; tent sites
WPT008
Location: 44.6735496520996, -70.8627166748047
AT heads back in woods off gravel road
WPT013
Location: 44.7116661071777, -70.8152008056641
Jeep road
WPT006
Location: 44.6733665466309, -70.8630142211914
AT turns W on gravel road (follow cairns)
WPT015
Location: 44.7142181396484, -70.8076019287109
Trail to signed view
WPT012
Location: 44.7071495056152, -70.8188858032226
Blue-blazed trail to view
WPT009
Location: 44.688835144043, -70.8368988037109
Wyman Mtn.; view E @ signed scenic view
WPT010
Location: 44.7001991271973, -70.8257369995117
Water sign
WPT004
Location: 44.673698425293, -70.8637466430664
Pond outlet stream
WPT016
Location: 44.712516784668, -70.8015823364258
Views to the SSE
WPT011
Location: 44.7008666992188, -70.8247833251953
Hall Mtn. Lean-to; trail to view
WPT002
Location: 44.6702003479004, -70.8850021362305
Stream
DSCF9039
Location: 44.6688995361328, -70.8889312744141