Appalachian Trail: Davenport Gap to Max Patch Road
This 18.7-mile weekend trip starts with a 2,700-foot climb up Snowbird Mountain then descends and climbs again to Max Patch, an old homestead and logging camp.
Heading out the door? Read this article on the new Outside+ app available now on iOS devices for members! Download the app.
Shelters: Groundhog Creek Shelter; sleeps 6; privy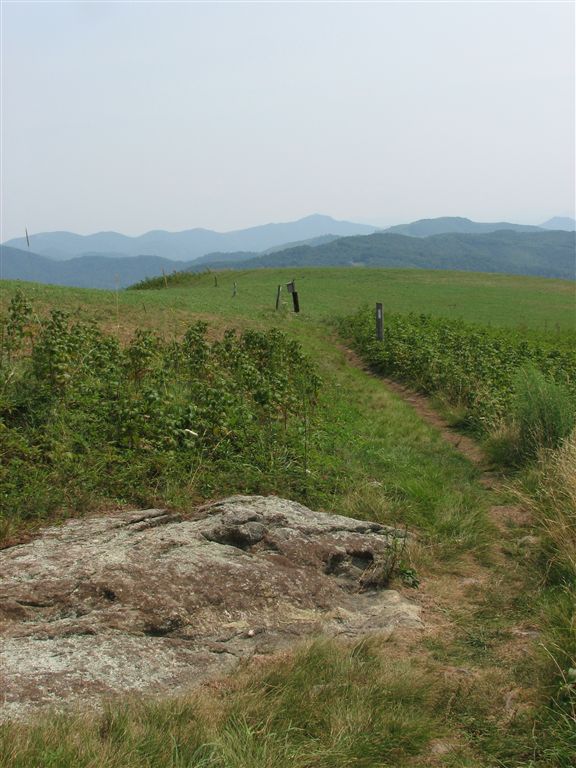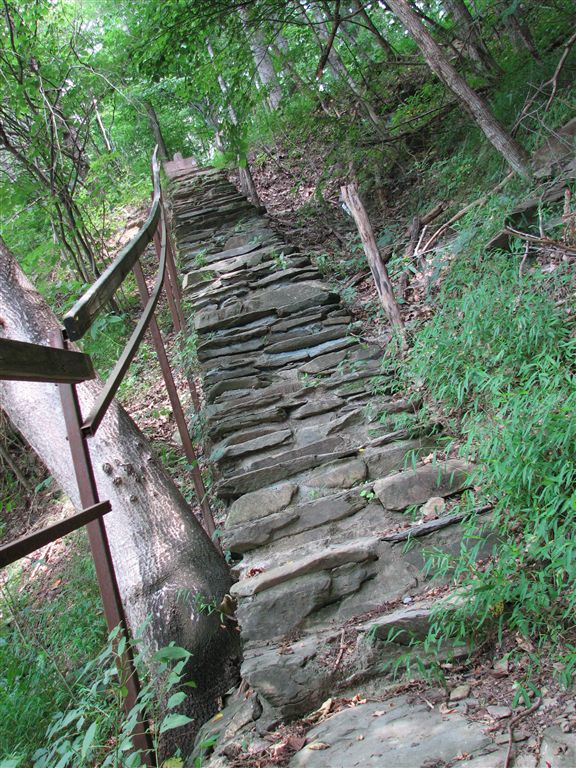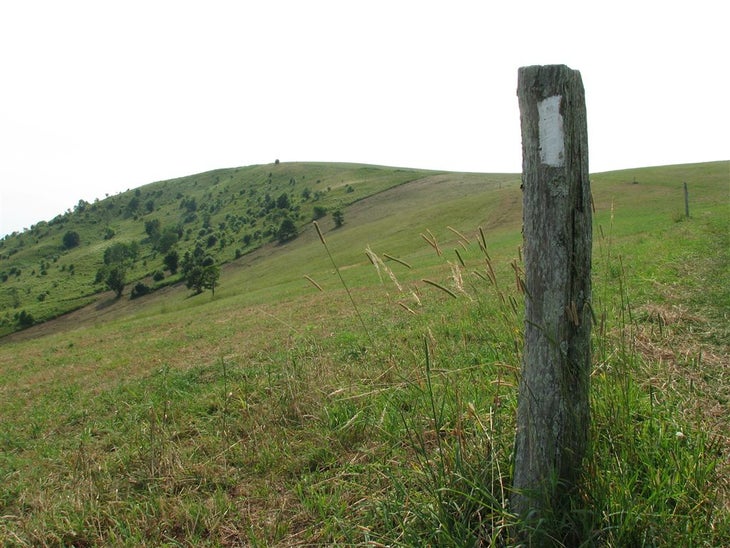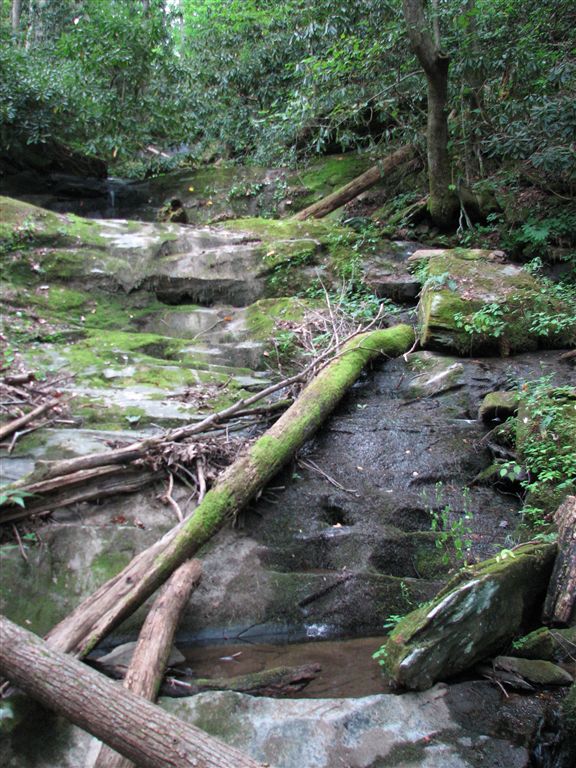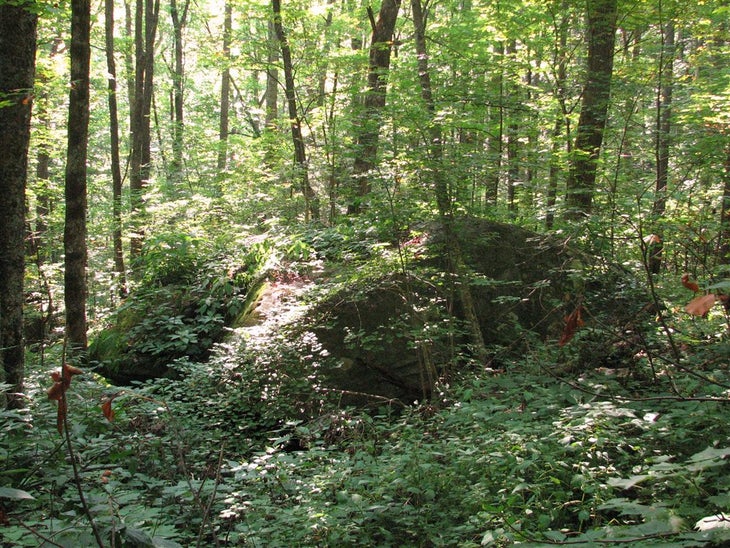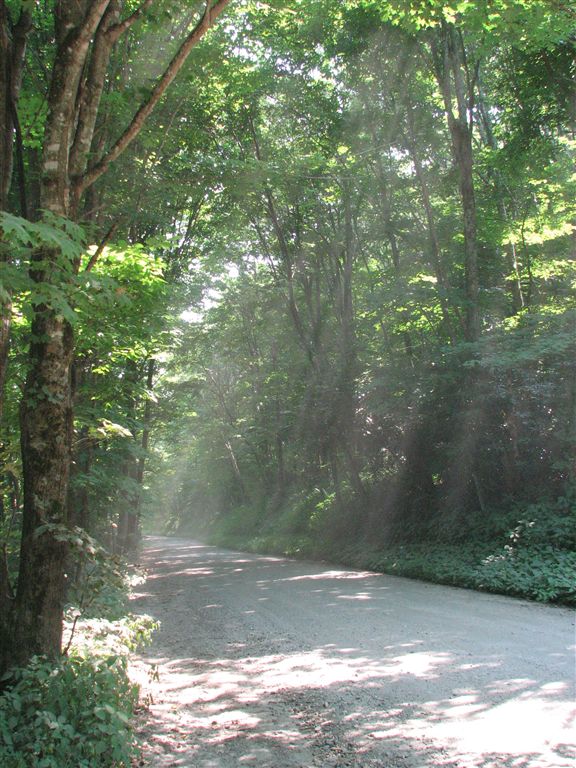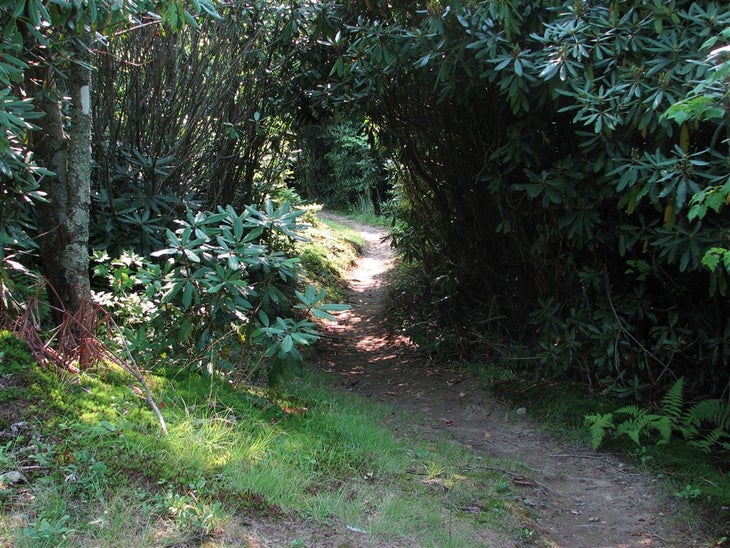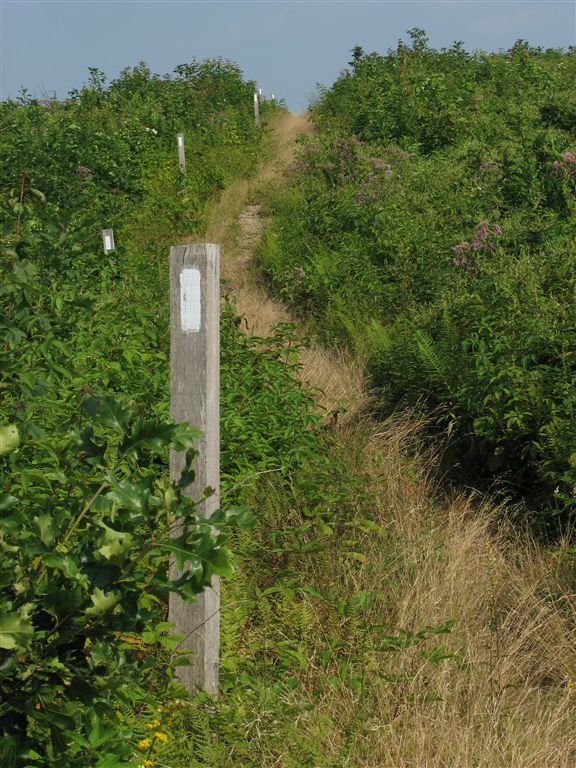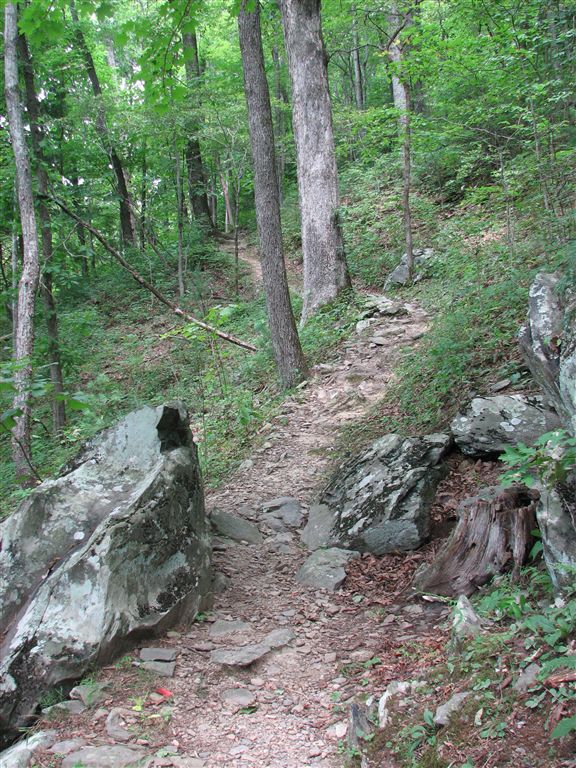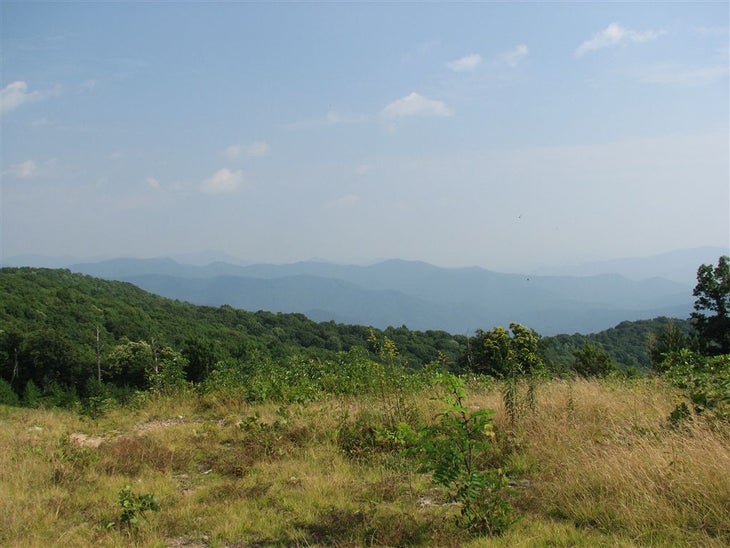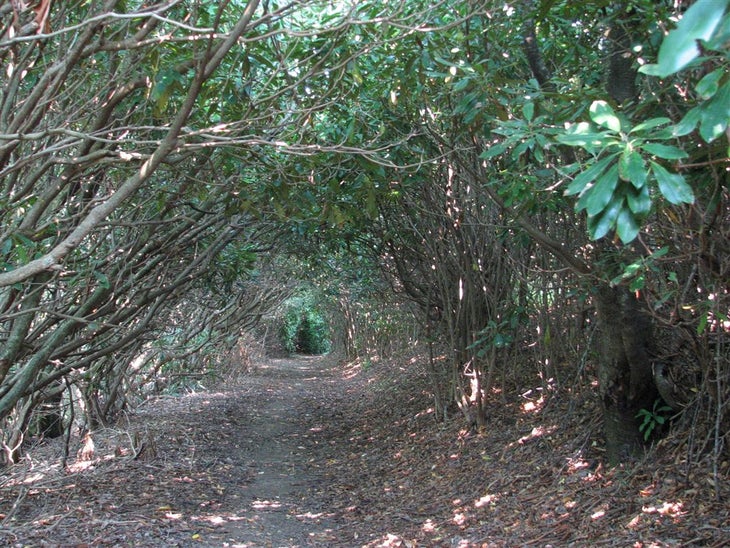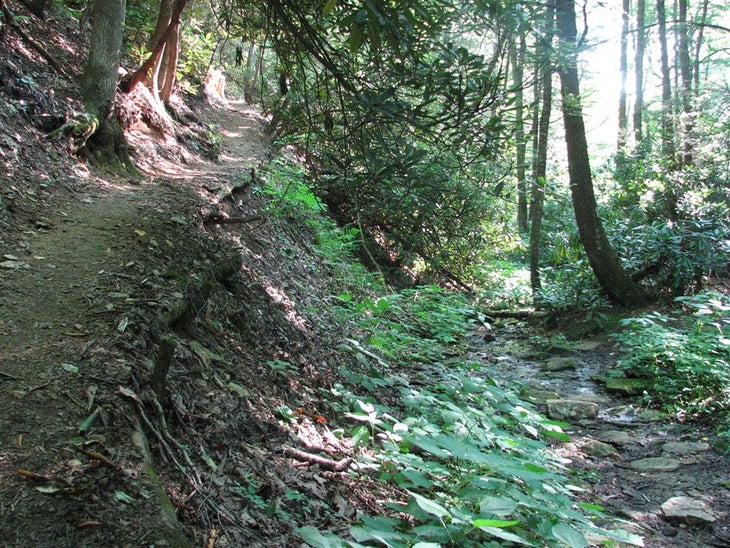 Trail Facts
Waypoints
WPT008
Location: 35.7729492, -82.995903
Brown Gap; 3 gravel roads converge
WPT009
Location: 35.7730827, -82.9955521
Unofficial campsite (room for 1 tent)
WPT034
Location: 35.8013, -82.9453964
Gate
WPT010
Location: 35.7869339, -83.0735168
Painter Branch; dry
WPT022
Location: 35.783699, -83.0254364
Deep Gap; campsite (room for 2 tents); double track trail to W
WPT011
Location: 35.8129997, -82.9458008
Tiny stream crossing
WPT032
Location: 35.8007317, -82.9460831
Old fence
WPT012
Location: 35.7791672, -83.1118317
Stream crossing
WPT023
Location: 35.7999992, -82.9515839
Unofficial campsite (room for 5 tents)
WPT027
Location: 35.7975006, -82.9511032
Field with views to the WSW of Max Patch; campsite (room for 2 tents)
WPT004
Location: 35.7853661, -83.1122818
AT turns E
WPT006
Location: 35.7738686, -83.0011368
Yellow-blazed Rube Rock Trail leads E. Overlook @ Hawk's Roost
WPT006
Location: 35.7837982, -83.0806503
Trail to campsite (room for 1 tent)
WPT021
Location: 35.8232841, -82.9379196
Stream crossing
WPT002
Location: 35.783287, -83.1092682
AT turns W. Gravel road and 38 stone stairs
WPT037
Location: 35.8031006, -82.947998
Water
WPT038
Location: 35.8044014, -82.9495163
Trail to shelter
WPT009
Location: 35.7854156, -83.0770187
Unofficial campsite; water (room for 1 tent)
WPT014
Location: 35.7928352, -82.961647
Stream crossing downhill from parking
WPT019
Location: 35.7856178, -83.0449524
Unofficial campsite (room for 2 tents)
WPT017
Location: 35.8228149, -82.9391174
Old side trail to E leads to former shelter
WPT010
Location: 35.7807846, -83.1148148
Blue-blazed trail to the W
WPT023
Location: 35.7836494, -83.0253143
AT turns W @ Y (for N-bound hikers); trail to shelter
WPT002
Location: 35.8045845, -82.9497986
Trail to shelter
WPT009
Location: 35.8120651, -82.9473801
Small stream crossing
WPT013
Location: 35.7920341, -82.9620132
Max Patch gravel road; gravel road W; gate; NC 1182
WPT005
Location: 35.8051491, -82.9526825
Roaring Fork
WPT004
Location: 35.7829018, -83.1020813
AT turns E @ stream crossing; Green Corner; cross gravel rd. (Standing Bear Hostel .3 mi. N on rd.)
ZZZ014
Location: 35.7705498, -83.1110992
Davenport Gap; TN 32; NC 84; E boundary of Great Smoky Mountains NP
WPT003
Location: 35.7835655, -83.108902
Unofficial campsite (room for 1 tent)
WPT009
Location: 35.7812157, -83.1148682
Side trail to the E to Unofficial campsite (room for 2 tents)
WPT015
Location: 35.8187675, -82.9403992
Stream crossing; saw bear cub @ crossing. Roaring Fork Shelter
WPT011
Location: 35.7823181, -82.9784851
Unofficial campsite (room for 1 tent)
WPT033
Location: 35.8010674, -82.9454193
Gate; gravel road
WPT019
Location: 35.7945824, -82.9578018
Mowed section (S end)
WPT003
Location: 35.8046837, -82.9499512
Trail to shelter; side trail to the W
WPT020
Location: 35.7845345, -83.0441513
Campsite (room for 3 tents)
WPT011
Location: 35.7893333, -83.0751495
Old double track heads W; Spanish Oak Gap
WPT011
Location: 35.780735, -83.1147003
Small stream crossing
WPT004
Location: 35.8048515, -82.9503326
Trail to shelter
WPT010
Location: 35.8123817, -82.9462814
Side trail to the E to campsite (room for 2 tents)
WPT008
Location: 35.7814674, -83.1150818
Stream crossing
WPT016
Location: 35.7928352, -82.9582672
Gravel road; W to parking
WPT018
Location: 35.7934685, -82.9577484
S end of field
WPT012
Location: 35.7881165, -83.0693359
Unofficial campsite (room for 4 tents); jeep road W
WPT013
Location: 35.7891846, -83.0550003
AT turns E @ jct. with trail heading straight to gravel road
WPT005
Location: 35.7826653, -83.1016312
AT turns W @ trail jct. off gravel road
WPT016
Location: 35.7895851, -83.0524368
FAA tower
WPT001
Location: 35.783287, -83.1092682
Walking N
ZZZ015
Location: 35.8251991, -82.9376144
Lemon Gap; NC 1182; Max Patch Rd.; TN 107
WPT018
Location: 35.7882996, -83.0491333
N end of field
WPT020
Location: 35.8232155, -82.9384537
Trail to campsite (room for 3 tents)
WPT010
Location: 35.7733154, -82.9945984
Campsite (room for 2 tents)
WPT025
Location: 35.7993317, -82.9512482
Old double track trail to the W
WPT001
Location: 35.7862816, -83.1017838
Standing Bear Hostel
WPT007
Location: 35.7841492, -83.0797653
Trail to campsite (room for 3 tents)
WPT019
Location: 35.8231659, -82.9386826
Stream crossing
WPT015
Location: 35.7928162, -82.9615631
Campsite (room for 1 tent)
WPT007
Location: 35.8064003, -82.9517975
Bridge
WPT012
Location: 35.7892838, -82.9642029
AT turns W @ jct. with yellow-blazed Cherry Creek Trail
WPT005
Location: 35.7850685, -83.112915
Pigeon River; bridge crossing
WPT029
Location: 35.7984009, -82.9480667
Walk through tunnel of rhododendrons
WPT013
Location: 35.8157501, -82.9435654
Old jeep road
WPT020
Location: 35.7972832, -82.9568634
AT crests Max Patch Mtn. (4629 ft.)
WPT024
Location: 35.7999992, -82.9505844
AT turns E @ jct. with side trail to the W
WPT003
Location: 35.7837982, -83.1101837
I-40 underpass
WPT028
Location: 35.7976685, -82.949585
AT turns E @ jct. with Buckeye Ridge Trail; trail to W
WPT007
Location: 35.7827682, -83.1150131
Stream crossing
WPT022
Location: 35.8001328, -82.9522324
AT turns E; N end of field; mowed; unofficial campsite (room for 4 tents). Trail to unofficial campsite (room for 4 tents)
WPT004
Location: 35.7790337, -83.0110855
Unofficial campsite (room for 1 tent)
WPT015
Location: 35.7894325, -83.053215
Snowbird Mtn. (4,263 ft.)
WPT014
Location: 35.8180351, -82.9410324
Stream crossing
WPT006
Location: 35.7842827, -83.1136856
AT turns W; road and woods boundary
WPT026
Location: 35.7991333, -82.9514999
Piped spring
WPT039
Location: 35.8047676, -82.9497299
Roaring Fork Shelter
WPT036
Location: 35.8030663, -82.9481201
Side trail to the E leads to water; campsite (room for 1 tent)
WPT021
Location: 35.7840157, -83.0430145
Side trail leads W for 20 ft. to Wildcat Spring
WPT030
Location: 35.7986679, -82.9473343
AT turns E along brush. Buckeye Ridge Rrail to the E; end of field
WPT017
Location: 35.7928848, -82.958252
Trail to Max Patch Trailhead
WPT003
Location: 35.7817841, -83.0259857
Groundhog Creek Shelter
WPT008
Location: 35.8103828, -82.948616
Stream crossing
WPT031
Location: 35.7995338, -82.9468307
Semi-open terrain (N end)
WPT001
Location: 35.7837486, -83.0253677
Deep Gap
WPT013
Location: 35.7779999, -83.1110153
Powerline
WPT035
Location: 35.8015518, -82.9469147
Stream crossing
WPT006
Location: 35.8051834, -82.9527512
AT turns E
WPT014
Location: 35.7892342, -83.0542831
S end of field
WPT016
Location: 35.8219681, -82.9399338
Stream crossing
WPT018
Location: 35.8233337, -82.9393158
Stream crossing
WPT005
Location: 35.7765999, -83.0046463
Old jeep road S; converge
WPT017
Location: 35.7886314, -83.0503311
Unofficial campsite (room for 1 tent); views SE
WPT008
Location: 35.7845993, -83.079216
Painter Branch
WPT007
Location: 35.7739983, -82.9997864
Blue-blazed trail to the W
WPT012
Location: 35.8140335, -82.9440689
Tiny stream crossing
IMG_3490
Location: 35.7971001, -82.9575195
IMG_3342
Location: 35.7835503, -83.1087494
IMG_3548
Location: 35.8002167, -82.9525833
IMG_3954
Location: 35.7820663, -83.115303
IMG_3691
Location: 35.8152847, -82.9435654
IMG_3437
Location: 35.7925682, -82.9617004
IMG_3610
Location: 35.7982178, -82.9484863
IMG_3394
Location: 35.7886009, -83.0502167
IMG_3358
Location: 35.7818336, -83.0997696
IMG_3399
Location: 35.7886009, -83.0502167
IMG_3616
Location: 35.7985992, -82.9474335
IMG_3686
Location: 35.8112183, -82.9477997