Appalachian Trail: Culvers Gap to NJ 23
Walk along Kittatinny Ridge to the crest of Sunrise Mountain to photograph panoramas of the New Jersey Highlands and the Poconos before dropping down to High Point State Park.
Heading out the door? Read this article on the new Outside+ app available now on iOS devices for members! Download the app.
Shelters: Gren Anderson Shelter; sleeps 8. Mashipacong Shelter; sleeps 8. Rutherford Shelter; sleeps 6.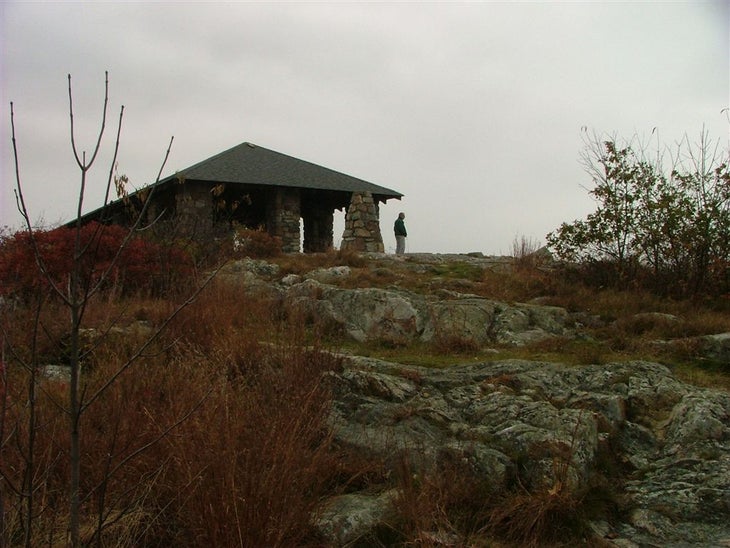 Trail Facts
Waypoints
WPT008
Location: 41.1886482, -74.766098
Tower trail (green dot blaze)
WPT022
Location: 41.2192841, -74.7182693
Sunrise Mtn. Rd. to the W. Trail to parking, picnic area, privy and views on Sunrise Mtn.
WPT013
Location: 41.2628517, -74.677948
View; pipeline
WPT005
Location: 41.1994514, -74.7503815
Mud Pit
ZZZ005
Location: 41.3053017, -74.6700974
NJ 23. High Point State Park Headquarters
WPT009
Location: 41.1879654, -74.7664642
Normanook Lookout Tower
WPT018
Location: 41.2361488, -74.7027664
Small stream
ZZZ013
Location: 41.1770515, -74.7910156
Culvers Gap. AT crosses both Sunrise Mtn. Rd. and US 206, zigging E
WPT010
Location: 41.2777481, -74.682251
Trail to Rutherford Shelter
WPT006
Location: 41.1981163, -74.7523499
Stony Brook Trail (brown dot blaze) to Gren Anderson Shelter
WPT012
Location: 41.2678986, -74.6761856
Small stream
WPT016
Location: 41.2521667, -74.6863861
Mashipacong Shelter; Iris Trail
WPT014
Location: 41.2578011, -74.6821136
Iris Trail
WPT008
Location: 41.2886848, -74.6746979
Views to the ESE
WPT007
Location: 41.1975517, -74.7531815
Stream
WPT006
Location: 41.3035927, -74.6717453
Iris Trail
WPT010
Location: 41.1797485, -74.7813644
Views of Culvers Lake
WPT015
Location: 41.2523575, -74.6893463
Deckertown Turnpike and parking
WPT011
Location: 41.2702332, -74.6816483
Iris Trail
WPT009
Location: 41.2800827, -74.6797485
Views to the SSE into NY farmland
WPT020
Location: 41.2215347, -74.7145462
Cartwright Trail (brown/red)
WPT007
Location: 41.2950516, -74.678215
Blue Dot trail
WPT003
Location: 41.2183685, -74.7201691
Sunrise Mtn. (1,653 ft.): Views of New Jersey Highlands to the E; Pocono Mtns. to the W. CCC shelter on summit
WPT017
Location: 41.2448845, -74.6915131
Blue blaze
WPT002
Location: 41.2192497, -74.7184143
Trail to Sunrise Mtn.; good views
WPT004
Location: 41.210865, -74.7333298
Tinsley Trail
WPT012
Location: 41.1805496, -74.7878342
Parking
WPT019
Location: 41.2261162, -74.7104645
Crigger jeep road; Howell Trail
WPT011
Location: 41.1816483, -74.7851486
Sunrise Mountain Road
DSCF0608
Location: 41.2182846, -74.7207489