Appalachian Trail: Bucher Hill Road to PA 850
The first 12 miles of this ambitious dayhike are almost pancake-flat then the homestretch climbs 800 feet to Blue Mountain.
Heading out the door? Read this article on the new Outside+ app available now on iOS devices for members! Download the app.
Shelters: Darlington Shelter; sleeps 8.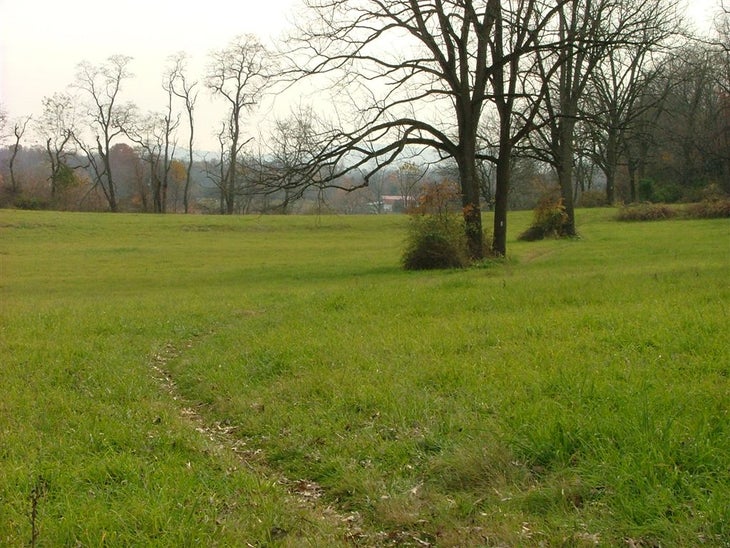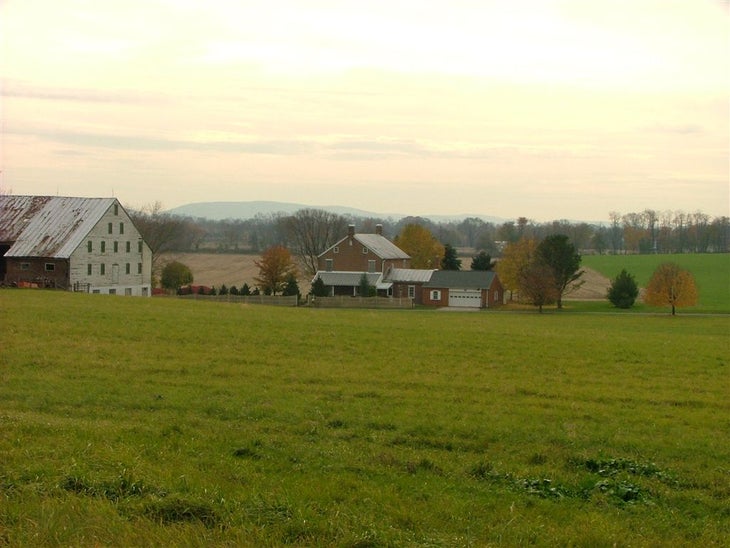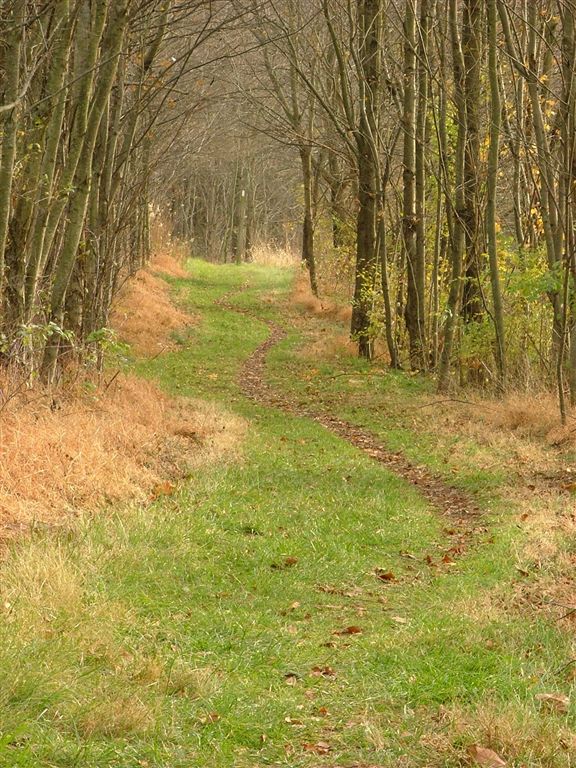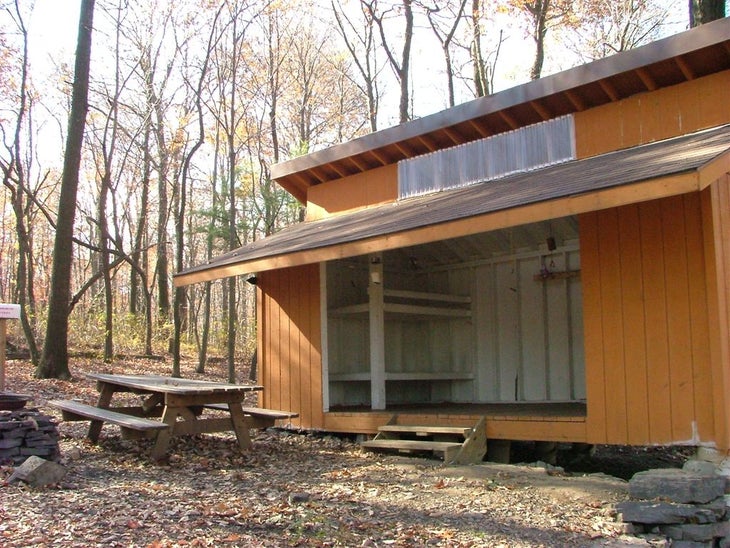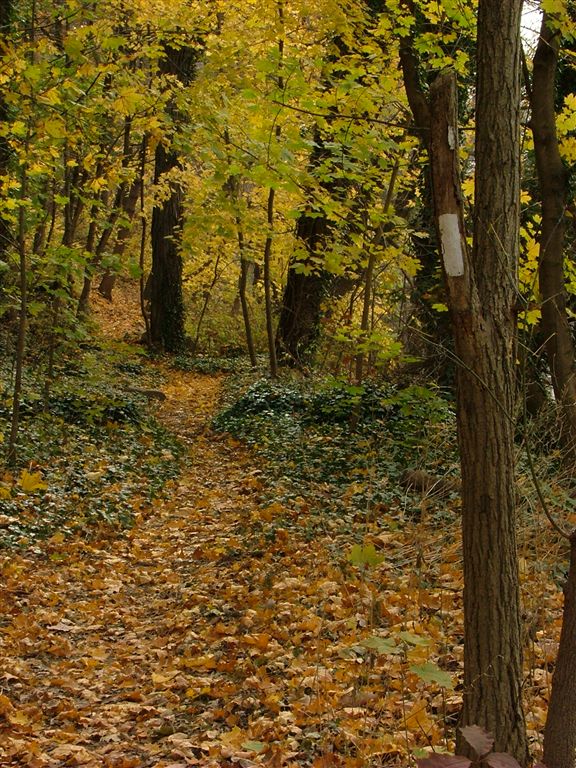 Trail Facts
Waypoints
WPT020
Location: 40.2530517578125, -77.1042022705078
Field
WPT008
Location: 40.2849349975586, -77.0940170288086
Wertzville Rd
WPT021
Location: 40.2500648498535, -77.1031494140625
AT turns W
WPT014
Location: 40.2699012756348, -77.1012191772461
AT leaves Condoguinet River
WPT034
Location: 40.2116851806641, -77.1086654663086
Old Stone Rd
WPT003
Location: 40.3009147644043, -77.0891189575195
Blue Blaze Tuscarora Trail to W; Orange Blaze Darlington trail
WPT015
Location: 40.2604827880859, -77.1037826538086
Bernhisel Road loop; ATC Scott Farm Trail Work Center
WPT029
Location: 40.2228317260742, -77.1022796630859
AT turns W on Appalachian dr.
WPT036
Location: 40.1951675415039, -77.1085510253906
Trindle Road
WPT011
Location: 40.2800483703613, -77.0986480712891
Pipeline
WPT009
Location: 40.2826995849609, -77.0958633422852
Small stream
WPT004
Location: 40.2992324829102, -77.0862350463867
Stone seat & viewpoint
WPT001
Location: 40.3020172119141, -77.0869827270508
Darlington Shelter
WPT025
Location: 40.239200592041, -77.1027679443359
Powerline
WPT015
Location: 40.2210540771484, -77.1026916503906
Bridge over PA turnpike
WPT043
Location: 40.1478500366211, -77.124755859375
Cross Bucher Hill Road; parking
WPT038
Location: 40.1834487915039, -77.1115341186524
Middlesex Road; parking
WPT017
Location: 40.2608489990234, -77.1039810180664
boardwalk, at turns west
WPT013
Location: 40.2737007141113, -77.0998840332031
AT turns east onto Sherwood Rd
WPT016
Location: 40.2608489990234, -77.1039810180664
bridge across river
WPT027
Location: 40.2311515808106, -77.109733581543
pipeline
WPT006
Location: 40.2957153320312, -77.0886306762695
Water source for Darlington Shelter
WPT032
Location: 40.2184181213379, -77.1062316894531
Appalachian road
WPT007
Location: 40.286018371582, -77.0930328369141
Telephone line
WPT033
Location: 40.2129325866699, -77.1066513061524
Cemetary
WPT010
Location: 40.2812156677246, -77.0976486206055
Small stream
WPT018
Location: 40.2591323852539, -77.1023178100586
AT turns W; end boardwalk
WPT035
Location: 40.207633972168, -77.1133193969726
Ridge Drive
WPT028
Location: 40.2265319824219, -77.10546875
railroad
WPT019
Location: 40.258617401123, -77.1022338867188
Boardwalk
WPT012
Location: 40.2749328613281, -77.099479675293
AT turns W off sherwood road
WPT023
Location: 40.2442016601562, -77.1011352539062
AT turns E
WPT026
Location: 40.2328147888184, -77.1088638305664
US 11
WPT040
Location: 40.1508331298828, -77.1226654052734
AT turns west on 174
WPT042
Location: 40.1502990722656, -77.1270980834961
AT turns E; Mid-Atlantic ATC office
WPT031
Location: 40.2202682495117, -77.1042327880859
Gravel road
WPT037
Location: 40.1903495788574, -77.1076507568359
Boyer Road
WPT039
Location: 40.1731338500977, -77.1212997436524
PA74
WPT030
Location: 40.2205009460449, -77.1030349731445
AT turns west off appalachian road
WPT022
Location: 40.248664855957, -77.1022338867188
Bern; Country Club Rd
WPT041
Location: 40.1503677368164, -77.1268310546875
Post Office
WPT024
Location: 40.2402992248535, -77.0998992919922
Cross road & then turn W
WPT005
Location: 40.2977981567383, -77.0891799926758
AT turns east
WPT025
Location: 40.3120155334473, -77.0802993774414
AT turns W
WPT024
Location: 40.3137512207031, -77.0830307006836
AT turns E, double track
WPT023
Location: 40.3159484863281, -77.0829315185547
Gravel road
WPT020
Location: 40.3220481872559, -77.0774307250976
PA 850; parking
WPT027
Location: 40.3020324707031, -77.0889129638672
Trail to Darlington Shelter
WPT021
Location: 40.319034576416, -77.0810165405274
road
Darlington Shelter
Location: 40.3019866943359, -77.0869064331055
Darlington Shelter
WPT026
Location: 40.3063011169434, -77.0865478515625
AT turns W
DSCF1283
Location: 40.2164649963379, -77.1053466796875
DSCF1287
Location: 40.1945991516113, -77.1072006225586
DSCF1294
Location: 40.1726341247559, -77.1215667724609
DSCF1267
Location: 40.3018684387207, -77.0868530273438
DSCF1278
Location: 40.257999420166, -77.1020660400391
Farmland outside of Harrisburg
Location: 40.1945991516113, -77.1072006225586