Appalachain Trail: VA 43 to VA 614
This 6.1-miler runs from Bearwallow Gap, traces the horseshoe-shaped ridge of Cove Mountain, and descends to a great swimming hole in Jennings Creek.
Heading out the door? Read this article on the new Outside+ app available now on iOS devices for members! Download the app.
Shelters: Cove Mountain Shelter; sleeps 6.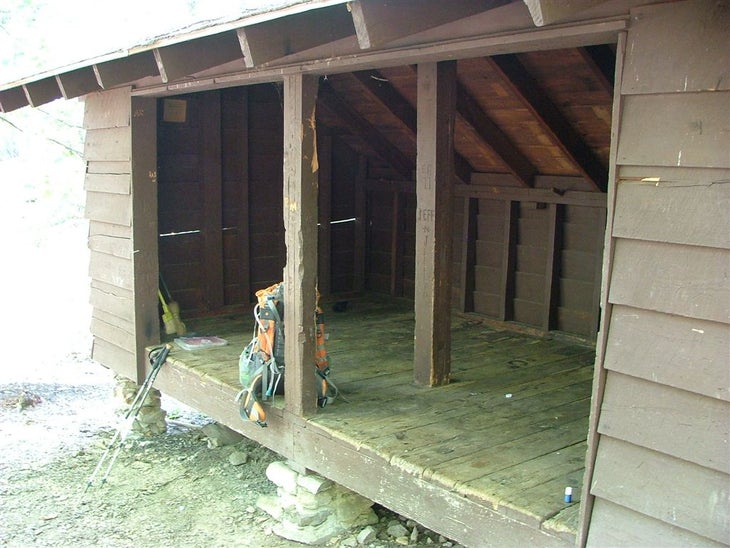 Trail Facts
Waypoints
WPT034
Location: 37.5296821594238, -79.6344680786133
Buchanan Trail
WPT030
Location: 37.5119819641113, -79.6506805419922
Trail to shelter
WPT035
Location: 37.5271682739258, -79.6341323852539
Z-shaped gates @ jct. with red-blazed trail
ZZZ052
Location: 37.5290184020996, -79.6225967407226
VA 614. Parking. Trail to big campsite
WPT026
Location: 37.4853668212891, -79.658935546875
Campsite
WPT033
Location: 37.5142517089844, -79.6499633789062
Campsite
ZZZ051
Location: 37.485668182373, -79.6686859130859
AT turns E; VA 43
WPT036
Location: 37.529483795166, -79.6218490600586
Campsite
WPT028
Location: 37.5116004943848, -79.6512680053711
Trail to shelter
WPT027
Location: 37.4971351623535, -79.6490631103516
Blue-blazed trail to the E (Little Cove Mtn. Trail)
WPT024
Location: 37.4843673706055, -79.6685333251953
AT turns W; woods; uphill
WPT029
Location: 37.5116996765137, -79.6507797241211
Cove Mtn. Shelter
WPT025
Location: 37.4841346740723, -79.6616668701172
Trail to campsite
WPT031
Location: 37.5134162902832, -79.6503829956055
Views to the W
DSCF5470
Location: 37.5117988586426, -79.6508636474609