Anza Borrego Desert State Park, CA: Hellhole Canyon
Old cattle ranchers didn't call this desert canyon Hellhole Canyon for nothing. They used to herd cattle up the canyon to an oasis for 3 miles. It must've been tough for the cattle scrambling over granite boulders, but for day hikers it's a gem in the middle of the Colorado Desert.
Heading out the door? Read this article on the new Outside+ app available now on iOS devices for members! Download the app.
001- At the bottom of Highway S22 is the carpark and trailhead for Hellhole Canyon. Head west toward the San Yisidro Mountains on a single track trail through a desert forest of ocotillo and cholla cactus.
002-At the Y fork you have your choice of the riding and hiking trail or the normal hiking trail. Either way will take you up the canyon.
003- Still heading west, you'll come to another Y fork. Either way will continue to lead up the canyon. Watch for roadrunners, sccurrying side-blotched lizards and hummingbirds along the route.
004- This is the first of several crossings over a sandy wash. As the canyon narrows, keep an eye out for desert bighorn sheep perched on the rocks on either side of the canyon.
005- This is the first stand of desert fan palms in the canyon. Keep heading west that involves some light rock hopping and scrambling.
006- The main stand of palms are dense and a much needed respite from the desert sun. A year-round creek breathes life in the desert for birds, reptiles and mammals alike. Great place to have lunch.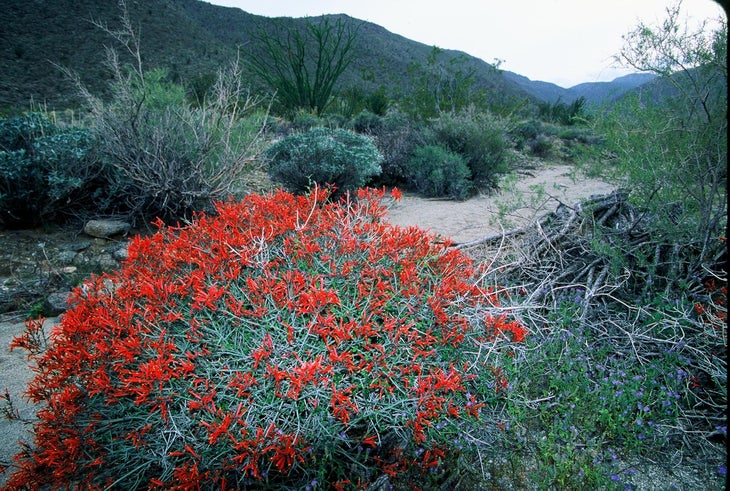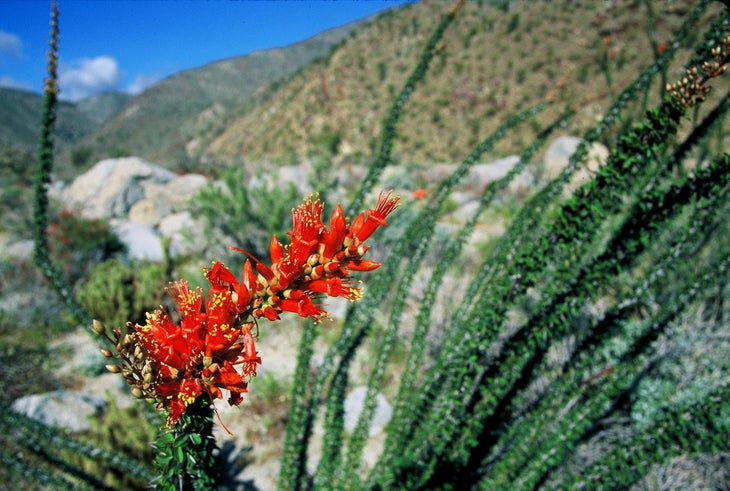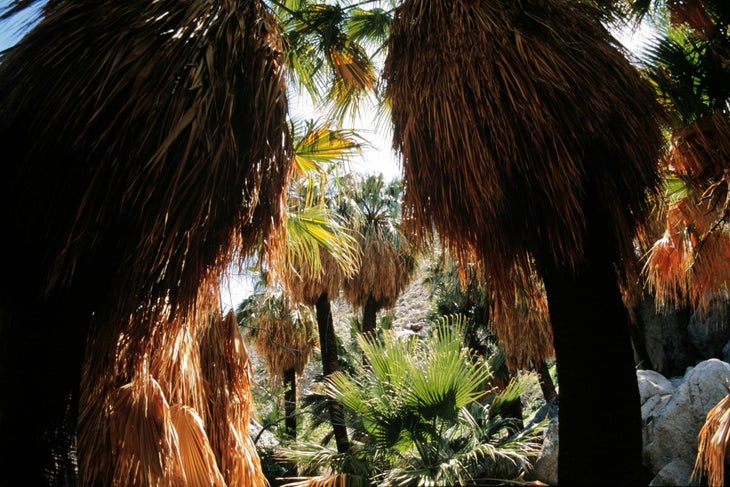 Trail Facts
Waypoints
001
Location: 33.247453, -116.406064
13-MAR-10 11:33:22AM
002
Location: 33.246152, -116.409416
13-MAR-10 11:39:38AM
003
Location: 33.241147, -116.42952
13-MAR-10 12:11:27PM
004
Location: 33.240017, -116.432955
13-MAR-10 12:17:18PM Scores of wildflowers come to life each spring depending on rain totals. This chuparosa is found along the trail throughout the hile
005
Location: 33.238139, -116.437011
13-MAR-10 12:26:29PM
006
Location: 33.236906, -116.440585
13-MAR-10 12:39:43PM
007
Location: 33.236844, -116.44067
13-MAR-10 12:42:19PM
Chuparosa Bloom.jpg
Location: 33.413102, -116.652832
Ocotillo Bloom.jpg
Location: 33.348885, -116.356201
The spidly ocotillo is prevelent in Hellhole Canyon. It's pretty red bloom comes to life for a brief time in the spring.
ChuckGraham_Palms_IMG_0236.jpg
Location: 33.335118, -116.400146
Desert fan palms are a welcome respite in the Colorado Desert.