Anchorage, AK: Crow Pass Trail
Cross the west edge of the Chugach for glaciers, bears, and wildflowers.
Heading out the door? Read this article on the new Outside+ app available now on iOS devices for members! Download the app.
Gold drew prospectors here at the turn of the 20th century. Now it's the easy-access trailheads and instant big-mountain views. This point-to-point trek follows the Crow Pass Trail for 22.6 miles as it cuts across the Chugach Mountains, passing glaciers, meadows speckled with bluebells and larkspur, and prime Dall sheep, moose, bear, and wolf habitat. "There's never a dull moment on this trail," says Gina Spangler.
Drop a car at Eagle River Nature Center before driving to the Crow Creek trailhead. Begin with a steady ascent north past thick, low-lying alder and views of the Crow Mine's rusty ruins. The climb steepens at mile one, gaining 700 feet in .4 mile before descending north to a plaque dedicated to Harry Ingle Staser, owner of the Monarch Mine from 1926-1940. Next, skirt turquoise Crystal Lake, pass an A-frame Forest Service cabin, and crest 3,883-foot Crow Pass, marked by big-screen views of Raven Glacier to the east. Finish the first day by descending wildflower fields (with Jacob's ladder and alpine forget-me-nots in June and July) into the lush Raven Creek valley; camp at sites tucked into the willows.
Day two starts with a shallow crossing of Raven Creek, followed by a two-mile descent to a wooden bridge over Raven Gorge, a waterfall-carved chasm. Look out for moose, bear, and caribou grazing in trailside willows. "There's enough foot-traffic here that they aren't spooked by hikers like they are in more remote areas," says Spangler. At mile 9.9, the Eagle Glacier hangs above the valley as the trail rounds southeast, dropping sharply toward the hike's crux—a wet, sometimes difficult crossing of the glacier-fed Eagle River (cairns mark the easiest route across the knee- to thigh-deep water). From here, cross a gushing stream on logs at mile 12.3, then two more footbridges at miles 14.5 and 17. Follow a stretch of the Iditarod Trail (yes, that Iditarod) before ending at the Eagle River Nature Center
Shuttle: From Anchorage, drive 12 miles north on AK 1 to the Eagle River Loop exit. Turn right on Eagle River Rd. in 2.5 miles. Go 10.9 miles to the Eagle River Nature Center.
Gear up: Alaska Mountaineering & Hiking; (907) 272-1811; alaskamountaineering.com
Contact: (907) 269-8400; dnr.alaska.gov/parks/units/chugach ;
-Mapped by Gina Spangler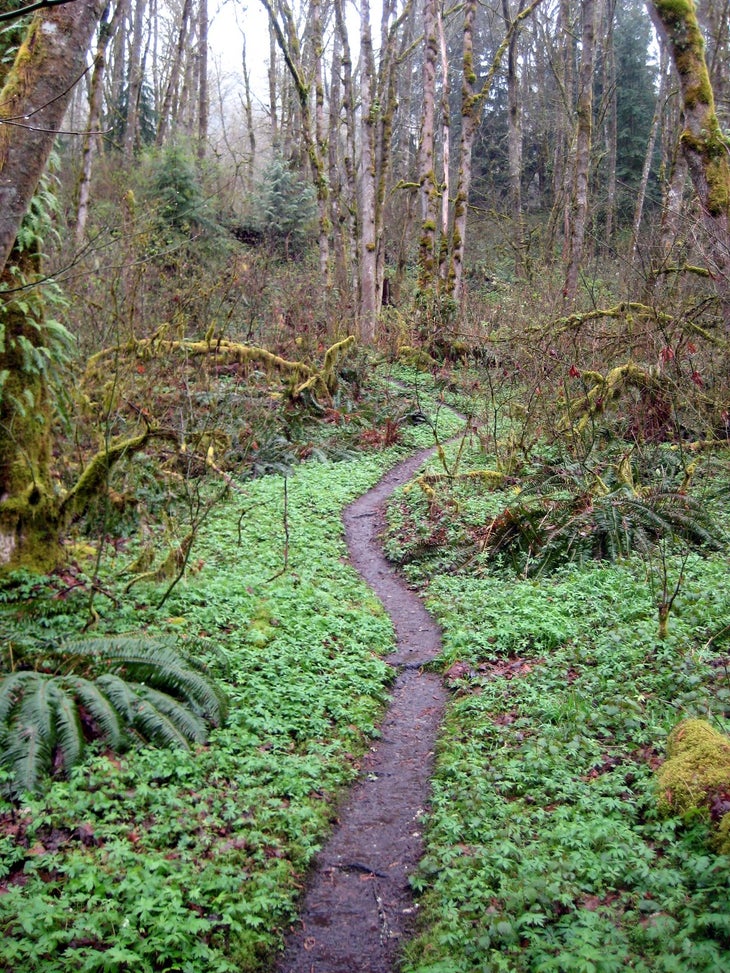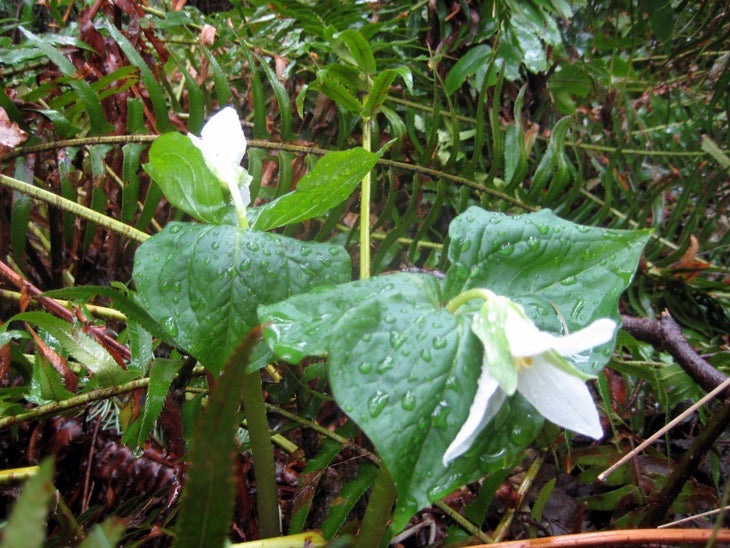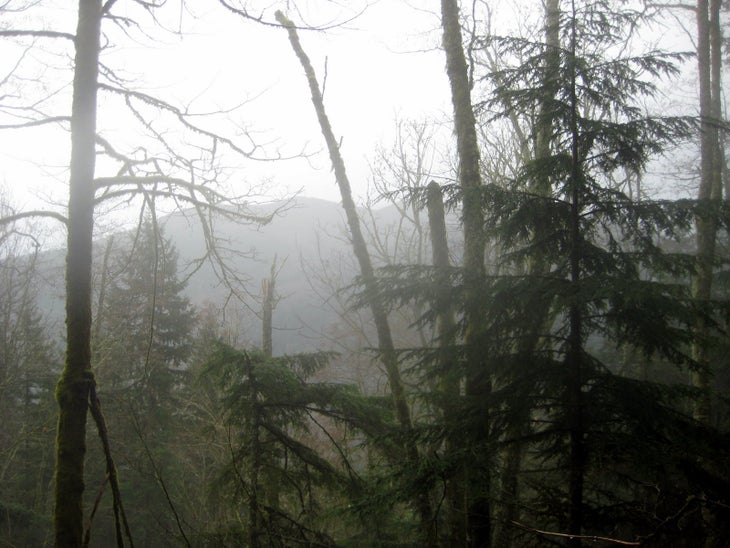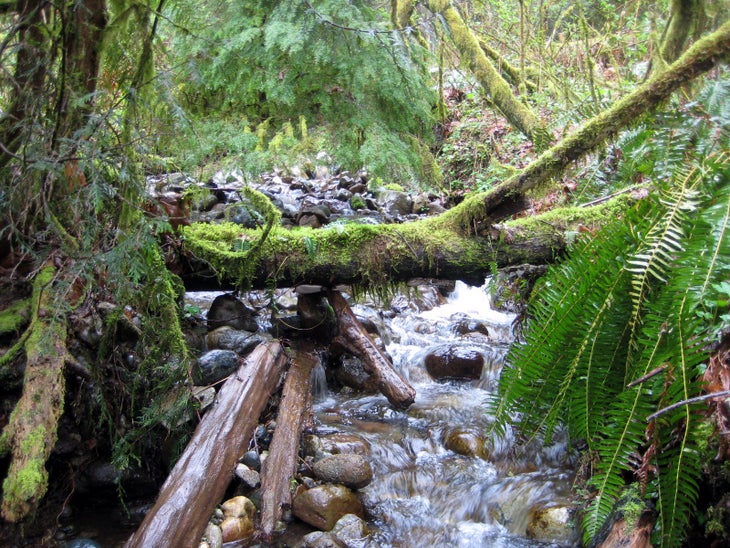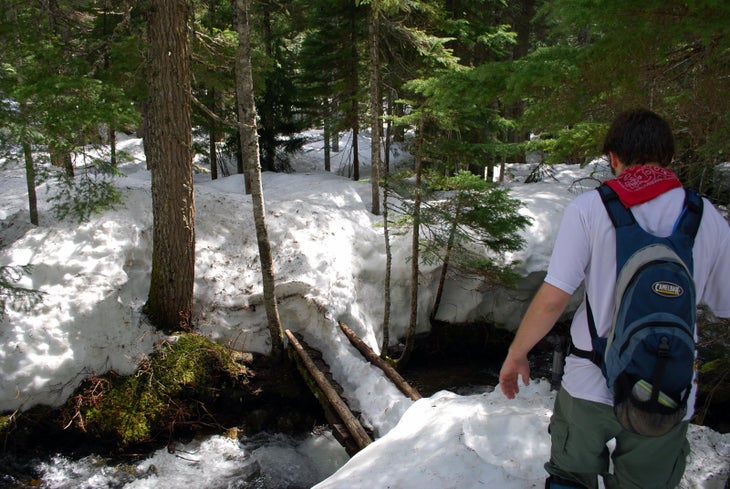 Trail Facts
Waypoints
SM001
Location: 47.511647, -122.0303837
Start of Sycamore trail at Crystal Creek Circle. Follow the gravel path between two houses.
Bleeding Heart
Location: 47.5103021, -122.0315623
Sycamore trail is lined with bleeding heart and white trilliums.
White Trillium
Location: 47.5101862, -122.0324206
Rain covered white trillium in bloom.
SM002
Location: 47.509236, -122.0336448
Trail Junction. Turn Left onto East Ridge Trail (E2)
Broken Views
Location: 47.5056929, -122.0344377
Partial views of Tiger Mountain.
SM003
Location: 47.505107, -122.0365393
Trail Junction with East Side Trail (C5). Continue straight on E2.
SM004
Location: 47.5020303, -122.0411355
Trail Junction. Turn left and head downhill on Phil's Creek Trail (S3)
SM005
Location: 47.4933442, -122.0464113
Trail Junction. Turn Left down Equestrian Loop Trail (S4)
Crossing Phil's Creek
Location: 47.4916889, -122.0437717
SM006
Location: 47.4865024, -122.0419625
Junction. Turn Right.
SM007
Location: 47.4854574, -122.0446363
Junction. Continue straight.
SM008
Location: 47.4851785, -122.0449841
Junction. Turn Right
Footbridge
Location: 47.485512, -122.0454133
The final crossing of Phil's Creek. Continue on to explore more of the park.