America's Best National Park Backcountry Campsites
20 campsites comprising what very well may be a final and exhaustive list of the very best backcountry spots in US National Park system.
Heading out the door? Read this article on the new Outside+ app available now on iOS devices for members! Download the app.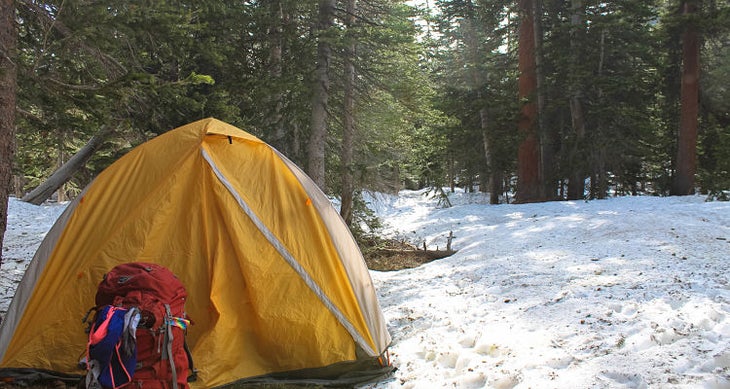 The last of the spring snow cushions this pine-shaded spot along Andrews Creek in Rocky Mountain National Park. (Photo by: Emelie Frojen)
Glaciated mountains guard the headwaters of the Teklanika upstream of this campsite in Denali's Unit 6 backcountry. (Photo by: Katie Orndahl)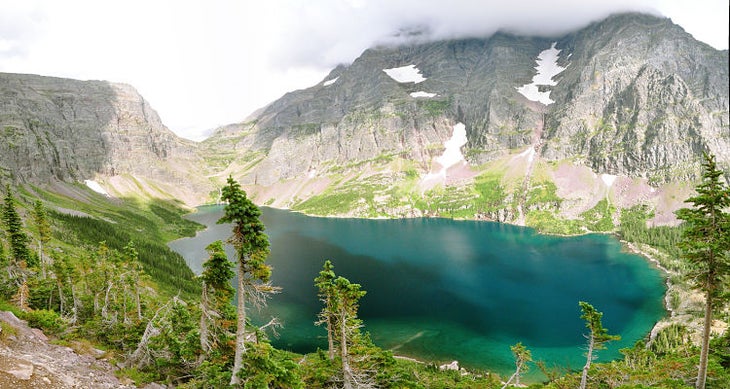 Backcountry beauty Lake Ellen Wilson shows off her good side. Access this lake (and the stellar campsites on its shores) from the Gunsight Pass Trail. (Photo by: Shanthanu Bhardwaj/flickr)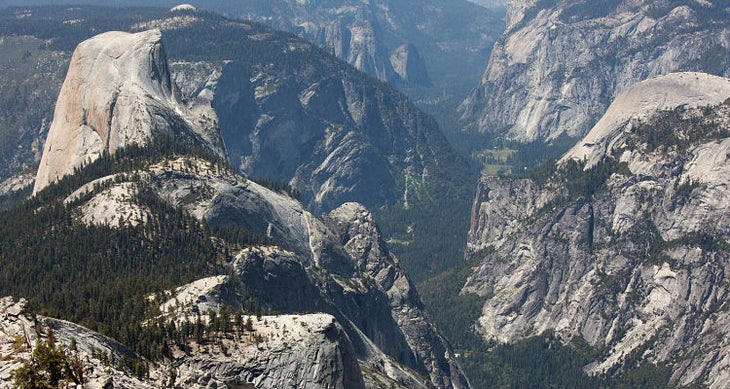 Half Dome is just one of several iconic Yosemite landmarks filling the view from Clouds Rest, a narrow granite ridge arching toward California sky. (Photo by: Jimmy Harris/flickr)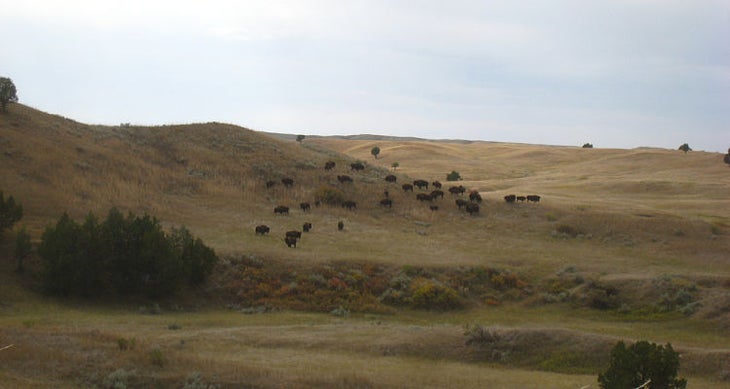 Spot bison herds like this one, grazing in the Sage Creek watershed, from the trail to Deer Haven, a Badlands oasis. (Photo by: Chris M Morris/flickr)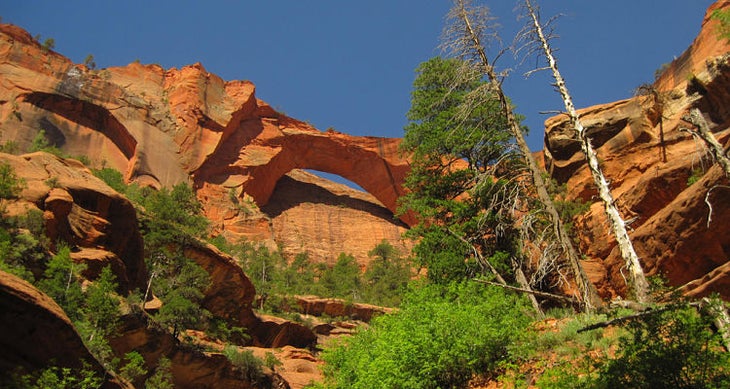 The sun-bathed Kolob Arch spans over 270 feet, putting it in the world's top 5 largest freestanding arches. Camp just 1.5 miles away at one of Zion's most scenic backcountry sites. (Photo by: Zion National Park/flickr)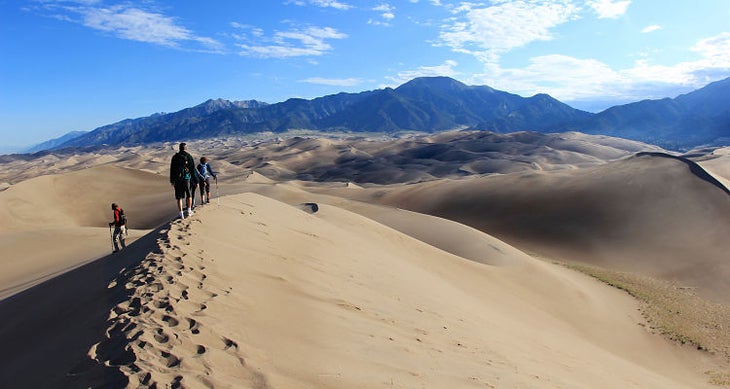 A group of hikers makes their way toward Star Dune in Colorado's rolling inland desert. (Photo by: daveynin/flickr)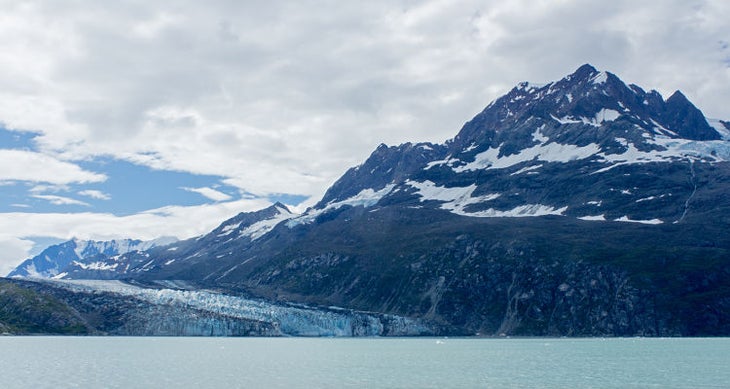 The Lamplugh Glacier flows into the inlet at the foot of Mt. Cooper in Glacier Bay National Park. (Photo by: Mark Byzewski/flickr)
This overlook on the South Rim Trail surveys the vast mountain vistas characteristic of Texas's Big Bend National Park. (Photo by: daveynin/flickr)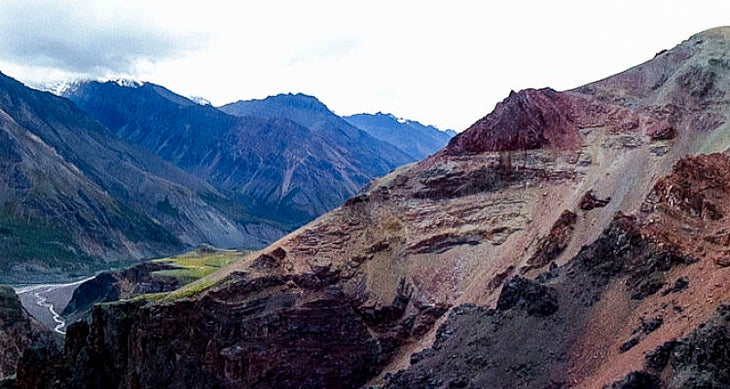 The Chitistone River carved this cross-section in the multicolored limestone of Wrangell-St.Elias. Pick your way past glaciers and canyons on this isolated trek. (Photo by: Wrangell-St. Elias National Park and Preserve/flickr)
If roughing it in isolated wilderness is your thing, you might have one problem: there are millions of acres of National Park backcountry to choose from, and most of us only have so much time to explore it. The pressure to choose a spot that makes the absolute most of that time can produce unwelcome anxiety in the life of a trip planner. We've taken some of the guesswork out of the overwhelming acreage and narrowed it down to the 20 best backcountry campsites to give you access to the best views, the best open-air privies, and the best strategic launching points to National Park hikes and iconic landmarks in America.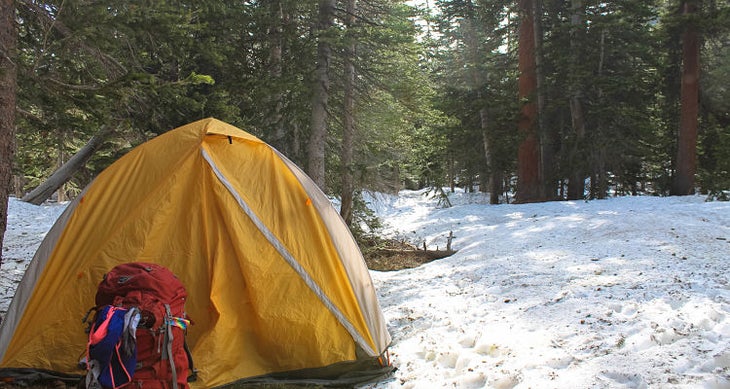 On your way to this cliff-hemmed, pine needle-strewn patch of alpine comfort, you'll pass two deafening waterfalls, a glassy, peak-reflecting lake known charmingly as "The Loch," and a shady aspen forest sprouting between boulders of pink granite. The glacier itself lays smoothed across charcoal-grey slopes just west of the remote Andrews Creek campsite and drips enough meltwater to send a creek burbling past the site's sunny clearing. Park at Glacier Gorge and follow signs to The Loch, then hike around the right side of its crystalline surface and 0.6 miles past its western end to find the right turnoff up Andrews Glacier Trail. Got some time? Turn this hike into a 6-day loop. 
Old Faithful isn't the only geyser in Yellowstone – it's just the most crowded. The Rustic Geyser will give you your own private show – reach it from the Heart Lake Trailhead, which will also lead you to Heart Lake, nearby hot springs, and connecting trails to Mt. Sheridan, Two Ocean Plateau and Yellowstone Lake. Aim for site 8H4 (reserve before March 31 for a better chance) – trees provide just enough screen to shield your spot from other campers without shielding your view of the pine-ringed lake. 
3. Upper Teklanika River, Backcountry Unit 6, Denali National Park, Alaska
The pebbled riverbed blushes with purple fireweed, and glaciated mountains feed the headwaters upstream. July is prime wildflower season in Alaska. Camp about two miles south of Cathedral Mountain's peak, at least 200 feet west of the upper Teklanika River for views of pine forests and red crags to the north and the snowcapped Alaska Range to the south. The scenery isn't the only thing that makes this one of the best backcountry campsites in America – add convenient travel to the list of benefits. The riverbed saves you from bushwhacking in this trail-free wilderness and gives you a broad field of view when scouting for wildlife. Arrive early to nab a coveted backcountry permit. 
The sinking pacific sun sets the ocean afire and casts long shadows from Chilean Memorial's leaning sea stacks – stone spires squatting like great beasts in the shallows, undisturbed by the lapping tide. Hike just 3.8 miles from Rialto Beach off Mora road and camp on the sandy loam out of reach of the tide to watch the sunset from your tent flap. This quiet site requires a permit but no reservation. Investigate tide pools for crabs and colorful starfish when the surf is out, and look for harbor seals and distant whales when it's not. 
5. Lake Ellen Wilson, Glacier National Park, Montana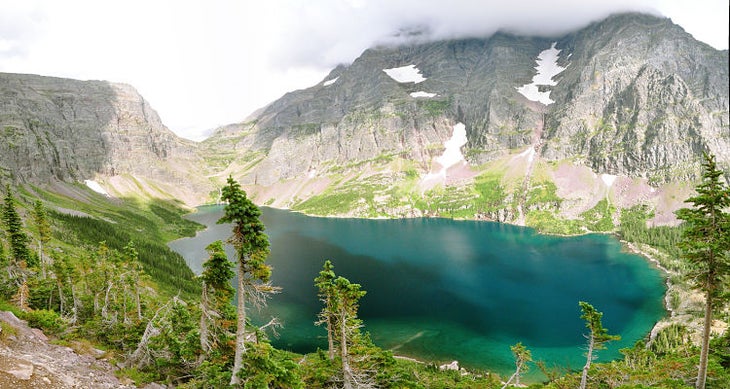 This site dishes up a perfect sampling of classic Glacier scenery all in one place. Pebbled beaches, waterfalls, glacial views, sheer cliffs, and pine forests surround this turquoise jewel of a lake. Boulders break the wind and provide surfaces for food prep and gear sorting. Take the shuttle to the Gunsight Pass trailhead and hike 10 miles to Lake Ellen Wilson. Make it an out-and-back or hike another 11 to Lake McDonald and catch a shuttle there. Need more mileage? The the lake also serves as a launching point to Sperry and Jackson Glaciers. 
The Smokies' AT shelters are the peak of three-sided lean-to luxury: these stack-stone affairs are complete with in-house fireplaces and double-decker sleeping platforms. This one has outdoor food prep benches under generous roof, a composting privy comfortably nestled among the trees, bear bagging poles, and grassy areas just outside all the amenities if you're particularly attached to sleeping in your tent. To get there, hike 4 miles south along the AT from Newfound Gap, then a quarter mile up the Sugarland Mountain side trail to get to the shelter. Bonus: hike an 8-mile out-and-back from the shelter to tag 6,643-foot Clingman's Dome and the spiraling observation tower with 100-mile views atop it.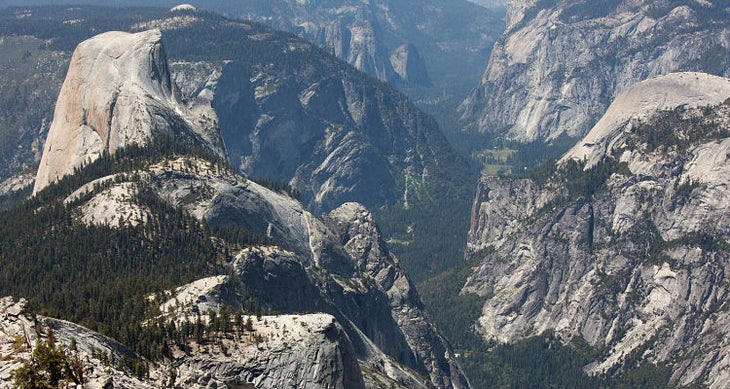 Follow a granite ridge across the nearly 10,000-foot spine of Yosemite and see all there is to see from one place: Half Dome, the Valley, the Clark Range – Clouds Rest is your Cloud 9 when it comes to iconic Yosemite scenery. Camp about two miles north of the summit where the terrain level out and intersects a creek; water is scarce on top of the Rest itself. (Remember: pitch camp at an established site at least 200 feet from the trail.) 
It might be a mountaineer's dream launching point for glaciers and technical ascents, but the real attraction is undoubtedly the composting toilet looking out over endless sky-spearing summits, it has one of the best loo-side views in the Lower 48. Ascend a little over 3,000 feet up an unmaintained climber's path from Cascade River Road. Go in early summer for all the brilliance of snow without its bitter temperatures, and don't forget to eat your bran flakes – you haven't camped at Boston Basin until you've given that privy a test drive.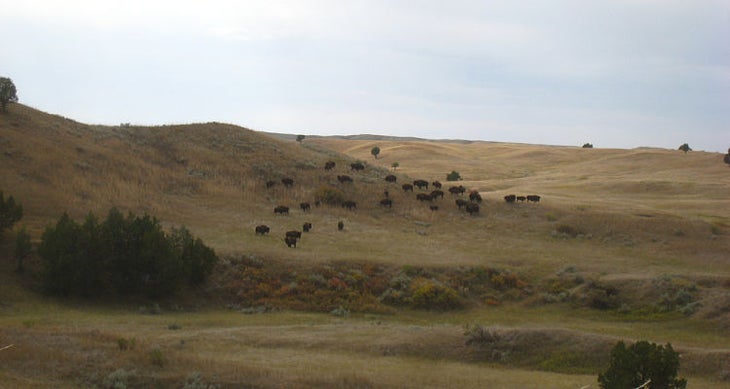 Drop any misgivings that might come with a place named "Badlands" and head here. This place has bison. Wild bison. Over 1000 of them. Look for herds of the big guys as well as sleek pronghorn antelope on the Sage Creek loop, but even if you fail to spot actual wildlife, you can't miss Deer Haven. Set up camp amidst stone spires and lush grasses in oasis-fed juniper shade just 3 miles from the trailhead. Go ahead and pitch your tent, but the views continue after the sun goes down so don't crawl in right away; this is some of the best stargazing in the country. 
Dangle your feet over a vertical mile of empty space at the edge of Powell Plateau. This ledge-side campsite offers endless, uninterrupted views of Bedrock and Galloway canyons, stratified red bowls floored with pines. Hike a mile from the Swamp Point trailhead to Muav Saddle, then climb almost 900 feet to reach the plateau to the west. Step off trail and move southwest for about two miles to reach the edge of the plateau – and the unbeatable tent flap vista that comes with it.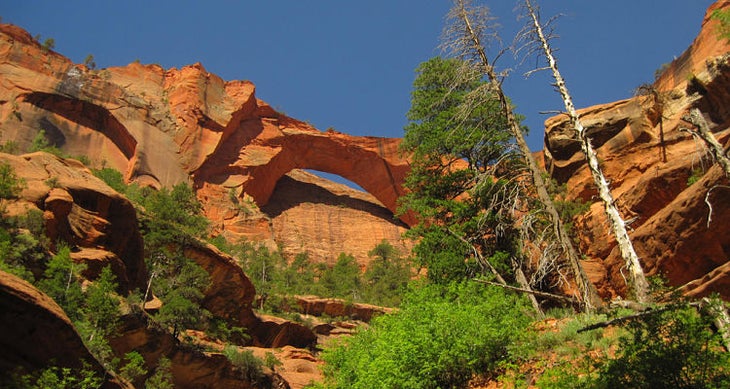 This site has major street cred by association with an international celebrity: one of the world's longest natural arches, Kolob spans 287 feet in a sweeping arc of peach-colored sandstone. And you can camp right down the trail from it if you're willing to make the 7-mile hike into the backcountry. Start at the Lee Pass Trailhead and make your way up La Verkin Creek Trail. Reserve Cottonwood Camp (campsite #12) about a mile east of Beatty Spring for shade trees and more privacy than the clustered spring-side sites. Set up basecamp that night and spend the morning marveling at the arch. 
When you wake up to the sound of murmuring ocean waves here, it won't be because an errant beach ball smacked you in the face. Waving grasses and palm fronds edge this remote white sand beach on the southernmost tip of the lower 48. Paddle 11 miles west from the Flamingo Marina and round the point for a secluded site on the cape's southwest-facing shore. Bonus: manatee and dolphin sightings abound along this undeveloped shoreline. 
13. The Dune Field, Great Sand Dunes National Park, Colorado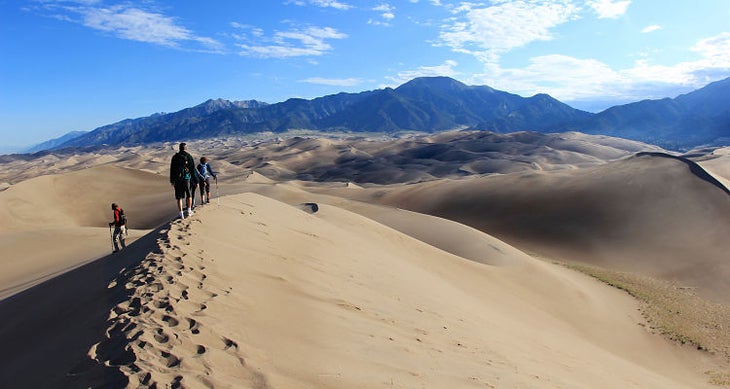 This Salvador Dali dreamscape of rolling dunes lies the imposing shadow of the Sangre de Cristo Mountains. Walk northwest through this trail-less wilderness from the visitor center. After a half mile, cross the Medano Creek bed and continue northwest to the 750-foot Star Dune. Camp on any flat spot north of Star Dune. Sunsets paint the dunes in orange and blue and gild the 14,000-foot crest of the mountains to the south. You'll sleep soundly on the sandy ground, but don't doze off too fast – watch for shooting stars slicing the dome of the night sky. In the morning, head south to complete a 6.6-mile loop back through the main dune field. 
Join the area's abundant bighorn sheep in scrambling over crags and boulders on this remote Joshua tree and pinyon pine-dotted trail, and camp on warm stone with nothing but clear desert air between you and the sky. Hike about 1.5 miles north from the trailhead on Queen Valley Road to reach Pine City, remnants of a log cabin ghost town. Camp a little south of here (the City itself is in a day-use only area). The Pine City trail makes for a good launching point to the Queen Valley Trail, the Split Rock Loop, and off-trail wandering up canyons to the north. Tip: pack in plenty of water. 
15. John Hopkins Inlet, Glacier Bay National Park, Alaska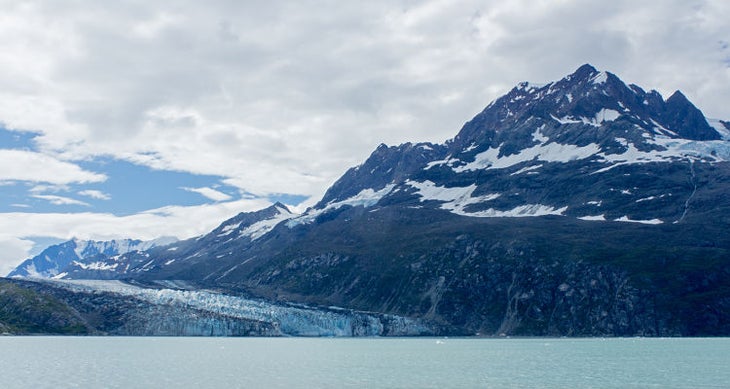 Run aground in a sub-arctic paradise populated by Stellar Sea Lions, puffins, and bald eagles. Put in at the West Arm drop off point (changes regularly to minimize environmental impact) for a 4-5 day kayak winding between the islands and blue icebergs of Glacier Bay. The best site is just inside the bend of the north shore of Johns Hopkins Inlet, across from Mt. Cooper, rising 6,155 feet above the water. Camp on the broad gravel beach for glaciated views up the bay and plenty of space to pitch multiple tents. 
A trough scooped out of the raw earth by creeping glaciers and now filled with green vegetation and mountain views. The north fork of Cascade Canyon looks like something out of a mist-wreathed fable. Camp just off the Teton Crest Trail in the shadow of a rock buttress at the northernmost of two designated campsites just south of Lake Solitude. The buttress provides shelter from the wind, and the site comes with its very own bear box – modern convenience without any adulteration of the place's primitive feel. Go mid- July through mid-September to hit peak wildflower season. 
17. South Rim Trail, Big Bend National Park, Texas
Everything's bigger in Texas, and Big Bend is no exception – your gaze will roll over vast canyons and mesa-studded desert landscapes from the rim of these 2000-foot highlands. Camp along the South Rim Trail beneath Arizona Cypress in this lush pedestaled oasis. Go in September – peregrine falcon closures along the trail will have reopened after the end of breeding season, and the heat has begun to abate. Aim for for the Southwest 4 campsite, a flat, secluded clearing near a backcountry toilet that could save you from digging a cat hole or two. After all, everything's bigger in Texas. 
Listen to the lonely elk's love-struck bugle from the blooming meadows of Indian Bar. Hike with Mt. Rainier reigning majestic in the distance about 7.5 miles up the Wonderland Trail from the trailhead at Box Canyon. Waterfalls pour into the valley, and the lupines wash the slopes in purple. Camp in Indian Basin.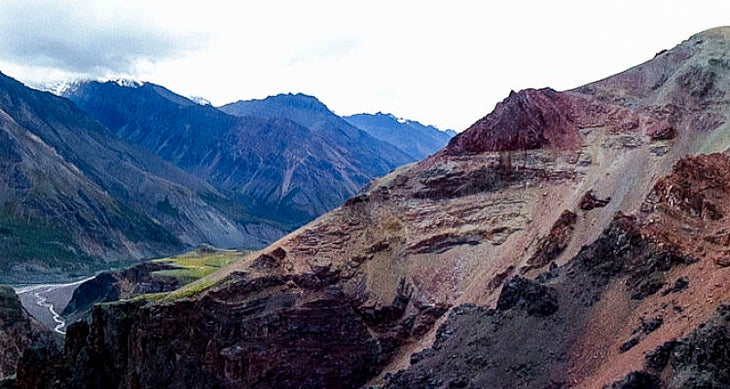 Some say it ain't backcountry unless you need a bush plane to get there. If you're of that camp, then this is one wild spot that will fit the bill – fly into the Wolverine airstrip and follow a wildlife track 2.5 miles before losing it and traveling another 7 miles cross-country to the Goat Trail, etched on the land by Dall Sheep hooves more so than rubber-soled boots. Follow the Chitistone River to the Chitistone Pass, and cross a carpet of spongy tundra and wildflowers until you top out over the northern side of the pass. Camp on the flats downstream of Russell Glacier to make the most of the midnight sun glistening on ancient ice. 
Camping just .6 mile east of the junction between the PCT and the JMT gives you options for some iconic hikes as well as a convenient basecamp to tag Mt. Whitney. Park your tent in this sparse pine forest, which provides plenty of shade trees without blocking your view of Whitney's western flank. Bonus: a most excellent privy lies in the meadow – this open-air throne is not to be missed if you don't mind sacrificing a bit of modesty.