America's Newest Wilderness
A quick guide to the best acres, trails, and views.
Heading out the door? Read this article on the new Outside+ app available now on iOS devices for members! Download the app.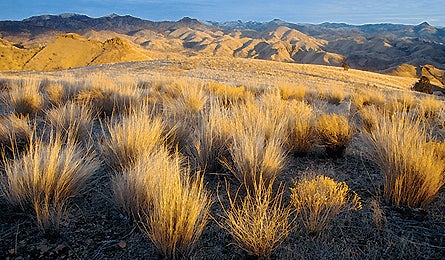 Spring Basin Wilderness (Doug Steakley)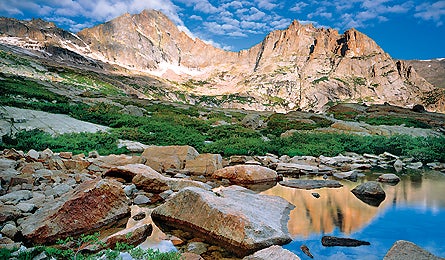 Rocky Mountain (Jim Davis/Onda.org)
Washington County (Jim Dohms)
So much backcountry, so little time. That's how any self-respecting backpacker should translate the blandly named Omnibus Public Land Management Act of 2009–a blockbuster conservation bill passed in March. The legislation protects more than 2 million acres of backcountry, designating 77 new wilderness areas and additions in nine states. The best way to celebrate this landmark victory? Go explore these pristine landscapes. Here's our short list of the most exciting wildland wins from the Appalachians to the Sierra.
Oregon
Copper Salmon Wilderness

Land protected 13,700 acres, including the headwaters of the Elk River, the state's most productive salmon fishery
Natural wonder 300-foot-tall Douglas firs

Champion Oregon Wild (oregonwild.org)

See it now From the end of FR 220, ridge-walk one mile on the Barklow Mountain Trail to an old firetower with views of 3,000-foot Copper and Salmon Mountains.
Info:fs.fed.us/r6/rogue-siskiyou
Lewis and Clark Mt. Hood Wilderness

Land protected 124,000 acres in nine parcels spread throughout the Columbia Gorge and Mt. Hood

Natural wonder Highest concentration of waterfalls in the country

Champion Oregon Wild (oregonwild.org)

See it now Take the Salmon Butte Summit Trail on an 8.4-mile out-and-back through Douglas fir and rhododendrons to a 360-degree view of five volcanic peaks and the new wildernesses skirting Mt. Hood.
Info:fs.fed.us/r6/mthood
Spring Basin Wilderness

Land protected 6,382 acres in the John Day River Watershed

Natural wonder Pink-flowering Oregon barrel cactus

Champion Oregon Natural Desert Association (onda.org)

See it now From the BLM kiosk on Clarno Road, hike north .5 mile through bunchgrass and flowers. Go left at the fork to access tight, trailless Spring Basin Canyon.
Info:blm.gov/or/districts/prineville
Oregon Badlands Wilderness

Land protected 29,301 acres of high desert terrain in central Oregon

Natural wonder Oregon's oldest tree: a 1,600-year-old Western juniper

Champion Oregon Natural Desert Association (onda.org)

See it now Take OR 20 16 miles east from Bend to the Flatiron Rock Trail. This easy five-mile loop weaves through 100-year-old junipers and much older lava formations, like the black and chunky Flatiron Rock at mile 2.5.
Info:blm.gov/or/districts/prineville
Cascade-Siskiyou Resolution

Land protected 24,100-acre Soda Mountain Wilderness in Cascade-Siskiyou National Monument
Natural wonder 5,908-foot Pilot Rock, a volcanic basalt pinnacle

Champion Oregon Wild (oregonwild.org)

See it now From Pilot Rock Road, hop on an 8.5-mile stretch of the Pacific Crest Trail that tracks through Soda Mountain's southeast corner past the towering Pilot Rock.
Info:blm.gov/or/districts/medford
Colorado
Rocky Mountain National Park Wilderness

Land protected 249,339 acres within RMNP(95 percent of the park)

Natural wonder The endangered pika

Champion Colorado Environmental Coalition (ourcolorado.org)

See it now From the Wild Basin trailhead, take Wild Basin Trail to Calypso Cascades Trail. The 4.9-mile out-and-back passes falls and alpine lakes.
Info: nps.gov/rmnp
Dominguez Canyon Wilderness

Land protected 66,280 acres of redrock

Natural wonder Jurassic-era fossils (including pieces of Ultrasaurus, the largest dinosaur ever discovered)

Champion Colorado Environmental Coalition (ourcolorado.org)

See it now Take the Dominguez Trail from the Gunnison River two miles to the confluence of Big and Little Dominguez Creeks to see petroglyphs and falls.
Info:blm.gov/co
Utah
Washington County Growth and Conservation

Land protected 256,338 acres, including 124,406 inside Zion NP

Natural wonder The Virgin River

Champion Washington County (washco.utah.gov)

See it now From Weeping Rock trailhead, hike 6.3 miles through Echo Canyon to Observation Point.

Info:nps.gov/zion
Michigan
Beaver Basin Wilderness

Land protected 11,740 acres within Pictured Rocks National Lakeshore

Natural wonder Chapel Rock

Champion Pictured Rocks National Lakeshore (nps.gov/piro)

See it now Hike 2.5 miles from Chapel Road through stunted pine and white sand to stand beneath Chapel Rock's towering sandstone.
Info: (nps.gov/piro)
New Mexico
Sabinoso Wilderness

Land protected 16,030 acres of canyons, cliffs, and pines

Natural Wonder 1,000-foot-deep Cañon Largo

Champion NM Wilderness Alliance (nmwild.org)

See it now Public access is TBD (currently, no official trails exist). Check with the Bureau of Land Management's Taos field office for updates about their ongoing public access plan.
Info:blm.gov/nm
California
Eastern Sierra and Northern San Gabriel Wild Heritage

Land protected 468,854 acres in eight wilderness areas

Natural wonder Great Basin bristlecone pines

Champion California Wild (californiawild.org)

See it now Exactly 589.5 trail miles lie within these eight parcels. Link Sabrina Basin and Gorge Lake Trails for a 7.5-mile treat in the expanded John Muir Wilderness. Top out at 11,585 feet before ending at Tyee Lake.
Info:fs.fed.us/r5/inyo
Sequoia and Kings Canyon National Parks Wilderness

Land protected 84,926 acres in the national parks, including more than 800 miles of trails

Natural wonder Giant sequoias

Champion Sierra Nevada Wild (sierranevadawild.gov)

See it now From Redwood Canyon trailhead, hike the 6.5-mile Hart Tree and Fallen Goliath Loop to see the area's largest sequoias.
Info:nps.gov/seki
California Desert and Mountain Heritage
Land protected 146,824 acres, with 36,700 in Joshua Tree NP

Natural wonder A shrinking population of Joshua trees

Champion California Desert and Mountain Wilderness Campaign (desertmountainwild.org)

See it now Take the South Fork Trail from Jenks Lake Rd. for a five-mile (one way) ridge walk that drops to the San Jacinto River.
Info: fs.fed.us/r5/sanbernardino
Virginia
Virginia Ridge and Valley

Land protected 39,105 acres in Jefferson
National Forest

Natural wonder 300-year-old hemlocks

Champion Virginia Wilderness Coalition (vawilderness.org)

See it now Take the steep and seldom-used Stone Mountain Trail from the Cave Spring Campground 5.7 miles through huge boulders and tulip trees.
Info:fs.fed.us/r8/gwj
West Virginia
Wild Monongahela

Land protected 37,771 acres in six areas within Monongahela National Forest

Natural wonder Snowshoe hare

Champion WV Wilderness Coalition (wvwild.com)

See it now Take the Blackbird Knob Trail two miles to link with unnamed trails in the Dolly Sods expansion. Turn right at every junction for a 12-mile loop.
Info:fs.fed.us/r9/mnf
Idaho
Owyhee Public Lands Management

Land protected 517,025 acres in six new wilderness areas

Natural wonder An intersection where five canyons meet

Champion Owyhee Initiative (owyheeinitiative.org)

See it now This long-lost cousin of the Grand Canyon is best seen from a raft ($825, riverdrifters.net). Late spring brings ideal flows in the 1,000-foot-deep canyon.
Info:blm.gov/id