America's Best Campsites
Whether you are after fishing holes or skinny-dipping, Backpacker tracked down the best campsites in the country
Heading out the door? Read this article on the new Outside+ app available now on iOS devices for members! Download the app.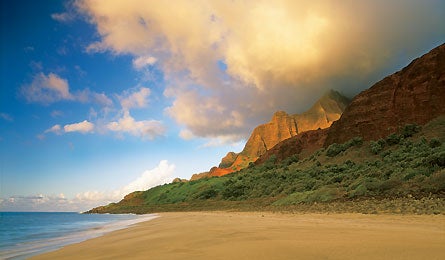 Best Beach, John Cornforth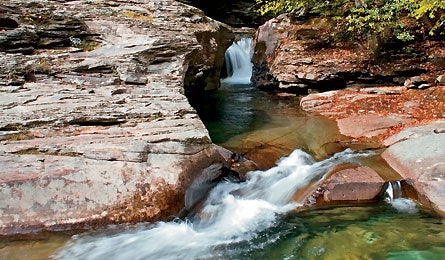 Best Swimming Hole, Michael Gadomski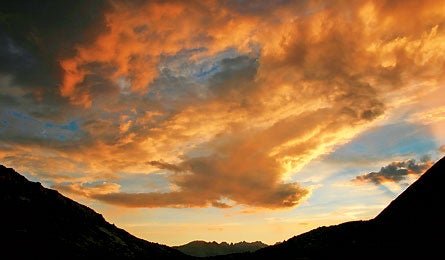 Best Sunset, Paige Falk
So you say it's all about the journey, not the destination? Come on, admit it: Hiking is great, but it's even better when it takes you somewhere unforgettable. These classic backcountry sites are decked out with idyllic features like photogenic waterfalls, abundant wildlife, and killer sunsets. Bunk at one of them, and you'll never wonder if something better awaits just down the trail.
Best Beach

Kalalau Beach, Na Poli Coast, HI

To sink your feet in the luxuriant sands of Kalalau Beach you first have to hike the rugged, 11-mile Kalalau Trail, the only land route leading to Kauai's most paradisiacal beach. Impossibly high, sheer cliffs surround this mile-long, pristine strand; behind them, rock fins covered with green jungle protect it from everyone but hikers and kayakers. Snack on wild mangoes, shower in waterfalls, and sleep to the sound of lapping waves. It's not always solitary–the beach sometimes draws a pack of regulars–but there's no denying it's a knockout. Mandatory permits cost $10/night per person. (808) 274-3444; hawaii.gov/dlnr/dsp/index
Runner-up

Horn Island, Gulf Islands National Seashore, MS

Paddle 12 miles to the sugary quartz beaches on one of the Gulf's last undisturbed barrier islands. The breezy (and bug-free) east and west tips of this sword-shaped, 14-mile-long haven offer fishing for mullet and flounder. Spend days hiking the interior dunes and lagoons, where alligators lurk. (228) 875-0823; nps.gov/guis
Best Ridgeline

Continental Divide Trail, Vasquez Peak Wilderness, CO

This entire wilderness – nearly 13,000 acres – sits above 10,000 feet, almost two-thirds of it above timberline. Tote your tent west from Berthoud Pass, following the CDT as it rambles across the bald, tundra-covered ridgeline, and camp just before the trail dips down to Vasquez Pass at 3 miles. Three wilderness areas–Byers Peak, Indian Peaks, and Eagles Nest–surround your ridgetop aerie, forming a sea of snowy peaks that gleam like sharks' teeth. The enthralling views continue after dark, when the moonlight turns the treeless landscape into an Ansel Adams print. (970) 887-3331; fs.fed.us/r2/arnf
Runner-up

Brown Dog Campsite, Pine Mountain Ridge, GA

Heading south? This your last chance to sleep high before the Appalachians melt into the Florida lowlands. On the 23-mile Pine Mountain Trail, which follows this range's most southerly ridgeline, the Brown Dog backcountry site sits 1,000 feet high on a bluff overlooking a small, spring-fed waterfall. (706) 663-4858; pinemountaintrail.org
Best Urban Escape

Sunol Regional Wilderness, CA

Think the Bay Area's sprawl takes hours to escape? Just 30 minutes out of Oakland or San Jose, you can plunge into a sprawling tract of untamed California. Rolling, grass-covered hills, rocky summits, and stream-carved chasms cover 23,010 acres in Sunol and its adjacent preserves (Ohlone, Mission Peak, and Del Valle). Eagles, bobcats, mountain lions, and tule elk roam here; to join them, hike 3.5 miles on the McCorkle Trail to Sky Camp. Of Sunol's seven backcountry sites, this one alone offers top-of-the-world views from a grassy vantage over Alameda Creek Canyon, making it far and away the best parking space in the East Bay. Trail permit $2, plus $5/night per person for camping. (510) 636-1684; ebparks.org
Runner-up

Little Bald Knob, Wild Oak Trail, VA

Pitch your tent on 4,351-foot Little Bald Knob–the highest point on the 26-mile Wild Oak Trail–for uncongested vistas of the Shenandoah Valley. The undulating green waves massage away the relentless Beltway buzz of Washington, DC, just two hours east. (540) 432-0187; fs.fed.us/r8/gwj/dryriver
Best Summit

San Gorgonio Mountain, CA

When SoCal hikers want to get high, many head for Gorgonio, which ranks among the ten most prominent peaks in the contiguous United States. This giant, multi-ecozone peak soars from relative lowlands to 11,501 feet. Bagging its bald summit requires a 4,000-foot elevation gain by any route, so look to stretch out your time up top. It's all open sky from this cloud-piercing lookout, which hovers nearly 10,000 feet above the deserts of Joshua Tree National Park to the west. If you've ever longed to be Zeus for a day, looming high above mere mortals, this is your throne. Free wilderness permit required, plus a $5 Adventure Pass. (909) 382-2881; sgwa.org
Runner-up

Grassy Ridge Bald, Roan Highlands, TN

At 6,189 feet, this meadow-topped bald is one of the Appalachians' highest, and it boasts 360-degree views of rhododendron-covered Roan and the mighty Black Mountains. From the Appalachian Trail (which traverses Grassy's north slope), hike the spur trail south to the summit for big-sky camping that rivals anything out West. (423) 772-0190; fs.fed.us/r8/cherokee
Best Canyon

Forty Mile Canyon, Glen Canyon NRA, UT

The portal to this remote sandstone labyrinth is 42 miles down Hole-in-the-Rock Road at Sooner Wash, where you'll scramble over and under several SUV-sized chockstones on a Class 3 descent (no ropes required). Then it's a leisurely amble for about 3.5 miles through the broad, burnt-orange canyon and under lush groves of giant cotton-woods along Forty Mile Creek. The canyon abruptly narrows at a 12-foot waterfall splashing into an icy swimming hole. Set up camp here on the sandy flats above the falls, where water and shade are abundant. Around the next bend is a superb 200-foot-tall slot that narrows to 4 feet and is adorned with hanging gardens of maidenhair ferns. Wade and swim (or body-stem if you want to stay dry) across a series of emerald pools for about 1.5 miles to the Willow Gulch junction. Double back to the car or continue up Willow to complete a 10-mile loop. No permits required. (928) 608-6200; nps.gov/glca
Runner-up

Paria Canyon, UT

Splash along between Paria's caramel walls for 7 miles to its confluence with Buckskin Gulch, and your nighttime layover becomes a gateway to two distinct species of slot canyons. To your south, Paria offers easy walking, warm water, and sheer, stately corridors. To your west, Buckskin boasts tight squeezes, anarchic twists, and spooky lighting. Permits are $5/day per person; blm.gov/az/paria
Best Skinny-dipping

Porcupine Mountains Wilderness State Park, MI

It's not for the modest–Lake Superior's window-clear waters obscure nothing–but the sheer pleasure of swimming at sundown in the world's largest freshwater lake makes shrinkage issues seem, um, trivial. From the trailhead on MI 107, hike 7 miles west on the Lake Superior Trail to a solitary backcountry campsite sheltered from shoreline winds by pines and hardwoods. At dusk, when the big lake reflects pink topaz skies, ditch the skivvies for a brisk, pulse-quickening plunge. (906) 885-5275; mi.gov/porkies
Runner-up

Conundrum Hot Springs, CO

Conundrum's 100°F waters, which bubble up beneath 14,000-foot summits, almost instantly ease away the rigors of the 9-mile hike in. Go midweek to avoid crowds, and camp a quarter-mile beyond the pools. (970) 925-3445; fs.fed.us/r2/whiteriver
Best Stargazing

Mt. Wrightson Wilderness, AZ

The Southwest's high, dry climate makes for great "astronomical seeing"–science jargon for calm, low-moisture air that makes stars and planets more distinct. That's why Smithsonian pros study the cosmos from the Whipple Observatory on Mt. Hopkins. You can savor those same star-filled skies from neighboring Mt. Wrightson, known locally as Old Baldy for its prominent tree-free summit. Camp at 9,543 feet atop the Santa Rita Mountains' loftiest peak to admire the Milky Way and galaxies you may have heard about, but almost certainly never seen. From the Madera Canyon trailhead, take the 4.5-mile Old Baldy Trail to the summit. (520) 281-2296; fs.fed.us/r3/coronado
Runner-up

Stiles Creek Cabin, Chena River SRA, AK

This backcountry hut near Fairbanks sits within the "aurora oval," where the Northern Lights are brightest and most frequent. From mile 36.4 on Chena Hot Springs Road, follow the red trail markers 8 miles northwest to the hilltop cabin for wide-open views of the aurora borealis: iridescent curtains of light streaking across the night sky. Go in late fall or winter. (907) 451-2695, dnr.state.ak.us/parks/cabins/north.htm
Best Wildlife Show

Lamar Valley, Yellowstone National Park, WY

No place in the Lower 48 has Yellowstone's variety of marquee wildlife, and the broad Lamar Valley is the park's animal-viewing nexus. You'll tick off life-list sightings starting with the most common: elk, bison, coyote, and antelope. Bald eagles, osprey, and black bears are also abundant, and the Lamar is the best spot in the park to see (and hear) wolves and grizzlies. Rarer but occasionally spied are moose (in marshy areas) and bighorn sheep (on rocky ledges). Hiking out and back on the Lamar River Trail, grab designated backcountry campsites near where Cache (2.6 miles) or Miller (7.6 miles) Creeks enter the Lamar; they're natural wildlife corridors. Keep your binoculars at your fingertips in the early morning and evening. nps.gov/yell
Best of Alaska's Wildest Parks

South Fork of Arrigetch Creek, Gates of the Arctic National Park

The soaring spires of the Arrigetch Peaks, in the Brooks Range, draw a handful of adventurous mountaineers and backpackers every summer. But most visitors gladly camp in the main cirque after traveling to Bettles, flying into Circle Lake, and humping up 14 miles of brushy game trail above the east bank of Arrigetch Creek. You'll reach a much more private paradise by turning south up the cirque's highest southern tributary (5N 0453455E 7480446N, NAD 27) and following game trails along the creek's west and north sides. Continue around four small lakes to granite benches beneath the icefield at the valley's head. There you'll find upper-balcony views, crystal-clear ponds and waterfalls, and dizzying granite peaks. Plan on a week. (907) 692-5494; nps.gov/gaar. Brooks Range Aviation: (800) 692-5443; brooksrange.com
Runner-up

Ruth Glacier, Denali NP

Vying with Mt. McKinley itself as the park's most jaw-dropping attraction, this glacier's Great Gorge has been called "Yosemite with ice." But that phrase doesn't do justice to the dramatic icefalls or mile-high granite walls that lord over this snow-filled valley. Fly in from Talkeetna, load up your sled, and trek across the ice to ear-splitting solitude. Don't forget warm booties; you'll be sleeping on one of the world's thickest glaciers. (907) 683-9649; nps.gov/dena. Talkeetna Air Taxi: (800) 533-2219; talkeetnaair.com
Runner-up Flat Tops Wilderness, CO

North America's largest elk herd, 42,000 strong, roams these 235,406 acres in northern Colorado. Cook your dinner while watching these big ungulates munch theirs by claiming a patch of high tundra just north of the intersection of the Turret Crescent and West Mountain Trails. (970) 638-4516; fs.fed.us/r2/whiteriver
Best Place to Feel Small

Redwood Canyon, Kings Canyon National Park, CA It's a dizzying combination. Redwood Canyon has California's largest concentration of mature sequoias–more than 15,000 scattered over 4,000 acres. And it's also one of the only places where you can pitch a tent beneath these shaggy, 200-plus-foot giants. For a snail's-eye view of the world, follow the Redwood Canyon Trail past dogwoods and towering sequoias for 2 miles to the junction with Redwood Creek and the Hart Tree Trail. Camp at an impact site (a spot that's clearly been used by previous campers) northeast of this intersection, and gaze up at sequoia boughs trembling in breezes far too rarefied for mere mortals to feel. $15 permit required. (559) 565-3766; nps.gov/seki
Runner-up

East Fork Toklat River, Denali National Park, AK Hollywood epics yearn for the scale of Denali's massive valleys, but this much drama is beyond the scope of even a Spielbergian imagination. This fork offers the standard fare–mammoth peaks, gravelly river braids half a mile wide, endless slopes of talus and tundra–all easily reachable via shuttle bus. Trek west over one of several passes to score a lofty campsite with views of the Big One. There are lots of regulations; search "backpacker" at nps.gov.dena
Best Sunset

Guitar Lake, John Muir Trail, CA You can ogle the drooping sun anywhere there's a patch of open sky, but nowhere does dusk paint a more impressive light show than on the flanks of Mt. Whitney, the highest peak in the Lower 48. Camp at Guitar Lake, on the John Muir Trail just below the monster mountain's 14,505-foot summit, to watch the setting sun transform Whitney's chiseled west face into tangerine-tinted crags. The lake mirrors the mountain's alpenglow, while off to the west, the fireball slowly plummets over the edge of the alpine basin. Reserved permits $15; walk-in permits free. (760) 873-2485; fs.fed.us/r5/inyo
Runner-up

Cabeza Prieta National Wildlife Refuge, AZ Dry, unpolluted sky–like the one over this remote, Rhode Island-sized refuge 170 miles west of Tucson–produces the most spectacular sunsets. From the Cabeza Prieta high point trailhead, hike north 3 miles and bed down among Sonoran Desert cacti that create spidery silhouettes against dusky streaks of pink and orange. (520) 387-6483; fws.gov/southwest/refuges/arizona/cabeza
Best Waterfall

Fall Creek Falls, Sipsey Wilderness, AL Northern Alabama's Sipsey is hailed as the "land of a thousand waterfalls"–25,000 wooded acres where showers large and small seem to sprinkle down around every turn. The sweetest, most reliable of them all is Fall Creek Falls: Just before it joins Sipsey Creek, this cascade spills over a rock ledge 20 feet high before crashing over a jumble of boulders. Scramble up and along the ledge behind the pourover to admire the gusher from the inside out, then pitch a tent at one of several air-conditioned sites above and below the falls to snooze to the sound of splashing water. From the Borden Creek Bridge trailhead on Bunyan Hill Road, hike 2 miles on Trail 200, then another mile on Trail 209 to the falls. (205) 489-5111; sipseywilderness.org
Runner-up

Thunder River Falls, Grand Canyon National Park, AZ Talk about grand: This 120-foot cascade shoots from a Muav Limestone cave perched high on a cliff. Camp downcanyon along the quiet Upper Tapeats Creek, but first follow the spur to the falls, collapse on a slickrock slab, and take an icy shower amid a garden of maidenhair ferns and monkeyflowers. Permits required. (928) 638-7888; nps.gov/grca
Best Edibles

Long Island, Willapa National Wildlife Refuge, WA Pack a bottle of Riesling and a recipe for pasta alle vongole and kayak out to Long Island, a hiker's paradise in Willapa Bay, which is famed for its shellfish. Separated from the mainland by a 500-foot sliver of sea, Long Island contains more than 10 miles of trail and 21 hike–in campsites; the four prime clamming sites are at Smokey Hollow, a 2.5-mile trek from the landing. Dig for Manila clams in the mudflats covering the island's southwest coast, then get the garlic saut&ecacute;ing for a tentside dish that's fresher–and more succulent–than anything you'll find atop the local red-checkered tablecloths. Permits required (free) in September only. (360) 484-3482; fws.gov/willapa
Runner-up

Moxie Bald Lean-to, Appalachian Trail, ME Wild blueberries proliferate on Maine's bald summits, but camping is generally prohibited in those above-treeline zones. But this lean-to on the shoulder of Moxie Bald puts you close to the summit's bumper crop, radically reducing your picking-to-pancakes time. The result: quite possibly the world's freshest sapphire-studded flapjacks. matc.org
Best Sweat Equity

Sunlight Lake, Weminuche Wilderness, CO You might grumble a bit as you ford icy Vallecito Creek and crawl over log piles left by the avalanches that shaved entire forests off mountainsides. But flopping at 12,033 feet beside Sunlight Lake, high in the San Juans, has a way of erasing such trials from memory. Surrounded by the Needle Mountains' most impressive peaks–Jagged Mountain, Gray Needle, Knife Point, and two Fourteeners, Sunlight and Windom–this alpine lake forms the sparkling epicenter of the Weminuche's wildest corner. Best of all, the spectacle almost always belongs to just you and the mountain goats, because there's nothing like an ultra-tough approach hike to discourage crowds. Hike north from Vallecito Creek trailhead and follow Johnson and Sunlight Creeks to Sunlight Lake, 13 total miles. (970) 884-2512; fs.fed.us/r2/sanjuan
Runner-up

Carter Notch Hut, Wildcat Mountains, NH The Wildcat Ridge Trail starts off with a tricky Ellis River crossing, then only gets tougher: The path seesaws over steep, rocky ridgelines for 5 miles, gaining 3,150 feet before hurling you down to the hut. But from the notch, you get blown-open vistas of the big, burly mountains you just hammered across. amc-nh.org
Best Climbers' Playground

Continental Divide–Taylor Glacier, Rocky Mtn. NP, CO Lying in your bag on the spine of the Continental Divide, you're stretched across the geographical fulcrum of North America. A raindrop falling on this rocky edge will split in two–half to slide east, becoming part of Glacier Creek, then the Big Thompson, South Platte, Platte, Missouri, the massive Mississippi, and eventually the Gulf of Mexico. The other half will glide west to become one with Hallett Creek, North Inlet, the mighty Colorado and, finally, the Gulf of California. Even the falling stars seem to follow this divine partition. Get a bivy permit from the RMNP backcountry office ($20 for 1–7 days), hike up Loch Vale to Sky Pond, crampon and ice axe your way up the Taylor Glacier, and step quietly onto the roofline of the continental USA. nps.gov/romo
Runner-up

Cirque of the Towers, Wind River Range, WY Revered by climbers for its array of superb routes up spectacular granite towers and faces, the Cirque is equally dazzling from the ground floor. From Big Sandy trailhead, hike 10 miles over Jackass Pass to Lonesome Lake and gaze up at gray monoliths as jagged as the lake is polished. (307) 367-4326; fs.fed.us/btnf
Best Access to Draft Beer

North Country Trail, MI How's this for camp comfort: The Tahquamenon Falls Brewery and Pub (906-492-3300) sits right on the North Country Trail, near the Upper Falls at Tahquamenon Falls State Park. First, admire the East's second-largest waterfall (after Niagara), a 200-foot-wide gusher that plunges nearly 50 feet. Next, belly up to a Lumberjack Lager or Black Bear Stout, then escape into the woods by hiking west on the NCT. Backcountry camping is prohibited on state park land, but you're home free once you reach Lake Superior State Forest–the only trick is recognizing the unmarked boundary. According to the staff people who issue the free permits required on this hops-fueled itinerary, a 3- to 5-mile walk should suffice. (906) 492-3415; northcountrytrail.org
Runner-up

Rolston Rest Shelter, Long Trail, near Killington, VT

This woodland nest above Sherburne Pass sits a scant 2 miles from the tap handles of McGrath's Irish Pub, located at the Inn at Long Trail on US 4 (802-775-7181). Tip back a Long Trail Ale at the first bar to serve these local suds, then return to Rolston Rest via the Sherburne Pass Trail, an LT spur that passes through the pub's parking lot. greenmountainclub.org
Best Southern Hollow

Gunstock Hollow, Ozark Trail, MO

Follow the Middle Fork of the OT as it drops a few hundred feet into Gunstock, and you'll be swallowed by wooded hillsides that seal you off from civilization. Mature oaks, hickories, and pines muffle all sound save the gurgling of a small, unnamed creek, which seems like the only thing stirring in this secluded hideaway. Camp near the stream's foot-high rock ledges, among ferns that crowd around the many tiny springs seeping up throughout the hollow. (573) 438-5427; ozarktrail.com
Runner-up

Pigeon Roost Hollow, Blood Mountain Wilderness, GA

Bed down under high hemlocks in the Appalachians' most forgotten fold. From Woody Gap, hike the AT north 3 miles to Miller Gap, then south 2 miles on Dockery Lake Trail; camp just beyond the creek, on a grassy patch fenced in by hillsides. (706) 745-6928; fs.fed.us/conf
Best North Woods

Unnamed island, Lac La Croix, Boundary Waters, MN

Some folks would drop a paycheck for such luxe amenities. There's a private, arcing, white-sand beach where you can land three canoes and still have space to shuffle gear, swim, or cast a line. Your tent hides among old-growth red and white pines, near a bluff where the fire ring is positioned 15 feet above the water and 30 feet from trees, making it bug-free in a light breeze. There are pine tables for cooking and westward views that afford extended daylight, not to mention center-row vistas of the sun dipping into La Croix. With luck, add a wolf's howl and a glimpse of the Northern Lights. All it takes is a two-day paddle north from Moose River (entry point 16). 15T 0573976E 5345539N, NAD 27; $10/day, plus deposit. 877-550-6777; bwcaw.org
Runner-up

Davis Pond, Baxter State Park, ME

This waterside lean-to is a 2-day trek from either Russell or Chimney Ponds, but once there you'll savor the unparalleled solitude of Maine's wildest woods. Katahdin fills the patch of sky exposed above the site's placid pond. (207) 723-5140; bwcbaxterstateparkauthority.com
Prettiest Valley

Overmountain Shelter, Appalachian Trail, TN

The AT offers innumerable valley vistas along its 2,175-mile ridgeline route. But the one guaranteed to make thru-hikers wax poetic is the view from Overmountain, just east of the trail at Yellow Mountain Gap. Claim your spot in the posy-filled meadow surrounding the shelter, a big red barn perched at 4,682 feet overlooking the Roaring Creek Valley. What makes this dale so lovely is the way its forested mountainsides slope down in perfect symmetry to a verdant valley floor unmarred by development–for now. Proposals are afoot to cover the hillsides with vacation homes, so hike here soon to relish this beauty while it's still relatively wild. (304) 535-6331; hikejmt.com
Best Lullaby

Lake Umbagog National Wildlife Refuge, NH/ME

One loon's cry is arresting enough. Camp along Umbagog, which stretches from New Hampshire into Maine, and the chorus of haunting calls at twilight will stop you mid-s'more. Home to one of New England's largest loon populations, this 10-mile-long lake and refuge contains an abundance of the kinds of pine-fringed coves favored by the solitude-loving birds. Pitch your tent at site R14, on an island in Sunday Cove, and canoe out onto silken waters come evening for a soul-stirring serenade. Water access only; $5/site. (603) 271-3628; fws.gov/refuges
Runner-up

Cotham Pond, Ozark Trail, MO

Ditch the iPod; the OT's Between the Rivers section plays its own score. Western chorus frogs sing the night away in spring with a cree-ee-ee-eek; in summer, bullfrogs issue deep burps and ribbets. The jam session ends before dawn, but intermission is brief: Songbirds greet the sun with more refined melodies. (573) 325-4233; ozarktrail.com
Best Fishing Hole

Beatty's Cabin, Pecos River, NM

You can combat-cast elbow-to-elbow with other anglers in the lower, auto-accessible stretches of this river. Or you can hike north into the Pecos Wilderness, where this world-class trout habitat carries Wild and Scenic designation–meaning it's reachable only by trail. From Jack's Creek Campground, trek 8 miles to Beatty Flats and camp at the quiet north end of the mesa-rimmed meadow. Come morning, float a hare's ear or your favorite dry fly past the wily browns. Here at 9,600 feet, 10-inch trout are considered big, but they're scrappy fighters. Pack a day's worth of extra food, because once you're there, you won't want to decamp–guaranteed. (505) 757-6121; fs.fed.us/r3/sfe
Runner-up

Puffer Pond, Siamese Ponds Wilderness, NY

Feisty brook trout await at this quiet Adirondack backwoods lake. Hike 6 miles west from Old Farm Clearing trailhead and camp at the Puffer Pond lean-to, then cast at jewel-hued trout till dark. adk.org
Top 5 Designated National Park Campsites

West Rim Trail, Zion, UT

Sites 4 through 8 all overlook the wrinkled, elephant-hide chasms of Great West Canyon, but try for #8: It boasts imperial views of Utah's buffest gulfs, plus water at Potato Hollow Spring. (435) 772-0170; nps.gov/zion
Death Canyon Shelf, Grand Teton, WY

Think of it as a big limestone climbers' hammock. A grass-topped ledge hugs towering cliffs with luxury-box views of the Tetons from a less-traveled western approach. (307) 739-3309; nps.gov/grte
McKittrick Ridge, Guadalupe Mountains, TX

From atop the sheer wall lining McKittrick Canyon, you can peer down at an array of hardwoods unusual for Texas. In autumn, they pulsate reds and golds. (915) 828-3251; nps.gov/gumo
Duck Harbor, Isle Au Haut, Acadia, ME

Isle au Haut's pristine topography, which features miles of trail winding through pine forest misted by the sea, is the closest thing to coastal backcountry in New England. (207) 288-3338; nps.gov/acad
Lake Ellen Wilson, Glacier, MT

Nestled between Sperry and Harrison Glaciers below Gunsight Pass, this site sits squarely in mountain-goat terrain, with views of gorgeous, glaciated (for now) valleys. (406) 888-7800; nps.gov/glac