The 10 Most Dangerous Hikes in America: Barr Trail, CO
A hair-raising hike
Heading out the door? Read this article on the new Outside+ app available now on iOS devices for members! Download the app.
The Hike 
As the state with America's highest average elevation (6,800 feet), Colorado and its mountains see a shocking amount of electrical activity, and 22 of the 50 lightning incidents reported in Colorado since 2000 have involved hikers and campers. The sparkiest spot surrounds 14,115-foot Pikes Peak. According to Stephen Hodanish, Senior Meteorologist with NOAA's Lightning Safety Team, Pikes Peak collects the relatively moist air currents of southern Colorado, swirls them around with turbulent winds off the plains, and creates a potent combination of moisture, lift, and instability that invites bolts. A road reaches the summit, but hikers enjoy no such easy route up: The Barr Trail, the most popular footpath, gains 7,400 vertical feet over 13 miles (one way), much of that through exposed meadows and boulderfields above treeline. Motorists can dodge lightning by ducking into their cars, but hikers often find themselves trapped with no fast escape from instant incineration.
Exhibit A 
Storm clouds were gathering over Pikes Peak by 1 p.m. on July 25, 2000, but no lightning had yet flashed from the clouds, so 18-year-old Frazee Waltman figured he still had time to scurry down off the summit before the daily afternoon electrical show. He didn't. Waltman had only descended as far as the Golden Staircase, a rocky stretch of the Barr Trail 100 feet below the summit, when the storm's first bolt fried him–but left his two buddies uninjured. Not even a thunderclap alerted the trio of the impending tragedy.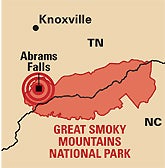 Survival Plan 
Don't wait to see lightning before retreating: The storm's first flash can prove fatal, so descend as soon as you see clouds thickening and darkening. "Be off the mountain by noon," warns Hodanish. "During the summer In Colorado, the first cloud-to-ground strikes typically occur around 11 a.m. over the high country." If escape is impossible, spread out so your whole group doesn't get fried.