So You Didn't Get That Coveted Permit. Here's Where To Hike Instead.
Only a lucky few can win the permit lottery, but anyone can hike these alternate trails that give you a similar experience. 
Photo: Alisha Bube via Getty Images
Heading out the door? Read this article on the new Outside+ app available now on iOS devices for members! Download the app.
In our new travel column, assistant editor Emma Veidt answers your hiking questions with the help of a rotating cast of experts.
In my years of entering the lottery, I've never won a permit to the Half Dome cables, and the same goes for some other iconic hikes around the country. Are there other trails I should hike instead? —Unlucky Hiker
Dear Unlucky,
If you didn't get the permit you wanted this year, at least you're in good company. Some of the country's most popular trails are harder to get into than Ivy League schools, and no matter how early you wake up or how hard you pray to the Recreation.gov gods, some of it just comes down to chance.
This year, out of the 35,289 applicants to hike up Half Dome's cables route, only 7,882 won a permit. That means just under 80 percent of the applicants won't have access to America's most popular slab of granite in 2023.
Luckily for those 25,000 hikers, Half Dome isn't the only amazing hike in the area. There are plenty of alternate trails that would give you as rewarding of an experience (and view of the valley floor) as Half Dome would. The same goes for permitted hikes all across the country. Although there are ways to get last-minute permits on these trails if you weren't granted access on the first attempt, another option is to find an equally amazing, permit-free trail.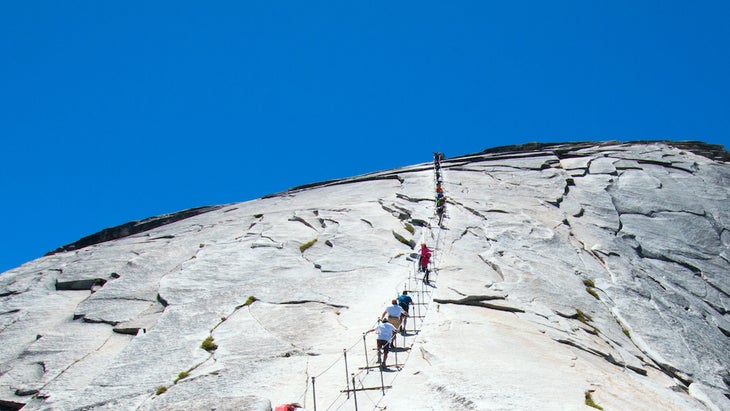 Half Dome Cables
Half Dome's iconic outline is almost synonymous with Yosemite, but with its popularity comes lots of exclusivity. However, there are plenty of other hikes that give you sweeping views of the valley, an eye-level shot of the rock itself, and plenty of elevation gain.
Do Instead:
Upper Yosemite Falls
Want to climb Type 2-level switchbacks on your way to the tallest waterfall in the continental U.S. and get staggering panoramic views of Yosemite Valley? Start at Camp 4 and climb your way up and along three sections of the fall: Lower, Middle Cascade, and Upper. Most hikers turn around once they've reached the lower falls, but it's worth it to continue to the top. Along the way, you'll not only get amazing views of the valley floor, especially from Columbia Rock, but you'll get an eye-level view of Half Dome and Sentinel Dome.
Clouds Rest
Looking for a thrill? This iconic hike in the national park is known for its narrow ridgeline scramble up to the summit. It's well worth it for the amount of excellent views of the valley below.
Planning to hike Clouds Rest in 2023? Step cautiously: Melting snow from earlier in the year created a deep, but passable, water crossing near the beginning. Keep your eye on conditions along Tioga Road, another access point to the trail. As of the end of July, there were patches of snow along the trail. Trail conditions from the Yosemite Valley access point are clear, though.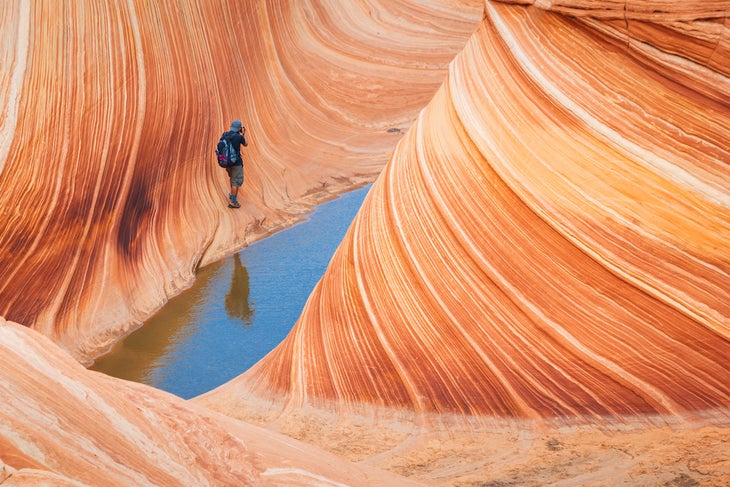 The Wave
Located between Arizona and Utah, the Instagram-famous Wave is a sandstone formation that draws hundreds of thousands of lottery permit applicants every year. How many make it through, though? About 4 to 8 percent.
Do Instead:
Wire Pass To Buckskin Gulch
In the area with no permit? Wire Pass is so close to the Wave that you use the same parking lot for both hikes. You'll access some of the same geological wonders and linear rock formations as the Wave, plus part of the hike that goes through a slot canyon. These labyrinths demand respect and caution: Follow these guidelines to wander through safely.
Stud Horse Point
At first, this geological destination might not seem like it sizes up to the Wave, but you'll leave this underappreciated area quite impressed. A trail down from an overlook gets you up close and personal with the red and white sandstone in the valley. From there, you can see a series of colorful hoodoos on the cliff area above.
Mt. Whitney
Dayhikers have about a 1 in 3 chance of scoring a permit to reach the highest point in the continental U.S. Looking for a backpacking permit? Your odds are even worse.
Do Instead:
Lone Pine Lake
This 5.3-mile out-and-back visits a pristine alpine lake, and if you look up, you'll see the highest peak in the continental U.S. Since Lone Pine Lake is technically outside of the heavily permitted Whitney Zone, you don't need to make any special arrangements to dayhike in this area.
Mt. Russell
If you're looking for a challenging Sierra hike without the hassle of a permit, this is the one. It's just 0.8 miles north of Whitney and at 14,094 feet, the seventh-highest peak in the state. Word to the wise: Pack gloves because the scree can irritate your hands during scramble sections.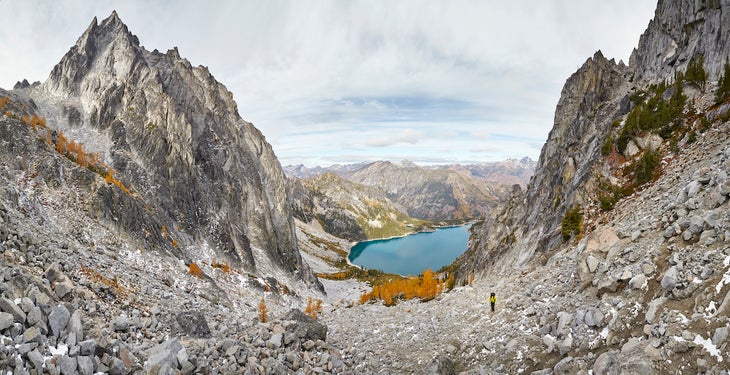 Enchantments
Last year, 36,827 applicants tried to get a permit to enter Washington's famous Enchantments area, and only 2,528 succeeded. This region offers over steep peaks, alpine meadows, and over 700 glacial lakes in the aptly named Alpine Lakes Wilderness section of the Cascade Mountain Range. The most popular permit to apply for is the Core Enchantments Zone, because it allows you to camp in any of the five camping zones. Struck out? You can experience the magic in a few other nearby areas.
Do Instead:
Lake Ingalls
You're getting away with everything on this hike: You get to see the Enchantments without hunting for a permit. Better yet, you get to hike a gorgeous alpine lake among mountain goats, and deer as you get a full-on view of the south face of Mt. Stuart, which at 9,400 feet, is the tallest peak in the Enchantments.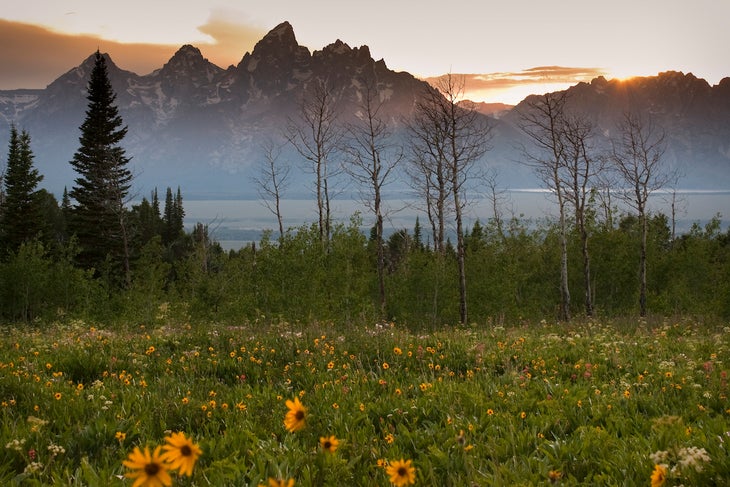 Teton Crest Trail
Permits to hike the TCT in Wyoming's Grand Teton National Park often sell out just minutes after they're available on Recreation.gov. You can still complete this 40-mile thru-hike without one, provided you're willing to get a bit creative.
Do Instead:
Walk-In Permits Or Plan Ahead
Before you start hiking, though, you might as well check the visitors center for any walk-in backcountry permits available. Grand Teton National Park sets aside two-thirds of backcountry campsites for walk-in permits. Just arrive at the backcountry desk hours before it opens; the line starts to form very early in the morning. You might not get your number-one choice for a camping zone by doing this, but you're at least able to sleep in the park.
If you don't have the flexibility or capability to camp wherever there's a spot available, you just have to camp every night outside of the national park. Luckily, the trail winds in and out of the park, so you'd be able to sleep in the surrounding national forests and wilderness areas with just a little bit of planning.