A Perfect First Hike in the Alps
The only thing better than experiencing some of Italy and Switzerland's finest scenery—and huts—on the Tour de Monte Rosa? Taking first-timers with you on one of the best beginner hikes in the Alps.
Heading out the door? Read this article on the new Outside+ app available now on iOS devices for members! Download the app.
Perched on jumbled rocks at the edge of the Theodul Glacier, our small group grew quiet. There was a long slope of treacherous ice ahead of us leading all the way up to the ridge, and most of the people with me had never set foot on glacial ice.
I'd known that when I planned this route—pushing a few comfort zones was the point—but the silence made me question my judgment. Was this trip too much?
I've climbed everything from The Diamond on Colorado's Longs Peak to the north face of the Cima Grande in Italy, bailed water from a portaledge during a two-day snowstorm on El Capitan, trekked the Manaslu Circuit in Nepal, and skied the Haute Route from Chamonix to Zermatt. But at this point in my career, few things are as satisfying as introducing others to the perfect outdoor experience.
The people nervously fumbling with the straps on their traction devices were my nieces Emily and Kathy and Kathy's husband, Briant. All of them were in their 20s and each had thus far missed out on the quintessential Alps experience: snow-crusted summits, glaciers that flow nearly into town, and huts filled with mountain-loving folks from all over the world. And, well, I couldn't let that stand.
That's how they fell under the charge of my wife Chris and me. We chose the Tour de Monte Rosa, a hundred-mile route around the second-highest massif in Western Europe, as their alpine intro. The route would give them mountain immersion and cultural highlights, but without the touristy feel or crowds on the popular Tour du Mont Blanc. The hiking would be difficult—hopefully just the right amount to make every vista and pass feel well earned but not grueling.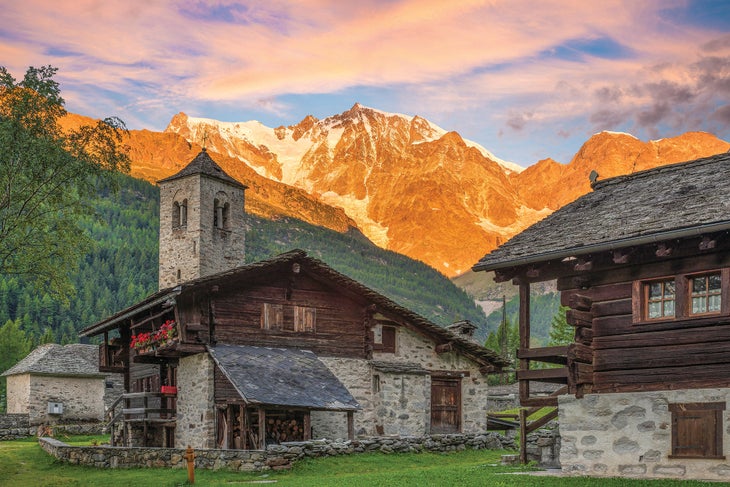 The Monte Rosa massif contains the Alps' greatest concentration of peaks taller than 4,000 meters. Six of its pinnacles soar higher than the nearby Matterhorn; the highest, the Dufourspitze, reaches 15,203 feet. The southern faces of these mountains form a 25-mile stretch of some of northern Italy's finest skiing. Northward, the crest extends nearly 20 miles into Switzerland.
Much of the hiking route follows ancient paths of farmers, soldiers, and smugglers. The full tour was completed as early as 1842, by a Scottish scientist named James D. Forbes, who wrote that the high passes were "generally steep and fatiguing, and render this expedition a far more serious one than the circuit of Mont Blanc," which he also had done. It's a route with teeth and an endless procession of mountain passes, but it also has soft spots. Our plan had us staying in alpine huts for five nights and in valley towns the other four.
Chris and I did everything we could to prepare our young relatives. She reserved all the lodging along our planned route, and I, the most experienced alpinist in the group, wrote a five-page memo and gear list, outlining what to expect during "what will likely be one of the best weeks of your lives."
Now I had to make the trip live up to the hype.
Chris and I had done a long trek in Nepal with Kathy two years ago, so we knew she was good trail companion. Briant, a stocky guy with a perpetual smile, had worked at REI for more than a decade and was an experienced hiker, but hadn't been to Europe. Emily spent a year teaching English in Prague, so she was comfortable with foreign travel, but had scarcely laid a foot on a mountain. And now, here we were.
Maybe it was nerves or maybe the chill in the September air, but they took their time putting their spikes on as they eyed the gray ice ahead. As our cleats bit into the glacier, storm clouds boiled over the pass ahead of us. I pointed to the Teodulo hut, high on a black ridge ahead. "That's where we're headed for the night—let's get moving!"
We started that morning in Zermatt, where the Matterhorn's wizard-hat summit looms over slate-roofed chalets and memorials to mountaineers and guides. We strode with the purpose of our undertaking—all the way to the gondola.
The guidebook had preached that "a multiday trek really should start on foot, not in a lift," but the guidebook wasn't leading rookies, and the 5,500-vertical-foot climb from Zermatt to the Rifugio Teodulo seemed to me like a good way to guarantee first-day heel blisters. Guidebooks have their audience; I have mine.
So, less than 15 minutes after walking out of town, we were zipping up the mountain on a cable. High above treeline, with the Matterhorn shining under a fresh coat of snow, we began hiking a steep uphill past goats browsing on grass. Across the valley, the summits of Monte Rosa spanned the skyline. "Wait, we're going to walk all the way around that?" Briant asked. "That's the plan," I said, trying to project confidence. A narrowing ridge of rough moraine led us between two glaciers until suddenly the rocks petered out against a sea of ice and out came the spikes.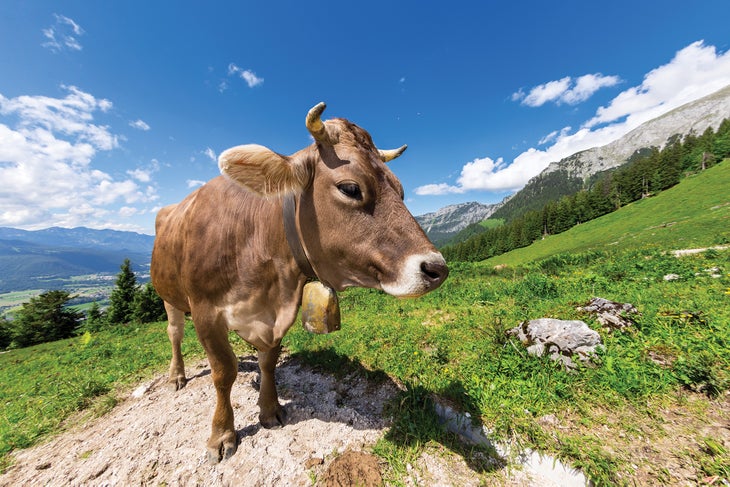 In truth, I wasn't too worried. I had bet—correctly, it turned out—that by early September all the surface snow on the Theodul Glacier would be melted, making the crevasses obvious and easy to navigate around. Plus, I wanted to avoid the expense of a guide. Still, it was a little disconcerting when a guided team walked by in lockstep, roped together, wearing crampons, and wielding ice axes. Our spikes and trekking poles (I had a barebones crevasse-rescue kit, too) suddenly looked pretty puny, but if anyone was feeling unsure, they kept it quiet.
Instead, Kathy, Briant, and Emily inched up the short slope onto the glacier. I walked in front, probing the surface with my poles. Blue light, brighter than a swimming pool, shone from the few slim crevasses we encountered along the way.
Ahead, meltwater had carved a shallow channel a couple of feet wide. The only way across was to leap. So here it was, the symbolic threshold of the backcountry. One by one, they sailed over, and when they landed on the far side, we were a new, more confident group.
An hour after stepping onto the glacier, we reached 10,800-foot Theodulpass, where a short hike over snow led to Rifugio Teodulo. As we entered the metal-clad building, the hut keeper ushered us inside, apologized that the showers weren't working, and showed us to the bunkroom. It was cold enough inside that almost everyone wore ski hats.
The Teodulo is an old-school hut, run by the Alpine Club of Italy, with creaky beds and basic dinners. As leader of this little outfit, I felt it my duty to take the worst of the bunks—an upper-decker so tight that my nose nearly brushed the ceiling. A group of lively Spaniards filled the small dining room, singing and joking with such vigor it was hard to hear each other at our end of the shared table.
The next morning, we greeted the Italian side of the pass with bleary eyes (the Spaniards roared deep into the night) and a lunch of bread, salami, cheese, and apples that the hut keeper had packed for us. Within a couple of hours, after traversing a moonscape of black rock, we crested a 9,783-foot Cima Bianche pass and walked into Italy's alpine wonderland. Waterfalls plunged into a pair of lakes fed by glaciers draping the whaleback ridge of the Breithorn. There was a frenzy of selfies and group shots, until I had to gently remind everyone we still had a long way to go to that night's hut.
We continued down for hours, passing stone cottages and small herds of cows with bells strapped around their necks. They grazed in seasonal high pastures—the "alps" for which these mountains are named. The air was crisp, but the meadows still held blue gentians, purple loosestrife, and pink autumn crocus.
At Rifugio Ferraro, in the hillside hamlet of Resy, the proprietress Fausta Bo greeted us at the door as we pulled off our boots and asked in musical English, "Which do you want first: a shower or a beer?"
If the previous night was the raucous version of an Alps hut, this one was all class. Dinner was a multi-course feast of pasta with broccoli, vegetable soup, turkey with artichoke hearts and cauliflower, a cheese plate, salad, and budino al cioccolato for dessert. "This might be the best meal I've eaten in Europe," Emily exclaimed.
After clearing the plates, Fausta handed us each a small glass and poured shots of génépy, a traditional bitter Alps liqueur brewed from wormwood flowers, to send us off to sweet dreams.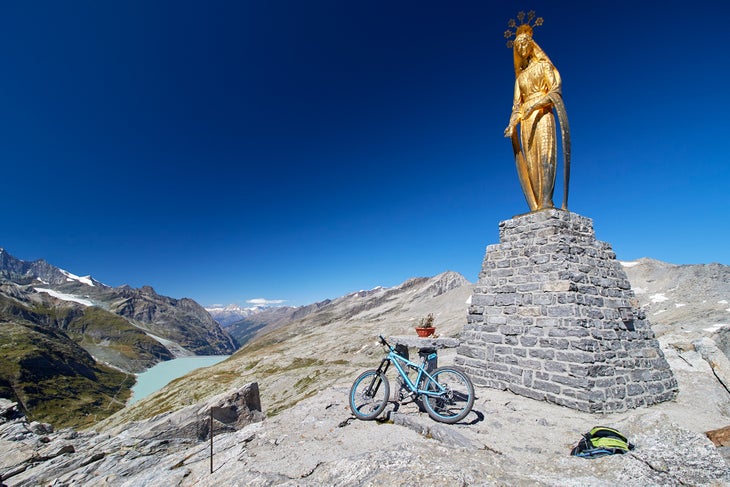 By the third day, we settled into a routine: Pack up at sunrise, eat a quick breakfast, and start up the trail into the land of ice-etched rocks. With six to eight hours on the trail, our days found a rhythm. Middays, we would cross another high pass dividing the valleys that radiate southward. Aside from the ski resorts, much of the Monte Rosa massif felt little changed from what 19th-century travelers must have seen here. Ibex and chamois grazed along the trails. Most days we saw only a handful of other hikers.
But moving through pristine mountain terrain is only half the Alps experience. In each village we passed, I insisted everyone try the stinkiest cheeses and sausages we could find.
Even so, there's one thing even the most careful trip planning and gear prep can't do: protect untrained feet. Descending through steep meadows to Alpenzu, Emily picked up a noticeable limp, and when we reached the hut, amid a warren of ancient wood and fieldstone buildings, she peeled off her boot and everyone gasped at the giant blister on her heel.
Chris patched up Emily's wound with a lidocaine-soaked bandage and, when it turned out her hips also were getting sore, padded them with spare socks under the hipbelt. Even so outfitted, Emily sang and danced as she moved over pass after pass after pass. A trip this good has a way of smoothing out the aches and pains.
Our last full day in Italy was the hardest: crossing the nearly 9,000-foot Colle del Turlo. At the Rifugio Pastore, the evening before, I told the crew the hike should take at least nine or 10 hours, but the forecast was not great. We would need to start right at daybreak. To my delight and pride, everyone was ready at sunrise.
High above the highest cow pasture, we encountered an elaborately constructed, 5-foot-wide causeway through talus. It was built 90 years ago by the Italian army to facilitate mule trains and served as a reminder of how much history these mountains hold. A cold rain fell on the far side of the col, and Chris tumbled on the wet rock. Things had been going well, but I was suddenly thrust back into the worry about what would happen if anyone was badly injured on such a remote stretch of trail. Could we get to a town without help? Would we have to split up the group?
After years of hiking and climbing in more hazardous terrain, I was surprised by the anxiety I felt. Leading a group like this changes things. There's all the pressure to make the trip memorable and fun, but with an extra layer of stress that comes when your crew is family.
With no guide leading the way, the entire group turned to Uncle Dougald whenever there was a key decision to be made. Signs and yellow diamond blazes stenciled with "TMR" pointed the way, but the place names and trail numbers varied between the guidebook, maps, and signposts. Distances to the next town or junction frequently contradicted each other.
Even though I'd checked the schedule for the cable car from the village of Macugnaga to the frontier with Switzerland, I was still relieved to find it running, even though the summer season had ended. That allowed our band of tired travellers to leverage the Alps' unique infrastructure and suck in all the scenery without any of the foot pain. Flimsy wooden steps led up granite slabs from the top lift station to the 9,360-foot Monte Moro Pass, where a golden Madonna watched over Monte Rosa's lobed and glaciated face.
As we left the wilder Italian side of Monte Rosa and headed down Switzerland's manicured trails, with buses and trains always just a few hours away, I started to breathe a little easier. We still had three days of walking ahead: through the beautiful, car-free village of Saas-Fee and across the exposed and rugged Höhenweg and Europaweg trails, equipped with tunnels under landslides and cables for handrails over narrow catwalks. But our team already had plenty to be proud of.
Chris and I had been confident in our young relatives' ability to complete this trip, but they hadn't been quite so sure. Now, as we hiked the switchbacks down from Monte Moro, I overheard them talking over ideas for our next family trek. The Picos de Europa in Spain? The High Atlas in Morocco?
As any good trip leader will tell you, there's no surer sign of a successful trip than plans for the next one. 
Travel Smart
Power Up
If your charger or appliance is dual voltage (look for "110V-240V" on the label), you will only need a plug adapter, not a voltage converter. Before you leave, buy a country-specific adapter or an all-in-one international model (these are a little bulkier but a great tool for frequent travelers).
Trip Planner
Getting there Most hikers begin the route in Zermatt or Saas-Fee; both Swiss villages are about four hours by train from major airports. Season Mid July to early September. Beware lingering snow in early summer and closed facilities at the end of the season. Stay Plan for five to six nights in huts and hotels or apartments in Saas-Fee, Zermatt, and Grächen or Gasenried, Switzerland, and in Macugnaga, Italy. Reservations are recommended. Huts serve dinner and breakfast and will pack lunch for about $10 to $12 extra. Budget about $100/person per day for huts, meals, beverages, ski lifts, and buses. Guidebook Tour of Monte Rosa, by Hilary Sharp Total cost* $1,400 (flight from New York, ground transportation, and lodging)
Dougald MacDonald is editor of the American Alpine Journal.