Alpine Lakes Wilderness, WA: Scottish Lakes High Camp to Larch Lake
This 10.5-mile out-and-back in the Alpine Lakes Wilderness leads to Larch Lake, a backcountry pool rimmed with larch trees and 7,000-foot peaks.
Heading out the door? Read this article on the new Outside+ app available now on iOS devices for members! Download the app.
Although there are several ways to access Larch Lake, none are easier than the 10.5-mile route from Scottish Lakes High Camp, a collection of cabins that provides an excellent launching pad for dayhikes or overnights. From the camp, hike south on Mac's Express Trail for a climb to McCue Ridge. Stop at the rock outcroppings on the ridgetop for views north to Nason Ridge.
Next, descend the back of the ridge to a meadow with tall grass and a smattering of trees. On clear days, you can see across the Chiwaukum Creek valley to the ridgelines of the Chiwaukum Mountains to the west. Pick up McCue Ridge Trail and hike west along the ridge.
At mile 1.2, turn left onto Trail #1574 for a descent west to Chiwaukum Lake, a large alpine lake hemmed in by trees. (There are several nice campsites dotting the shoreline; look for fish jumping in the lake.) From here, turn right onto Chiwaukum Creek Trail #1591 for a two-mile stretch to Larch Lake.
During the summer, the meadows bordering Larch Lake resemble vibrant gardens, brimming with purple lupine and yellow asters. Follow the lake's small outlet stream to the east to find a string of glassy reflecting pools and large, reddish schist boulders (look for ribbons of white quartz mixed into the rock). The route ends at the banks of Larch Lake; re-trace your route back to the trailhead.
INFO Scottish Lakes High Camp, (509) 763-3044, scottishlakes.com
-Mapped by David Tate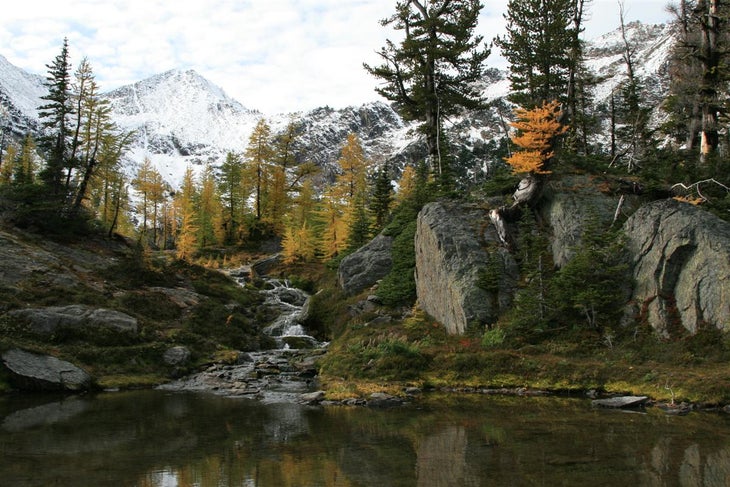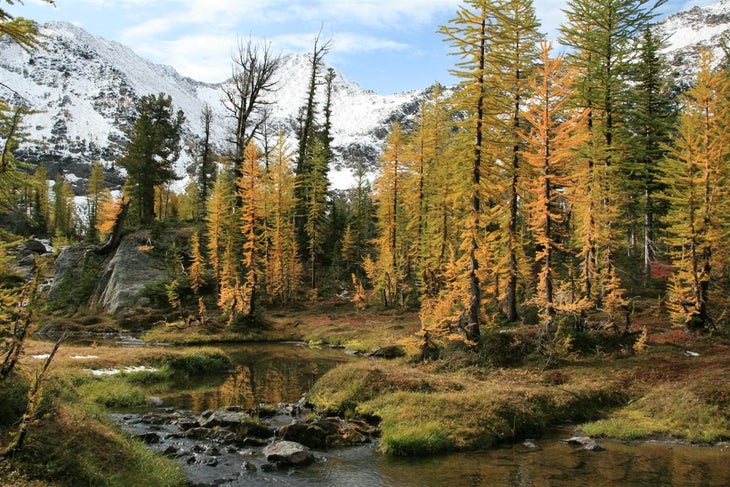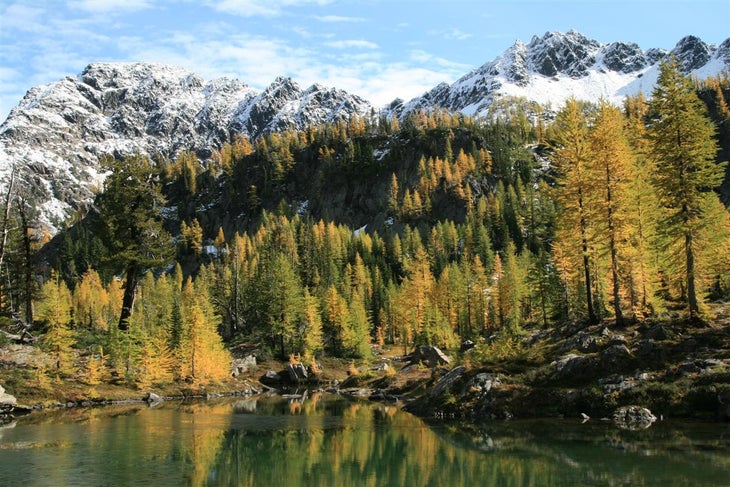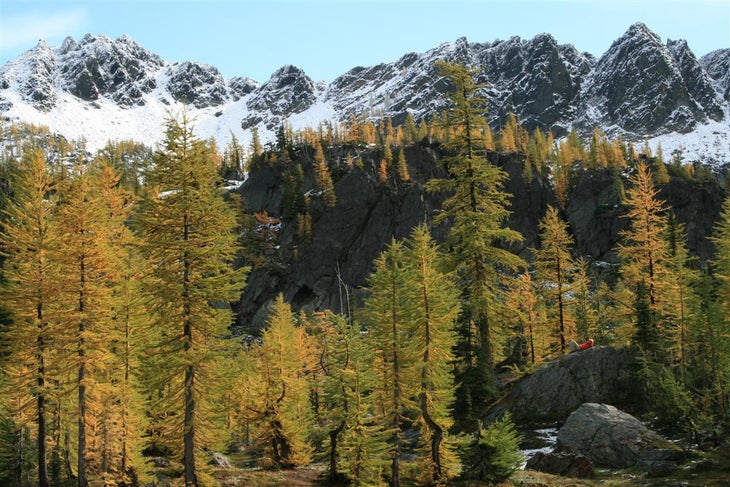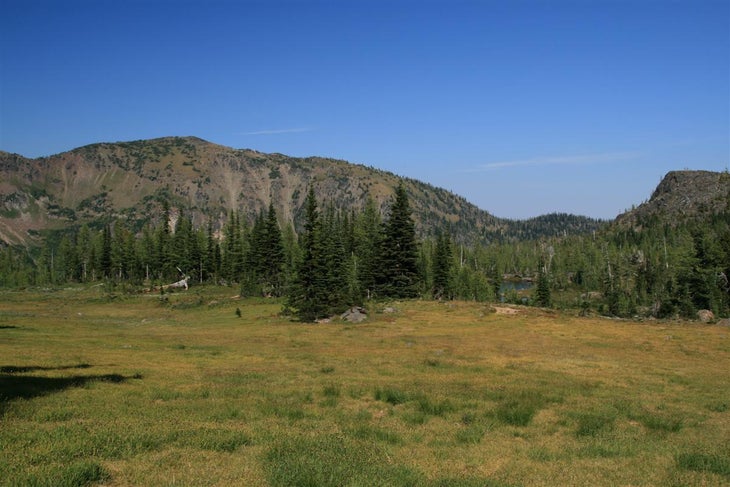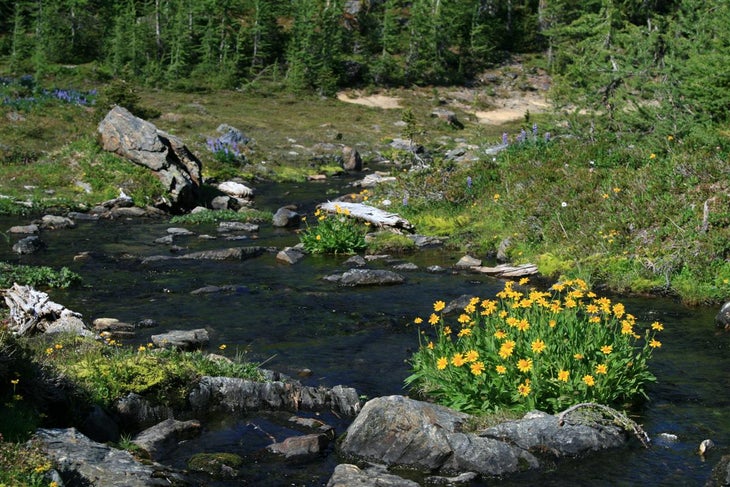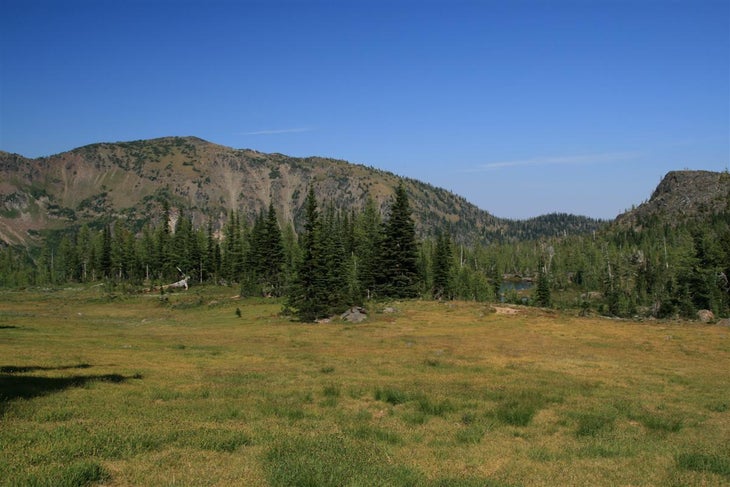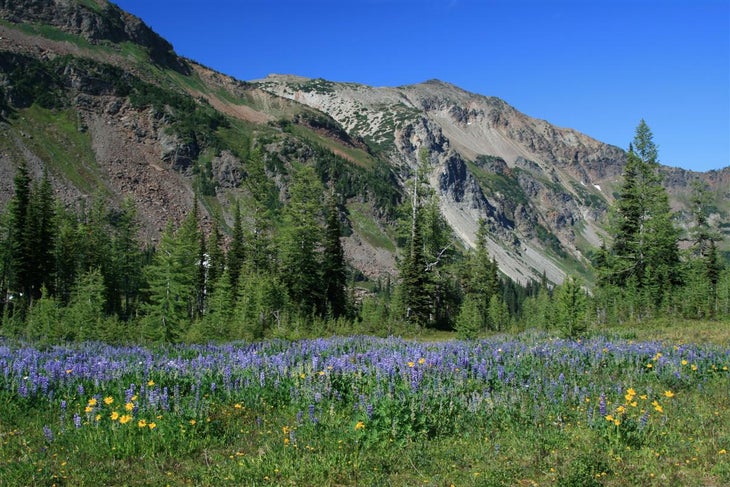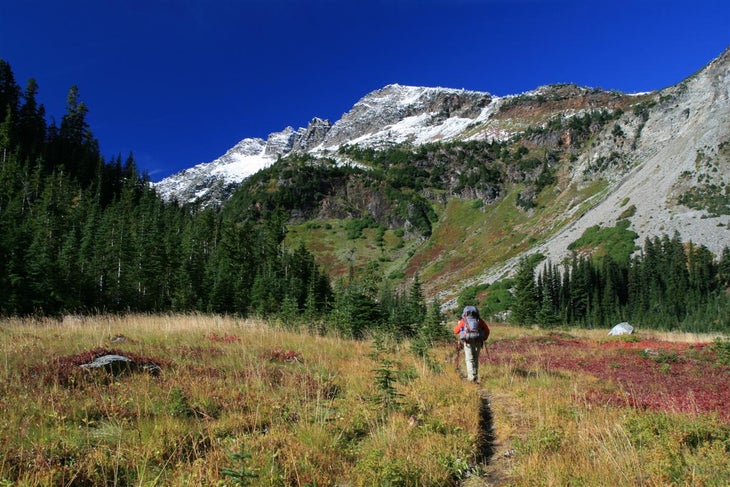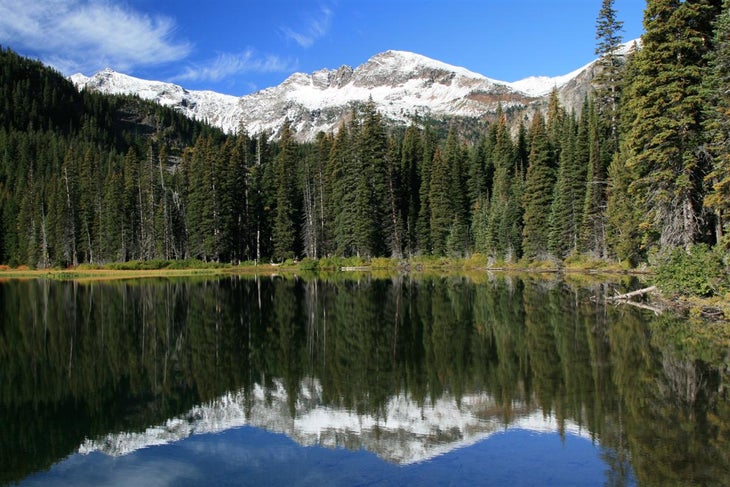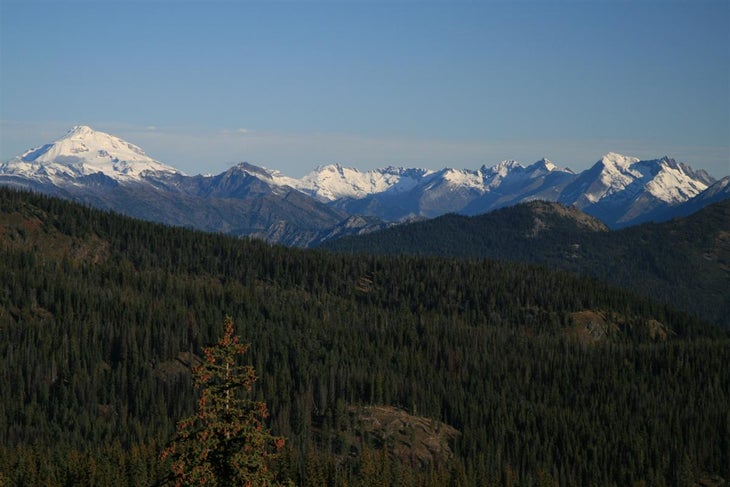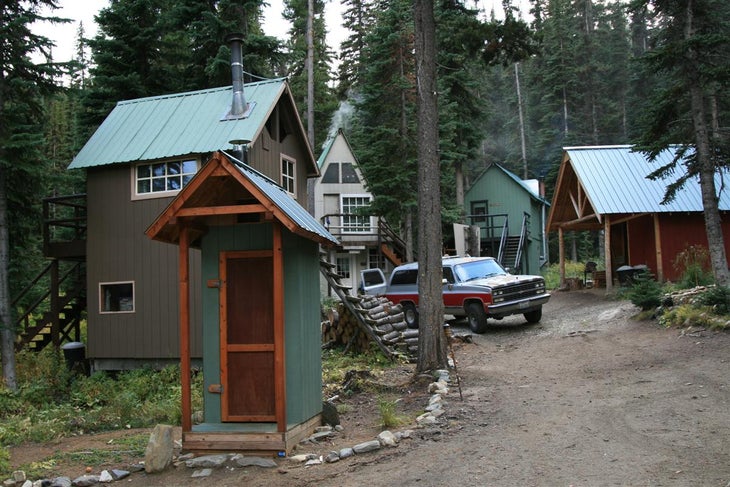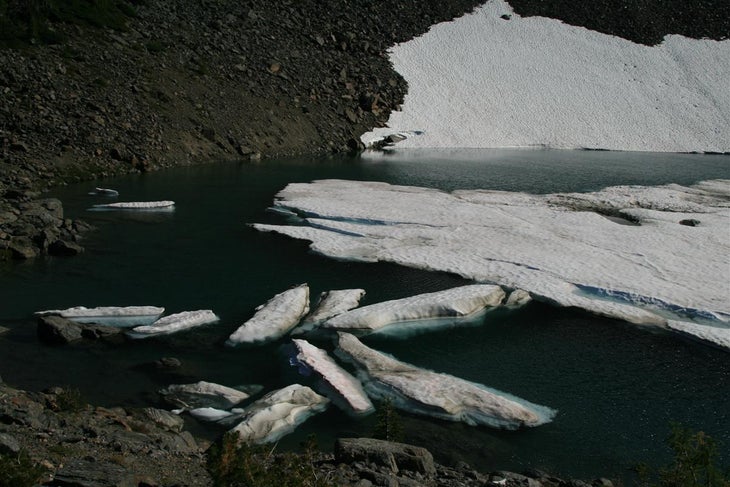 Trail Facts
Waypoints
LCH001
Location: 47.728267, -120.843864
This route begins at Scottish Lakes High Camp, a group of cabins and a lodge (with a wood fired sauna and hot tub) that provides an excellent launching point for dayhikes or overnights to Larch lake. If you have several days, you can use these cabins as a basecamp to explore the many lakes in the region, including the Scottish Lakes, Donald, Julius, Ethel and Loch Eileen.
Next: Follow the signed Mac's Express Trail, (a blue diamond). Note: The only way to get here is by arranging a pick-up from the parking lot across from Nason Creek Rest Area on Highway 2. From here, it's a 45-minute drive up a gated logging road. Info: (509) 763-3044; scottishlakes.com.
LCH002
Location: 47.72766, -120.844139
Follow Mac's Express Trail uphill to McCue Ridge.
LCH003
Location: 47.726688, -120.844697
First junction: Stay straight on Mac's Express at its junction with Sunset Trail.
LCH004
Location: 47.725367, -120.852807
Continue straight, following the sign to Cliffhanger, at this junction with Low Road.
LCH005
Location: 47.72339, -120.855145
The trail ends here (a rock outcropping offers views north to Nason Ridge). Follow the blue ribbons (tied to the trees) to a meadow, and pick up the McCue Ridge Trail.
LCH006
Location: 47.722942, -120.855339
Follow McCue Ridge Trail through the tall grass. The path winds northwest along the ridge to a junction with Trail #1574.
LCH007
Location: 47.724256, -120.861347
Turn left onto Trail #1574 and descend to Chiwaukum Lake.
LCH008
Location: 47.728066, -120.890293
Trail #1574 ends at a nice camping area near Chiwaukum Lake. Turn right onto Trail #1591 and follow it to Larch Lake.
LCH009
Location: 47.726724, -120.910335
Trail leads through an open area that turns scarlet in the fall.
LCH010
Location: 47.718958, -120.915377
Larch Lake: This picturesque lake is the centerpiece of a larch-filled basin that's rimmed by large meadows and the rugged Chiwaukum Mountains. Optional: Bear right to visit Cup Lake.
LCH011
Location: 47.719164, -120.91476
In summer, golden asters cling to rocks in Larch Lake's outlet stream. Next, stroll through the large upper meadows to see the wildflower displays.
LCH011
Location: 47.719792, -120.913365
During the fall, the larch turn a brilliant gold, which lights up with the sun's rays.
LCH012
Location: 47.717695, -120.912958
In fall, the huckleberry brush turns scarlet and the larch trees turn a brilliant gold. Look for their bright colors reflecting off the water's surface, making an impressive spectacle of fall. Backtrack to Scottish Lakes High Camp.
Larch Lake
Location: 47.717706, -120.912893
There is no better time to see the beautiful colors of Larch Lake than during fall.
Scottish Lakes High Camp
Location: 47.728261, -120.843741
The lodge is the largest of the buildings.
View from McCue Ridge
Location: 47.723404, -120.854888
Left to right: Glacier Peak, Tenpeak Mountain, Luahna Peak, Clark Mountain
Chiwaukum Lake
Location: 47.727836, -120.88995
First snow on Chiwaukum Mountains is reflected on the lake.
Chiwaukum Mountains
Location: 47.726724, -120.910099
Wildflower Meadows
Location: 47.719139, -120.915495
The meadows come alive with beautiful wildflowers during summer.
Larch Lake Basin
Location: 47.718954, -120.9152
Summer Colors
Location: 47.719189, -120.914674
Larch Lake Basin
Location: 47.719536, -120.914288
Fall colors explode against a backdrop of fresh snow on Chiwaukum Mountain.
Inspiration Rock
Location: 47.719658, -120.914165
Larch Reflections
Location: 47.719694, -120.913966
The golden larch colors reflected in pools.
Golden Larch
Location: 47.719795, -120.913306
Waterfall
Location: 47.719878, -120.913006
Falls on the outlet stream from Larch Lake.
Cup Lake
Location: 47.715176, -120.921535
Cup Lake: Perpetually frozen, even in late summer, you'll see large chunks of ice floating on the surface. The southwestern edge of this small cirque still has large snowfields covering the shadowy southwest rim. According to local legend, a miner's horse ended up in Cup Lake and floated upright, suspended on ice or a log, until it rotted away. This may be how Deadhorse Pass (just above the lake) got its name.
Cup Lake
Location: 47.715219, -120.921235
Even at the end of summer, there are still massive chunks of snow lingering.