Alpine Lakes Wilderness, WA: Rampart Lakes, Lila Lakes, Alta Mt.
A 3 day trip into the Alpine Lakes Wilderness, that encompasses Rachel Lake, Rampart Lakes, Lila Lakes, and Alta Mt.
Heading out the door? Read this article on the new Outside+ app available now on iOS devices for members! Download the app.
A great weekend trip, that can be broken up however you like, either a day hike up to see Rampart Lakes, or spend the night, or two, and explore to your hearts content! There are many opportunities here to trek in different directions, depending on how much time and energy you have!
We turned this into a 3 day journey, and took in the sights of Rampart Lakes, hiked to the top of Mt. Alta, and then took in the Lila Lake basin.
Day 1. After reaching the trailhead to trail #1313 , the hike begins in forest, and it's a nice, relatively slight incline along a well maintained trail for the first 2.6 miles. The trail occasionally wanders over closer to Box Canyon creek, a scenic mountain stream which rushes downhill from the upper lakes, creating many small waterfalls. At about 3.6 miles you reach the first of many lakes, Rachel Lake. A large, beautiful sub-alpine lake set in its own theatre, the upper walls separating it from the higher Rampart Lakes. There are many campsites here, and it's a great day hike for families to get here. Where it's flat, the trees grow tall, and this is where the campsites are. The rest of the surrounding terrain is steep, and does not afford good campsites.
From the shores of Rachel lake, it's only another .5 miles to the Rampart Lakes trail junction, all uphill. Turn left at the junction, and follow the trail another .6 miles to the heart of Rampart Lakes, set in granite below the jagged peaks of Rampart Ridge. You'll be amazed at how perfectly this group of lakes are formed, etched into the solid granite that is the basis of this part of the Alpine Lakes Wilderness. Gnarled, Bonsai like alpine firs cling to the massive rock in this area, a striking contrast to the deep, sparkling blue waters of the lakes. Water is rushing everywhere, over slick rock, creating beautiful falls. Be sure to travel around all of them, for each one has it's own special beauty, you won't be disappointed. There are several campsites scattered strategically around the lakes, but get here early to claim your spot, as on weekends, this is deservedly a popular spot to come see. If you have the time, come during the week, when it isn't as crowded.
Day 2 A day to explore. For this weekend, it was a hike up close by Alta Mt., a great vantage point to see what the region offers, and perhaps give you ideas on what you would like to tackle next. Go back to the trail junction where you turned off from the hike up from Rachel Lake, and continue past it up the Alta Mt. trail. Once you reach the base of the mountain, the trail starts it's ridgleline climb, and it seems that every 100ft of elevation gain, reveals something new! Eventually, you are high enough to see over the Rampart Ridgeline that surrounds the lakes below, and there are full views of Mt. Rainier, and Mt. Adams. Also, below you can see the ski resort at Snoqualmie Ridge, and the glistening ribbon of traffic on I-90. Finally reaching the summit at 6245ft, you can see 360 degree views of every thing around you. Mt. Alaska, and its namesake lake sitting at it's base to the NW, North, to Chikamin peaks, and the Four Brothers. Below, and to the east, is the Lila Lakes basin, and HiBox Mt. A great place to sit and have lunch and enjoy the views. Once back down from the summit of Alta, you will see a cut off trail to your right that leads down to Lila Lakes. There are a couple of faint trails leading to their shores, but taking either one will get you there. We took a short cut down off of Alta mountain, but it was really only viable as we had snow fields to cross. Without the snow, it's not really advisable… Small tarns are closer to the base of HiBox Mt. and its slopes, but further down, lay beautiful Lila Lakes. They, too are shaped amidst granite and the shores speckled with alpine firs, amidst small meadows that carpet the basin with green. With all the current snow melt, several waterfalls fed the largest of the lakes here with dramatic effect. There was at least one campsite situated between the two lakes, for those fortunate enough to grab it. Absolutely worth the hike to get to these lakes, there are few like them. Once back at camp, the round trip is only about 5 miles! Easy for a day hike, and gives you plenty of time to fish, swim, (if the waters not too cold), or just relax in the sun amidst breathtaking views!
Day 3 is the return trip out, and only takes about 2.5 hours to get back to the car.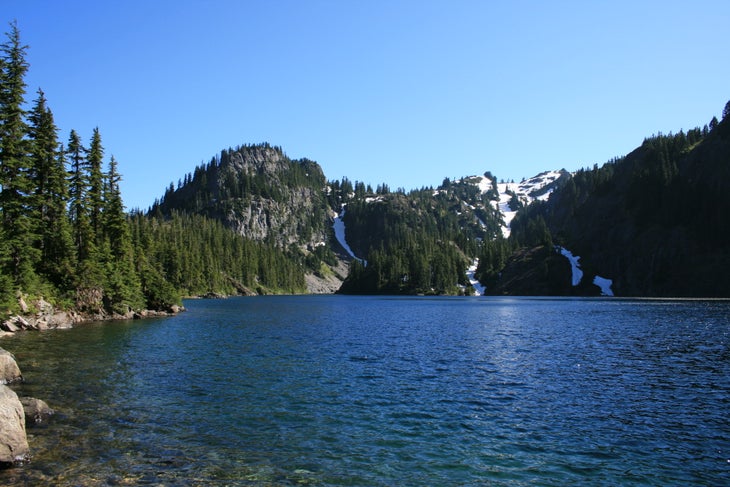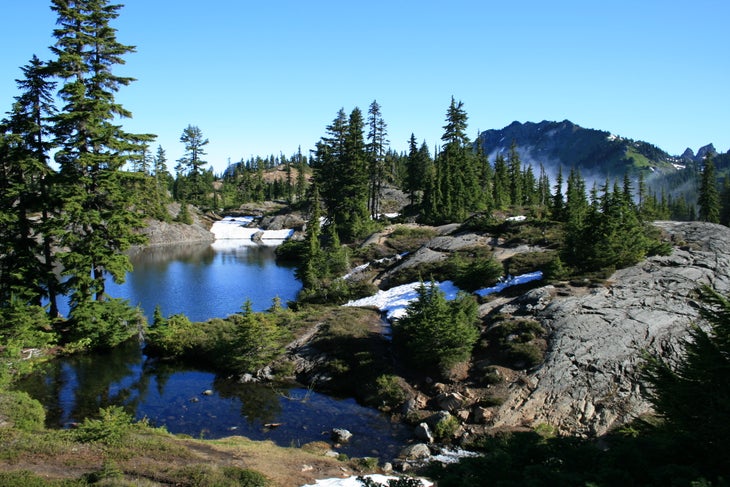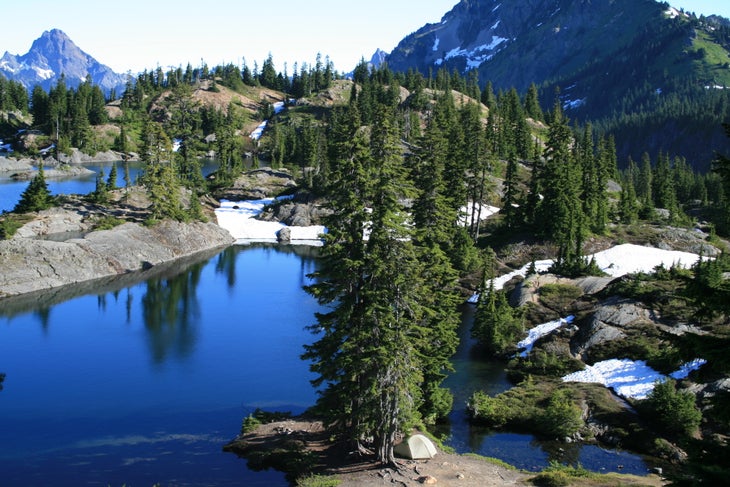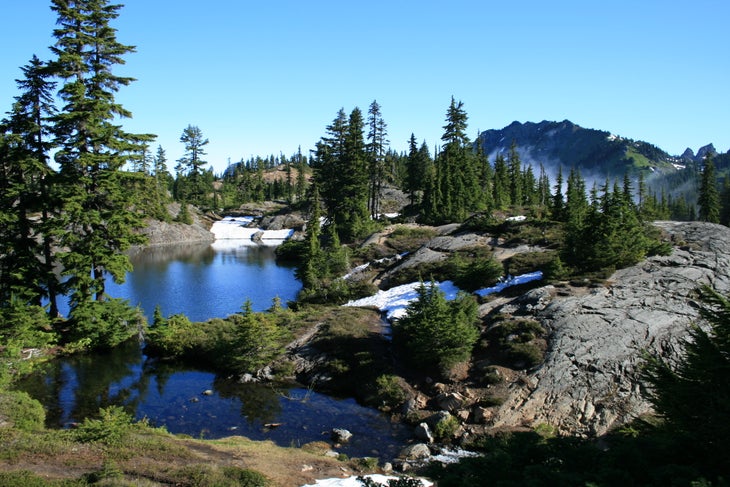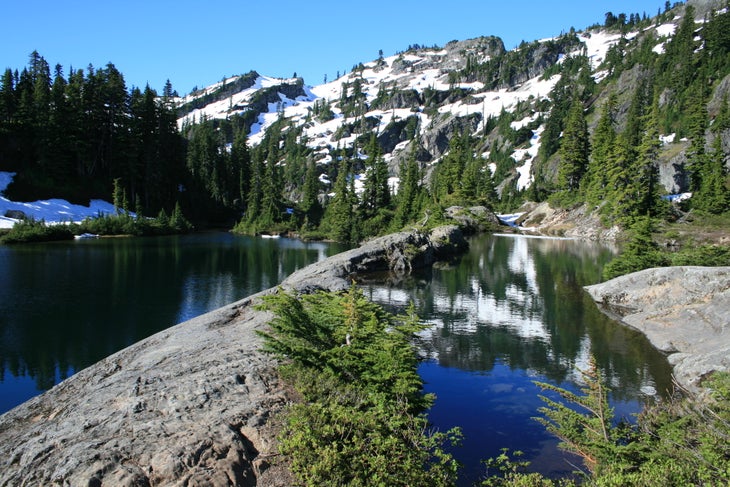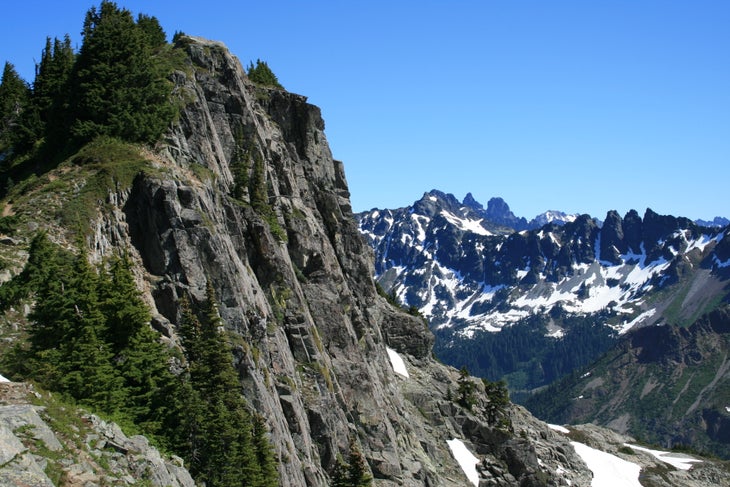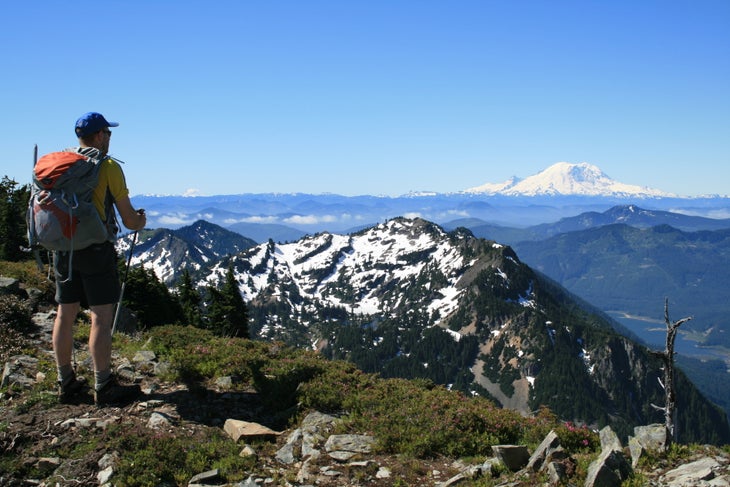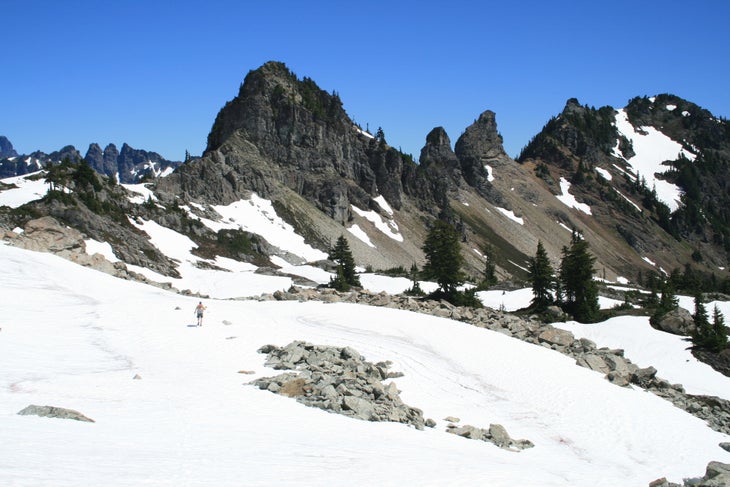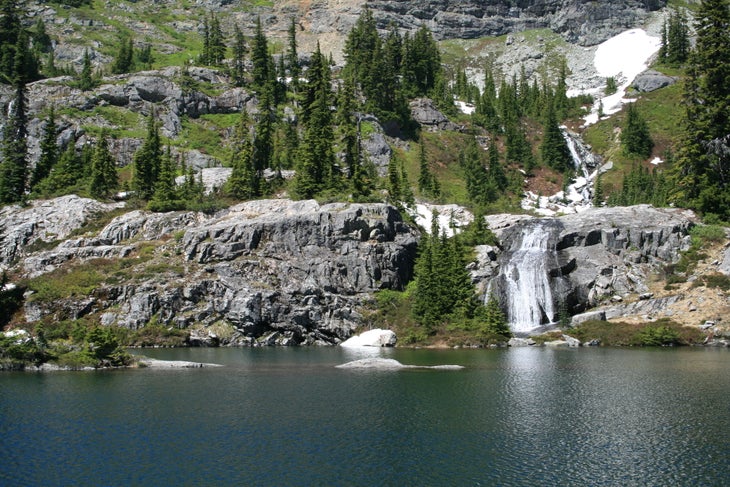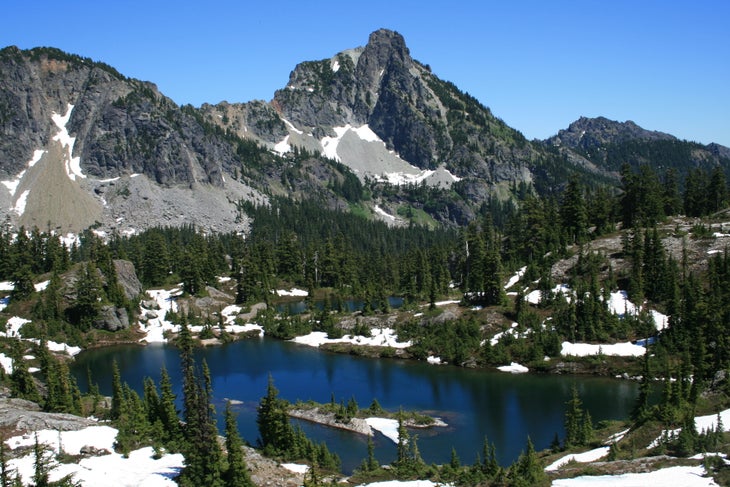 Trail Facts
Waypoints
Camp
Location: 47.417664, -121.338655
Possibly the largest and best site here at Rampart Lakes.
Rampart Lakes
Location: 47.418564, -121.337879
A beautiful collection of small alpine lakes carved into solid granite.
Sprayfall
Location: 47.421946, -121.3224
Wide, fan shaped falls, that provides a cooling mist.
Rampart Lakes Trail Jct
Location: 47.424081, -121.334102
Stay left here, to get to Rampart Lakes
Lila Lakes trail jct.
Location: 47.427884, -121.331742
starting up the ridge to Alta Mt., you will see this faint path off to the right.
Creek crossing, with Waterfall view
Location: 47.42239, -121.315824
At this crossing, there is a scenic waterfall. Also, from here, trail begins to get rougher.
Lila Lakes
Location: 47.43176, -121.324425
Awesome campsites here, between these two lakes. Waterfalls abound!
Lila Lakes Jct.
Location: 47.430599, -121.33127
Faint trail branches down from here, to lakes
Alta Mt.
Location: 47.441179, -121.331892
Summit of Alta Mt, which provides stunning 360 views of surrounding peaks, including
Short cut
Location: 47.434648, -121.331077
In early summer, there are snow fields here that allowed us to scamper down, to make this a loop. Not recommended if there's no snow…
Rachel Lake
Location: 47.422658, -121.329188
Rampart Lakes
Location: 47.417489, -121.338501
Rampart Lakes campsite
Location: 47.417228, -121.338544
Here is the best campsite!
Rampart Lakes
Location: 47.417983, -121.340003
Another viewpoint. Remember to walk around the lakes in the morning light!
More Rampart Lakes views
Location: 47.41868, -121.338801
Alta Mt.
Location: 47.437174, -121.33112
In the distance, you can see the 4 Brothers, on Chikamin peaks
Alta Mt. Viewpoint
Location: 47.438886, -121.331291
Awesome views looking down into Rampart lakes, Mt. Rainier, and Snoqualmie Pass
HiBox Mt. ridgeline
Location: 47.436593, -121.329017
This ridgeline, ringing the Lila Lake's basin, joins up with Alta Mt.
Lila Lake waterfall
Location: 47.431571, -121.324768
Lila Lakes
Location: 47.431629, -121.327987
HiBox Mt. in the distance