Alpine Lakes Wilderness, WA: High Lakes Trail
A great out and back that covers just over 14 miles, through the Alpine Lakes Wilderness area that will be sure to not disappoint, as you will pass 4 lakes, numerous streams, and huge views of the surrounding mountains and jagged peaks that make this close in section of wilderness a fan favorite.
Heading out the door? Read this article on the new Outside+ app available now on iOS devices for members! Download the app.
Start at the Alpental ski resort parking lot, and you get a sense of what's in store for you, as the surrounding peaks here rocket skyward, giving one the sense that you've left the state of Washington for more distant, famous peaks, perhaps even the namesake of the local ski resort, the Alps. The mountains here are more vertical, but don't let that fool you, for the elevation gain here is moderate. After filling out your backcountry permit at the trail head for Snow Lake #1013, start the gentle climb up to Snow Lake, along a shaded forest trail with occasional openings across large talus fields of granite. These openings give you wide open views of the surrounding peaks along the route. At 1.7 miles in, you reach your first trail junction, at the Source Lake trail. Stay right here, and begin your first uphill switchback to reach your first saddle before dropping down into Snow Lake. It's appx. .6 miles up, and a little over 530ft of elevation gain, across steep rocky terrain, mostly in the open, so during hot summer days, you'll want to tackle this in the morning. Once at the top, you get your first views of this side of the area, and Snow Lake below, is beautiful! Deep turquoise waters surrounded by granite cliffs and small meadows full of alpine firs. This is all visible, with distant views of other mountain tops. Drop down into the Snow Lake basin at 2.8 miles in, and pass the campsite trail which veers off to your left. If you desire, you can continue on the campsite trail as it will re-join the main trail on the other side, so you can see the different sites available. Just past the campsites, you'll get an awesome opportunity to take a quick break, and view the lake from the best viewpoint, a rocky bluff overlooking all there is to see here, including hulking Chair Peak, that keeps a watchful eye on the lake below, also providing the necessary shade to keep the namesake snow fields from melting out. Stow your camera, and continue along lakeshore to your next junction, at 3.32 miles, and turn left and follow the signage for Gem Lake, trail #1012, your next lake destination. The trail continues upward from here, and you will remain in the open, following the stair-stepped little meadows up to Gem Lake. There is no shortage of talus fields on this hike, and you will cross many large ones on the way to the lake. Once at Gem lake, you've reached your highpoint, at 4922ft. There are several campsites here, and you can tell that this place is heavily used, little trails running everywhere, but it's not surprise. The views here are spectacular, and the lake is a destination all to itself. Small and compact, it sparkles in the midday sun, vanquishing any doubts as to why it was so aptly named. The peaks here are dramatic, like spear points piercing the sky, ominous and inspiring all at the same time. They remind you of the famous pictures we've all seen of the Alps, the only thing they're missing is the snow caps on top. You'll want to take some extra time to follow some of the well worn paths here that lead you to big views of the surrounding peaks and valleys. I waited until my return trip to wander around the banks here, for I wanted to make sure that I would be able to secure a spot at the upper lakes. The trail rounds Gem Lake here, and then once on the other side of the lake, drops down across a steep mountain side. Again, it's fairly open here, broken up by sparse old growth, and the valley and mountains here will cause you to pause, and marvel at the ruggedness and beauty that is spread out before you. From this vantage point at the beginning of the downhill, you can see distant Mt. Roosevelt, and know that at its base, is where your destination for the day is at. The hillside is steep, but the switchbacks do a good job of getting you down with minimal effort, it's about 713ft loss in ¾ of a mile. At the bottom, you'll cross a meadow, then a small stream at the beginning of another large talus field. After crossing the talus field, the trail skirts lower Wildcat Lake, and officially ends at the lake shore, where you'll find one lone campground at 6.62 miles. At the last stream crossing, you can see where people have camped as well, where the ground is flat and cleared out. Here around the lake there is an abundance of Huckleberry brush, and tree cover. The lake here, after all you've seen so far, is a bit of a disappointment, but don't despair! Just to the right of the campsite here, you can see a faint trail after crossing the outlet stream that runs uphill to Upper Wildcat Lake. It's only about another 15 minutes on a faint path through overgrown Huckleberry brush to the lake, and it's well worth the effort. This trail is not on any map, but can be fairly easily followed. Once you get to Upper Wildcat, there are at least 3 campsites that are good for 3 person tents. The first, and most obvious, is right at the water's edge as you reach the lake, and is by far the best site, large enough for at least two tents. Continue to follow the faint trail on the right bank, and you'll see a site about 50 feet up in the forest, nice and flat, and another below it, next to the water's edge, that has a nice accessible sandy beach. The water is cold, but inviting, especially on a hot day. This too, is a beautiful lake, filled with trout, and on the opposite side of the lake is Mount Roosevelt, providing a dramatic backdrop to the lake. It also has a small tree covered island in the lake, and everywhere there is a foothold in the steep granite here, you will see small alpine trees eking out a living. Another benefit to the way this lake is set up, is the trees that line this eastern shore, seem to provide good shelter from the wind that blew the entire time I was here. You could hear it pushing it's way through the upper ring of trees and see it ripple out in the middle of the lake, but never felt it's effects here, only a slight breeze. Although not that many people come to Upper Wildcat to stay, you definitely want to get here early, so you can claim your spot. Snow Lake is a heavily used lake, mostly by day hikers, as it's a beautiful destination close in. Once viewing it yourself, you will be able to see why so many make the trek here.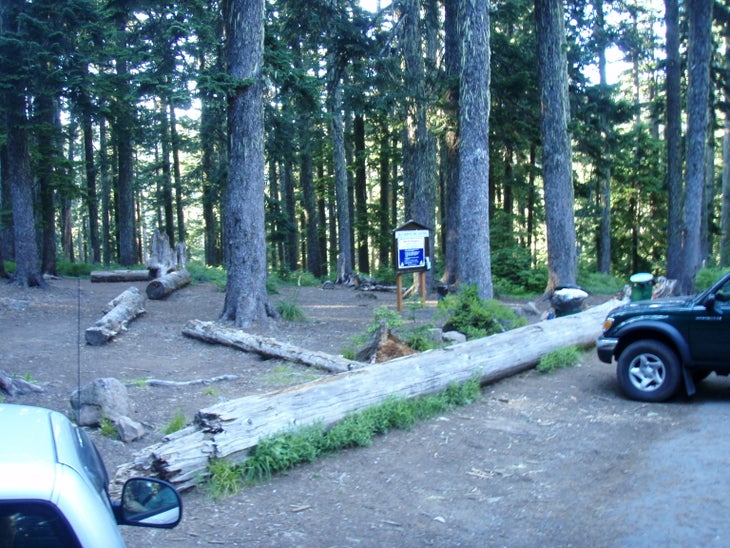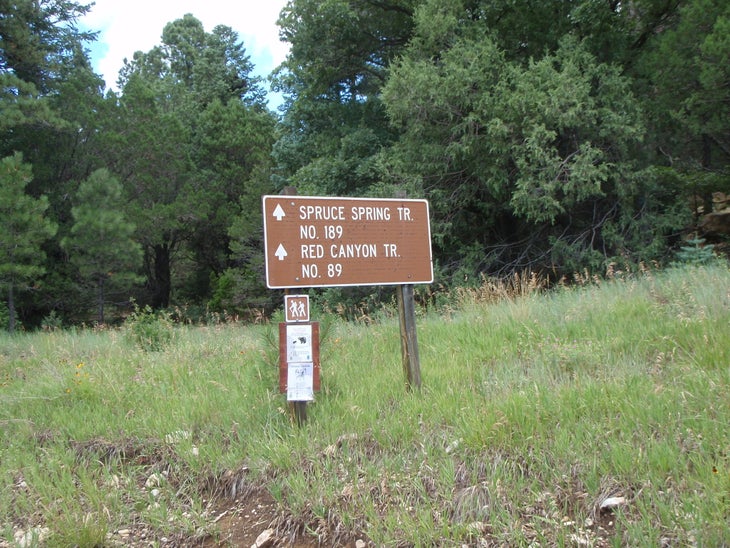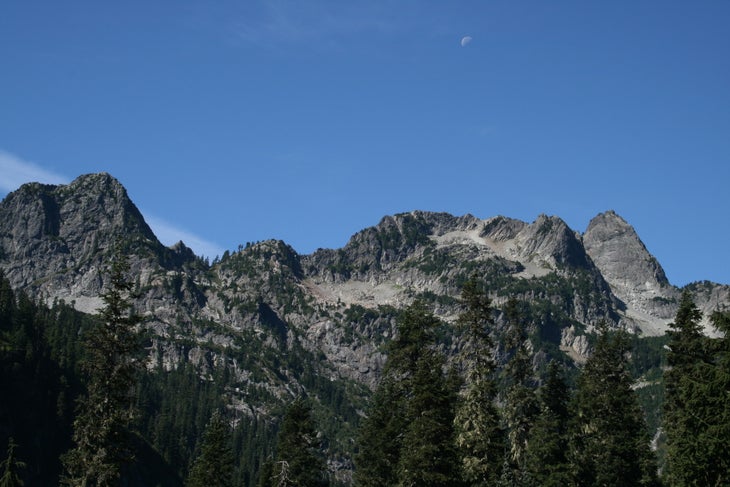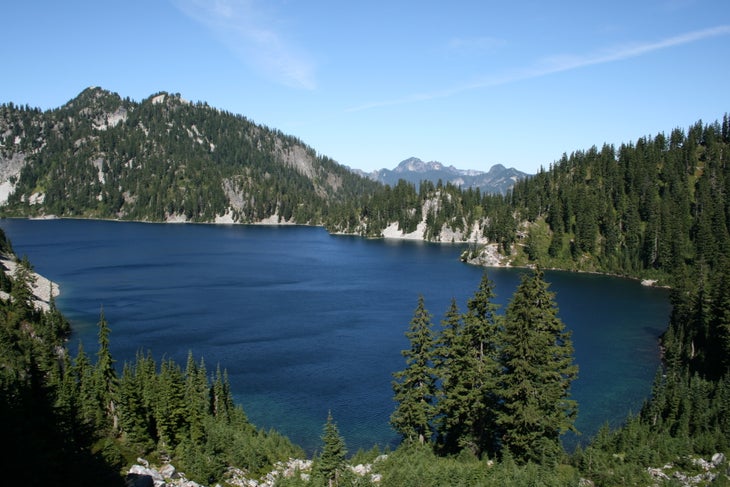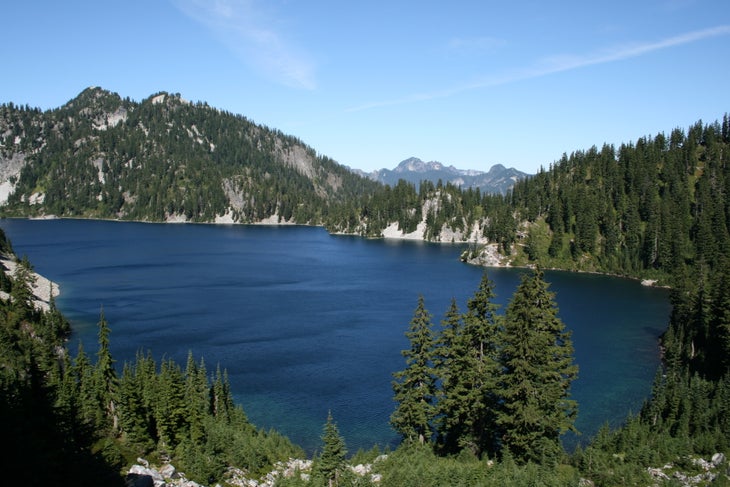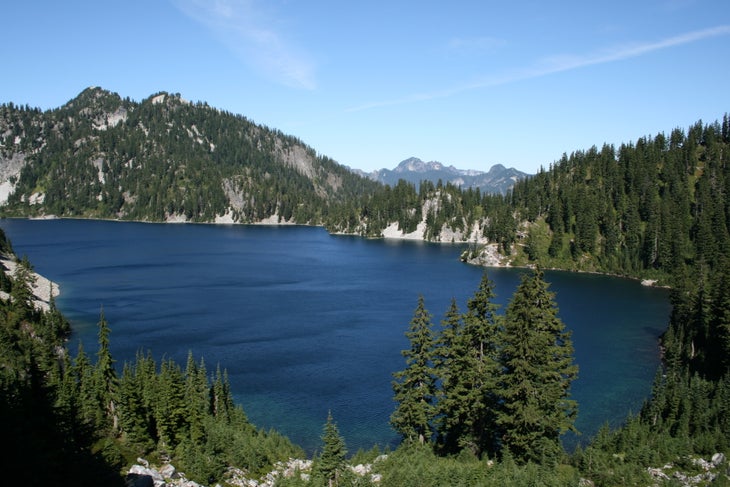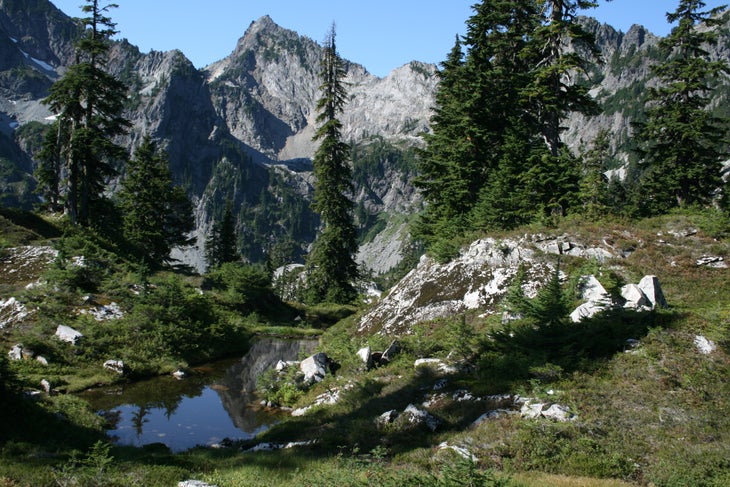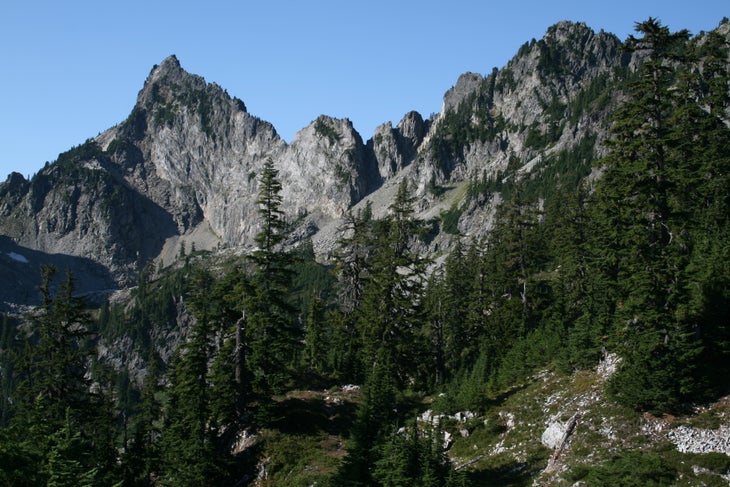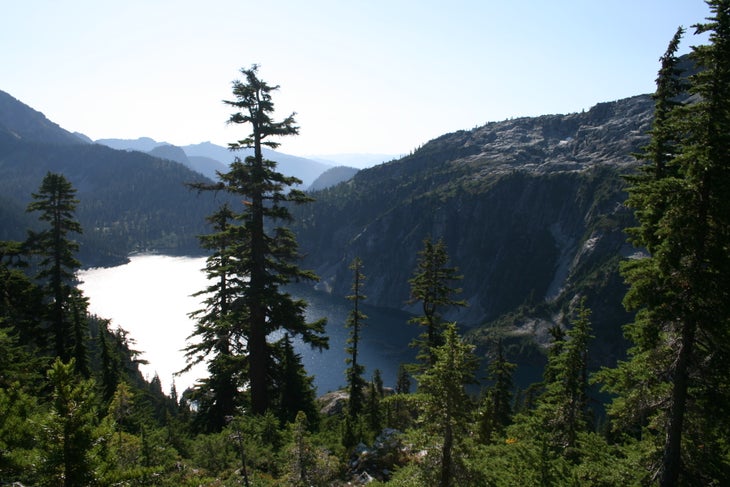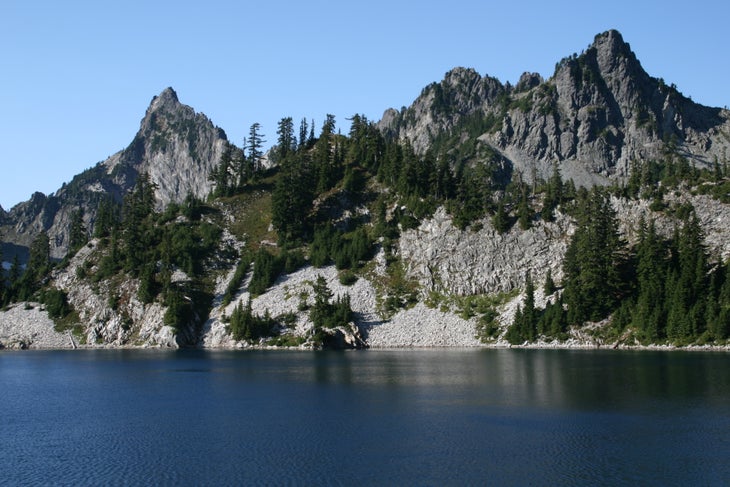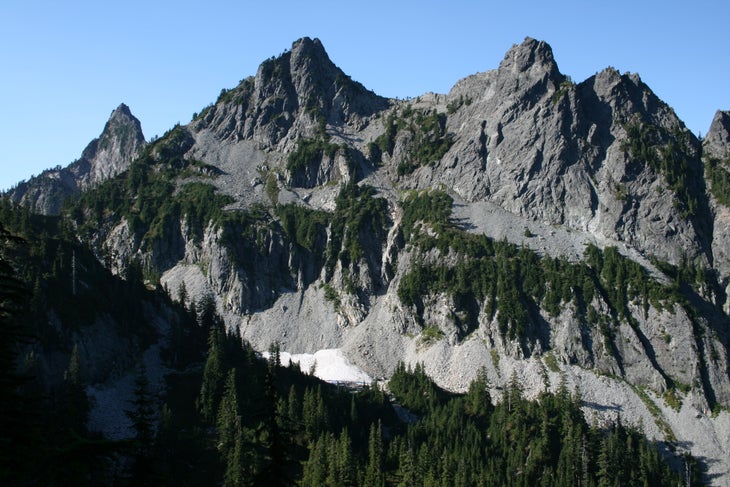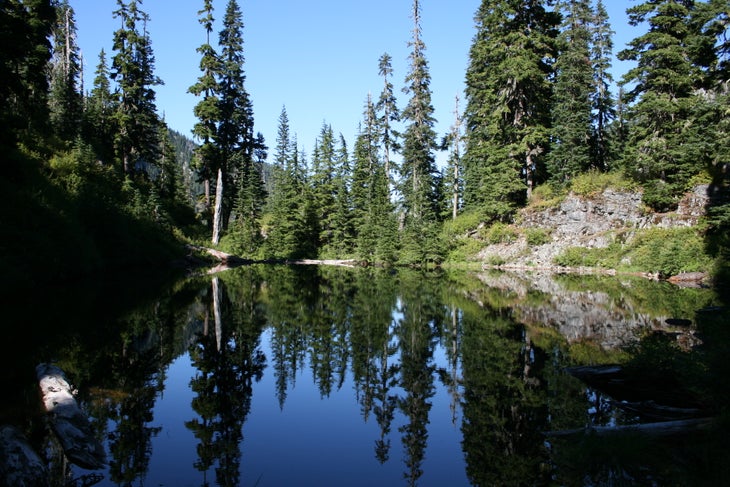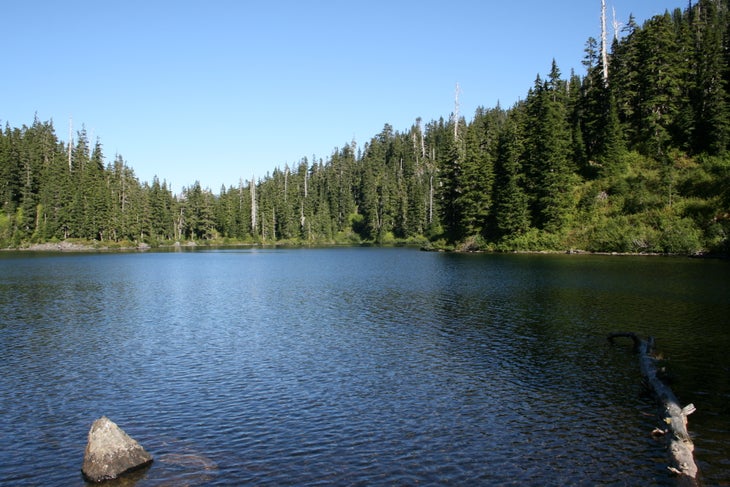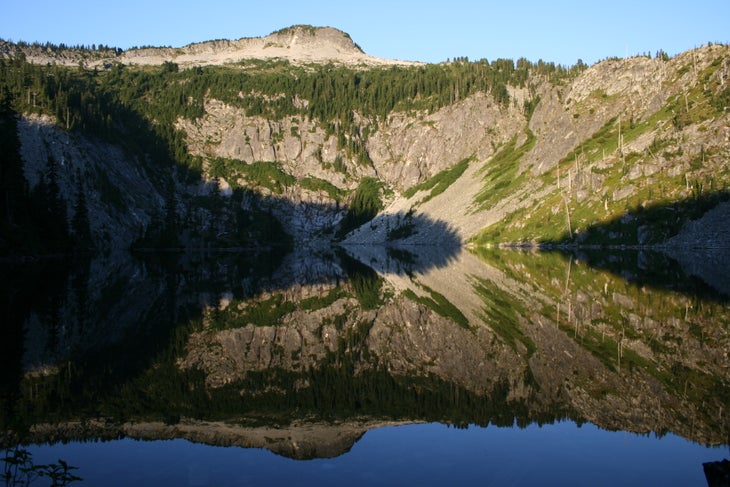 Trail Facts
Waypoints
Park
Location: 47.444923, -121.423561
Park here at large parking lot at end of road, to your left.
Snow Lake trl#1013
Location: 47.445518, -121.423325
Start of trail, here you will fill out a backcountry permit.
Source Lake Overlook
Location: 47.458183, -121.447853
Trail junction here. Stay Left, and follow the trail uphill.
Snow Lake Saddle
Location: 47.460144, -121.446968
Top of the saddle, where you drop down into Snow Lake Basin
Rocky point View
Location: 47.466076, -121.44854
A great place to stop and take pictures of the lake. Best view spot.
Gem Lake Junction
Location: 47.468513, -121.448067
Stay left here, follow signage to Gem Lake, and trail #1012
Gem Lake
Location: 47.475998, -121.464546
Start Switchback
Location: 47.477345, -121.468735
Switchback begins here, descending to lower Wildcat lake.
End Switchback
Location: 47.479244, -121.473747
Switchback ends here in small meadow.
Stream crossing
Location: 47.47821, -121.476112
A stream crossing here with small waterfall, and begin crossing large talus field.
Lower Wildcat
Location: 47.484825, -121.482109
Only one small campsite here, at end of trail. look for trail continuation to your left
Upper Wildcat
Location: 47.486759, -121.487442
Camp
Location: 47.487476, -121.487709
11-SEP-09 4:06:44PM
Viewpoint
Location: 47.474342, -121.465767
A worthwhile side trip, to see the valley and mountains here. Also, can look down upon Snow Lake from here.
Parking lot
Location: 47.444575, -121.423516
Parking lot at Alpental Ski Area.
Trailhead
Location: 47.445562, -121.423087
Trailhead sign for Snow Lake Trail #1013
Trail views
Location: 47.452411, -121.434546
Looking west towards Bryant Peak, and Chair Peak. Moon is still visible over the mountains.
Snow Lake
Location: 47.460594, -121.446133
As seen from the saddle, before dropping into Snow Lake Basin.
Snow Lake
Location: 47.465816, -121.447849
From the view point, looking at NW end of lake. Can still see the snow fields that feed the lake, in mid September
Snow Lake
Location: 47.467151, -121.447935
More views from the banks of Snow Lake
Meadow views
Location: 47.470908, -121.455274
Views from the trail across Snow Lake to Kaleetan Peak.
Kaleetan Peak
Location: 47.474418, -121.465917
The shark fin is Kaleetan Peak, as seen from Gem Lake viewpoint
Snow Lake birds eye
Location: 47.474331, -121.465487
From the viewpoint at Gem Lake, looking down into Snow Lake
Gem Lake
Location: 47.477841, -121.464629
Gem lake and the surrounding peaks.
Switchback views
Location: 47.479233, -121.470315
Just some of the views available on the steep switchbacks coming out of the valley
Unnamed Peaks
Location: 47.479349, -121.47716
Jagged peaks that supply ample talus to the valley below.
Reflecting Pool
Location: 47.480233, -121.47819
Just a small pond along the way to Lower Wildcat, that acts as a mirror.
Lower Wildcat Lake
Location: 47.484743, -121.48201
View of the lake, as seen from the single campsite at end of trail.
Upper Wildcat Lake
Location: 47.487339, -121.487653
Morning provides the best light for reflecting Mt. Roosevelt off the surface of the lake.