Alpine Lakes Wilderness, WA: Big Heart Lake
A 15 mile out and back into Big Heart Lake. Along the way, you'll pass Trout Lake, Copper Lake, Little Heart Lake, and then Big Heart. The lakes are full of large trout, and the views of the ruggedness of the Alpine Lakes area is worth the effort it takes to hike into this wild part of Washington.
Heading out the door? Read this article on the new Outside+ app available now on iOS devices for members! Download the app.
From the trailhead, the first part of the trail seems to be walking up an old stream bed, very rocky and loose. After about a 1000ft or so, it becomes more trail like, and then follows the West Fork Foss River for awhile, giving you views of the surrounding sheer rock face that lines the river here. Once you reach the river crossing, you will notice that you have to follow rock cairns, as the river washed out this part of trail. At the point that you need to cross the river, it will be over a log that has a step nailed into it on the opposite side, making it easier to step down, or up. From here, pay close attention, as the continuing trail here is not well marked! The trail begins again about another 50 feet or so, on your right. Back on the trail, it continues on towards Trout Lake through old growth fir, cedar and hemlock, and the trail is easy to follow here. I see several people on the way out, with small children. Seems that Trout Lake is a destination for day hikes, as it is close to the trailhead at 1.5 miles in, and its waters are stocked with trout. There are several campsites here, along the banks of the lake, and further back into the woods. From Trout Lake on, it starts getting steep, at about 2.6 miles in. Eventually, you break out into the open, and you can see a huge waterfall cascading down barren rock. This waterfall runs out of Copper Lake, the next lake you'll see on this hike. The open here is traversed with switchbacks through scrub brush, and it's steep. You'll gain 1800 feet of elevation in 1.5 miles. This is not a section of trail that you want to do in the midday sun, so if you can, avoid that…If you go during the heat of the day, there is a small stream at the top of the switchbacks, that will be a good source of water, and a place to cool down, as it's in the shade. Once you reach this point, the hard part is behind you. I called this stream Salvation stream, for good reason…At the Malachite Lake trail junction, you're at 4.17 miles, and the uphill is more gradual, and at 4.4 miles, you reach Copper Lake, another beautiful subalpine lake surrounded on three sides by steep, barren slopes, interspersed with clingy alpine firs. The lake walk itself rises and falls with the terrain, and there are several great viewpoints and a few campsites at the Northern end of the lake. The trail along the lake goes .7 miles over and around some jumbled boulders before you start your uphill once again at the southern end of Copper Lake. The trail is still good here, and in .5 miles, you'll find yourself at the edge of Little Heart Lake. A small, circular lake that you really have to get off trail to see well, you can see it through the trees from where you're at, but to take pictures, you'll have to walk over to its banks. There doesn't seem to be anywhere to camp here, at least that could be seen from the trail. Continuing uphill to your final destination at Big Heart Lake, you find that once again, you're steadily going up. Another 760 feet, to be exact, and It's a rugged trail, but along the way, you'll have spectacular views of the deep valley to the East, over your left shoulder, towards Mt. Baker, Trout Lake down below you, and Silver Eagle Peak sitting above Trout Lake. At the high point of this ridge, it's rocky, and dry, and here is where I saw a lightning strike still smoldering at the base of a scorched tree, probably from yesterdays thunder storm. After you've topped out at 4935ft, you'll drop back down to the edge of Big Heart Lake, at 4162 ft elevation. A spectacular deep blue lake, surrounded by barren peaks, still adorned in small snow fields, and sparse alpine firs. Its outlet creates a long sloping falls that helps to cool you on hot days. The lake itself is warm enough to swim in, and it also is a refreshing way to end a hike. If you bring your trout pole, there is ample fishing, as well. There are a few good campsites here at the Northern edge of the lake, and they are close to the water's edge. I hiked further in, and up beyond a small meadow covered in low lying blueberries to a site that was perched overlooking the lake, and able to take in all its' beauty. A little further from water, but the views were spectacular. From here sitting with my back against a convenient rock face, I could look left, and see the lake and surrounding peaks, and look right, and see Mt. Baker in the distance, across several smaller hills and valleys. There is from here, another hikers trail that heads off towards Angeline Lake, that lies just over the ridgeline, that does not show up on some maps. If you want to experience some of the ruggedness and wild beauty that exists in the Alpine Lakes Wilderness area, this is a great hike that will cover all those bases. Several unspoiled lakes filled with trout, blue waters that are unmatched for sparkling clarity, and surrounded with barren slopes all, with their own character that make each lake unmistakable. This hike's views will be well earned, as it gains over 3300 feet in elevation in about 7.5 miles.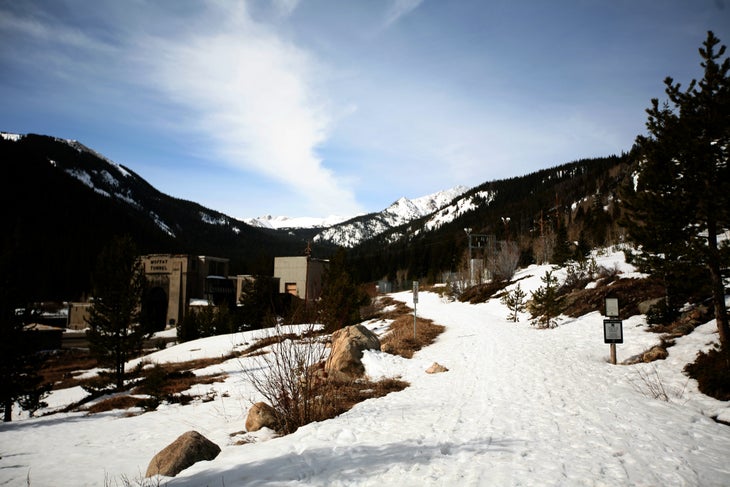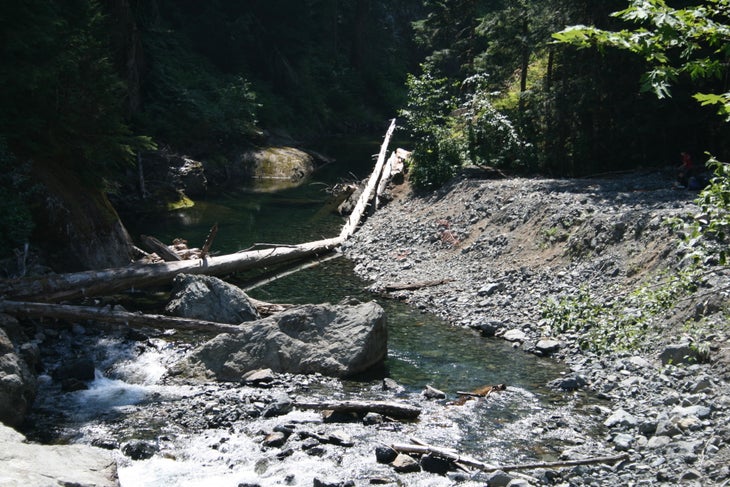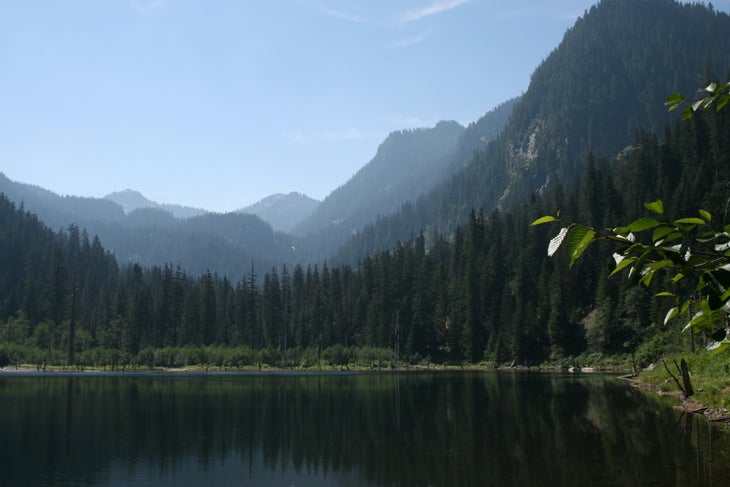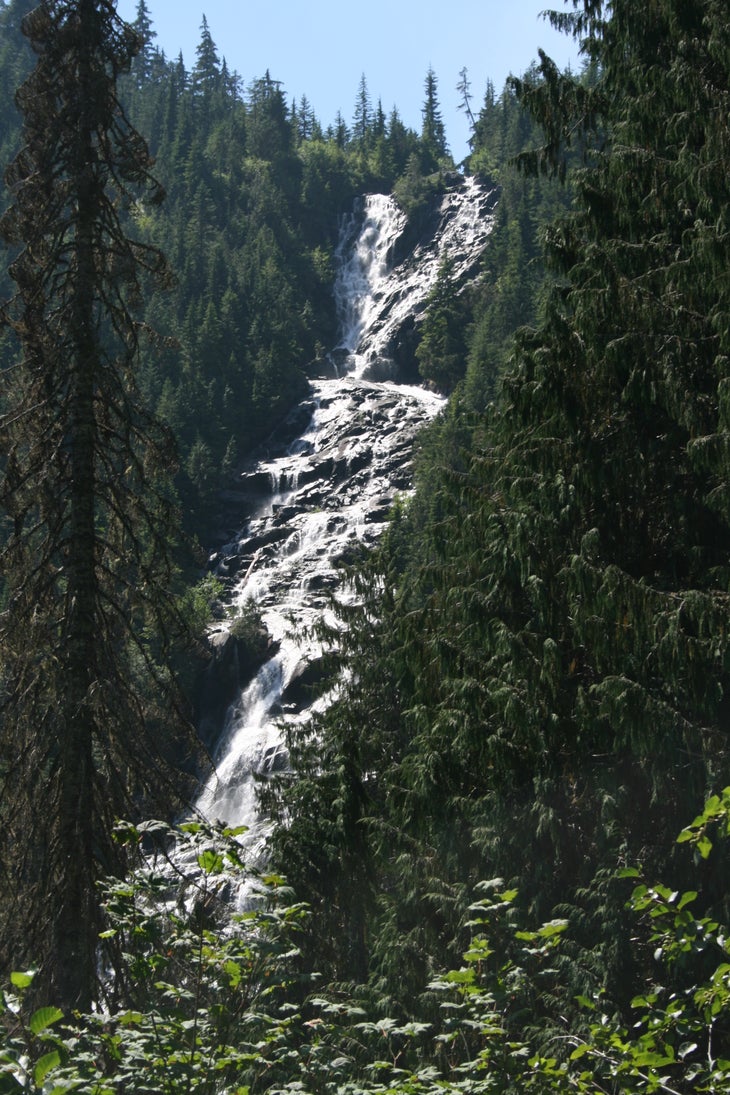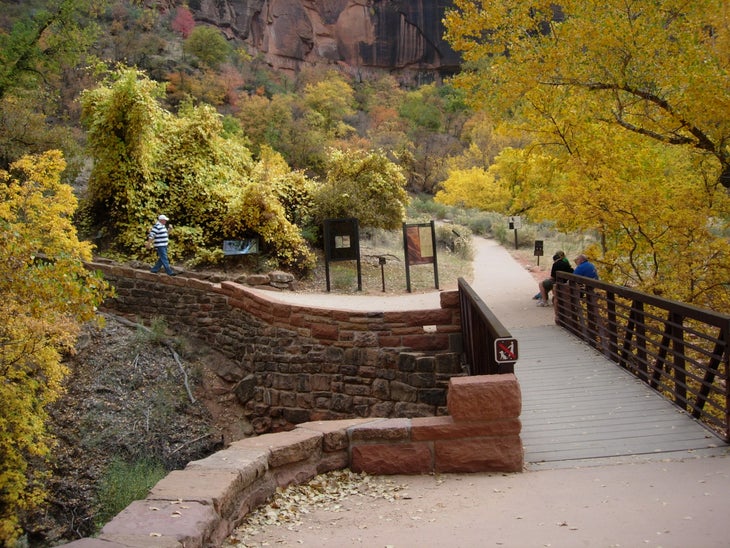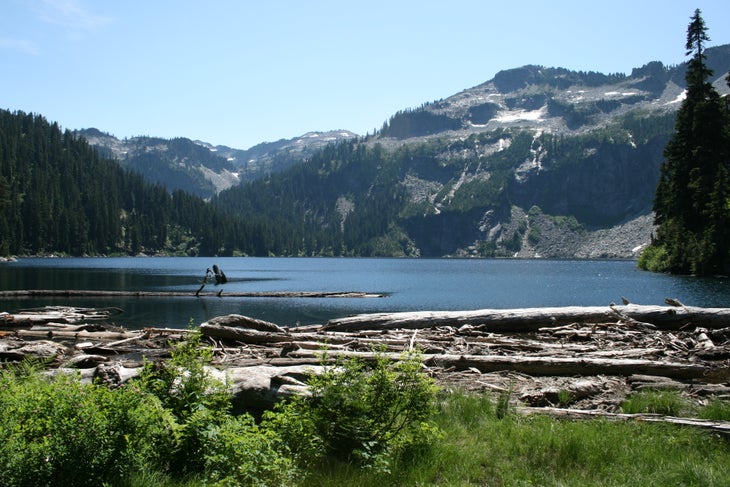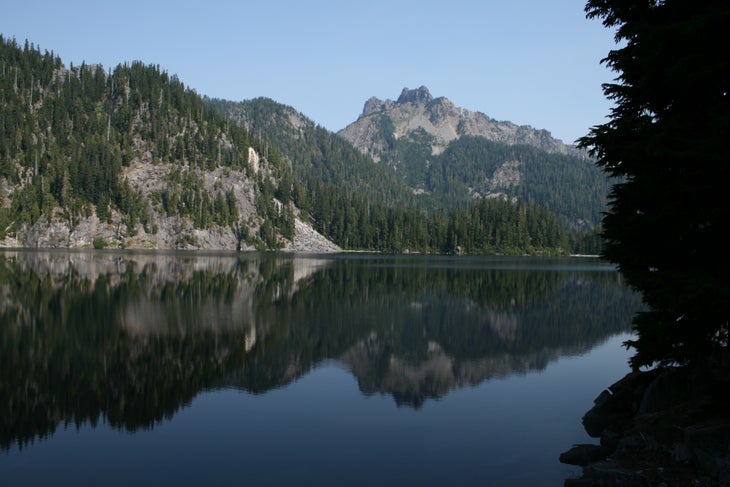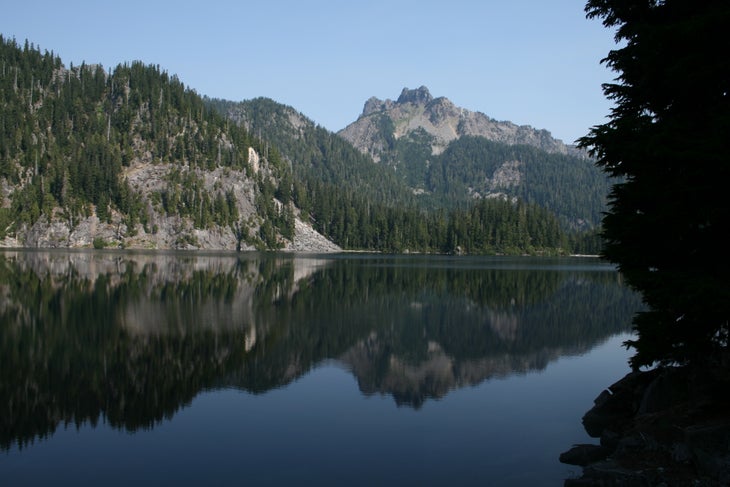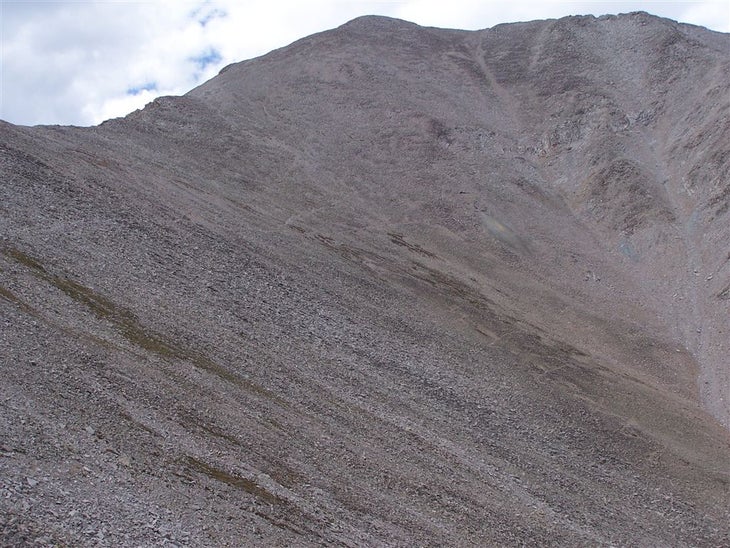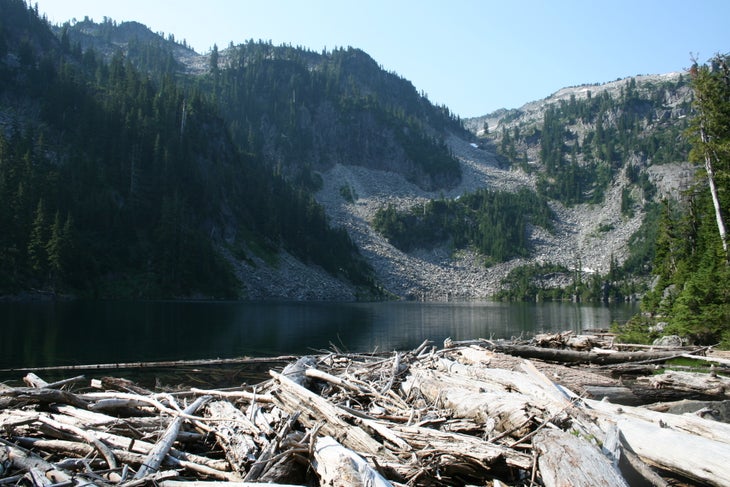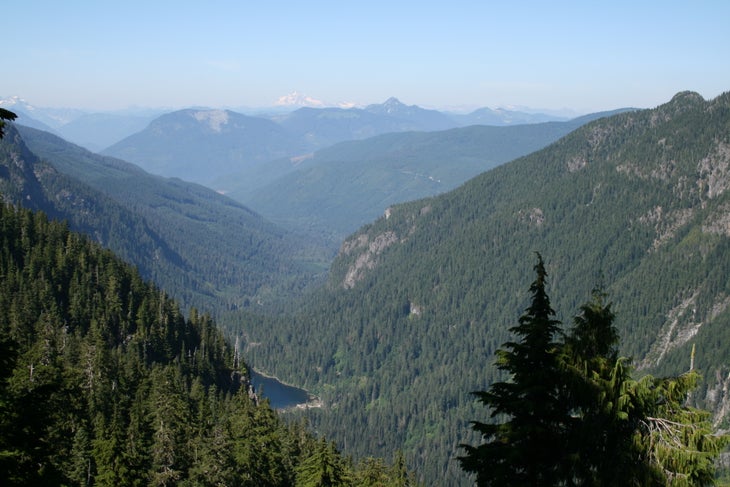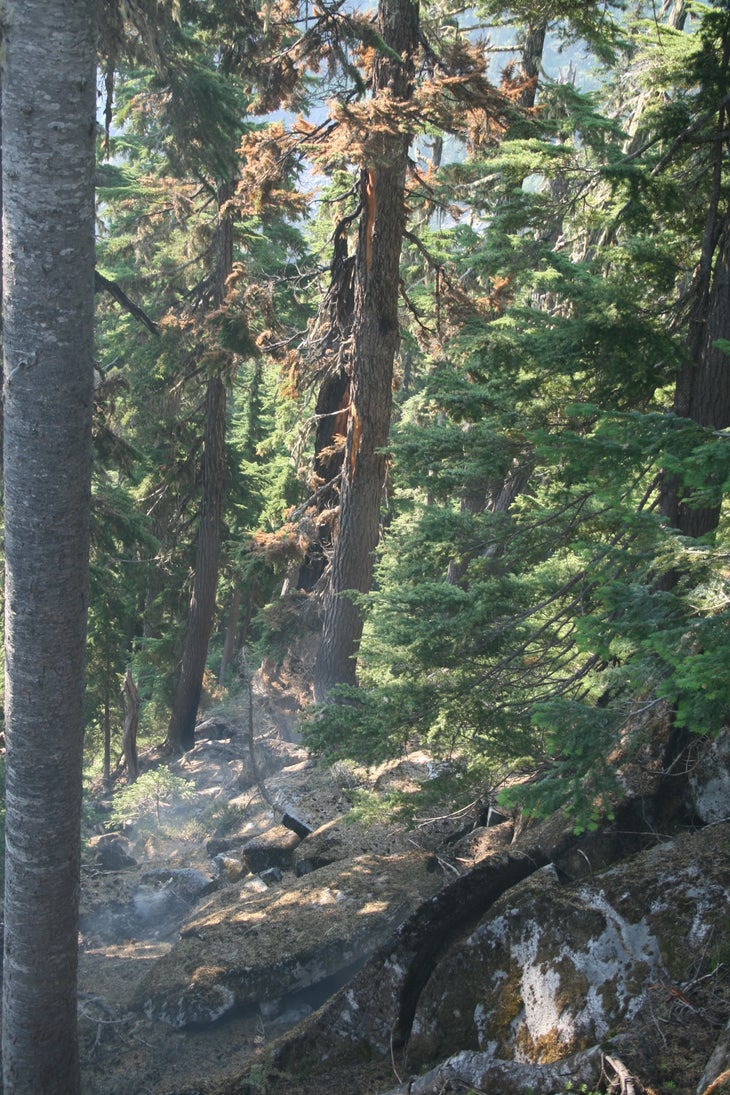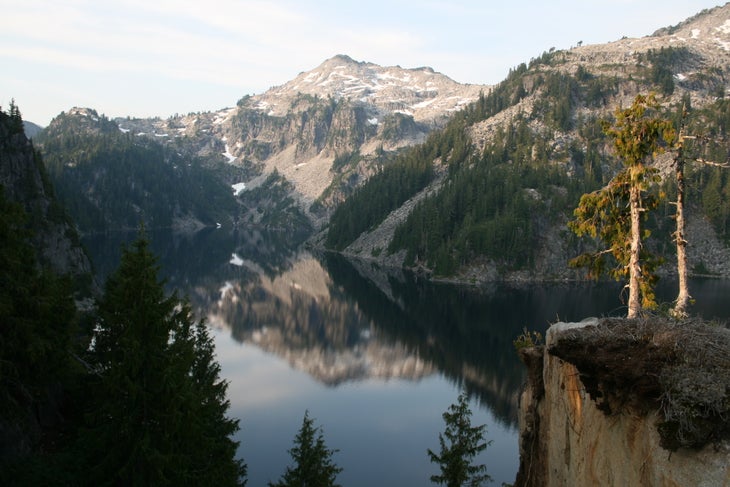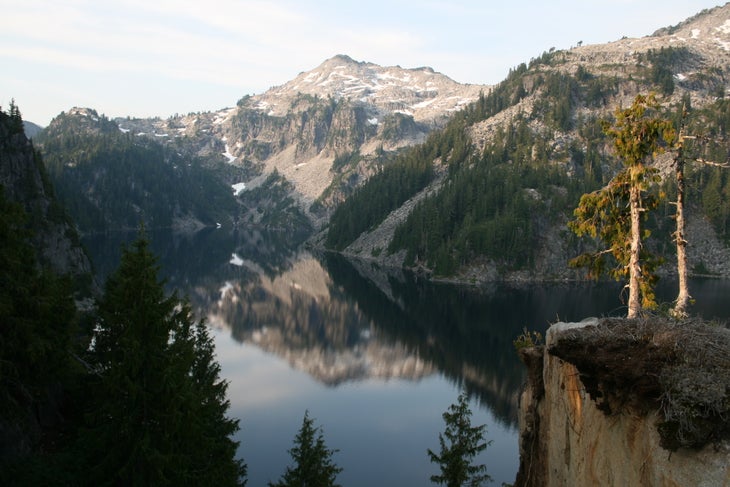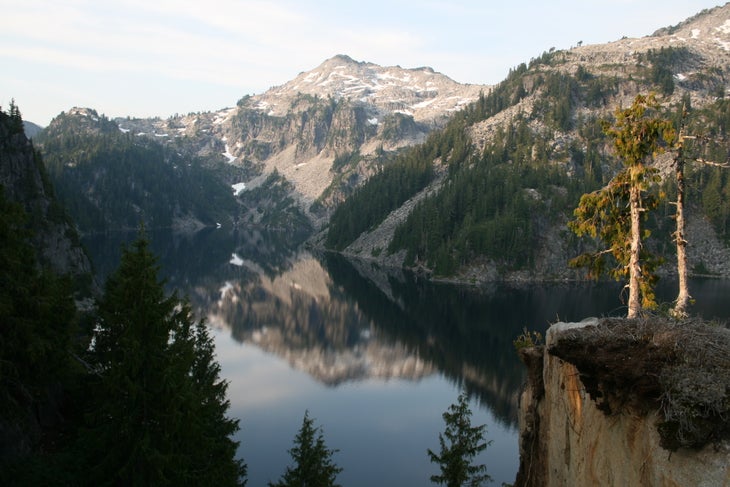 Trail Facts
Waypoints
Streambed Trail
Location: 47.6333409, -121.3072413
To this point, the trail looks more like a streambed than a trail. Don't worry, from here on it becomes more trail like…
Rivercrossing
Location: 47.629151, -121.3100805
The trail has been washed out by the river. Cross a log to the other side, and look CLOSELY for rock cairns.
Trail head
Location: 47.6296365, -121.3108794
Just past the downed log that you cross the river on, about 50 feet further up on your right, look for where the trail begins again. This is not well marked so look carefully! Some of the rock cairns here can be misleading…
Troutlake
Location: 47.6184603, -121.3141691
A small lake that is a popular destination for dayhikes, and for fishing.
Waterfall views
Location: 47.6136618, -121.3273774
From this point on, along the trail, you are entertained by the huge waterfall coming out of Copper Lake.
Foot Bridge, and Water Source
Location: 47.6133111, -121.330524
If you hike this during the heat of summer, after the long, exposed switchbacks, you might need a re-fill here. Good water, and it's in the shade!
Malachite Lake Trail Junction.
Location: 47.6105997, -121.3328732
If you have your head down, it's easy to pass this junction to Malachite Lake. It was closed for camping this trip, as they were using the lake as a water source for helicopter fire fighting.
Copper Lake
Location: 47.6075384, -121.3289945
Another Large, beautiful lake with a lakeshore trail. The lake here is a destination for those with a fishing rod.
Little Heart Lake
Location: 47.5931988, -121.3292313
A small subalpine lake, on the way to Big Heart Lake.
Lightning strike
Location: 47.5916948, -121.319413
The days before the hike, the mountains were asssailed by lightning strikes, starting small fires everywhere. Here, at the high point, I saw the remnants of a smoldering strike.
Big Heart Lake
Location: 47.5852682, -121.3203907
A beautiful Alpine Lake, surrounding by towering snow covered peaks, that dive into the lake.
Campsite
Location: 47.5825075, -121.3172695
On a bluff high above the lake, you get commanding views of the lake and peaks surrounding it.
Trail Head
Location: 47.6348004, -121.3038254
As it looks from the parking lot, you can see the trail beginnings up a dry stream bed to the right.
West Fork Foss River
Location: 47.6192398, -121.3143826
Outlet for Trout Lake, and continues feeding the West Fork Foss River.
Trout Lake
Location: 47.6181984, -121.3148975
Trout lake. You can barely see the large waterfall that cascades down slope from Copper Lake in the middle distance.
Copper Lake Waterfall
Location: 47.6133962, -121.3265705
The outlet coming out of Copper Lake, making an impressive waterfall.
Footbridge
Location: 47.6132226, -121.3303471
Close to the top here is a good water source.
Copper Lake
Location: 47.6073783, -121.3294888
Copper Lake Reflections
Location: 47.6015623, -121.3288021
You can see the man laying on his back, in this reflection. The head is the right mountain top reflection.
Copper Lake Reflections
Location: 47.6006363, -121.3296175
A nice mirror finish on the calm waters of Copper Lake.
Trail Views
Location: 47.59508, -121.3295317
Steps made out of rock and wood, to help make the way up easier.
Little Heart Lake
Location: 47.5932856, -121.3294029
Mt. Baker Views
Location: 47.5927068, -121.3218069
From this vantage point, you can see all the way down to little Trout Lake, and across to Silver Eagle Peak, on your right, and Mt. Baker in the distance.
Lightning Strike
Location: 47.5917806, -121.3191891
Can still see the fire smoldering here, from previous day's lightning strikes.
Big Heart Lake
Location: 47.5824603, -121.3167858
Early morning views across Big Heart Lake.
Big Heart Lake
Location: 47.5828656, -121.3170004
More views from my campsite.
Big Heart Lake
Location: 47.5829814, -121.3175154
Same site, but different perspective of lake.