Alive Again: New Findings in the 1972 Andes Plane Crash
Colorado climber Ricardo Peña's surprising discovery raises new questions in the infamous tale of survival
Heading out the door? Read this article on the new Outside+ app available now on iOS devices for members! Download the app.
IT WAS A STRANGE PLACE TO FIND A WALLET. Ricardo Peña was high in the Andes, halfway up a glacier, when it literally dropped into his hands. Climbing slowly in the thin air, he'd noticed a piece of tattered blue velour half-frozen into the ice. A jacket. He pulled it free; it felt heavy. He turned it over and something tumbled out of the pocket. What the Boulder, CO mountain guide caught was a piece of one of the most legendary adventure stories in modern history. By discovering a wallet belonging to a Uruguayan named Eduardo Strauch, the 36-year-old Peña suddenly changed from being one of millions of adventure enthusiasts thrilled and inspired by the tale to being part of it–and part of a new mystery.
You probably know the story of the group of Uruguayan rugby players, family members, and fans whose chartered plane crashed into an unnamed 15,000-foot peak on October 13, 1972. The Fairchild turboprop was grounded in the middle of the Cordillera Occidental, a poorly mapped range almost 100 miles wide and home to Aconcagua, at 22,834 feet the highest mountain in the Southern Hemisphere. Dropping suddenly through clouds and turbulence, the plane clipped a peak; the fuselage spiraled downward. A wing ripped off, then the tail; two crewmembers and three of the 40 passengers were sucked out the back. Amazingly, the main cabin remained largely intact. It landed in a snowfield and tobogganed thousands of feet before crashing to a halt. Somehow, 32 passengers survived the initial crash.
Mostly young men in their teens and 20s, the survivors stepped from the wreckage into a vast, desolate bowl surrounded by sheer mountain walls. Certain that they would be rescued within hours or days, they made quick work of the wine and candy bars they rummaged from the cabin. But rescuers were searching elsewhere, and some severely injured passengers began to die. On the 17th day, eight more perished in an avalanche. Galvanized, those remaining decided their survival hinged on eating the bodies of their dead comrades. For the next 56 days, the men struggled against subzero cold, infected wounds, and their natural revulsion to eating human flesh. They eventually came to believe that their only hope was to send a party toward Chile when the weather turned warmer.
Finally, in December, two chosen expeditionaries, Fernando "Nando" Parrado and Roberto Canessa, began climbing the peak looming to their west. Dressed in rugby shoes, three layers of jeans, and outerwear scavenged from the dead, the pair walked for 10 days, crossing steep, rubble-strewn slopes and icefields, eating scraps of putrid flesh, and huddling in a sleeping bag sewn out of seat covers. On December 21, they stumbled into several peasant farmers on a remote ranching outpost. Rescue helicopters arrived the next day, spiriting Parrado, Canessa, and the other survivors to safety. Piers Paul Read's Alive remains one of the best-selling adventure books of all time, with more than 5 million copies sold. But after 32 years, the story of human will, faith, and terror was receding from memory; other than anniversaries, there was little new in the drama.
RICARDO PEÑA RECALLS reading the book as a boy. He even remembers thinking about it as his father led him up 17,877-foot Popocatépetl, a volcano near Mexico City, where he grew up. Later, living in Colorado, Peña's thoughts would drift toward the survivors when he reached their elevation on winter climbs. He ultimately found work as a mountain guide, and began leading trips in the Andes–wondering all the while if he could visit the crash site, and what might be found there. Finally, last winter, after guiding an Aconcagua climb, Peña decided to spend a few extra days in Argentina.
One of most infamous spots in the Cordillera remains inaccessible and largely untouched. In February, Peña took a bumpy 6-hour bus ride to El Sosneado, the village nearest to the accident site. There, he met Edgardo Barrios, a hostel owner and local crash expert. For years, Barrios has offered visits to the site, but the trip is arduous–several hours of off-road driving, followed by two days on horseback. Most visitors, if they make it to El Sosneado, are content to pore over Barrios's collection of crash memorabilia and artifacts, some gathered on site visits with the survivors, with whom Barrios has occasionally communicated.
Peña simply wanted to pay homage to his childhood heroes and see for himself the challenges they'd faced. "I hoped to reach the spot where the plane hit the mountain," he says, "and maybe examine Parrado and Canessa's route."
Peña never expected he'd add a chapter to the story himself.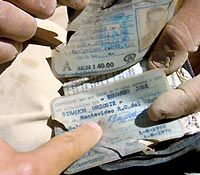 THE NEXT DAY, Peña, a group of Argentine hikers, and Mario Perez, a local horseman, departed. The Andean topography was magnificent, Peña says; they rode between snowy peaks and camped beneath the moonlit silhouettes of 15,000-foot summits. After two days, they reached the site.
Trying to reconcile the heroic landscape he'd imagined as a youth with what lay before him, Peña found the view beautiful but intimidating. "It's a huge valley surrounded on three sides by massive walls," he says. And though the Argentine side is somewhat open, "it isn't obvious that it would make a good escape route." (The survivors' decision to head west, the more treacherous direction, was largely inspired by the copilot's dying claim that they'd already flown into Chile. It turned out they were nearly 50 craggy miles from the border.)
Once the survivors were rescued, much of the debris was burned; what's left of the fuselage is now marked with a cross. A second crucifix sits at a burial site for those who died. While the other hikers paid their respects, Peña and Perez climbed toward the initial impact point several thousand feet above.
Peña's background as a mountaineer helped lead him to his first discovery. He knew from the contours above the site that avalanches would have been frequent, and that any crash debris carried down by falling snow would settle in flat spots below. When the pair reached the first such level area, Peña paused to hunt for artifacts. A quick search turned up several metallic fragments. He and Perez continued upward until they reached a junction of two chutes. A large, smooth gully rose directly above them, while a smaller one broke off to the right.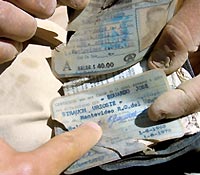 PEÑA LIFTED THE FROZEN JACKET. Objects spilled from a large pocket. A roll of film. A baggage claim tag. A wallet containing 1,000 Uruguayan pesos, 13 U.S. dollars, and a photo ID bearing the name and likeness of Eduardo Jose Strauch.
Peña knew who Strauch was: one of three cousins who'd survived the wreck. Fito Strauch stands out in the book for an early innovation that saved the group: He figured out how to fashion reflectors to melt snow into drinking water. Eduardo also played a prominent role in the drama. Slightly older at 24 than the others, he emerged as the level-headed figure put in charge of rationing the meat. His striking face stared out at Peña from the still-legible passport. "It was like a dream," Peña says. "But at that point, any doubts were erased. This was from the crash."
After sitting for a few minutes in stunned silence, Peña and Perez decided to bring Strauch's personal effects back with them, leaving the coat to mark the spot. A few hours of daylight remained, so the two continued upward; at 6 p.m., they reached the impact site, where a propeller still sticks in the snow. From there, Peña climbed toward the peak that Parrado and Canessa had scaled in snowshoes fashioned from aircraft seating. At the top, he considered in awe the willpower they must have had to summon upon reaching the spot–from which they'd expected to see Chilean pastures–only to see rows of snow-covered mountains. "They were so poorly equipped, but so determined," Peña says. "And to have continued, not knowing if the valley would lead them out…it was very brave."
To Peña's knowledge, their route has never been retraced. (Parrado tried in 1997, but his party failed and had to call in rescue helicopters.) The mountaineer in Peña longed to tackle it, but night was falling, so he rejoined Perez, and together they descended, in silence, to camp.
HOW COULD THE DEBRIS HAVE SAT IN Peña's gully, undiscovered, for so long? Peña says that the gully is so steep and narrow that it makes for a spectacularly difficult, unappealing climb; he may have been the first, in fact, to ascend it. But there's another explanation: Over the past three decades, glaciers have been receding worldwide; the World Wildlife Fund estimates that some Andean glaciers have lost 50 percent of their mass. At the memorial site, melting snow has revealed items that had been buried for decades. It's possible that some of what Peña found in the smaller gully migrated from above in moving ice, but the absence of similar objects in the main gully is at least one argument against that theory. What's certain is that these mountains still hold secrets. Sections of the plane–and several bodies–have never been recovered.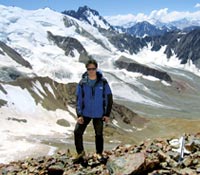 When Peña returned to El Sosneado, his discoveries astonished Edgardo Barrios. "It was like finding a piece of the Titanic," says Barrios, who immediately called Eduardo Strauch, now 57 and living in the Uruguayan capital, Montevideo.
"I have some of your money," Barrios blurted to a surprised, then delighted, Strauch, to whom Barrios sent the wallet and other artifacts.
The news spread quickly in Uruguay. The crash survivors were all deeply religious, and have always credited their faith with helping them survive. After much deliberation, they came to see the bodies of their friends as proof that God wanted them to live; consuming their flesh, they believed, was a sort of desperate communion. Strauch told the Uruguayan daily El Pais that finding the wallet was symbolic of the disturbing beauty that has made the ordeal so universally fascinating. "It was incredible to see my younger self, to see the passport with the text and seals and my name intact," Strauch said.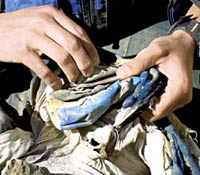 Another survivor, Alvaro Mangino, told El Pais that the group had "always thought we'd tobogganed down the flank of the larger gully." But when told of Peña's discovery in the lesser gully, Mangino wasn't entirely surprised: "This mountain keeps giving back to us."
Peña knows his reinterpretation is still, at this point, just strong conjecture. After returning to Colorado in March, he began to plan a more formal expedition, one that will include a forensic survey of the new gully and a retracing of Parrado and Canessa's trek into Chile.
In the first newspaper accounts of his find, Peña was referred to as a "Mexican hiker." This oversight was corrected by Barrios, who put Strauch in touch with the man who'd retrieved a piece of his past. In an e-mail to Peña, Strauch wrote: "I've wanted to express my gratitude. The encounter with those objects has been of great significance, and they have made me think and feel many things all over again." But it was Strauch's closing line that revealed Peña's own Andean crossing–from somebody who'd been inspired by the tale, to somebody who'd become part of the story itself. "I've lived some very emotional and intense days," Strauch wrote. "I hope I will be able to get to know you personally very soon." For Peña, Strauch's gracious words were already "a dream come true." Returning to the Andes and further unraveling the mystery? "It feels like what I've been waiting all my life to do," he says.
Dan Koeppel journeyed to Brazil last spring to profile extreme birder Peter Kaestner ("Gone To The Birds," 9/04).