Albuquerque, NM: Sandia Crest Trail (South)
Balance this 13.5-mile hinterland hike up the southern spine of the Sandia Mountains with a civilized finish--microbrews at the High Finance Restaurant.
Heading out the door? Read this article on the new Outside+ app available now on iOS devices for members! Download the app.
Start at the South Crest Trailhead and climb north above Albuquerque along the Sandia spine. Hikers weary from hoofing it up the southern half of the Sandia Crest Trail will appreciate the ride home from this shuttle hike. The hike ends at the High Finance Restaurant (make reservations) and the Sandia Peak Tramway, which will provide an aerial return to your car in Albuquerque. But first, you must climb 4,000 feet over 13.5 miles through four ecosystems—upper Sonoran to spruce—from the southern terminus in Tijeras, NM.
Want to make an overnighter out of the entire 26-mile Crest Trail? Travel south to north to take advantage of breaks on level terrain as you climb, and pack light: You can leave the stove at home if you grab dinner at the restaurant and have a cold breakfast.
-Mapped by Bill Velasquez
TO TRAILHEAD: Start: From I-25 in Albuquerque, take I-40 east 15 miles to exit 175 (Tijeras) for NM 337 south. Turn left to cross under the interstate, then turn right onto Arrowhead Trail. Go .6 mile to trailhead at end of street.
End: From I-25 and I-40 in Albuquerque, take I-25 north 7.5 miles to Tramway Rd., exit 234. Turn right. Take Tramway Rd. east 4.9 miles to Tramway Rd. NE; turn left. Take Tramway Rd. NE .8 mile to Tramway Loop NE. Bear right, and go .2 mile to parking at base of tramway.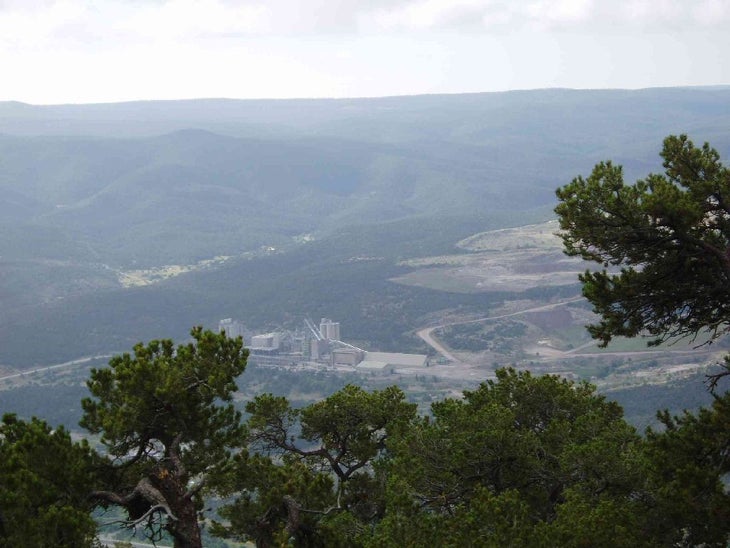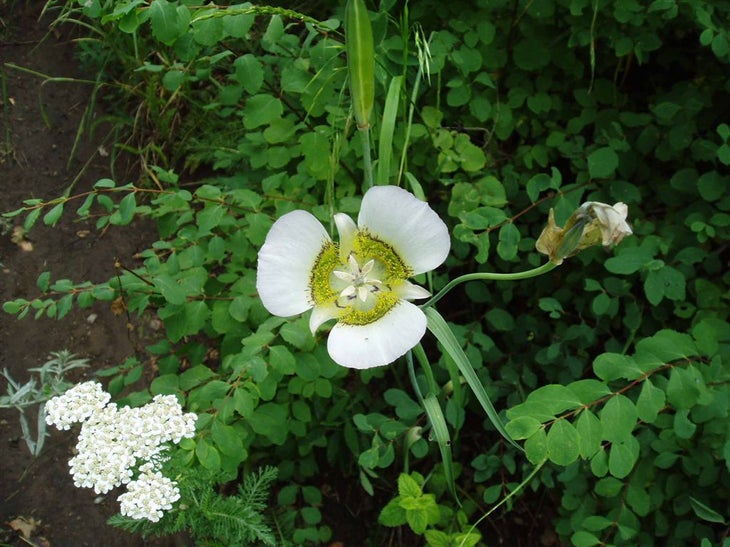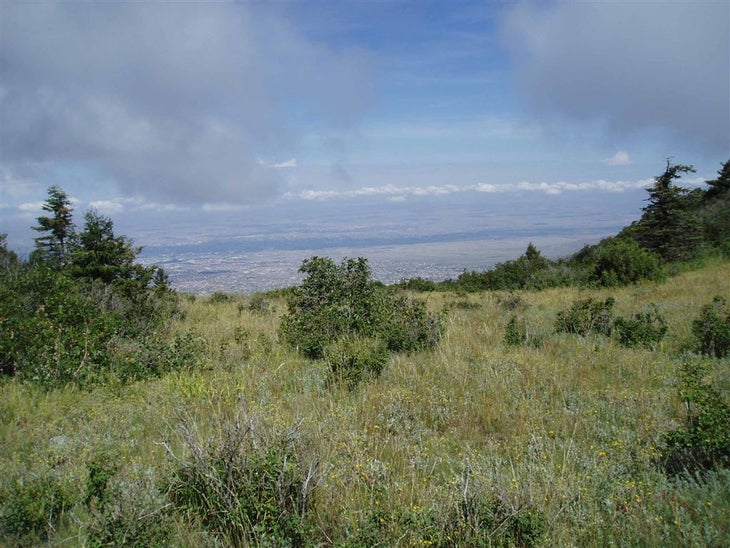 Trail Facts
Waypoints
SCS001
Location: 35.089581, -106.391605
Head north from the South Crest trailhead for a gentle climb.
SCS002
Location: 35.0951, -106.392998
Trail passes above Travertine Falls, a picture-perfect waterfall.
SCS003
Location: 35.09745, -106.397201
Stay on Crest Trail 130 @ junction with Faulty Trail. Ahead, switchbacks lead west up ridge overlooking Hondo Canyon.
SCS004
Location: 35.098995, -106.406387
Continue on Crest Trail @ Upper Faulty intersection (Upper Faulty leads to CCC and Faulty).
SCS005
Location: 35.09409, -106.411003
Head west; look to the south for views of local mining operations. Switchback climb ahead.
SCS006
Location: 35.111, -106.427101
Continue straight on Crest Trail. Embudito Trail descends steeply down the west side of the mountain as the trail crosses a clearing; South Sandia Peak looms to the north.
SCS007
Location: 35.143662, -106.414001
Continue straight @ 3-way where trail intersects Barts Trail; wind through thick groves of quaking aspen.
SCS008
Location: 35.153481, -106.414703
Stay straight @ 3-way; Canyoncito Trail winds up the east side of the mountain and enters on right.
SCS009
Location: 35.169022, -106.414299
Continue straight on saddle, heading northeast, then northwest. The popular Pino Trail enters on left where scrub oak flourishes (a good place for a break before tackling upcoming elevation gain); Cienega Trail enters on right.
SCS010
Location: 35.187199, -106.4207
Keep left, passing Tree Spring Trail and 10K Trail. Begin slightly steep climb through dense tree cover to the Crest.
SCS011
Location: 35.19276, -106.431297
Follow South Crest Trail to the north-northwest. Leave the forest as you near the Sandia Peak Tramway and ski area.
SCS012
Location: 35.196091, -106.434196
Take a well-deserved break at High Finance Restaurant & Tavern (microbrews served), then hop on the Sandia Peak Tramway for a relaxing ride to your shuttle car.
View South
Location: 35.094318, -106.410927
Sounds from I-40 and views of local mining operations remind you that you are not too far away from civlization.
Mariposa Flower
Location: 35.107284, -106.426117
Distant City Views
Location: 35.135651, -106.418625