Albuquerque, NM: Piedra Lisa South
Climb through the sandy canyons and shrubby ridgelines of the Sandia Mountain Wilderness on this 5-mile out-and-back outside Albuquerque.
Heading out the door? Read this article on the new Outside+ app available now on iOS devices for members! Download the app.
Legend has it that Spanish explorers named this range Sandia (meaning watermelon) for its rosy glow at sunset. You be the judge on this five-miler below North Sandia Peak. Less than a mile in, turn right for a .4-mile side trip to a pourover that transforms into a burbling waterfall after a rain.
Next, ascend 1.4 miles (and nearly 1,200 feet of elevation) to a high point dubbed "The Knob." From here, walk .4 mile northwest along the summit ridge for distant views north of the Sangre de Cristos. Linger here 'til dusk (or camp below The Knob) to watch the sinking sun bathe North Sandia's west-facing crags in pink and red hues.
-Mapped by Bill Velasquez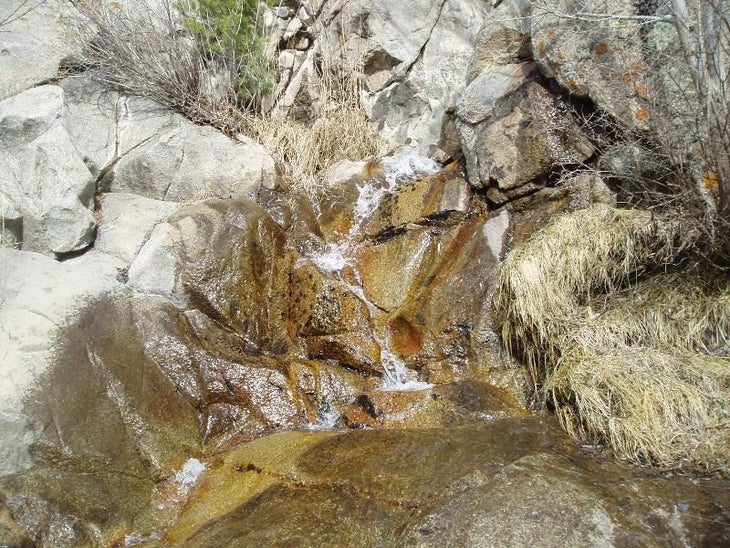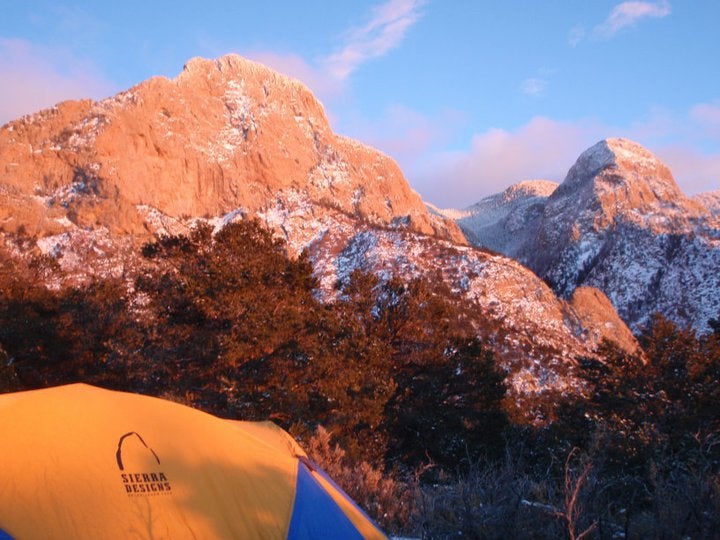 Trail Facts
Waypoints
PLT001
Location: 35.223058, -106.483406
From sign near kiosk, follow two-track dirt road N
PLT002
Location: 35.228409, -106.482399
Dirt road ends; Piedra Lisa Trail begins
PLT003
Location: 35.229846, -106.48093
Quick descent into parched streambed shaded by piñon and juniper
PLT004
Location: 35.230683, -106.479562
Wilderness boundary. Ahead, turn R for .4-mi. side trip up a cramped canyon-a must-do if there's been any rain
PLT005
Location: 35.229988, -106.476501
Hiking stops @ small pourover-usually dry, but a cool spot when creek runs and waterfall burbles. Backtrack to WPT 4, then head NW toward tilted rock slabs
PLT006
Location: 35.231193, -106.47946
Geocache: Turn left and hike SE around rock bench. Under the large pile of rocks is a green ammo box of geocache goodies.
PLT007
Location: 35.238232, -106.477798
On R, rock climbers work the cruxes on The Shield and other crags of North Sandia Peak
PLT008
Location: 35.244603, -106.475329
Reach the ridge. Continue R (E) on Rincon Spur
PLT009
Location: 35.243464, -106.474128
The Knob: Views of Mt. Taylor to W and the Sangre de Cristos to N. Backtrack to WPT 8 and head W past unsigned fork along ridgeline for final treasure hunt
PLT010
Location: 35.247196, -106.478409
This easier-to-find cache is tucked between rocks just S of large fire pit. Take in more views, then return to trailhead
Small Waterfall
Location: 35.230004, -106.476338
Sandia Sunset
Location: 35.241028, -106.475093