Albany, NY: Mount Greylock
Lazy folks drive to the top. Be a champ and hike the 7.8 miles from farm fields and hardwood forests to the highest summit in Massachusetts.
Heading out the door? Read this article on the new Outside+ app available now on iOS devices for members! Download the app.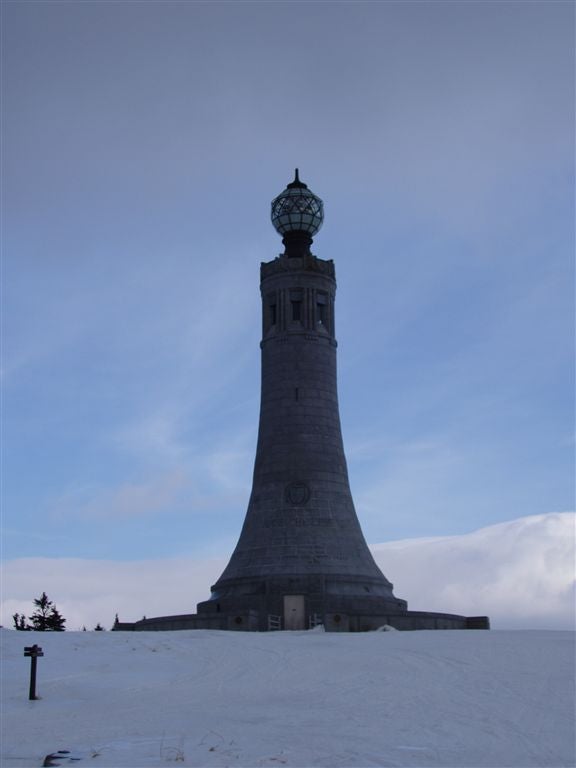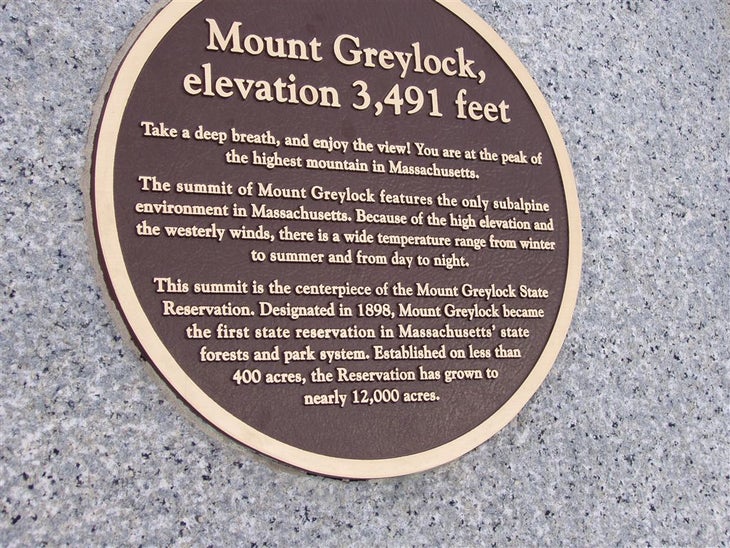 Trail Facts
Waypoints
MGT001
Location: 42.655216217041, -73.2038345336914
Head E along windbreak between farm fields. Tip: Get an early start to avoid drive-up crowds on top
MGT002
Location: 42.6548004150391, -73.200798034668
Stay straight @ T, heading E. In 100 yds., continue straight @ T where Hopper Brook Loop Trail branches to the N
MGT003
Location: 42.6548347473144, -73.1990661621094
R @ Y onto Hopper Trail. Optional: Follow Money Brook Trail E to campsites
MGT004
Location: 42.652515411377, -73.1914520263672
Trail winds SE through shaded forest
MGT005
Location: 42.6457672119141, -73.1871795654297
Continue straight @ T along E slope of Stony Ledge Mtn.
MGT006
Location: 42.6345329284668, -73.1896820068359
Pass Sperry Rd. campground. In 100 yds., Hopper Trail meets Sperry Rd. In .2 mi., take Hopper as it veers L, leaving road
MGT007
Location: 42.630184173584, -73.1856002807617
Turn L @ T with Deer Hill Trail; follow Hopper Trail NE
MGT008
Location: 42.633918762207, -73.1769332885742
Turn R @ T; stay on Hopper Trail to tackle Greylock's SW slope
MGT009
Location: 42.6327667236328, -73.1750183105469
Turn L @ 4-way, heading NE onto white-blazed Appalachian Trail. In .2 mi., pass small pond and rustic cabin; begin ascent
MGT010
Location: 42.6367683410644, -73.1681365966797
Break into summit clearing; trail intersects access roads and parking lots. Head NE toward towering granite war memorial
MGT011
Location: 42.6372184753418, -73.1661834716797
Greylock Mtn. (3,491 ft.): On clear days, see 100 miles to fi ve states from the peak that inspired Melville and Thoreau
War Memorial
Location: 42.6369361877441, -73.1680374145508
A towering, globe-capped lighthouse-turned-war memorial caps the state's high point.
©Shannon Davis
Summit Sign
Location: 42.6372871398926, -73.1660842895508
Mount Greylock has inspired artists and writers for centuries, drawing in the likes of Melville, Thoreau and Oliver Wendell Holmes. ©Shannon Davis