Wrangell-St. Elias National Park and Preserve: The Goat Trail
Hike a smarter variation of the Goat Trail on this five-day adventure in Wrangell-St. Elias National Park and Preserve.
Heading out the door? Read this article on the new Outside+ app available now on iOS devices for members! Download the app.
This trek requires a short, reasonably priced bush plane flight, and it leads through such brawling, glacier-clad, soaring mountains, that it's the best introduction to remote Alaska we've found. This 20-mile point-to-point trip is a variation of the renowned Goat Trail route from Skolai Pass down Chitistone Canyon, but by starting from the high Wolverine landing strip, it delivers all the scenic highlights while avoiding the alder thickets and potentially dangerous river fords of lower Chitistone Gorge.
Despite being a "moderate" hike by Alaska standards, it's no pushover. You'll start on glorified game trail, cross unmarked tundra, search for the key pass that leads to the Goat Trail (an old prospector path from the early 1900s), and follow that sketchy track along the Chitistone River before again searching for a descent off Chitistone Pass to your ending landing strip near Skolai Lake. Allow a minimum of three days—assuming you get good weather. We recommend five days or more, since excellent side hikes like a circumnavigation of Wolverine Mesa, or alpine wanderings around Chitistone Pass and the Skolai Lakes, exist near both trip ends.
From Wolverine airstrip, you immediately climb north on faint wildlife trails, traversing northeast across a massive talus slope and around the heads of two steep creeks. Keep an eye on your footing; it's difficult not to be distracted by the giant, bulky peaks across Chitistone Gorge. After 2.5 miles and two exposed sections, the track descends to the open tundras of Hasen Creek, vanishing as it goes. You won't see established track again until you find the Goat Trail.
Cross Hasen Creek where it splits into upper tributaries, and continue northeast up gradual tundra benches, passing two massive waterfalls that thunder just to your right. Above the waterfalls cross upper Hasen Creek, then veer right/east through a broad, meadowy pass. Stay left/north as needed to avoid swampy areas, but stay on tundra, don't wander too far left/north onto glacial moraine, as you round the headwaters of the Chitistone River's western fork, aiming for the lowest, farthest toe of an obvious, massive moraine about two miles away.
Round the moraine toe as closely as possible to avoid cliffs in the streambed below. As you walk, look right/southeast toward the craggy ridgeline ahead, which descends southward off of Point 7,755. You'll need to cross this ridge on the obvious grassy bench that sits roughly across from you and slightly below, at around 5,500 feet elevation. From the moraine toe, descend on a gradual traverse along the eastern margin of the stream gorge. You'll drop almost 300 feet before you can gain the tundra bench at ridgeline, which is the gateway to the Goat Trail, renowned for its narrow, exposed track that cuts across exposed talus.
Cross the tundra bench as high/left as possible, staying in the light, yellowish band of talus. (Caution: Do not descend into the darker, greenish rocks or you'll wander into dangerous, exposed cliff bands.) If you hit the traverse correctly, you'll actually descend onto the main Goat Trail, which is one of numerous Dall sheep tracks in the area. On the Goat Trail, you'll traverse nearly a mile of steep talus, and then descend another 1,000 feet to the Chitistone River. On calm days you can hear the roar of 400-foot Chitistone Falls, not far downcanyon from your route.
Stay on the west side of the river, following patchy trail across several stream crossings, all the way to broad Chitistone Pass at 5,800 feet elevation. Atop the pass, the track, still called The Goat Trail, veers eastward, descending 500 feet over a mile to the brink of a cliff band. There the track takes a 180-hairpin turn left/west at the brink, and then becomes very faint. Search closely for a way down through the cliffs. Once you're spit out at the base of the long ridgeline after a 1,300-foot descent down cliff bands and steep slopes, follow it left/west for 2.5 miles to the small, grassy Skolai Airstrip, which is just above the southwest shore of Lower Skolai Lake. (Note: The airstrip shown at Upper Skolai Lake on USGS maps no longer exists.)
–Mapped by Steve Howe
PERMITS: NPS itineraries are filled out by your air taxi operators. Bear-resistant canisters are required.
BUSH PLANE FLIGHTS: Wrangell Mountain Air, (800) 478-1160; wrangellmountainair.com
MORE INFO: Wrangle-St. Elias National Park and Preserve, (907) 554-1105; nps.gov/wrst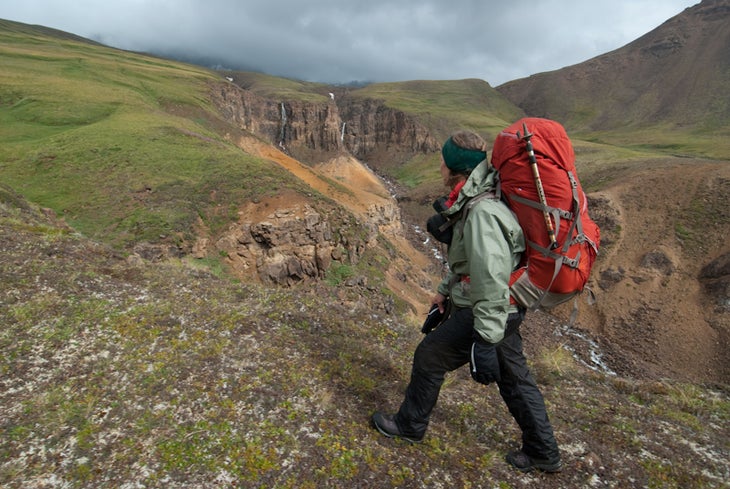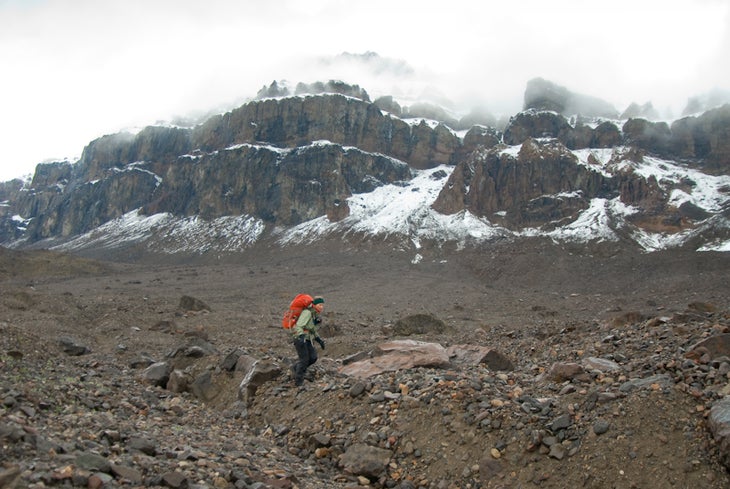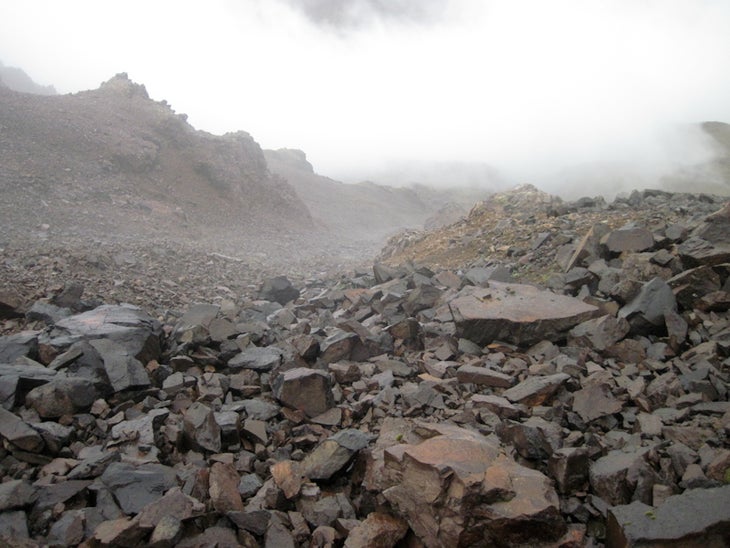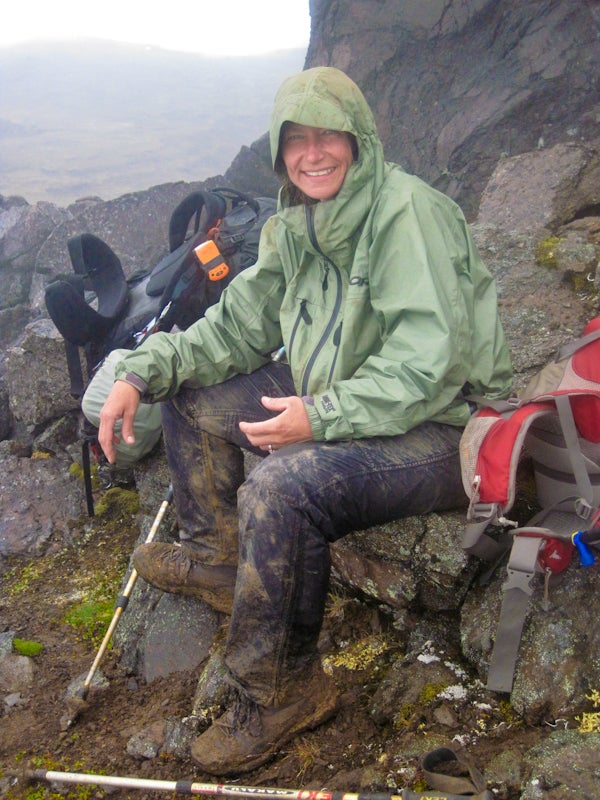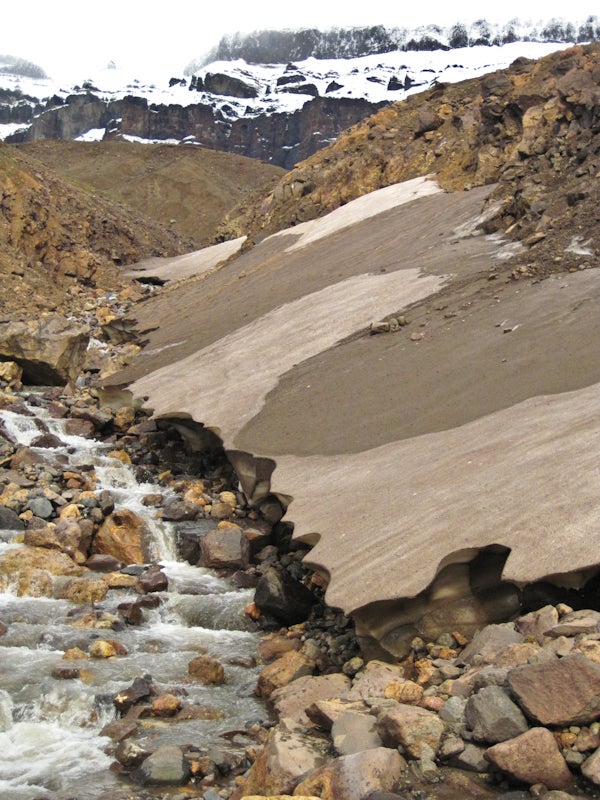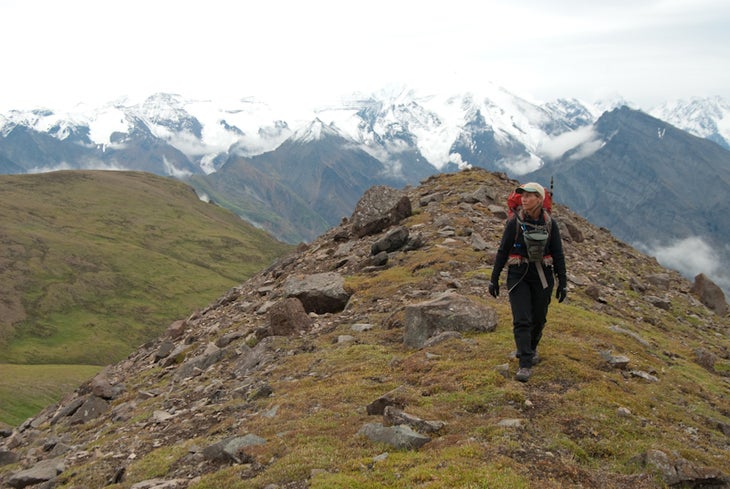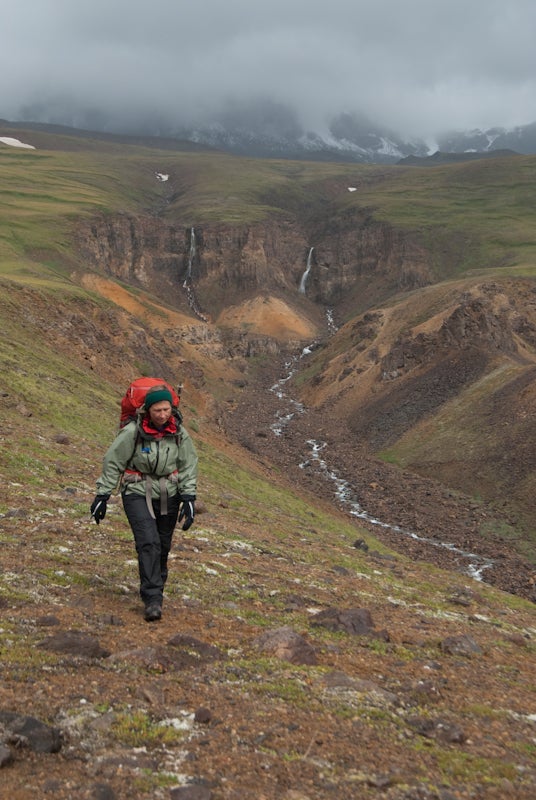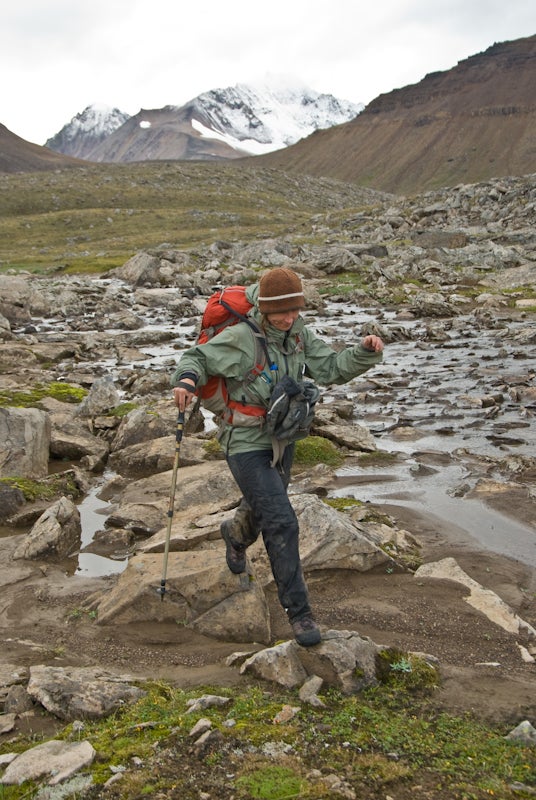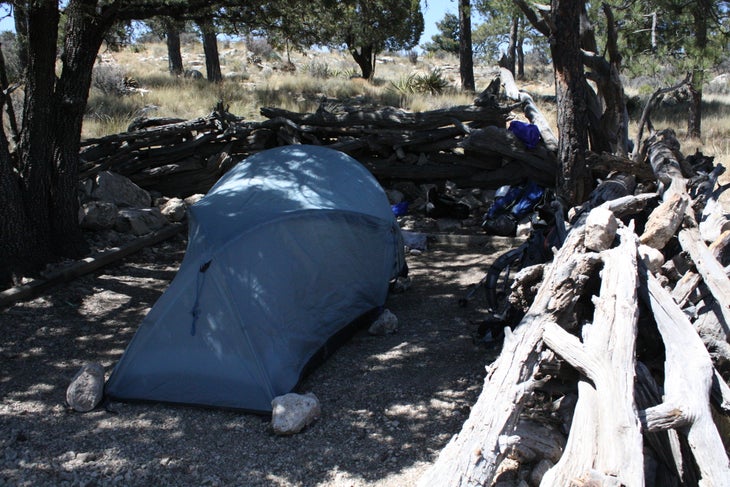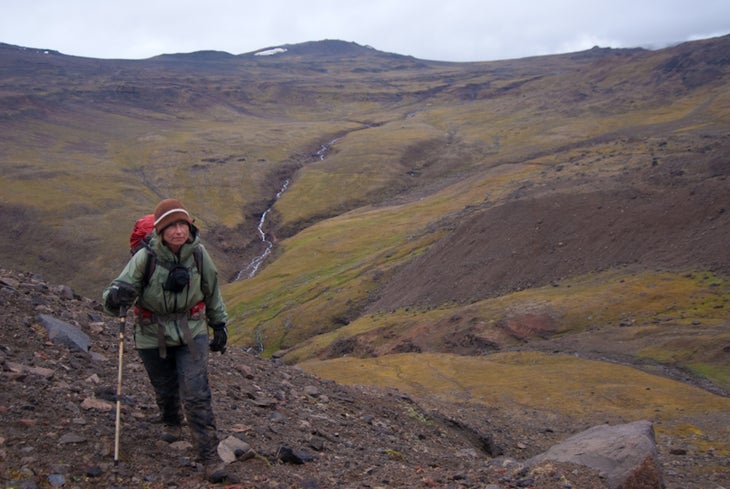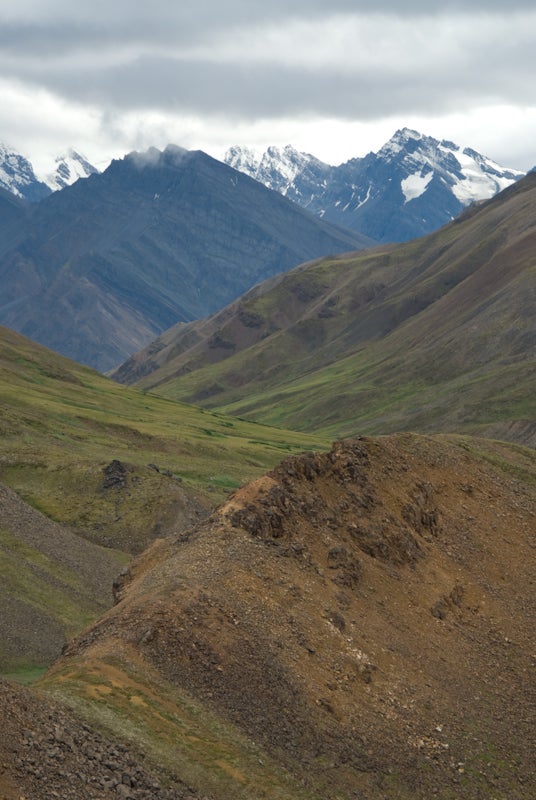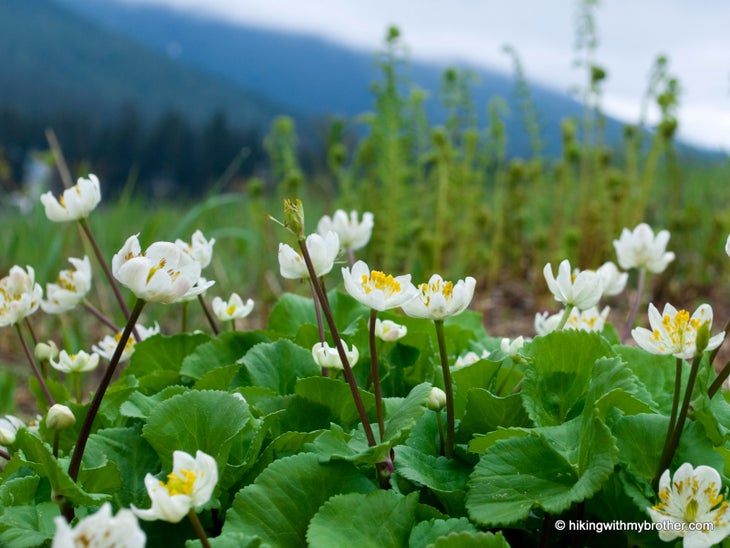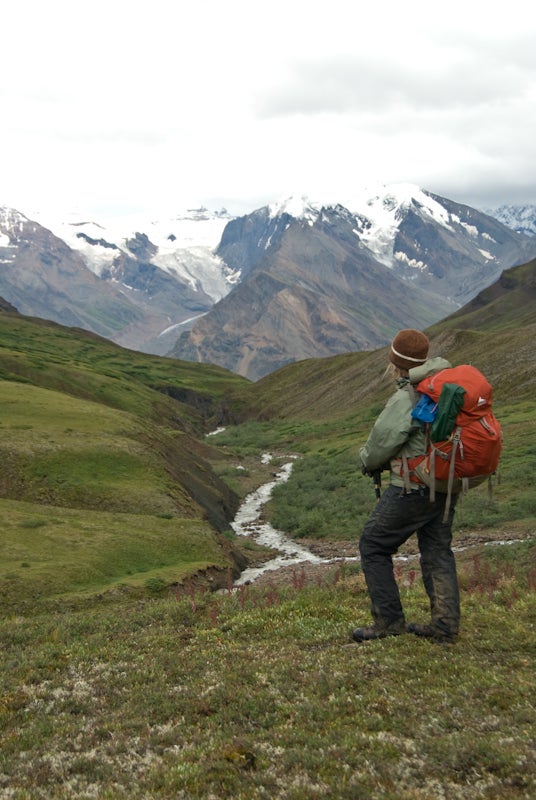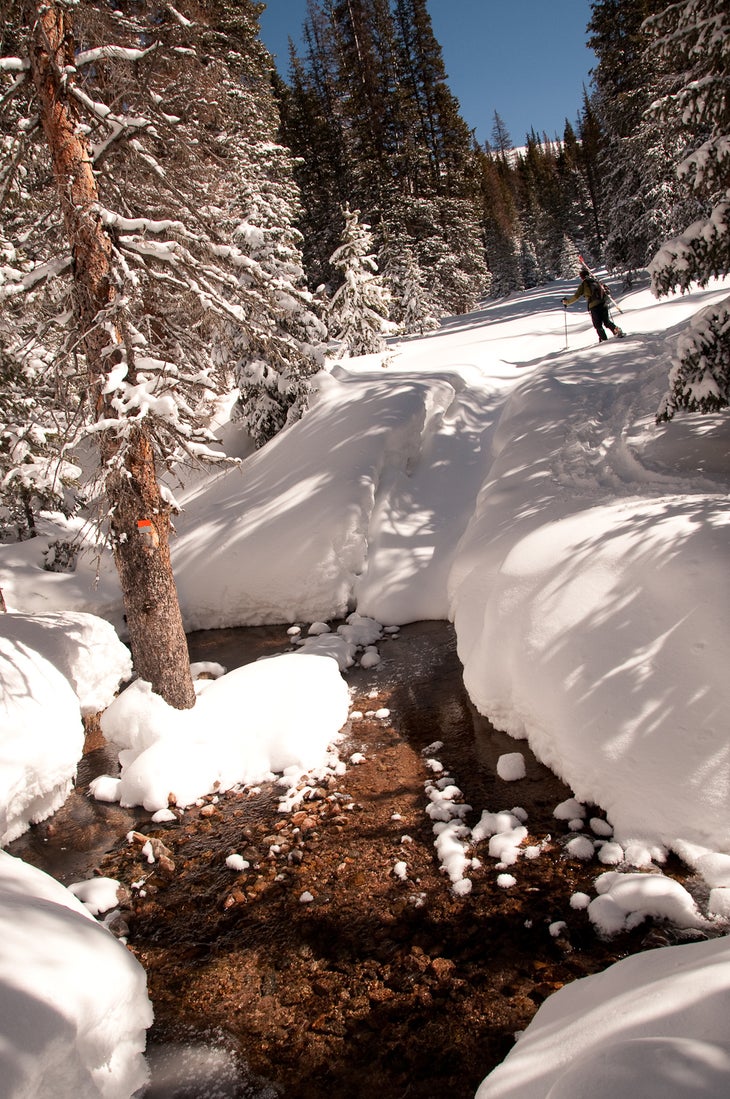 Trail Facts
Waypoints
WOL001
Location: 61.509413, -142.296256
Wolverine airstrip
WOL002
Location: 61.527919, -142.294149
Hike northeast
WOL003
Location: 61.529459, -142.290843
Stay above cliff bands.
WOL004
Location: 61.53252, -142.286465
Hike north
WOL005
Location: 61.541526, -142.291219
Trail appears again
WOL006
Location: 61.541957, -142.293959
Good campsite
WOL007
Location: 61.542745, -142.296211
Turn right and descend.
WOL008
Location: 61.553739, -142.292352
Dirt ridge between tributaries. Climb ridge and continue north.
WOL009
Location: 61.565507, -142.285152
Twin waterfalls
WOL010
Location: 61.567632, -142.248909
Pass
WOL011
Location: 61.566168, -142.211676
Good campsite
WOL012
Location: 61.564556, -142.206345
Sheep trails
WOL013
Location: 61.565046, -142.205184
Round moraine toe
WOL014
Location: 61.553102, -142.187417
Goat Trail. Cross ridge as high as possible in light yellowish talus not darker green band.
WOL015
Location: 61.615303, -142.023027
Drop down through cliff bands.
WOL016
Location: 61.56016, -142.159567
Goat Trail
WOL017
Location: 61.575198, -142.122145
Trail swings up to cross stream.
WOL018
Location: 61.590311, -142.072535
Continue north; pass tarn ahead.
WOL019
Location: 61.605825, -142.057772
Chitistone Pass
WOL020
Location: 61.62921, -142.077894
Lower Skolai Lake airstrip
WPT001
Location: 61.630721, -142.010519
IMPORTANT: This landing strip is no longer operational.
Tundra walk
Location: 61.569478, -142.281189
Hiking the boulder field
Location: 61.565718, -142.220249
Clouds sock in valley
Location: 61.558116, -142.19553
Muddy miles and smiles
Location: 61.552719, -142.186947
Melting Ice
Location: 61.571194, -142.275009
Grassy bench views
Location: 61.52826, -142.292519
More views
Location: 61.56768, -142.287025
Hop
Location: 61.544787, -142.299042
Campsite
Location: 61.565391, -142.223167
Picking a route
Location: 61.567189, -142.289429
Ridges frame snowy mountains
Location: 61.564737, -142.290459
Wildflowers
Location: 61.566372, -142.23278
Another reason to pause
Location: 61.56441, -142.291145
Creek crossing
Location: 61.542496, -142.295265