Hiking the Other John Muir Trail in Scotland
Hike the wild terrain that shaped America's patron saint of wilderness.
Heading out the door? Read this article on the new Outside+ app available now on iOS devices for members! Download the app.
I'd been hiking across Scotland for days, and yet long after my ears should've acclimated, I could barely make out a word of what most people were saying to me. We shared a language, apparently, but I'd stopped asking the jolly fellows I was enjoying a pint with in a pub in Helensburgh, on the west coast, to repeat themselves. Now I just laughed and smiled back in a fog of patois.
This strategy was problematic. The fairly comprehensible bartender revealed that the short, stocky man to my left—the long-lost twin brother of AC/DC's Brian Johnson, complete with black leather vest—had not been relating something funny but had in fact been bemoaning the recent, tragic death of a family member. I was mortified.
It was that damned brogue. Even grim tidings seemed to come across as lighthearted and musical. I turned to Brian Johnson's brother—his head cocked, his expression pure enigma—to apologize and request forgiveness.
"Just kidding!" cried the barkeep, and the place exploded with laughter. I collapsed on the bar as half a dozen hands swatted my back and another black pint appeared before me. There was no shortage of offers to buy a drink for the American who just finished hiking across their country.
"Good thing I'm thirsty," I said. A half dozen voices shouted approval.
"So if Helensburgh's the end, where'd you begin?" asked the bartender.
"Well," I said, "I came from Dunbar, along the John Muir Way."
"John Muir, you say?"
"Yep."
"Oo's he again?"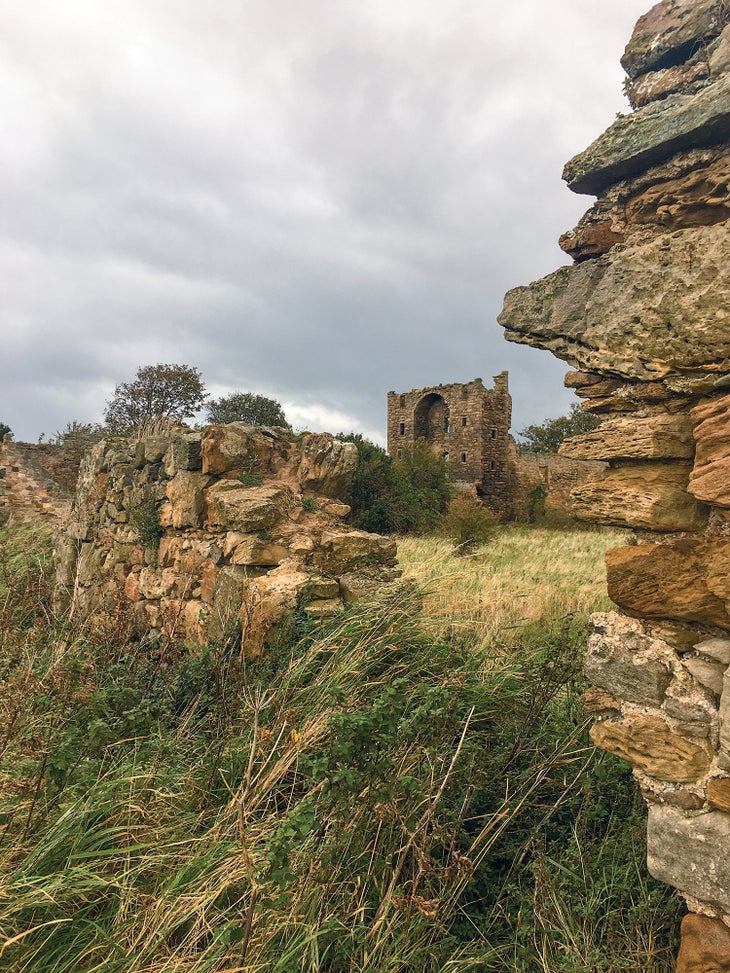 For American hikers like me, that name isn't just known; it's revered. But though he founded the Sierra Club, drove protection of Yosemite National Park and other western preserves, and wrote books that ensured his place as an icon of wilderness, Muir is pretty much a nobody in his native Scotland.
The minds behind the John Muir Way think that's about to change. The 134-mile route, established in 2014, was designed to honor Scotland's nature-besotted son by introducing Scots to his legacy and connecting them with their wild heritage. Luckily, Scots love to hike: "Hill walking," especially on the country's 282 Munros (peaks over 3,000 feet), is a national pastime. The JMW also gives Muir fans the world over a chance to see the natural and historic landscapes that shaped their wilderness hero, as they hike both the Lowlands and the Highlands, enjoying the pleasures of both town and country.
By Muir's own account, his childhood ramblings here planted the seeds of his tireless defense of the natural world. He was born in Dunbar, on the east coast of Scotland, and explored obsessively as a kid. In The Story of My Boyhood and Youth, Muir wrote, "With red-blooded playmates, wild as myself, I loved to wander in the fields to hear the birds sing, and along the seashore to gaze and wonder at the shells and seaweeds, eels and crabs in the pools among the rocks when the tide was low; and best of all to watch the waves in awful storms thundering on the black headlands and craggy ruins of the old Dunbar Castle when the sea and the sky, the waves and the clouds, were mingled together as one."
I started my own journey after a visit to Muir's childhood home, a three-story house that's now a museum. Despite the prevailing headwinds (trail guides recommend going east), I would follow the route westward. That's the direction 11-year-old Muir traveled with his family in 1849, crossing Scotland to board a U.S.-bound ship at the Atlantic port of Helensburgh. Tracing this journey, the JMW traverses the narrow "belt" of the country, an ancient strategic line of division that hosts more blood and ghosts than anywhere else in the land.
I set off on a fine spring day, breathing in the salt air, listening to the cries of gulls. Leaving Dunbar, I skirted the River Tyne's estuary, which was alive with waterfowl. Climbing gently through farmland, across fields patrolled by swallows, I literally stopped to smell the flowers. White wood anemones and bluebells thronged among the roots of alder and ash.
I had just seven days to hike the JMW. That might've been generous for Muir, who routinely knocked off thru-hiker-worthy miles and eschewed tents and even bedrolls in favor of snoozing animal-style. But as much as I admire the man, I'm no wilderness monk. The JMW passes by plenty of hotels and B&Bs and pubs. I didn't plan to eschew anything.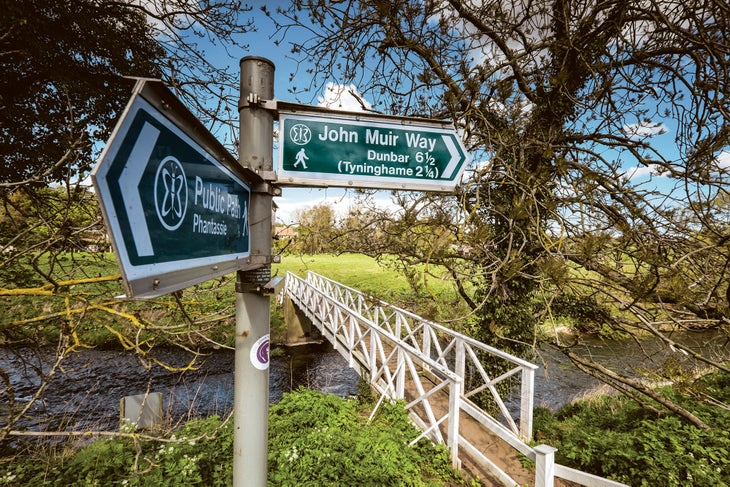 Like other long trails in the United Kingdom, the JMW crosses a patchwork of park land, farmland, and urban land. (The route even goes through Edinburgh.) It also passes dozens of historic sites. On the first day alone, I hiked by three castles. In fact, the JMW is so spangled with ancient castles, palaces, and country houses that it seems almost too civilized at times.
Still, there are long stretches of wild terrain that surely fired the young Muir's mind. When I wasn't winding through dense woods erupting with purple splotches of Scottish thistle, I was topping steep, weathered hills or climbing rolling moorland among braeberry bushes. Once I spied a kestrel eviscerating a vole as buzzards sailed above. It brought to mind something Muir wrote about his childhood explorations here: "Nature saw to it that besides school lessons and church lessons some of her own lessons should be learned."
When traversing the wilder parts of the JMW, it's easy to forget that humans have been living, fighting, and dying here for millennia. But there's always a reminder around the next bend. About mid-journey, the path follows the remains of a structure the Romans built to divide the country: the 37-mile, 1,900-year-old Antonine Wall. Really more of a massive, fortified earthwork, the barrier was built to keep Celtic tribes in the north from raiding imperial turf to the south.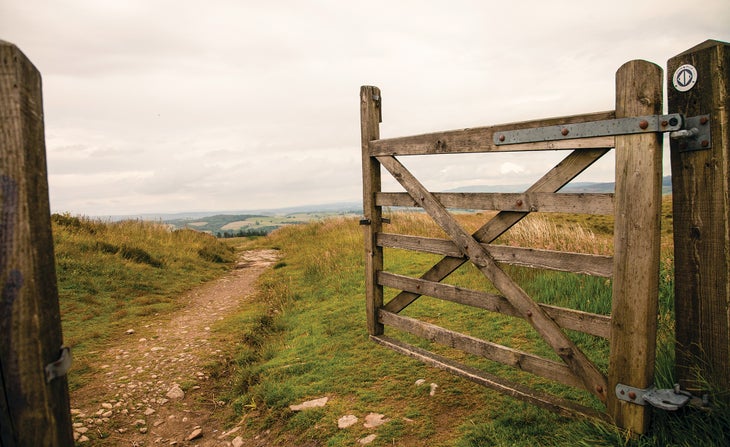 On my final climb, passing through classic Highlands heather and gorse, I ascended the boggy, pine-forested steeps of Gouk Hill to a commanding vantage point. Below me lay vast Loch Lomond, with Inchmurrin, the first of its 60 or so islands, jutting from its heart. A dozen miles to the north loomed 3,196-foot Ben Lomond, the southernmost of Scotland's famous Munros.
It was both a high and low point for me. The route was all downhill from here, but, still, I was eager to reach the Atlantic. I soon found myself in a tiny Helensburgh pub near the end of the trail, pint in hand, extolling the wonders of the John Muir Way to a gaggle of Scots suddenly inspired to go for a ramble themselves.
Travel Smart
Beat jet lag
1) Before takeoff, switch the clock on your phone and watch to your destination's time. This small change will help you mentally adjust to the new time zone.
2) Sleep on the plane so you don't arrive overtired. Try melatonin, which helps with sleep and time-zone adjustment.
3) No matter how tired you are upon arrival, avoid sleeping during the morning or afternoon local time. Explore your surroundings and go to bed in the evening.
Trip Planner
Getting there Both Helensburgh and Dunbar are accessible by public transit from Glasgow and Edinburgh. Season Spring through fall Guidebook John Muir Way ($16) Camping/lodging Camping is possible in some areas, but most hikers stay in hotels and B&Bs. Total cost $1,500 (round-trip airfare from New York, transportation, lodging)
Jeremy Keith Spencer, a former senior editor at Outside, is currently at work on a book about the ocean for Chronicle.