The Vampire Trail
Immerse yourself in ancient myths and one of the last refuges for Europe's wolves on a hike through the Transylvanian Alps.
Heading out the door? Read this article on the new Outside+ app available now on iOS devices for members! Download the app.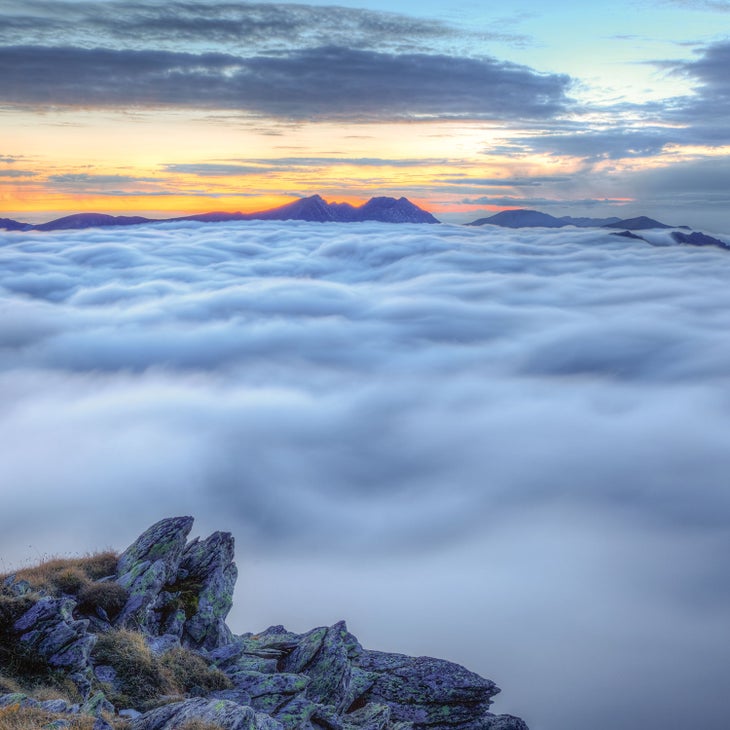 The wolf tracks cross the trail and disappear straight over the edge of the precipice. It makes no sense. We're descending from the summit of Mt. Moldoveanu, at 8,346 feet the highest peak in Romania. The trail, a stony, knife-edge arête with thousand-foot drops on both sides, runs along the spine of the Transylvanian Alps. Steep, grassy slopes with wooded ravines drop away to the south; but to the north, just 3 feet from the muddy trail, sheer black cliffs plunge down into the mist. The wolf tracks—huge prints with claw marks dug deeply into the mud—come up from the south and go right over the edge, as if the wolf had simply leapt into the abyss, transforming itself into some kind of flying beast.
Two hours earlier, at 3 p.m., we'd reached the Refugiul Vistea Mare, our original destination for the day. The hut was a tiny, red-and-white striped stone building. Other than a wall-to-wall sleeping platform and anti-communist graffiti, it was empty. At least it appeared cozier than the first trail shelter we'd stayed in—a corrugated metal hut that clanged in the wind all night long—but Martha, my hiking partner, wasn't ready to stop.
"It's too early. We still have two hours of daylight."
It was mid-October but the weather looked wintry. Bulbous clouds had rolled in over us and it looked like it might snow.
"We won't make it to the next hut," I said.
"Then we'll bivouac," she responded brightly.
"Could be uncomfortable."
"No, it will be fun!"
"When was the last time you bivied high in the mountains, Martha?"
She flashed me a big grin. "Never!"
And that's how we came to be standing on the rocky summit of Moldoveanu so late in the day. It was almost dusk and the serrated crest of the Transylvanian Alps ripped the world in two distinct halves: light and dark. The southern flanks were bathed in gold, the northern walls shaded in Stygian black. The trail wove along the serpentine edge between the two. We signed the log book beneath the blue, yellow, and red striped flag of Romania and descended into a purpling haze.
It's twilight when I spot the wolf tracks. At first I think they must be dog tracks, but upon closer examination, I realize they couldn't have been made by any animal other than a wolf. The tracks are too big, bigger than my fist, and single-tracked—the rear paws landing squarely in the prints of the front paws (dog tracks meander). For a few minutes, I stare down into the darkness of the north side, looking for movement. Nothing.
We're using our headlamps by the time we find a low stone wind break.
"Somebody bivied here," I say, surprised to find a semi-flat space along the ridgecrest.
"Perfect!" says Martha, too enthusiastically.
We had gone light on this hut-to-hut, 62-mile traverse of the Transylvanian Alps, so we have neither tent nor stove. My sleeping bag, rated 35°F, is not much better than a blanket. Martha had wisely packed her 0°F bag.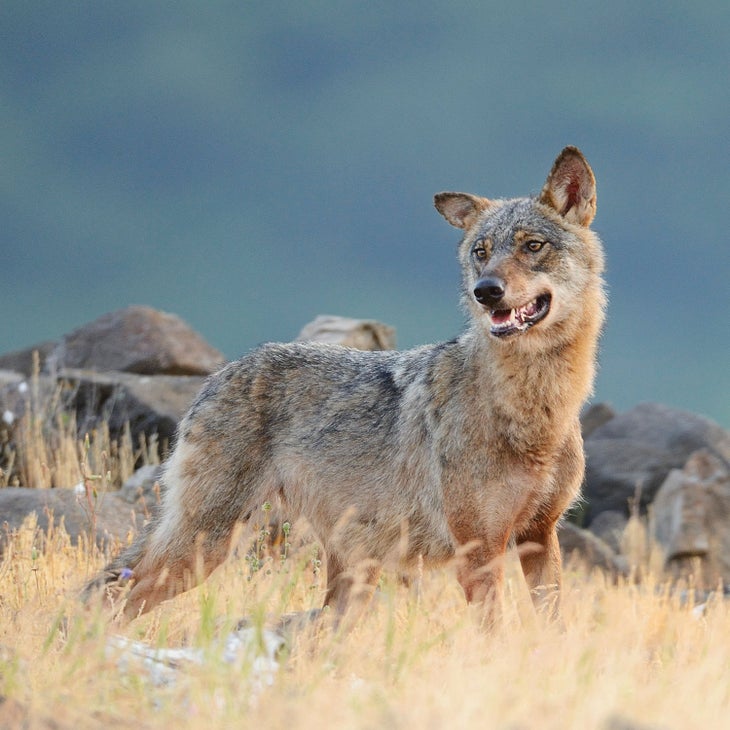 Nevertheless, we curl up on the ground and read Bram Stoker's Dracula together, as we'll do every night of the trip. Of course we do. How often does a worldclass trek dovetail with the most successful horror novel ever written? It's day two, and we're still near the beginning of the book. Three of Dracula's witches have already kidnapped a peasant infant for a blood feast. When we resume, the hysterical mother has come to Dracula's castle and is tearing out her hair and beating her breasts.
"'Monster, give me my child!'"
Count Dracula doesn't answer. Instead, in his "harsh, metallic whisper," he summons the wolves. "His call seemed to be answered from far and wide by the howling of wolves. Before many minutes had passed a pack of them poured, like a pent-up dam when liberated, through the wide entrance into the courtyard."
From the very beginning of Dracula, wolves are harbingers of evil. Every time they appear, we know something bad is about to happen.
"There was no cry from the woman, and the howling of the wolves was but short. Before long they streamed away singly, licking their lips."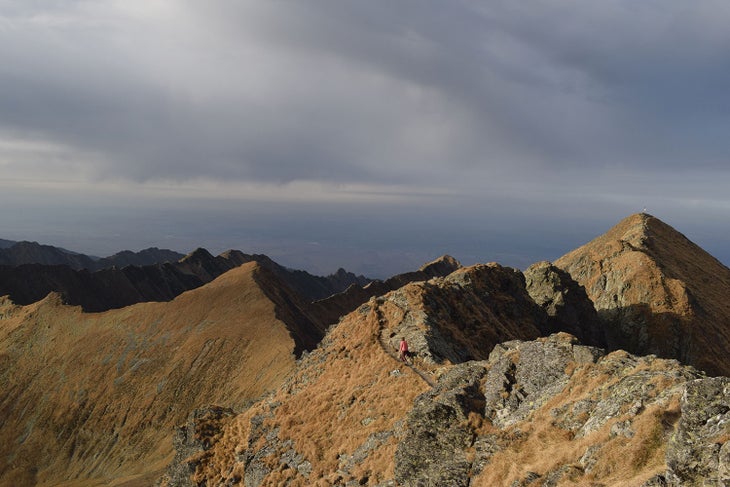 Originally published in 1897, Dracula capitalized on vampire mythology that pervaded Eastern Europe. It's a sinister story told through the diaries of English men and women who hunt down "the Count," a bloodthirsty, sun-fearing vampire hundreds of years old. Stoker's book made such a cultural impact that it seems every adult in the Western hemisphere knows who Dracula is.
The Transylvanian Alps traverse—unlike Dracula—is hardly known except among serious hikers in Eastern Europe. Nevertheless, the trail is well-marked with signs and painted boulders along the crest of the Făgăraş Mountains in the southern Carpathians. Doing research for the trip, we'd been warned repeatedly that the hike was difficult, with dangerous terrain and fast-changing alpine weather. Ill-prepared hikers can and do die in the Făgăraş.
This admonition resurfaces during our bivy, when, at 4 a.m., it starts to snow. Graupel popcorns on our sleeping bags and I leap to my feet.
"We gotta go!" I shout.
Martha, deeply ensconced in her fat sleeping bag with only a lock of hair showing, is fast asleep. I'm about to wake her when the storm abruptly passes. Feeling foolish, I reinsert myself into my damp, paper-thin bag and wait for daylight.
In the morning, the trail is slippery and we step cautiously along the cliff edge. In places it's like walking atop the parapet of a castle, the stone walls dropping away beneath our feet.
We glimpse Cabana Podragu far below us on the north side of the ridge. A dark stone hut beside a black lake, it looks to be a place that the sun never reaches. We had contacted the caretakers and been told that they were entirely booked for the night we would arrive. But peering down through the shadows we can see there is no smoke from the chimney, no light inside, no sign of life. It is like a giant, rain-stained mausoleum.
"Maybe that's where the wolf was going," I say in mock solemnity.
"Looks like Dracula's vacation home," quips Martha.
A couple hours farther along the trail—steep up and steep down, from one col to the next—we spot a less mythical Carpathian animal: chamois, a herd of five on the rock buttresses below us. They graze on the tall tufts of grass atop the stone towers. Carpathian chamois are distinctive, with a flicker of white on the hindquarters of their black bodies, a face half-white and half-black, and two narrow, curled black horns. Something spooks them and they scatter instantly, leaping off the towers in different directions, bouncing off ledges and leaping again into space.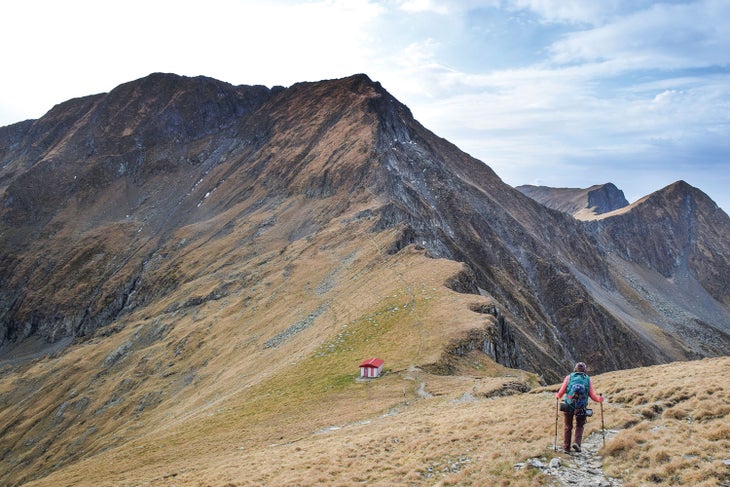 If wildlife is a sign of wildness, Transylvania is home to one of Europe's best-preserved ecosystems. The wolves are the most potent symbol: There could be as many as 2,500 of them in Romania—15 percent of Europe's entire population, excluding Russia. The country is also home to the largest population of Eurasian brown bears—perhaps as many as 5,000—and the Eurasian lynx, of which there might be 2,000. Large numbers of three ungulate species—roe deer, red deer, and wild boar—can also be found here, and are the primary prey for wolves. Wolves also occasionally kill livestock, especially lost sheep. Not surprisingly, just like in the Western U.S., local ranchers and farmers have an intense antipathy toward the wolf. (Since 1996, wolves have been protected here, with limited hunting.)
The Eurasian wolf, Canis lupus lupus, is of moderate size, 75 to 130 pounds, and once ranged over millions of square miles. Wolves were commonplace in Europe from antiquity through the Middle Ages and into the 19th century. To this day, the ensign of Transylvania is a wolf's head, the snapping jaws wide open, with the body of a dragon.
Stories of wolf attacks are part of the facts and folklore of Europe. Little Red Riding Hood, an ancient oral tale, was first published in France more than three centuries ago. Although healthy wolves rarely attack humans, rabid wolves were the horrific beasts of every hearthside story, with good reason.
In France in 1739, a rabid wolf bit 70 people, 50 of whom died. In 1766, a rabid wolf bit 23 people in the forests around Warsaw and all died of rabies. In 1852, a rabid wolf bit 135 people in Turkey and killed 85 sheep.
There's no definitive proof that vampire mythology originated with rabid wolves, but the links are hard to ignore. Dracula, per Stoker's description, has hair on his palms, long, claw-like fingernails and sharp fangs. Humans infected with rabies display monster-like behavior—snarling, biting, hyperactive sexual appetites, delirium, and an aversion to light and water. Throughout Europe, as late as the 15th century, people who contracted rabies were put to death by strangulation, blood-letting, or suffocation.
Rabies isn't the only disease with a plausible connection to the vampire myth. Pellagra, a niacin and tryptophan deficiency attributed to a diet based exclusively on corn—the most common medieval crop—causes hypersensitivity to sunlight and a wasting and bleeding of the gums, which make the front teeth appear grotesquely prominent.
Such scientific explanations offer a rational counterweight to the spooky factor—which is palpable here, even if you don't get unnerved by ghost stories. Of course, reading Dracula every night doesn't help.
On the third night, in a lodge at Bâlea Lac, we're at the part where Jonathan Harker, the book's protagonist, is a prisoner in Dracula's castle. One night, peering down from his cell in the tower, he witnesses the Count creeping out a window below him: ". . . I saw the whole man slowly emerge from the window and begin to crawl down the castle wall over the dreadful abyss, face down with his cloak spreading out around him like great wings . . . just as a lizard moves along a wall."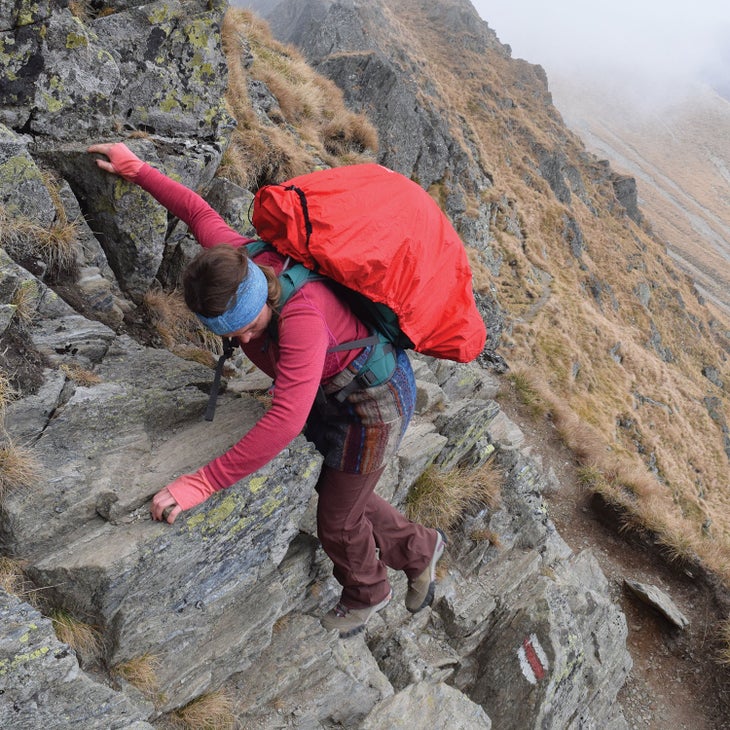 Back on the trail, we hike in heavy fog all day, reaching the summit of 8,317-foot Negoiu, the second-highest peak in Romania, around 3 p.m. Thunder booms all around us and lightning zigzags through black clouds. We have to get off the summit immediately.
The trail sign says the next hut is five hours away, long past sunset if we were to go the standard pace. Thus far, we've been cavalier in our approach to stated distances and times because nothing has been as challenging as we'd been told. But now, if we can't cut the posted time in half, we are setting ourselves up for another bivy—this time in cold rain.
We march down the trail with intention. Within 10 minutes thick mist has dropped our visibility to 10 feet and the trail transforms into a Transylvanian via ferrata. Sharp rock towers with chains and cables bolted to their sheer walls loom out of the mist. Our progress recalls Dracula lizarding over his castle walls, as we move up and over one gendarme after another. The granite is wet and slippery. The heavy chains drip with ice water. Had we not both been rock climbers, the route would have been impossible in these slick conditions. As it is, we make it to Refugiul Scara—barely finding it in the fog—in two hours flat.
Refugiul Scara is mostly an empty shack that feels as if it were abandoned years ago. However, we do find a half full bottle of Cava D'Oro tequila and help ourselves while reading Dracula out loud.
We're at the end of the book now. Dr. Van Helsing, in order to save the soul of vampire-bitten Madam Mina—"so radiantly beautiful"—must pound a wooden stake through her heart.
In this detail, Stoker's book also echoes historical fact. Between 1448 and 1476, Vladislav Dracula reigned over Transylvania. Often fighting enemies with much larger armies than his, Dracula resorted to terror: All prisoners, as well as the peasants in conquered villages, were impaled on stakes. According to one account, Vlad the Impaler, as he was known, "invented frightening, terrible, unheard-of tortures." A 1499 German woodcut shows Dracula dining al fresco, surrounded by a forest of impaled corpses. Neither of us takes the threat of vampires seriously, of course, but Martha still makes me stack stones against the rattling metal door.
The next morning, the mountains are still socked in. It's so misty we feel lucky for the trail markers painted on the rocks under our feet. We quickly cross up and over two small cols, and start dropping north, down out of the alpine. Just above treeline we find black bear scat on the trail—large chunks filled with undigested berries.
"I wish we'd seen a bear," I say, "or a wolf."
"Or a vampire," says Martha with a smirk. We've both enjoyed the way fiction and history have combined to enhance our walk. There's always an element of the unknown in the wild, and the mythology heightens that feeling here.
We plunge back down into the pines, then further down into deciduous forests, brown and yellow maple leaves carpeting the trail. In just a few hours we reach Cabana Suru, tucked into the deep green woods like a cottage for elves. It's the last hut on our hike and the only one that has a host. Before the trip, we had called the proprietress, Ioana Popa, who told us that they were planning to close for the winter, but would stay open one more weekend just for us.
Cabana Suru is the kind of quaint hut you might find in the Italian Alps—thick walls to withstand heavy snows, slippers at the front door, wooden benches along wooden tables, a wood stove at one end of the room, and bunk beds on the second floor. We arrive soaked to the bone and Popa ushers us directly to two stools beside the black stove and puts cups of tea into our rigid hands. When we finally warm up, we hang up our wet clothes and trade hot tea for cold Ursus beer.
That evening four Romanian hikers—one of only two parties we meet on the trail—arrive for the night and share their homemade cherry liqueur. We pass around the plastic bottle and swap stories. They were just out for the day, hoping to spot a wolf or bear, but the rain shut them down. For dinner we feast on steaming bowls of Romanian goulash. The bunkrooms are so warm we have to open all the windows. We fall asleep to the sound of soft rain on the metal roof.
In the morning, the Romanians are already gone. Ioana is in high spirits and serves us plate-size omelettes that we cannot finish. Her English is perfect so we ask her about Dracula and vampires.
She laughs. "That stuff is all for the American tourists. Dracula means nothing to Romanians. Real hikers come here for the mountains, not the myth." She tells us that the tourist board has now even designated a random castle as Dracula's castle, just to trap visitors. I'm not disappointed. Reading Dracula added a fun dimension to the hike, but the big payoff here is hiking an alpine ridgeline for days, with views in all directions. Plus Europe's wildest wildlife, as Ioana reminds me.
"We have bears and wolves here," she says proudly. "I've seen them with my own eyes! Who needs vampires?"
World Explorer Mark Jenkins wrote about trekking the Ifugao Rice Terraces in the Philippines in January 2018
TRIP PLANNER Season June to October Maps Fagaras 135,000 and 175,000 Guidebook The Mountains of Romania: A Guide to the Carpathians, by James Roberts, Cicerone Press Huts None of the rustic huts have caretakers or food except Cabana Suru; Bâlea Lac's lodge requires a detour and is more luxe. Water In autumn, water can be difficult to obtain and often requires dropping down off the crest. Route The traverse can be done east to west or vice versa, but either way, getting to the trailheads on either end requires hiring a car or hitchhiking with local loggers for about 10 miles. Guide Florin-George Bana Outdoor Shop ProAlpin in Brasov