Hiking and Helping in Nepal
Want to do some good on your next big trip? Join us in Nepal in spring 2022. On this special adventure, we'll volunteer on a post-pandemic recovery effort, then go on a life-list trek.
Heading out the door? Read this article on the new Outside+ app available now on iOS devices for members! Download the app.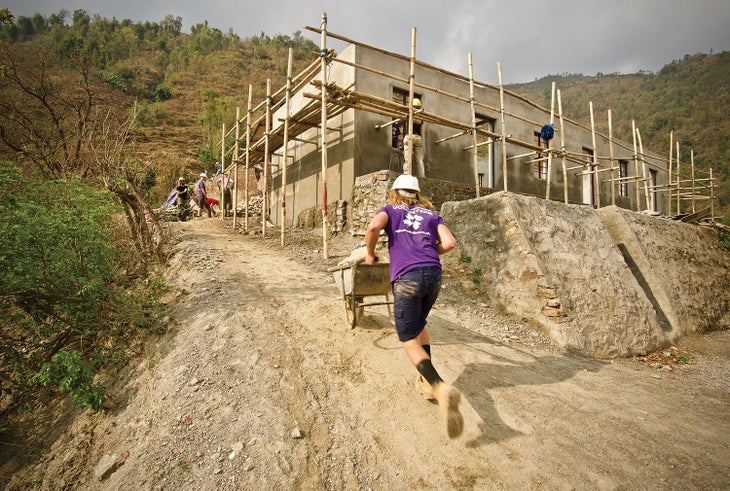 The truck pulled up in a cloud of dust and parked in front of a storage shed. More than a dozen people stopped what they were doing. Shovels and paintbrushes and hammers fell to the ground. Wheelbarrows were abandoned. At first I was confused. Was the truck delivering cold drinks? No. The back was filled with at least 100 bags of cement and they had to be unloaded, fast. I've never seen so many people stop working hard so they could work harder.
Each bag of cement weighed 110 pounds, and some of the people lining up to carry them weighed only a little more. I joined the line and can confirm: lugging the bags 30 feet in the hot sun was the definition of back-breaking work. But someone turned up the music on the portable speaker, the pace picked up, and in 20 minutes the bags stood neatly stacked in the shed. Anyone watching this drill might have assumed that the workers were being paid to stay on schedule. But they weren't being paid at all. They were volunteers.
We cement-slingers, along with about 60 other volunteers, were part of a school-building project in rural eastern Nepal. I had come with a team of BACKPACKER readers to help the post-earthquake recovery effort, and though we expected to work hard, day one was still an eye-opener. I knew this was no ordinary volunteer effort when I saw an Australian running uphill with a wheelbarrow full of dirt. There was a sense of urgency—a contagious enthusiasm that said, "Let's get this done!"
And no wonder. The kids who needed this school walked right by the worksite everyday on their way to classes in a temporary building—a building that might not survive the next earthquake.
The local community, and others like it, had been in this precarious position since April of 2015, when a magnitude 7.8 earthquake struck Nepal. The damage was catastrophic. That quake and subsequent tremors devastated the country, killing more than 9,000 people. The world was quick to respond with emergency aid, but as often happens with international disasters, global attention soon moved on.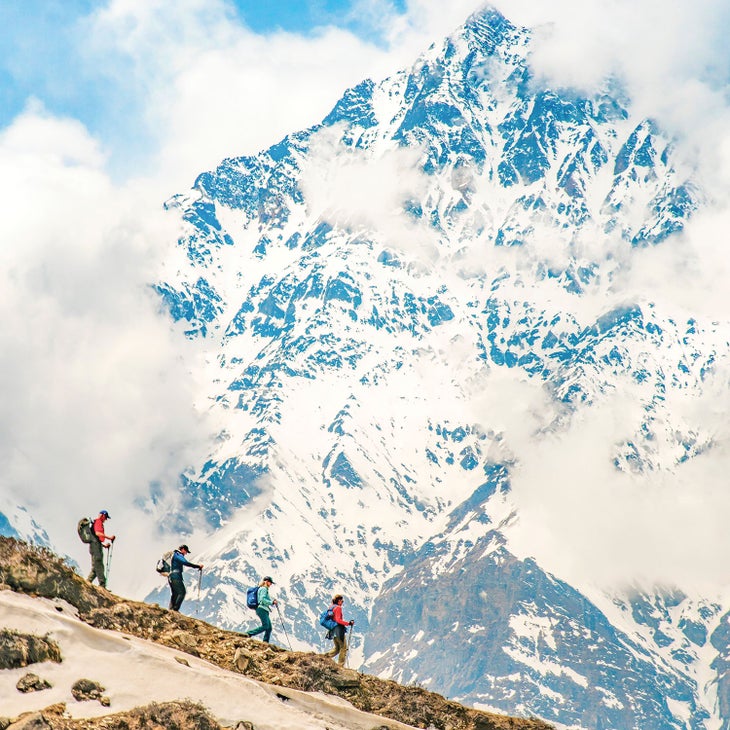 But the need didn't. One of the most pressing issues was—and still is—how the earthquake disrupted education. More than 5,000 schools were damaged or destroyed. That kind of destruction takes years, not months, to fix, and inadequate education could set an entire generation back. At BACKPACKER, we felt a special obligation. After all, for hikers, Nepal has been a dream destination for decades, and readers and editors alike have been inspired by its mountains, people, and culture. I'd trekked here 30 years ago and the experience was so vivid, I still remember almost every detail. It was like an old friend's house had burned down. So we asked ourselves: What can we do?
A lot, it turns out. We invited BACKPACKER readers to join us on a special mission: go to Nepal and work as well as walk. There's nothing wrong with making a donation or simply contributing to the economy through travel, but nothing compares to rolling up your sleeves and getting dirty. So we partnered with the nonprofit All Hands and Hearts, which does short- and long-term disaster relief all over the world. In Nepal, the organization focuses on school-building because that's where it can be the most effective. "We look for places that are the highest priority with the hardest logistics," Jane Coughlin, the Nepal program director, told me. (All Hands and Hearts had to halt Nepal operations during the pandemic, and is restarting in 2022, with a focus on the new most pressing need: rural health clinics.)
In the spring of 2019, two separate teams of BACKPACKER readers—30 of us total—traveled to Sindhuli, where All Hands and Hearts was building three schools (a fourth had been completed). After an all-day journey from Kathmandu by bus and four-wheel-drive, we arrived at basecamp: a rainbow of tents on a hilltop surrounded by terraced fields. The air was hazy with smoke from agricultural fires, making the sunset a ball of neon orange.
At the evening gathering, volunteers from 27 countries—ranging from gap-year teenagers to retired septuagenarians—welcomed us to the family. We introduced ourselves one by one, and each time the crowd cheered and made sure they knew exactly where we were from and why we decided to come here.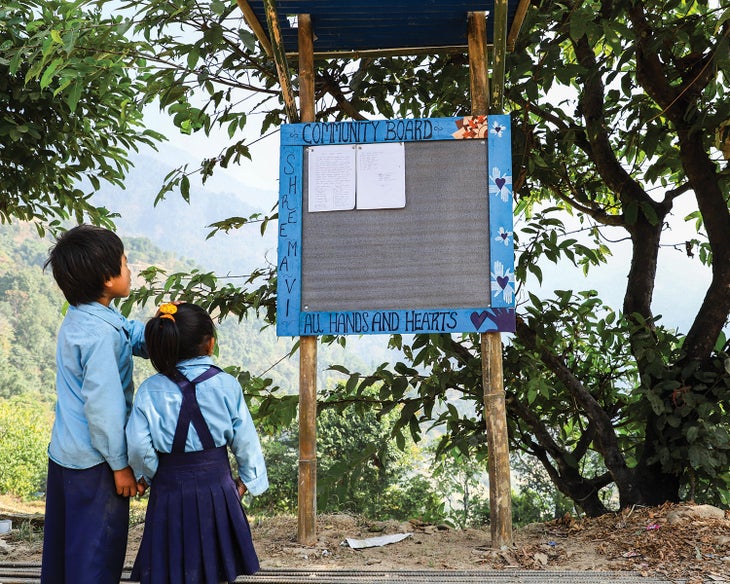 Work started at 7:30 a.m. the next day and it wasn't long after my first encounter with cement bags that I met them again. The generator powering the concrete mixer broke down, so we needed to mix the stuff by hand. The drill went like this: Dump a pile of cement onto a metal sheet, add gravel, add water, and turn it with a shovel faster than the water can drain away. Again, the pace neared frantic, as pairs of shovelers tag-teamed like it was a wrestling match. After all, we had to keep the masons supplied with fresh concrete. And the generator broke down a lot.
While the volunteers did unskilled labor—mixing, digging, painting—the masonry was done by a paid crew of Nepalese. That team included local women who were in the process of being trained as masons so that they could find work after the school was built. One of them, Pabitra Thakuri, told me that she would be able to earn enough money to pay off the loan on her farm. (According to All Hands and Hearts, all the women who have participated in the program since it started in 2015 have subsequently found long-term employment.)
This approach—volunteers working alongside local men and women—is more than just a good employment model. It's also a connection model. I got to learn about one mason's recent arranged marriage, and how he and his fiancée, both in their 20s, only met for 10 minutes beforehand (so far so good, he laughed). After work there was cricket, Frisbee, and language lessons. And on community night, everyone danced until the bonfire died down. There's nothing complicated about it, but I was left with the feeling that if the world is to become a better, more connected place, this is the way to do it.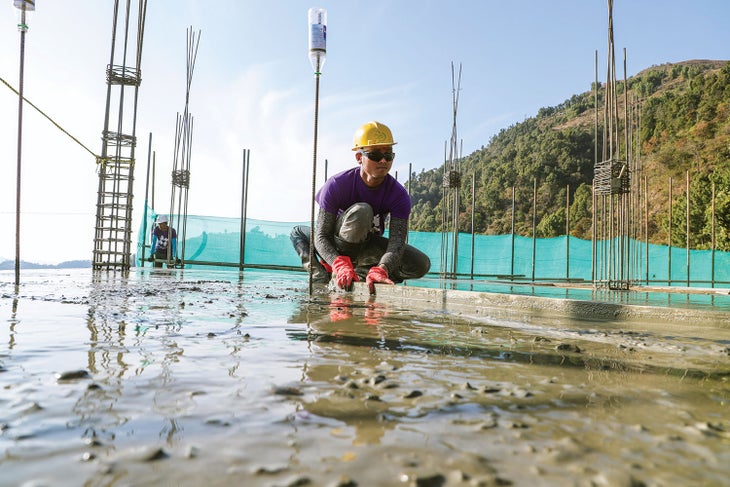 It's unlikely David Campbell saw all of this coming when he planted the seeds for All Hands and Hearts more than 15 years ago, in the aftermath of the tsunami that devastated Thailand in 2004. Campbell, a tech executive nearing retirement at the time, immediately traveled from Boston to Thailand to help. He assumed that with so much need, any volunteer willing to jump on a plane would be put to work. But the large aid agencies would rather have donations. So Campbell simply went directly to where the help was needed. Soon, he found other like-minded, boot-strapping volunteers and laid the foundation for what would become All Hands and Hearts (in 2017, Campbell's nonprofit merged with another aid organization that also arose out of the 2004 tsunami). The model is simple: Volunteers pay nothing to participate (they cover their own travel) and need no specialized skills. Today All Hands and Hearts operates in multiple locations in the U.S. and abroad, doing disaster relief and recovery.
In Nepal, volunteers come and go during the build season (October to May), staying anywhere from a week to a month or more. When we packed into jeeps and made the dusty drive down the mountain, all three schools were nearly finished.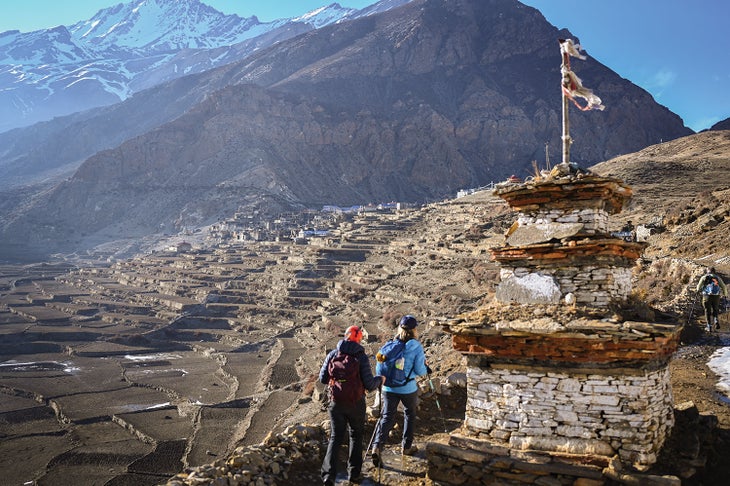 Of course, we weren't going to travel all the way to Nepal without going on a hike. After volunteering, we embarked on a weeklong trek in the Nar Phu Valley, an area near the Annapurna Range. For decades, Nar Phu was closed to foreign visitors, and it's just now becoming developed as a trekking destination with teahouses. The valley once served as a salt-trading route between Nepal and Tibet, which is just a dozen or so miles away as the bird flies, and is home to centuries-old Buddhist monasteries.
After another all-day bus-and-jeep journey, our team, plus guides and porters, arrived at the trailhead in Koto, a small roadside town on the Annapurna Circuit. While that famous route has become both overdeveloped and overcrowded, we entered another world in the Nar Phu Valley. The transition was immediate: We crossed a swinging bridge over the Marsyangdi River and then didn't see another trekker for three days. Over the next week, we encountered only two other groups. That suited us just fine, as we'd jelled into a tight-knit crew—complete with trail names—while digging and painting, and we started the trek feeling like a championship team.
That was ironic, because the first day almost defeated us. The trail ascended 13 miles up a forested river valley, often crossing slopes where spring snow lingered. A misstep would have been disastrous. But it wasn't all a grind. When the trail passed behind a 20-foot curtain waterfall, some of us scooted through three times. And nobody was complaining when we reached the upper valley, with views of Annapurna II and its 26,000-foot, ice- and rock-encrusted face.
The plan was to spend a week touring the valley, then cross a 17,000-foot pass to end the trek. But mountains don't care about plans. In Meta, the first village we stayed at, a conversation with the locals confirmed what we already suspected: There was still too much snow up high. Kang La Pass couldn't be crossed.
We'd have to adapt. As every hiker knows, changing plans to suit conditions is the very essence of alpine travel—and like mixing cement by hand when the generator quits, it's disappointing but can offer unforeseen rewards. So we altered our route to avoid the pass.
Our new itinerary pushed our arrival in Phu, the valley's most remote village, later in the week than we'd planned. Phu's stone buildings are clustered on a hill at 13,400 feet. Save for terraced fields below the village, the surrounding terrain is all rock and snow.
At the teahouse where we were staying, we learned that our new route might have delayed our arrival in Phu, but it put us there at the perfect moment: the village's Buddhist monastery would be holding a special new moon puja, or ceremony, the next day. So under a blue sky we walked uphill, past scores of prayer flags and mani stones. As we approached the hilltop complex, I couldn't help admiring the construction with the eye of someone who had just been working on a site that wasn't 30 miles from the nearest road.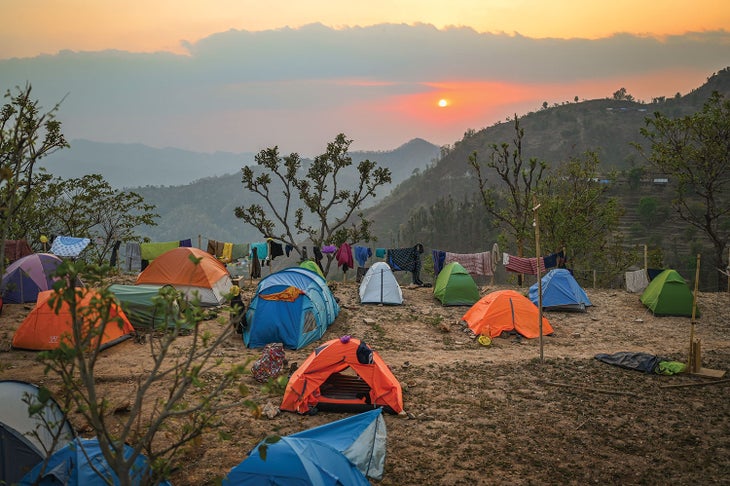 In the monastery's courtyard, monks ate noodles in preparation for the all-day ceremony. Then everybody filed into the dim room and sat on cushions spread around two long, low tables, with overflow squeezing around the perimeter. A young woman served yak butter tea.
The monks started chanting, and occasionally a dozen men and women from the village joined the singing. We couldn't understand a word, but that didn't matter. I closed my eyes and listened to the rise and fall of voices. I knew this same sound had been heard here for centuries. I thought about how abandoning the pass had felt like a blow just a few days earlier, but now it felt like a blessing.
On the long hike out, I realized that if our volunteer work in Sindhuli and our time in Nar Phu had taught us anything, it's that there's more than one way to do the right thing.