I Fell In Love With a Picture of Greenland. Seeing It in Person Blew My Mind.
In pictures, Greenland's backcountry ski terrain looks spectacular. In person? It's even better.
Heading out the door? Read this article on the new Outside+ app available now on iOS devices for members! Download the app.
In my decade or so of outdoor adventuring as an adult, I've come to the conclusion that my most memorable outdoor trips leave me frustrated. Not because I'm disappointed in the experience, but because I'm bummed that I couldn't explore more of whatever mountain range, forest, or river I'm leaving to head back to the real world.
I was deep in that wistfulness as our small plane took off from Nuuk, Greenland, and rose above the limitless network of fjords, mountains, and glaciers that surround the city. Along with three other editors from Backpacker and SKI, I'd just spent five days exploring a miniscule part of the terrain that unfurled below. When we were on the ground, our environs seemed like they went on forever. Now, from 10,000 feet up, it was clear that we'd barely breached the surface of Greenland's unfathomable wilderness potential.
My desire to go to Greenland came from a picture. I don't know where I saw it, only that I saw it just once and it depicted a skier slicing a perfect arc of a turn, snow rooster-tailing behind him, down toward a strip of ocean so deep blue it could've been the blackness of space. Ice chunks bobbed in the water like spiky white planets in the void. I knew I wanted to go there—or, more specifically, go backcountry skiing there—and would somehow find a way to do it.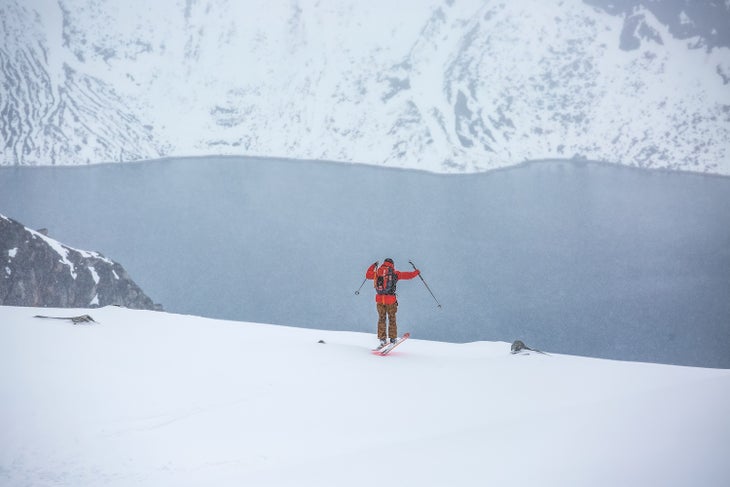 Are there other places you can ski to the sea? Sure: Norway and Alaska come to mind, and are (relatively) well-traveled. Even Antarctica has cruise ships that drop off scores of Gore-Tex-clad thrill-seekers to make kick-turns at the bottom of the world. But Greenland? While it isn't a completely unknown commodity—small, privately guided ski boats sometimes ply the waters off the coast and a few heliskiing guides have access as well—some research confirmed that it was still very far off the backcountry map.
Luckily the folks at Visit Greenland extended an offer for Backpacker editors to test gear in their backyard, and so we got down to planning a trip to what seemed like the edge of the planet.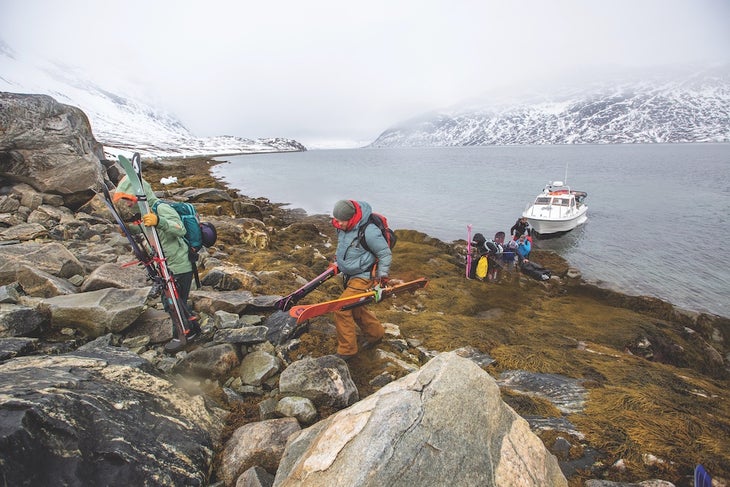 During the planning stages, "You're going where?" seemed to be the most frequently asked question, usually delivered with a lift of the eyebrows. "There's skiing there?" they'd usually ask by way of follow-up. Even a border guard in Reykjavík, Iceland, where we connected en route to Nuuk, seemed concerned that we'd been duped. "Are you sure?" he asked, with the tone of a skeptical parent, as we lugged our ski bags through the Reykjavík airport and told him where we were headed to tour.
Any such fears—Maybe the photo I'd seen was mislabeled? Maybe somebody was messing with us?—were allayed as soon as our prop plane broke through the clouds along Greenland's southeastern coast, turning north along the crenellated coastline to land in Nuuk. My companions and I turned to each other in awe as the mountains and snow spread out beneath us. We couldn't wait to touch down.
Here's where I admit that I'd been looking at Greenland all wrong. That became clear as soon as we met our guides, Adam Kjeldsen and Thorlak Nielsen. The owners of the Two Ravens guiding company couldn't have made a more contrasting pair. Adam was slight, bright-eyed, impish, and a chatterbox, Thorlak a tall study in silence and stoicism. What they had in common, though, is what matters most: A love for snow and sea, a natural facility for skiing and sailing, and expert knowledge of Greenland's geography, fauna, history, and secrets. Despite the abundance of skiing potential just outside Nuuk's city limits, Adam and Thorlak are among the few backcountry skiers in the area. We were in good hands.
As we discussed our plan for the week, they not only talked about where we'd be camping and skiing. We also chatted about the best spots for catching cod, or perhaps redfish if we were lucky; where the ptarmigan—a chicken-like, tundra-dwelling bird with pure-white plumage in winter—might be hiding; where, in the summer, there were trails to go in search of reindeer. Unlike other guided trips I'd been on, the goal here wasn't just, "See those mountains? Let's go slide down 'em." Adam and Thorlak wanted to show us how Greenlanders not only explore the land they live on, but are nourished by it, educated within it, sculpted by its moods and gifts.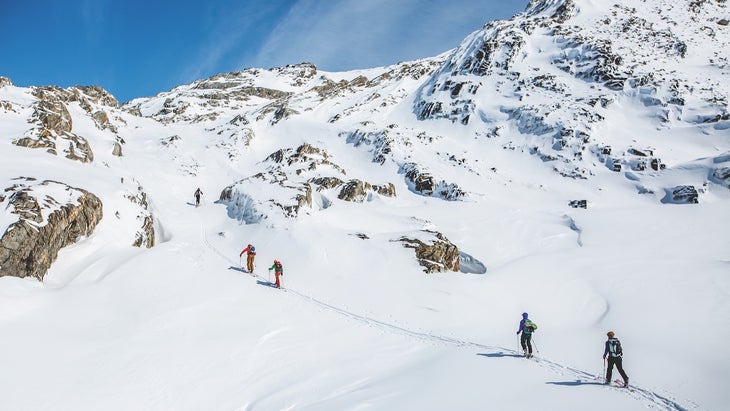 I'd initially viewed Nuuk as a city of fewer than 20,000 carved out of an inhospitable environment; instead, I saw that it was a settlement that had grown by addition to the landscape, not by subtraction from it. An estimated 88 percent of the country's population is Greenlandic Inuit, and a culture of hunting, fishing, and living in harmony with the landscape imbues every aspect of life here. The citizens of Nuuk were the complete opposite of the city's weather for most of the year: warm, friendly, and always going out of their way to make visitors feel at home. Everyone we met knew Adam and Thorlak, and expressed their happiness that we'd chosen to go explore the fjords.
The city itself, which perches on a rocky shoreline on Greenland's southwestern coast, is probably one of the most human-friendly places on the island. Nuuk has a true summer (well, at least the coastal grasses and shrubs turn green; temps remain in the 50s), and winter weather usually hovers around the low teens. The cold temperatures of the North Atlantic mean its local waters offer a cornucopia of seafood, and it's removed from the permanent ice sheet that covers the vast majority of the country. Bustling with foot traffic to the dozens of restaurants and shops, Nuuk is far from the wildest place in the country (the extremely remote east coast beckons me), but it still felt a world away from my cozy American day-to-day.
Our one full day in town passed quickly, and then we were on our way to Qeqertarsuaq ("Large Island" in Greenlandic), a 45-minute boat ride up the Nuup Kangerlua fjord that runs north for 100 miles from Nuuk, its edges licked by glaciers from the Greenland ice sheet. As our small fishing boat coasted into a sheltered bay, we gawked at the 1,700-foot-high rock walls that shot out of the water. It looked inhospitable. It looked daunting. It looked exactly like I'd imagined it would.
The outwardly harsh environment proved plenty hospitable once we set up our tents. A line thrown into the cove hooked more than enough cod for dinner almost immediately. The tent sites, including our guides' hangout-and-cook dome (inside, Adam had hung dried fish from the clotheslines for snacking), granted unobstructed views out to the fjord and the islands beyond, shrouded masses of rock, snow, and fog now that some weather had moved in. As we geared up, Adam strapped a rifle to his back in case we spotted any ptarmigan on our first ski tour above camp (no luck in this endeavor, unfortunately).
Our home for the next few days showed its duplicity on our first tour. As we ascended the gentle slopes above camp, wind and sleet scoured their way across the island. Just as soon as we stopped to admire the view down into the fjord, it disappeared entirely; we decided to ski back to camp before we got totally blinded by the storm. Comfy as our beachside camp may have seemed at first, the early spring weather of Greenland's southwestern fjords commanded attention and respect.
Later, Adam and Thorlak would tell us about a story told to Greenlandic children: If you whistle at the aurora borealis, visible in these parts during the winter (and even spring, as we'd learn on our final night in Nuuk), spirits will come down and snatch you up into the sky. This land's wilderness was not to be trifled with. We took that thought to bed, swaddled in sleeping bags and reindeer hides, as the wind clawed against the walls of our tents.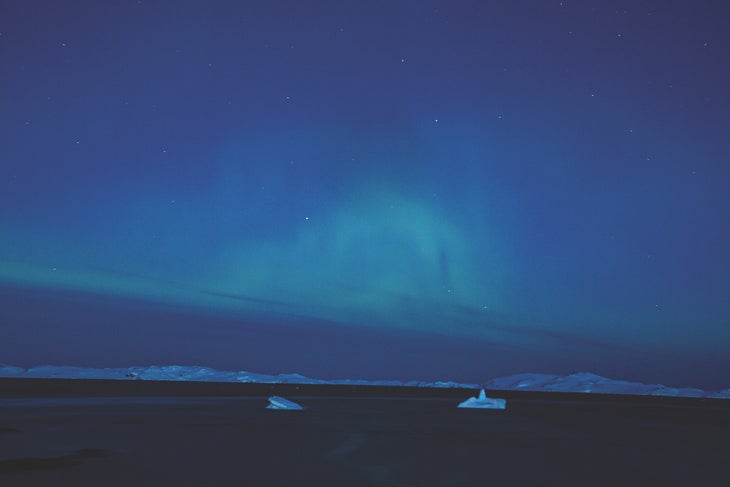 The next day broke cloudy but warm. An avalanche brought down chandeliers of ice and snow that wreathed one of the peaks above camp. Admiring it from a safe distance, we heeded the reminder that awe and risk exist in equal supply in this place, and are so often intertwined.
The skin up to the island's southern peak, though, was exactly what we'd come for. An ascent up a narrow rock hallway deposited us into a wide upland bowl that pleaded for tracks. We took a rest halfway up it, black cliffs and the tip of the cove in our viewshed. There wasn't another soul in sight, and the vista in front of us couldn't have existed anywhere else.
On top of the bowl, with the summit looming above us, the fjord's climate conspired against us again. Whiteout conditions forced a turnaround. The skiing was stellar, though. We painted smooth turns through the bowl, leaving whoops of delight in our wake. And the duality of our day reached a crescendo in the couloir, in which the snow had become sticky—dangerously so—in the warm temps.
Later, as we ate lamb around a fire perched above the water, each of us remarked that we'd never skied (or done any other activity) in a place like this. Our guides shared stories of seal hunting out in the fjords; Adam told of the one time he'd spotted a walrus this close to Nuuk—a rare sight. Thorlak stirred the bubbling pot of food with a large piece of wood, now and then remarking something to his fellow guide in Danish or Greenlandic—they switched between the two languages seamlessly, as do most Greenlanders. As we trailed back to our tents one by one, Adam passed around a bottle of homemade schnapps made from the contents of a ptarmigan's crop—a pouch in the throat where the birds collect sticks and berries. Fed and warmed by the gifts and stories of the land, I fell asleep easily.
Another, larger storm moved in that night, the kind that makes you pray you guyed out your tent correctly. Luckily everyone's held, and we spent the next day boating over to another zone across the fjord, where we looked into a valley where Adam's father had once bagged an enormous reindeer. The snow was mediocre, the views spectacular. Rain and hail mixed with the seawater that sprayed the boat as it took us back to camp, then to Nuuk the morning after.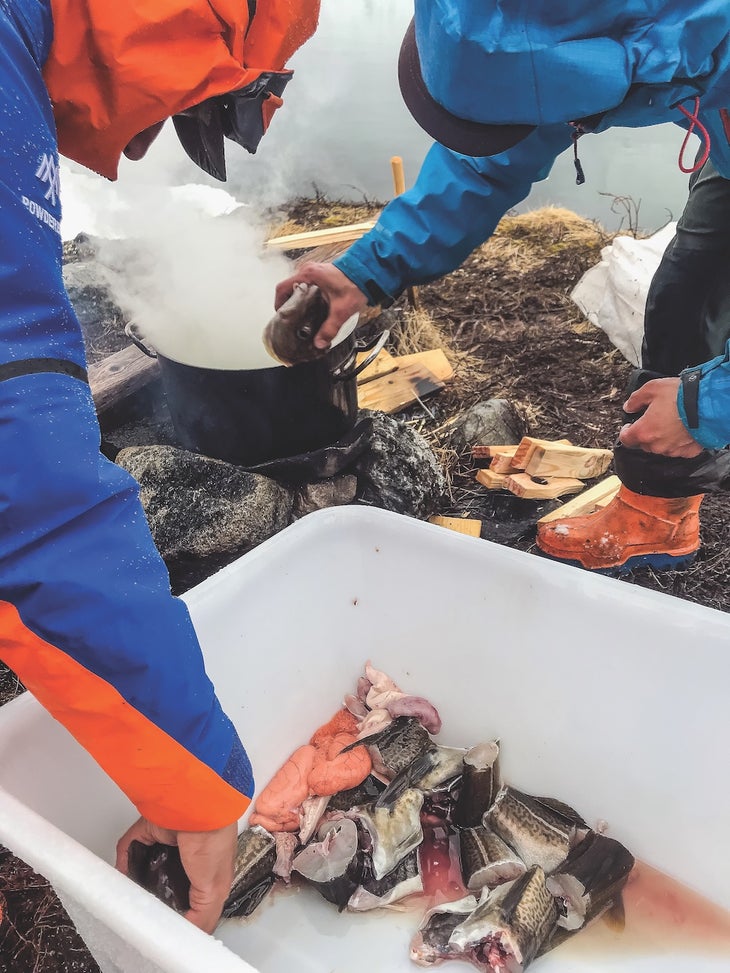 I had my first inkling that I'd only be satisfied by coming back to Greenland again on our final day in Nuuk. Taking advantage of powder-blue skies, we skinned into the backcountry above town. The Atlantic spread out to the west, while steep-sided valleys multiplied in the distance, each one looking like it'd be worth a week's exploration. For the first time all trip, without clouds to block our view, we took in the grandeur of it all: An interface of sea and sky, snow and rock that begged for a long summit lunch-and-look. Which is exactly what we did.
Later, over local fare in town (muskox and reindeer hot dogs, fresh-caught fish, whale meat that tasted like the fattiest, most indulgent lox you could imagine) we ate in intermittent silence, worn out by the density of Greeland's beauty combined with the rigors of five straight days of skinning uphill. While we weren't as in tune with the land as the locals, it felt as though its influence was seeping into us already.
Which brings me to the flight out, and that unshakeable wistfulness. We'd explored only a fraction of the area around Nuuk, a tiny part of the country itself. The glaciers, peaks, and fjords seemed to taunt me as they filled my window. But then, something flipped inside me: I was lucky to have seen any of it at all. This land and its people had welcomed us, and lived up to everything I had imagined. Until I returned to see more of it, I knew it would still occupy my dreams.